Easy Drop Biscuits take just a handful of ingredients and less than 20 minutes to make! I'm sharing sweet and savory variations that make these easy biscuits perfect for breakfast or dinner! Serious biscuit lover? Check out my classic biscuit recipe and these sweet potato biscuits too!
This post is sponsored by Challenge Dairy.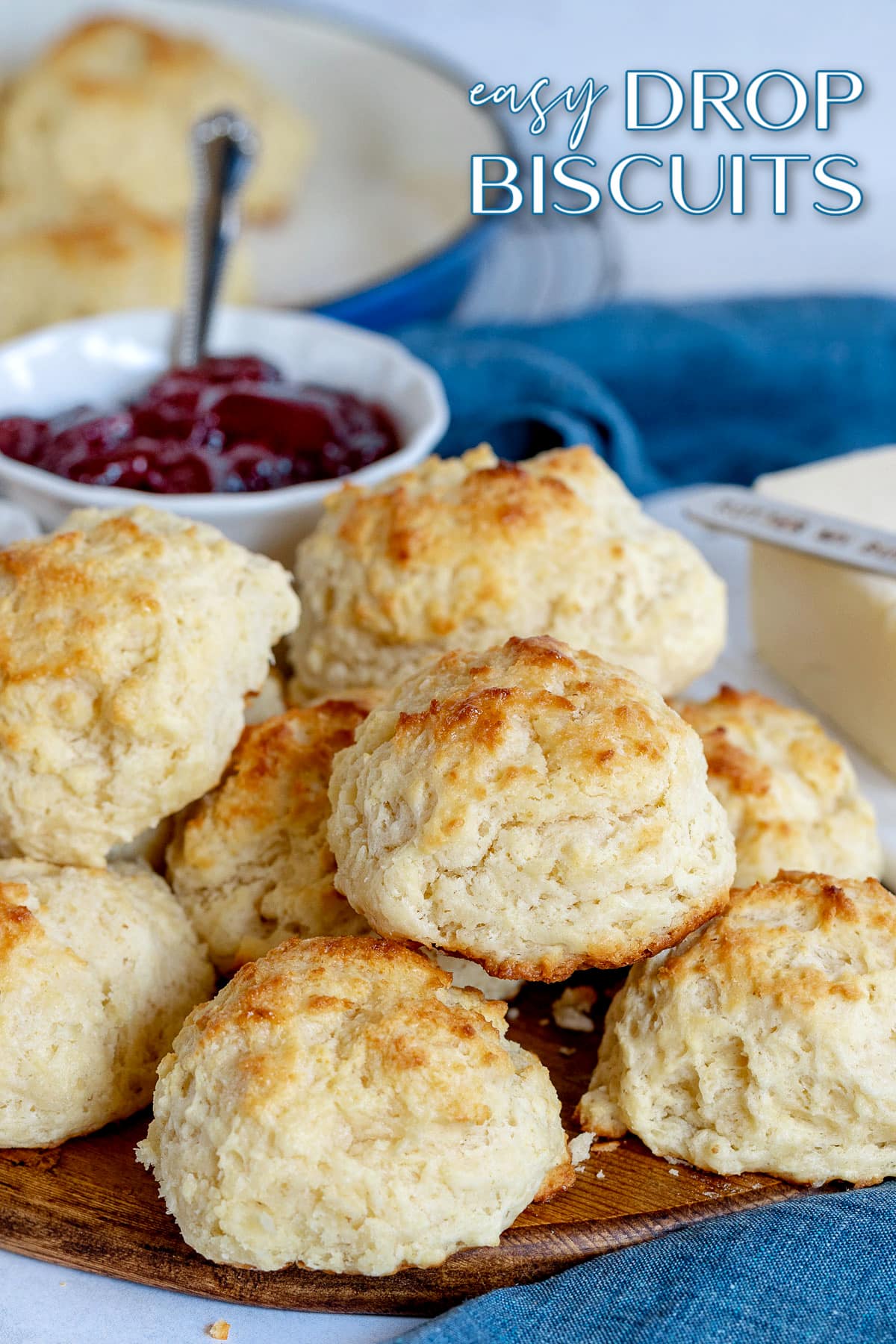 Drop Biscuits
By now, most of you are familiar with my biscuit recipe. It's been one of my top posts since I initially published it and for good reason. The biscuits are light, flaky, buttery, and easy enough for even the most novice baker.
Today I'm sharing an even simpler version of my biscuit recipe, this easy drop biscuit recipe.
Drop biscuits are a staple in our home because they take even less time to make than regular biscuits are they are also extremely versatile. Soft and fluffy, this drop biscuit recipe is just like traditional biscuits except instead of rolling and cutting out biscuits, you simple scoop out the dough.
Drop biscuits are a little more rustic which adds to their charm. They are also ideal for adding mix-ins as well such as, bacon, garlic, cheese, cinnamon, and chocolate chips.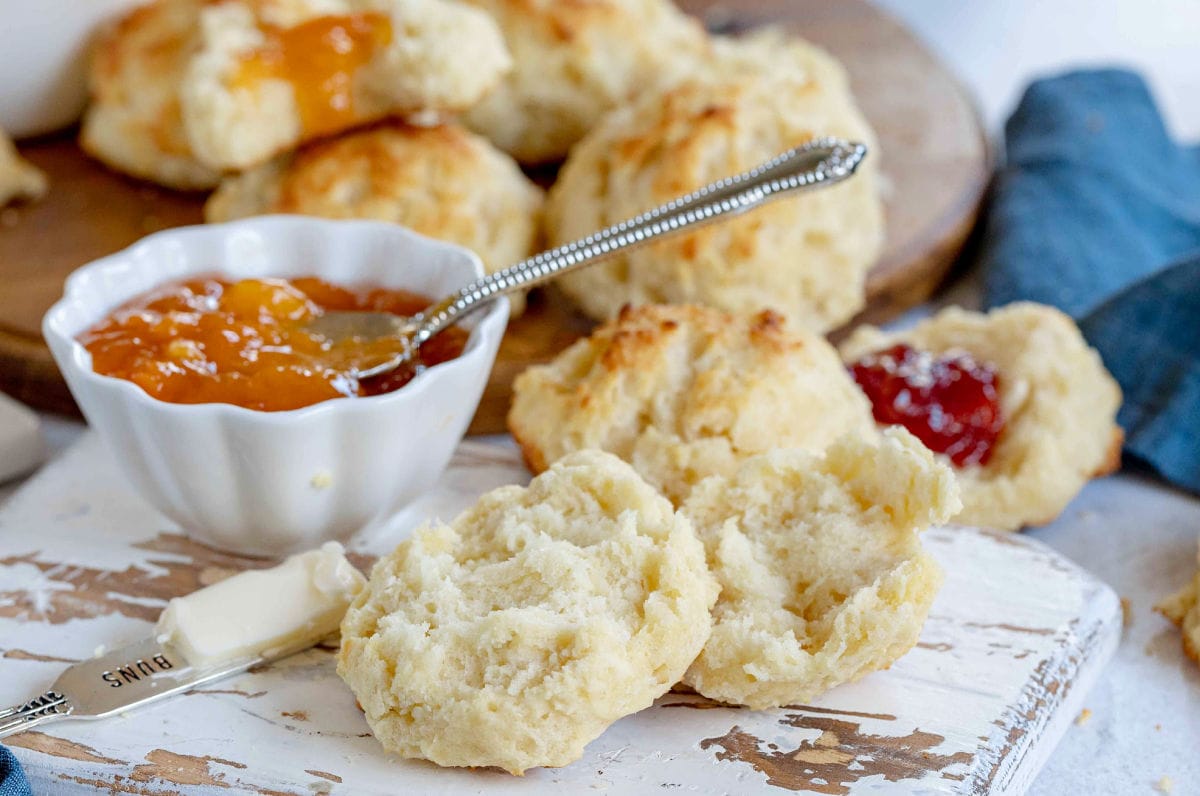 They are great for breakfast and dinner and are lovely served alongside some of our favorite meals:
What You'll Need
You'll notice this easy drop biscuits ingredients list is very similar to the ingredients used in my scones recipe. My scones call for heavy cream instead of whole milk and a more substantial amount of sugar. This drop biscuit recipe uses pantry ingredients you most likely already have:
all-purpose flour remember to measure the flour by spooning into a measuring cup and leveling with the back of a knife
sugar completely optional. We like a little sugar with our breakfast biscuits but leave it out if we're making them to serve with our dinner.
kosher salt if you like flavor, don't leave out the salt!
baking powder the leavening agent in these biscuits
COLD butter I actually throw my butter in the freezer for awhile before adding it to the dry ingredients. It also makes it easy to grate if you are going that route (see more information on that below). The butter is what creates the flakiness in the biscuits and if it's room temperature or anything close to it, it won't do it's job. (I used unsalted butter.)
egg 
buttermilk I used low fat buttermilk, whole milk can also be used here. Use cold milk straight from the fridge. Buttermilk drop biscuits tend to be a little more tender that biscuits made with regular milk.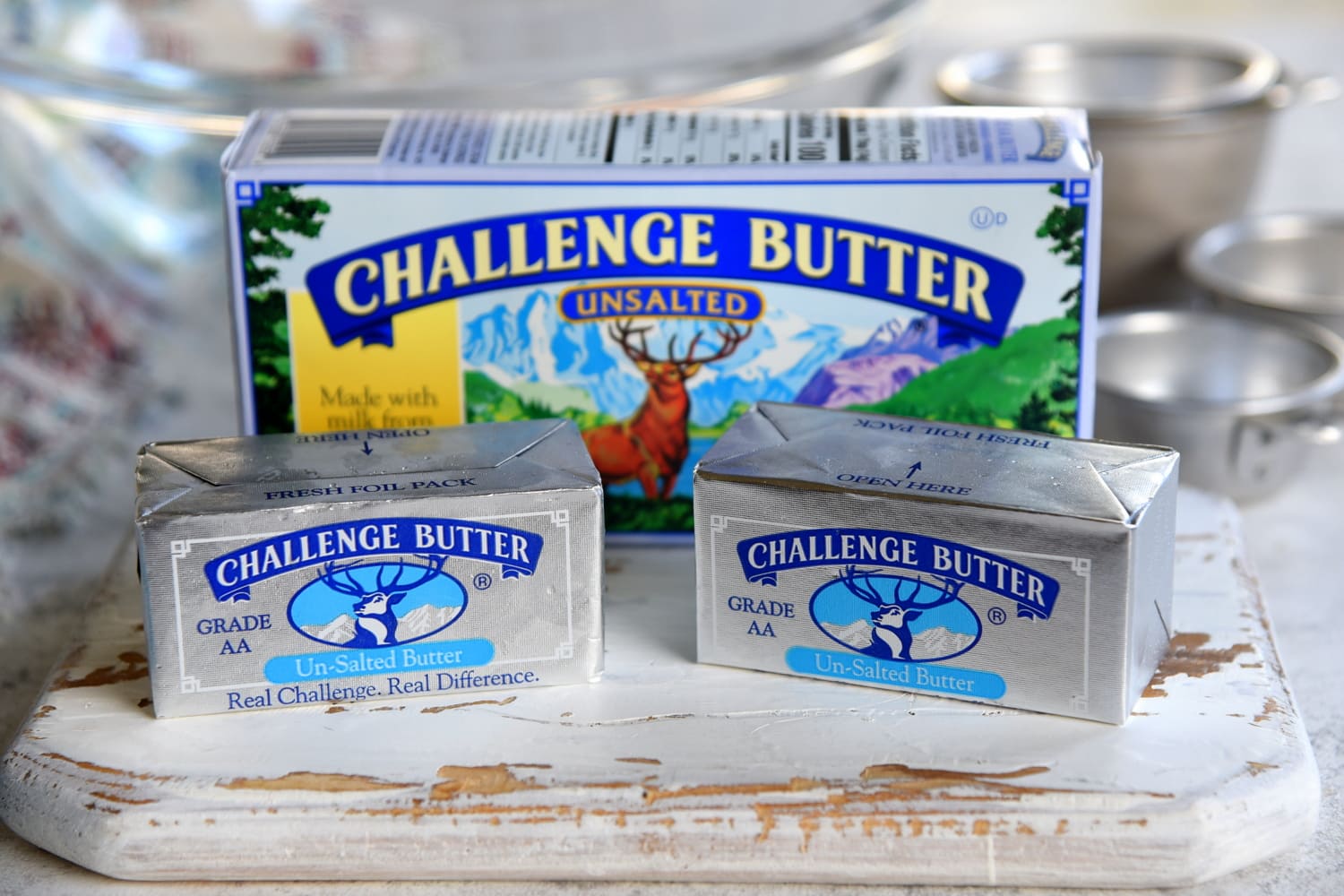 I used Challenge unsalted butter in this recipe because it's a brand I've used and trusted my whole life. Made with 100% real cream, it's my butter of choice. The quality is outstanding and use it for all my baking and cooking!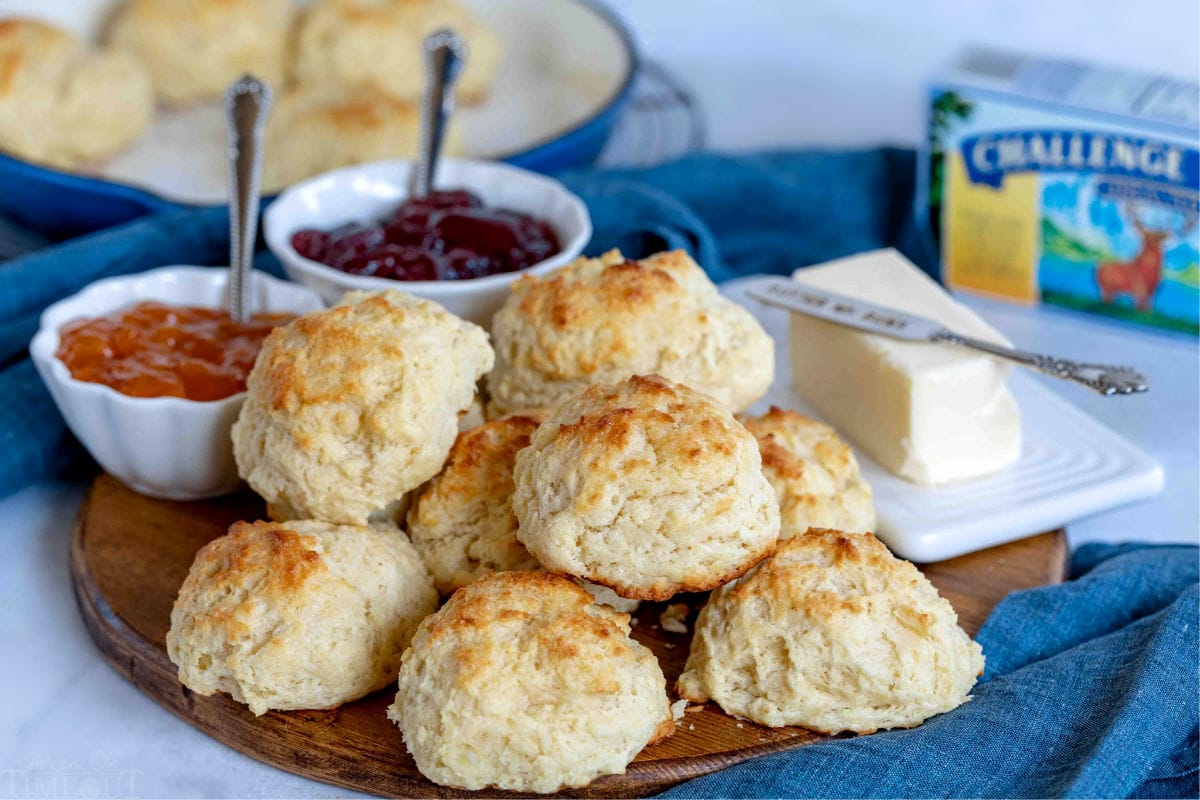 Egg-cellent Biscuits
I get a lot of questions on my biscuit recipe about WHY the egg in the ingredients. I know it's unusual for some of you to see an egg in a biscuit recipe but trust me, it's delicious. It makes the biscuits ultra-tender and when I tested this recipe (over and over and over again) there was no question as to whether or not the egg should be included.
I made many batches with and many without and every single time, the batch with the egg won out in taste tests. If you are super duper opposed to an egg in your biscuit, leave it out. My feelings won't be hurt. You may need a bit more buttermilk to account for the lost liquid in the dough though.
How To Make Drop Biscuits
Preheat oven to 450F. You want it nice and hot which will help the biscuits to rise nicely.
Grease a cast iron skillet or line a baking sheet with parchment paper and set aside.
Whisk the dry ingredients together in a large bowl.
I use two methods tor incorporate the butter into the flour mixture and I show both options in the video below.

One is to cut the butter into small pieces, refrigerate or freeze until ready to use, and then use a pastry cutter to cut the butter into the mixture when ready.
The second is grating frozen butter with a box grater and then stirring it into the flour mixture.


Add in the buttermilk and egg and stir just until the ingredients are combined.
Scoop out the biscuit dough using a large trigger scoop (ice cream scoop) OR use two spoons to scoop out the dough and place it on the prepared baking sheet or skillet.

Bake for 10 to 15 minutes or until golden brown on top.
Brush the tops of the biscuits with melted butter if desired.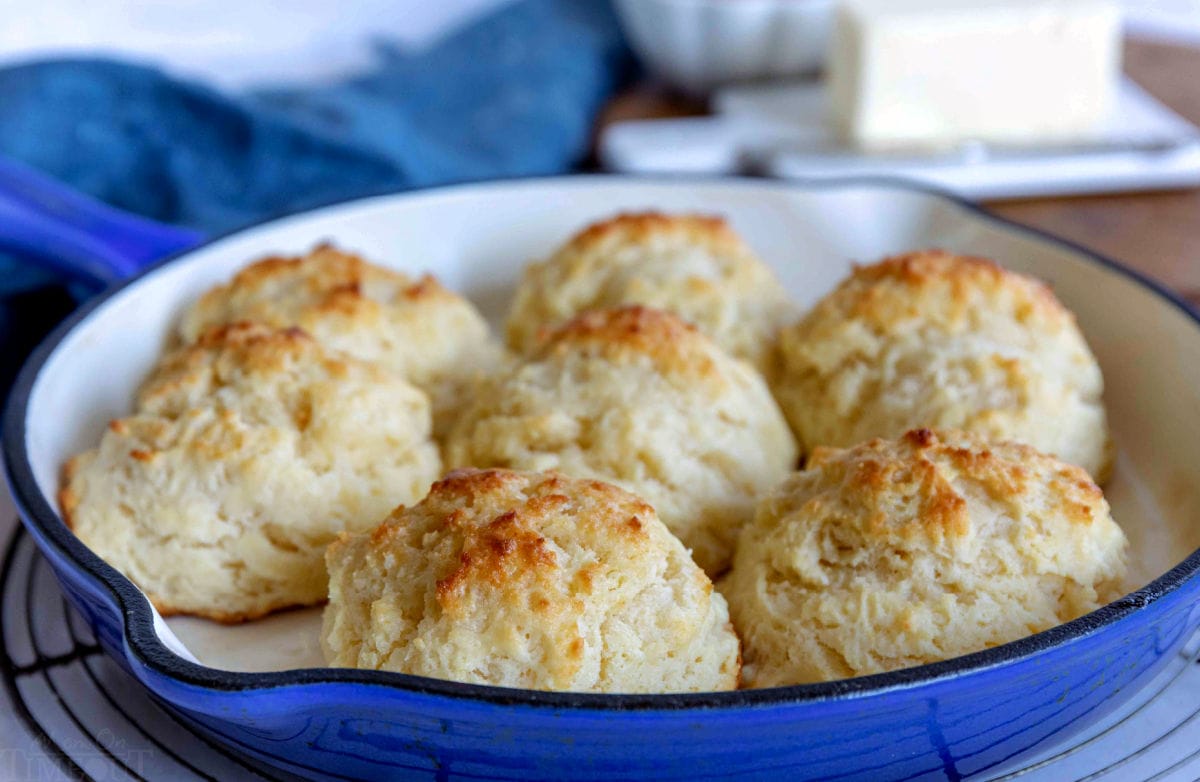 What To Serve With Drop Biscuits
The sky is the limit when it comes to what you can put on a biscuit or serve with it. Many people love to spread some softened butter and call it a day but here are some other great options:
FAQS
Can I make them ahead of time? Biscuits are best eaten straight from the oven, warm, or at the very least, the same day there made.
Can I use milk instead of buttermilk? Yes, they are interchangeable in this drop biscuit recipe. Since buttermilk is just slightly thicker than whole milk, hold back about 1 to 2 tablespoons of the milk and see how the dough looks before stirring in the rest.
What is the difference between baking in a cast iron skillet or on a baking sheet? The biggest and most noticeable difference will be the lovely crust that builds up on the bottom of a biscuit that has been baked in cast iron. So if you like a bit of crunch with your biscuit, cast iron is the way to go. If you like them super soft, go with a baking sheet.
Tips for the Best Drop Biscuits
The secret to excellent biscuits is COLD BUTTER. Really cold. Many times the biscuit dough gets worked so much that the butter softens before the biscuits even go in the oven. Try cutting the butter into small pieces and stick back in the fridge or freezer pulling out only when ready to incorporate into the dough.
Don't overwork the dough. Just mix until all the ingredients are combined. You want to see the butter in the dough.
Preheat the oven so it's ready to go when you are. If the biscuits sit out at room temperature waiting for the oven to preheat, the butter will warm up and you won't get flaky biscuits.
Use quality ingredients for the best flavor. I'm a huge fan of Challenge butter because I can taste the difference in my recipes. Quality ingredients equal quality results.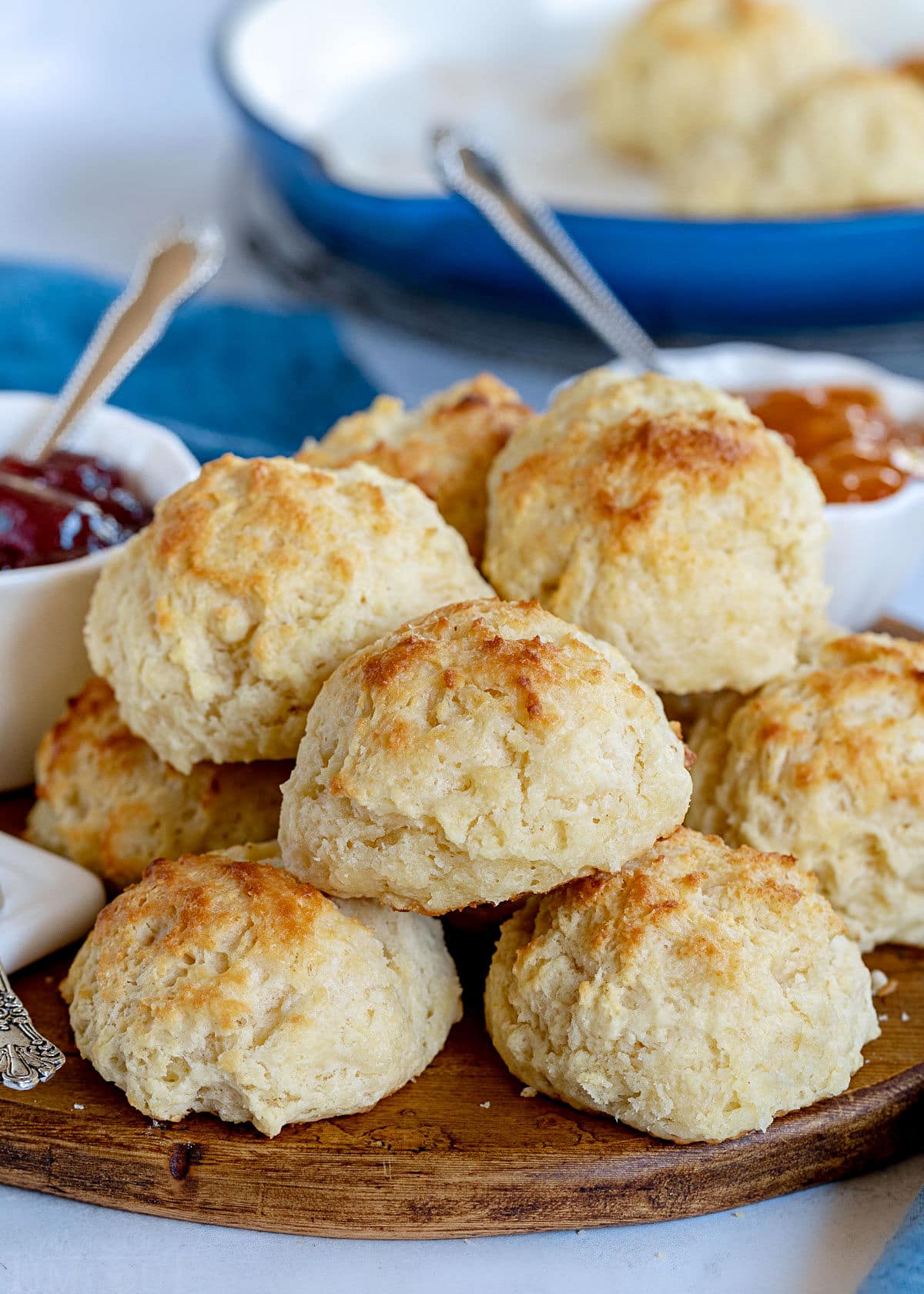 Variations To Try
The great thing about homemade drop biscuits, or any biscuit really, is that it can easily be customized with various add-ins. Here are some you might want to try:
Chocolate Chip Biscuits Add 2 tablespoons of brown sugar with the granulated sugar, and stir in 1/2 cup mini chocolate chips or chopped bittersweet chocolate at the end. Sprinkle top of each biscuit with sea salt before baking.
Biscuits for Cobbler Drop biscuits are essentially what cobblers are topped with. You'll just want to make these biscuits a bit sweeter by adding additional sugar (up to 1/3 cup or brown sugar or granulated sugar) and 1 teaspoon of vanilla extract (that should be mixed in with the buttermilk and egg.) Drop by spoonfuls over the top of the fruit and bake.
Go Herby Add 1 teaspoon of your favorite dried herb or seasoning blend to the dough. You can also add chopped fresh herbs but you'll need to double the amount.
Make It Cheesy Stir in your favorite cheese, shredded, at the end for a lovely cheesy biscuit. Cheese + Herbs is one of our favorite combinations.
Cinnamon Biscuits Perfect for the fall and winter months, add an extra tablespoon of sugar and 1 teaspoon of cinnamon to the biscuits for a lovely sweetness. This is also delicious on cobblers.
Bacon and Cheddar Crumble up some baked bacon or use store bough bacon bits and mix in with some shredded cheese.
Cheesy Garlic A half teaspoon of garlic powder and your favorite shredded cheese make for an amazing biscuits that goes great with soup or your
What You'll Need to Make Homemade Drop Biscuits
A baking sheet – a quarter sheet pan is all you need for this recipe.
A cast iron skillet
Trigger Scoop (ice cream scoop) so you get nice evenly sized biscuits.
Parchment paper makes removal of these biscuits painless and ensures they come off in one piece – this is for use with the baking sheet
A pastry cutter makes quick work of cutting the butter into the flour. Two knives or forks will also work or you can use a box grater.
A pastry brush to brush on melted butter when the biscuits are hot from the oven.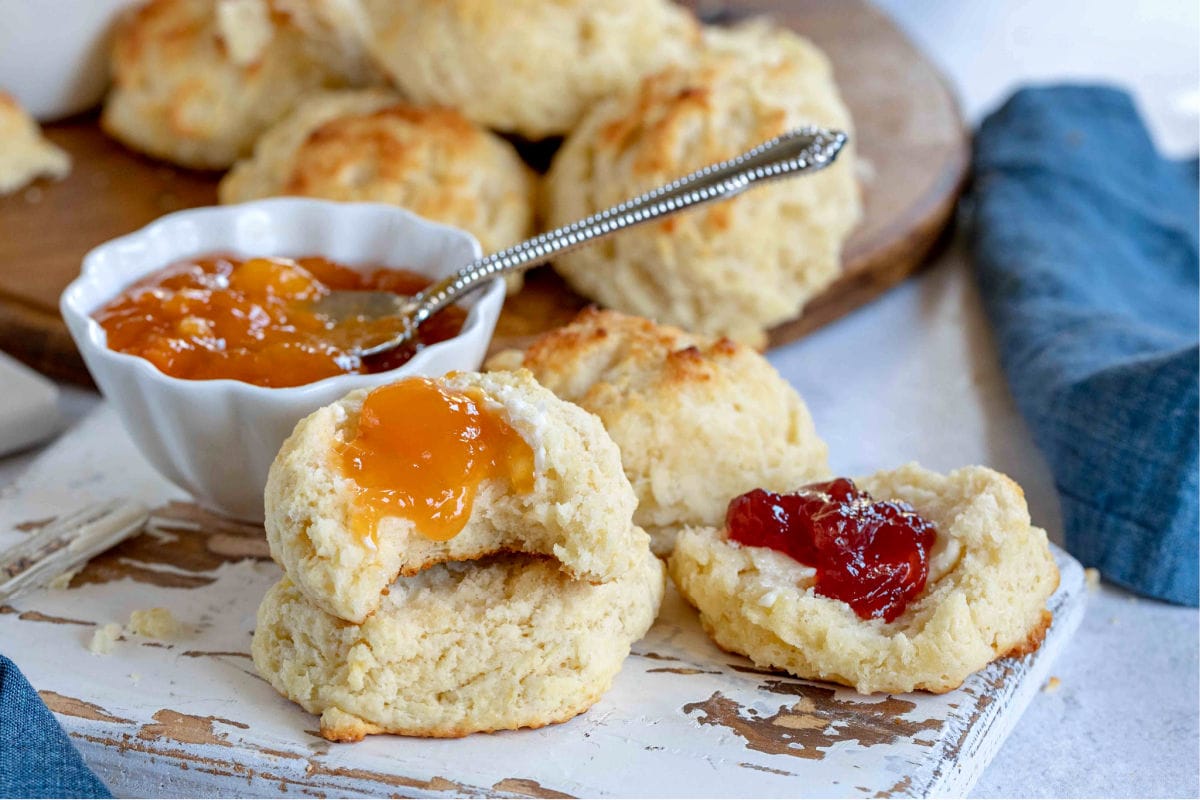 More Favorite Breakfast Recipes
How To Make Drop Biscuits
Easy Drop Biscuits
These easy, homemade biscuits are soft, fluffy, made completely from scratch and can be on your table in about 15 minutes! A weekend staple in our house!
Ingredients
2

cups

all-purpose flour

1

tablespoon

sugar

optional

1/2

teaspoon

kosher salt

1

tablespoon

baking powder

1/2

cup

COLD butter

1

egg

2/3

cup

buttermilk

I used low fat buttermilk, whole milk can also be used here
Instructions
Preheat oven to 450 degrees.

Line a quarter sheet baking pan with parchment or grease a 10 inch cast iron skillet with butter and set aside.

Whisk the dry ingredients together in a large bowl. 

Use a pastry cutter to cut cold butter into flour mixture. Don't go too crazy here - you want to see small, pea-sized pieces of butter throughout the dough. (Alternatively, grate the butter and stir into the dry ingredients making sure the better does not clump together.)

Add in the buttermilk and egg and stir just until the ingredients are combined. The dough will be sticky but don't keep working it. You should be able to see the butter pieces in the dough.

Scoop out the biscuit dough using a large trigger scoop (ice cream scoop) OR use two spoons to scoop out the dough and place it on the prepared baking sheet or skillet.

Bake for 10 to 15 minutes or until golden brown on top.

Brush the tops of the biscuits with melted butter if desired.
Nutrition
Calories:
243
kcal
|
Carbohydrates:
27
g
|
Protein:
5
g
|
Fat:
13
g
|
Saturated Fat:
8
g
|
Cholesterol:
53
mg
|
Sodium:
277
mg
|
Potassium:
220
mg
|
Fiber:
1
g
|
Sugar:
3
g
|
Vitamin A:
417
IU
|
Calcium:
99
mg
|
Iron:
2
mg