Homemade Cinnamon Bread is a thing of beauty and you'll never believe how easy it is to make! Homemade bread is always a special treat but when you add in swirls of cinnamon sugar? PERFECTION. Use the leftovers for French toast this weekend! Make sure to try these breakfast favorites: Buttermilk Pancakes, Biscuits, and Hashbrown Breakfast Casserole!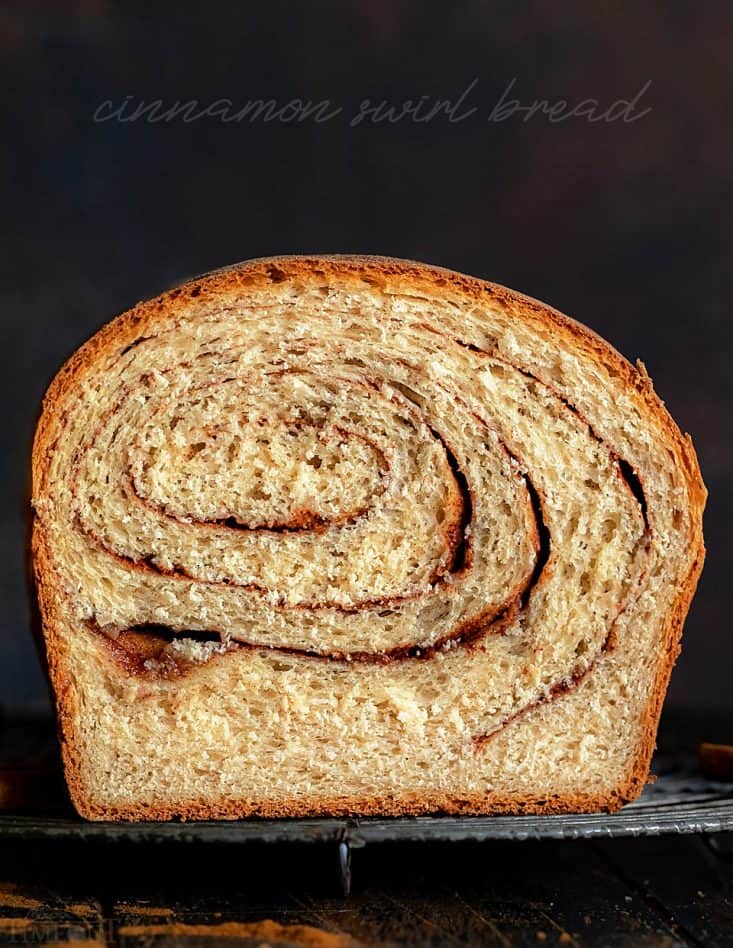 Cinnamon Bread
Cinnamon Bread is one of those recipes I tend to make predominately in the fall and winter months. I don't know why for sure but I think it has to do with the welcoming, homey, spicy aroma the bread emits while it's baking to golden brown perfection.
Cinnamon just screams fall to me and when you combine that with the coziness of homemade bread, we're talking about seriously good eats.
This easy cinnamon bread recipe combines delicious cinnamon flavor with a fragrance that permeates the entire house and systematically makes every. single. person. HAPPY. That's the power of cinnamon. Oh yeah, and a little bit of sugar too, of course 😉
For My Cinnamon Lovers
I'm obsessed with all things cinnamon and if you are too, you're not going to want to miss these favorites: Cinnamon Sugar Pumpkin Muffins, Maple Cinnamon Glazed Peanut Butter Cookies, and this Pear Ginger Cinnamon Oat Smoothie – yum!
Tips and Tricks for the BEST Cinnamon Bread
You'll notice the recipe calls for bread flour. There's a reason for that. If you can't find bread flour, you can, of course, use all purpose flour – I do too when I'm in a pinch. The biggest difference you'll see is in the crumb of the bread and also you might notice small gaps between your layers. The bread is still amazing and we make it all the time with all purpose flour but definitely prefer it with bread flour.
Make sure to bake the bread fully. You can tell the cinnamon swirl bread is baked all the way by tapping on the top of the bread – it should sound hollow. If the bread isn't baked all the way through, the swirls can collapse on each other as the weight of the under baked dough adds stress to the bread structure. Thirty five minutes is the sweet spot for my oven but if in doubt, give it an extra minute or two in the oven before pulling the bread out. You can always tent the top of the bread with foil if you think it's getting too dark.
Roll the dough out to the width of your bread pan (should be 9 inches wide) and then roll it out as long as you can – aim for over 20 inches. Why? The longer your bread is rolled out, the more swirls you get. And more swirls = more fun. (In the pictures below, it was only rolled out to about 15 inches which turned out to be not enough swirls for my liking. In the picture at the top of the post, I rolled the dough out to about 24 inches! Lots more swirls!)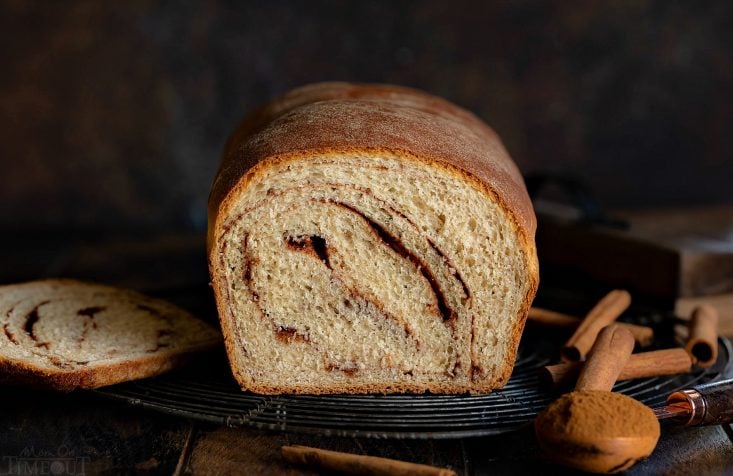 Cinnamon Raisin Bread
A lot of readers have asked if they can use this recipe to make Cinnamon Raisin Bread and the answer is most definitely! The recipe remains the same except sprinkle on a half cup of raisins on top of the cinnamon and sugar mixture before rolling up. (Use more or less to your liking.)
What's In Cinnamon Bread
This bread is a yeast bread meaning there is rise times and yeast involved. That being said. It takes about 10 minutes TOTAL of hands on time and the results are amazing.
You'll find the usual bread ingredients here with a few special items that take this bread to the next level:
active dry yeast
milk
sugar
butter
egg
bread flour
cinnamon
salt
Cinnamon Bread Making Step By Step
I find bread-making to be such a peaceful and rewarding endeavor. A little bit of work followed with some rise time. A little more work and then a little more rising. Throw it in the oven and enjoy the glorious fragrance and then it's time to eat!
It starts with making the dough and letting it rise.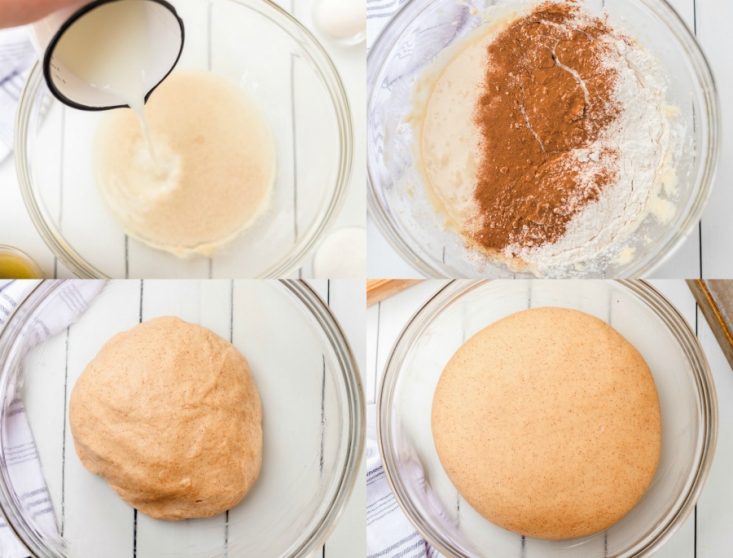 Roll out the dough and sprinkle on the cinnamon and sugar mixture (and raisins if you're making cinnamon raising bread). Roll it out as long as you can and just as wide as your loaf pan. Then roll it up extra tight. The more rolls, the more cinnamon swirls in your bread.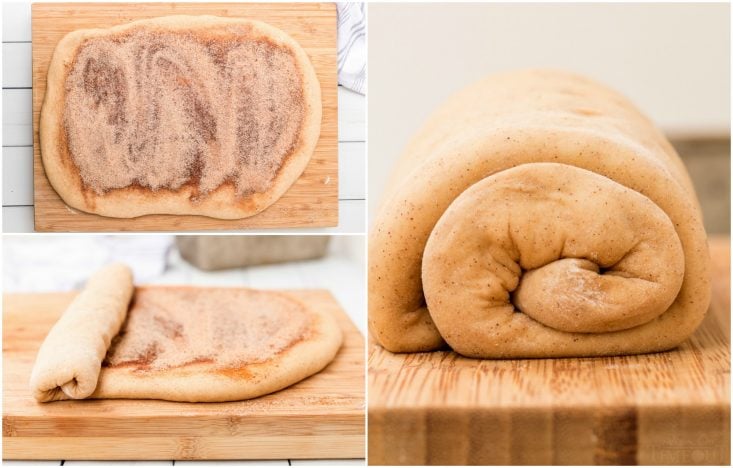 Pinch the seams closed, tuck in the ends and place it in a buttered loaf pan. Let it rise a final time and then pop it into the oven until golden brown.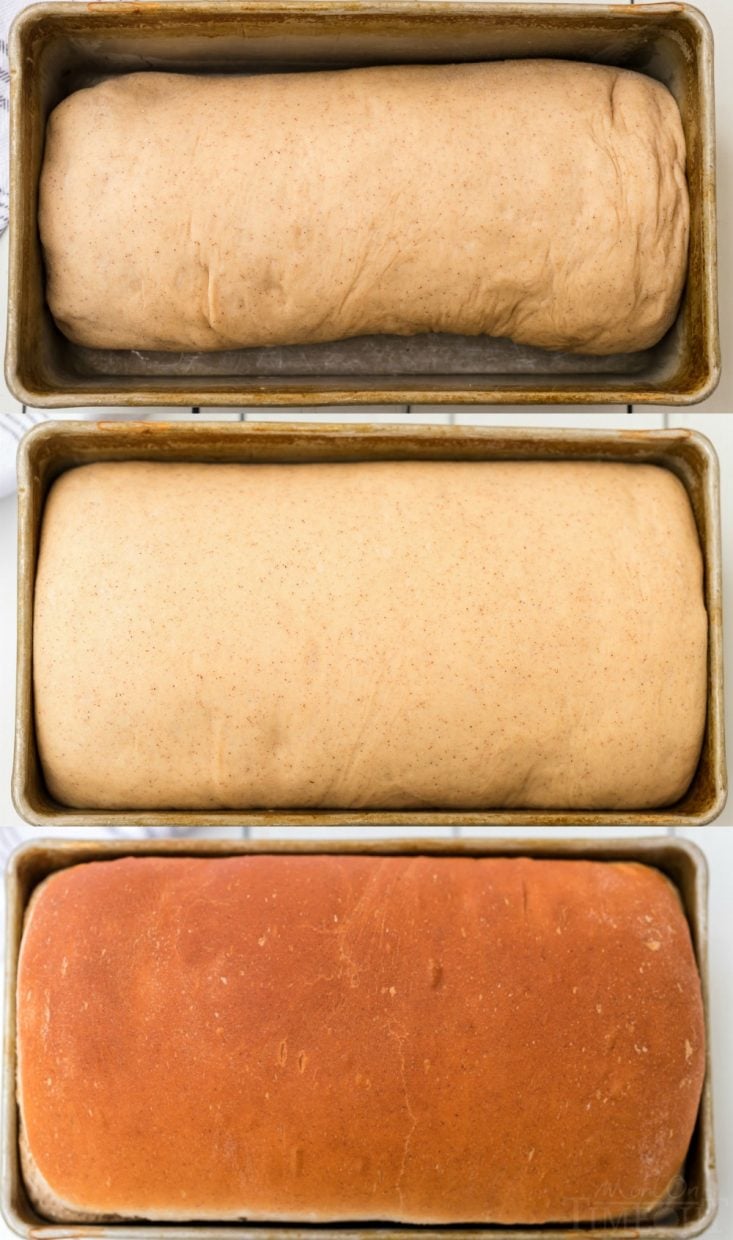 Do I Need a Stand Mixer
Nooooo, but boy does it help! If you have carpal tunnel like I do, kneading bread can be a serious pain. I love using my stand mixer for not only mixing the dough together but also for kneading. Just pop on the dough attachment and let 'er go for about 5 minutes or so.
If you don't have a stand mixer, DO NOT go buy one just for this bread. Unless you really want to… You can absolutely knead by hand for about the same length of time or until the dough forms a nice ball and springs back when gently pressed.
How To Enjoy Cinnamon Bread
This bread is simply divine fresh from the oven. And if you can't get through a whole loaf in one sitting – try it toasted with a little butter the next day and then use the rest for french toast this weekend.
I love how this bread can be enjoyed day after day and in so many different ways. Reece thinks a slice of Cinnamon Swirl Bread is a delicoius afternoon snack and I can attest to it's perfection for a midnight snack. Perfectly sweet and full of cinnamon flavor, this bread is a must-make in our home.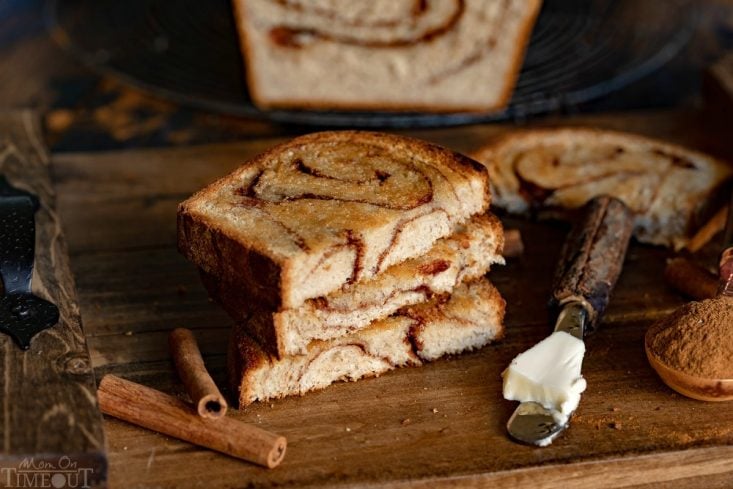 Bread Recipes You'll Love
How To Make Cinnamon Bread
Cinnamon Bread
Homemade Cinnamon Bread is a thing of beauty and you'll never believe how easy it is to make! Homemade bread is always a special treat but when you add in swirls of cinnamon sugar? PERFECTION. Use the leftovers for French toast this weekend! Perfect for breakfast and brunch!
Ingredients
3/4

cup

warm water

110F

2 1/4

tsp

active dry yeast

(one packet)

1/2

cup

milk

warmed to 110F

1/3

cups

sugar

3

tbsp

butter

melted

1

egg

room temperature

4 - 4 1/2

cups

bread flour

all purpose flour can also be used

1 1/4

tsp

cinnamon

1

tsp

salt
Filling:
1/4

cup

sugar

1

tbsp

cinnamon
Instructions
Place water in mixing bowl and sprinkle yeast over the top. Stir gently to combine. Let stand for about five to 10 minutes or until yeast has dissolved.

Beat in milk, sugar, butter, and egg.

Beat in 2 cups of flour until mixture is nice and smooth.

Continue adding remaining flour, salt, and cinnamon a little at a time, mixing until dough is nice and smooth. You may not need all of the flour.

Switch to a dough hook and continue mixing for another five minutes OR simply knead by hand for five minutes.

Shape dough into a smooth ball and place in a lightly buttered bowl. Cover loosely with plastic wrap and let rise for 1 to 2 hours or until doubled in size.

Punch dough down and knead a few times on a lightly floured cutting board.

Roll dough out to a 9 x 20 inch rectangle - the longer the better! (The narrow end should be as wide as your loaf pan.)

Combine sugar and cinnamon in a small bowl and sprinkle over the top.

Start with the narrow end and roll up tightly. Pinch edges well to seal.

Tuck ends under slightly and place in buttered 9 x 5 x 3 inch loaf pan.

Cover and let rise for another hour or until the dough has risen an inch over the top of the pan.

Preheat oven to 350F. Bake for 30 to 40 minutes or until loaf is golden brown and sounds hollow when tapped. Thirty five minutes is perfect for me.

Let cool in pan for 5 to 10 minutes before inverting onto a cooling rack. You can slice and serve right away or let the bread cool completely. Store in an airtight container for up to 3 days.
Notes
Special Tools (affiliate links):
Flour

All purpose flour can be used in place of the bread flour but there will be some gaps between the cinnamon swirl layers. 

Did you make this recipe?
Nutrition
Calories:
239
kcal
|
Carbohydrates:
43
g
|
Protein:
5
g
|
Fat:
4
g
|
Saturated Fat:
2
g
|
Cholesterol:
24
mg
|
Sodium:
239
mg
|
Potassium:
70
mg
|
Fiber:
1
g
|
Sugar:
10
g
|
Vitamin A:
155
IU
|
Calcium:
30
mg
|
Iron:
2.1
mg
Originally published February 19 2013

Yummy appetizer recipes!
More breakfast recipes!
Sign up to get emails when I post new recipes!
For even more great ideas follow me on Facebook – Pinterest – Instagram – Twitter – Bloglovin'.
Have a great day!