This easy to make, over the top Caramel Pumpkin Cheesecake Dip will have everyone coming back for seconds! The perfect dessert or appetizer for fall!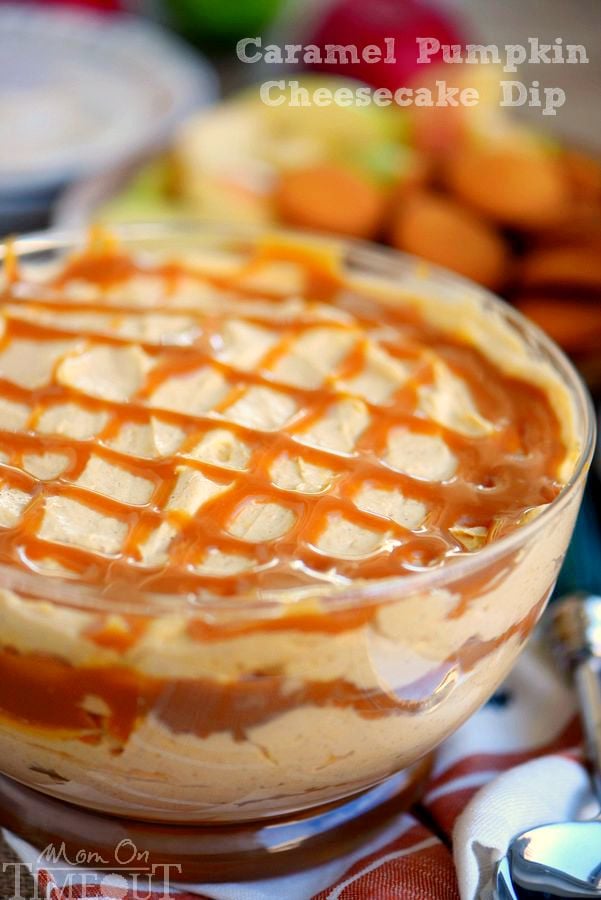 I'm seriously into dips right now. Like MADLY into dips. I went to Apple Hill this past weekend and bought alltheapples. And now, naturally, I am making allthedips to dip them in. This one is the best so far.
So here's the thing. Up until a few weeks ago the thought of pumpkin and apple together seriously grossed me out. Like, YUCK. And then I made this Skinny Pumpkin Dip and I was like OMG this is GOOD! So now I want everything to be pumpkin + apple.
But then there's my long standing love affair with all things caramel apple. Caramel Apple Empanadas, Caramel Apple Shakes, Caramel Apple Cinnamon Rolls, Caramel Apple Monkey Bread, and the list goes on…and on…and…you get the idea.
So I combined them into this ridiculous dip which is going to rock.your.world. Pinky promise.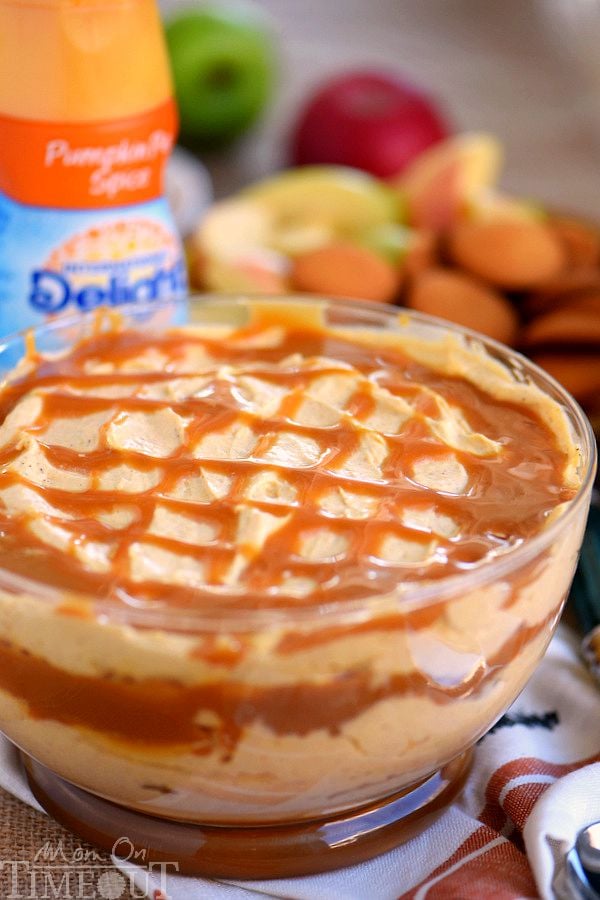 I am a firm believer in equitable distribution of assets, in this case – caramel. I poured some into the bottom of the bowl, layered it in between the pumpkin cheesecake and then drizzled it all over the top. Why? Cause you need a little bit of caramel with every bit of this dip, obvi. There's delight in every bite!
And this is not just your ordinary caramel sauce – NO – this is pumpkin spice caramel because duh, pumpkin all the things, remember?
Let me just take a moment to talk about the caramel because it turned out to be my favorite part of this dip. I melted caramels and Pumpkin Spice creamer together to create this awesomeness. The fragrance alone was inspiring…on top of the pumpkin cheesecake…heavenly. I can't swear that any more than three quarters of the caramel actually made it to the dip, I was so busy testing it to make sure it was just PERFECT, ya know, the crazy things I do for YOU 🙂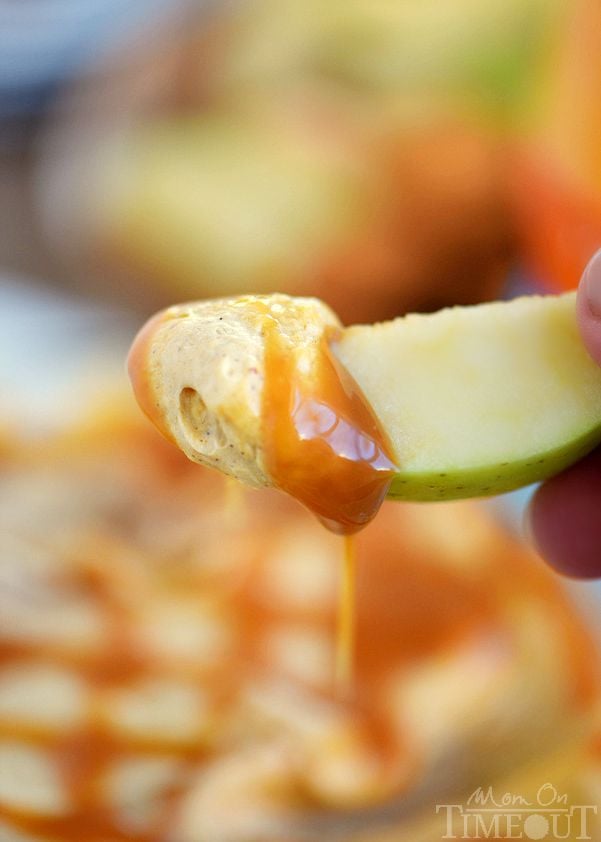 The good news here is this dip is worthy of the apples my boys worked so hard at picking. Graham crackers, nilla wafers, marshmallows, and any other fruit would also make great dippers here – use your imagination!
More Pumpkin Recipes
How To Make Caramel Pumpkin Cheesecake Dip
Caramel Pumpkin Cheesecake Dip
This over the top Caramel Pumpkin Cheesecake Dip will have everyone coming back for seconds! The perfect dessert or appetizer for fall!
Ingredients
11

oz

caramels

1/3

cup

Pumpkin Spice creamer

or half and half or cream

8

oz

packages of cream cheese

I used light

3/4

cup

pure pumpkin

not pumpkin pie filling

1/3

cup

brown sugar

1/2

tsp

vanilla extract

1

tsp

pumpkin pie spice

8

oz

Cool Whip

I used lite
Instructions
Combine the caramels and creamer in a small saucepan. Cook over low heat, stirring occasionally, until the caramels have full melted and the creamer is completely mixed in. Let cool for about 15 minutes.

Beat the cream cheese until light and fluffy. Mix in the pumpkin, brown sugar, vanilla extract and

pumpkin pie spice

and continue beating until thoroughly combined.

Fold in one the Cool Whip.

Pour enough caramel sauce into the bottom of your serving bowl to cover the bottom. Spoon half of the pumpkin cheesecake mixture on top and smooth the surface. Drizzle on some more caramel sauce leaving just enough for the top of the dip.

Spoon on the remaining half of the pumpkin cheesecake mixture and top with remaining caramel.

Serve immediately.
Nutrition
Calories:
153
kcal
|
Carbohydrates:
25
g
|
Protein:
3
g
|
Fat:
5
g
|
Saturated Fat:
3
g
|
Cholesterol:
13
mg
|
Sodium:
129
mg
|
Potassium:
128
mg
|
Fiber:
1
g
|
Sugar:
21
g
|
Vitamin A:
1916
IU
|
Vitamin C:
1
mg
|
Calcium:
76
mg
|
Iron:
1
mg