I would be completely embarrassed if I had to tell you how many of these I have eaten. I'm blushing right now. Caramel Pumpkin Spice Rice Krispies Treats Pinwheels – my new favorite fall treat!
Let's be friends! Sign up to get my new recipes in your inbox! Follow me on Facebook and Instagram too!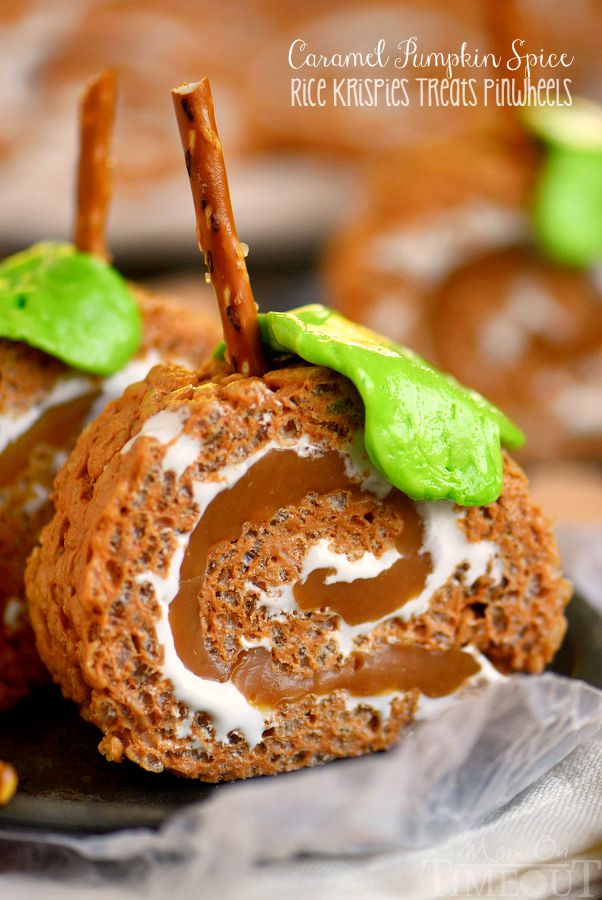 I've got a rather serious topic to discuss with you guys today. Hunger. Hunger in America. It exists. And it's something we need to talk about. One in five children live in households that don't have consistent access to adequate food.
As a food blogger I tend to look at food as a creative outlet for myself. It's fun to develop new recipes and make amazing food for my family and friends – and especially for my boys. When I think about children going to school everyday – hungry – my heart.just.breaks. It kills me.
I can remember the first time I was confronted with the hunger issue here in America. It was my little sister Ashley who helped me to understand. She was working on her teaching credential and teaching at a school that was totally out of my "comfort zone". She told me about these sweet little kids in her class that didn't have the proper clothes to wear, didn't have backpacks, and, most heartbreaking of all, were coming to school without breakfast.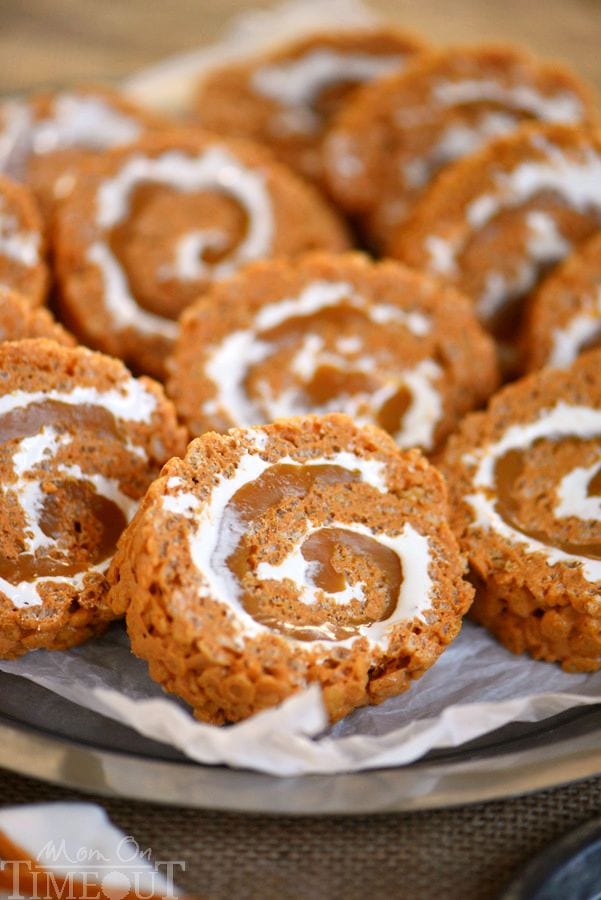 Some of those children were relying on the lunch at the school for food and would sometimes go 24 hours between meals. Are.you.kidding.me???? I really can't even stand it. The amount of food that we waste in our house could probably feed a whole other family. It's disgusting and sad and I am bound and determined to do something about it. I bet you are too.
While the statistic are staggering and depressing there is good news. REALLY good news: YOU CAN HELP. I am partnering with Albertsons Safeway today to enlighten you and share with you information about their Hunger Is program.
It's easy. It's accessible. It's up to you to help.
So let me break it down for you so you know exactly what you can do. During the month of September, Albertsons Safeway is holding their "Hunger Is"campaign to help aid in the relief of childhood hunger in America. This program is designed to raise awareness, volunteer hours, and funds that will improve health outcomes for hungry children and their families.
There are two ways you can help. One, shop at your local Albertsons or Safeway (or any other stores in their family) and buy products from participating brands. Or two, donate to the Hunger Is campaign at your local store (many stores have donation options at checkout). It really couldn't be any simpler.
The great thing is the brands that are participating are ones that we already love and use:  Con Agra – (Marie Calender's, Healthy Choice, Bertolli's and PF Changs brands), Coke, Unilever (which includes Bryer's and Ben & Jerry's ice creams), Kellogg's, and Campbell's.
Just shop at Safeway buying the products from brands that you already love and you can help hunger in America. That's a win-win in my book. Every designated item helps connect hungry kids in our communities to healthy food.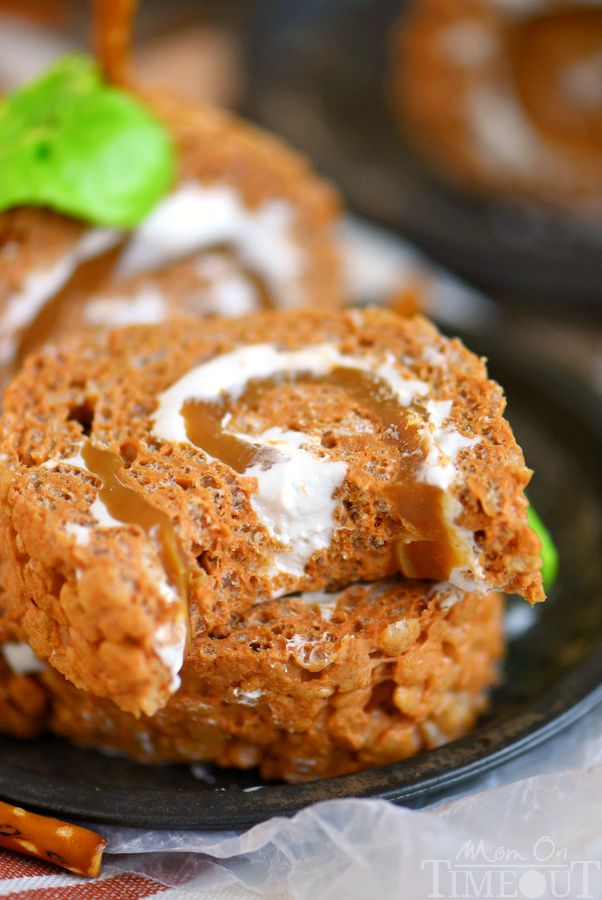 One of my favorite ways to raise money for charities is, you guessed it, a bake sale. I'm sure you are flabbergasted at this but, yes, I kinda like to bake 🙂 Given the season I thought I would make something pumpkin-y, something caramel-y, something that every single person at a bake sale would buy – and I came up with these.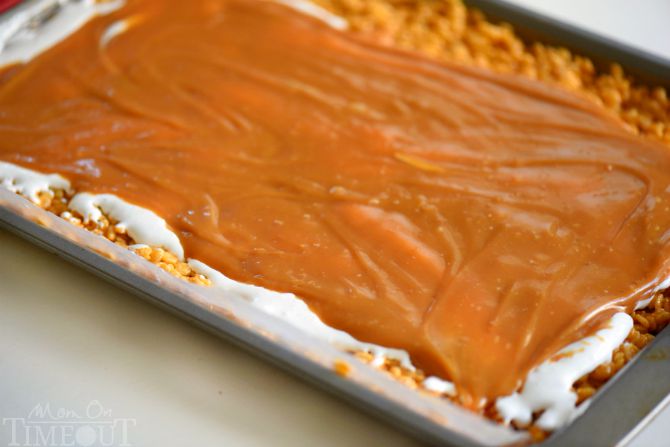 Inspired by my S'mores Rice Krispies Treats Pinwheels (the most popular recipe on my site) and given a total Fall makeover, I seriously cannot get enough of these. The caramel layer was a total stroke of genius and MAKES these pinwheels. I used pumpkin spice marshmallows to get that awesome pumpkin flavor.
Are you kidding me with this? You guys! You HAVE to make these – promise me!
And because I simply can not leave well enough alone, I added a pretzel and a "leaf" made out of laffy taffy and turned these pinwheels into a pumpkin.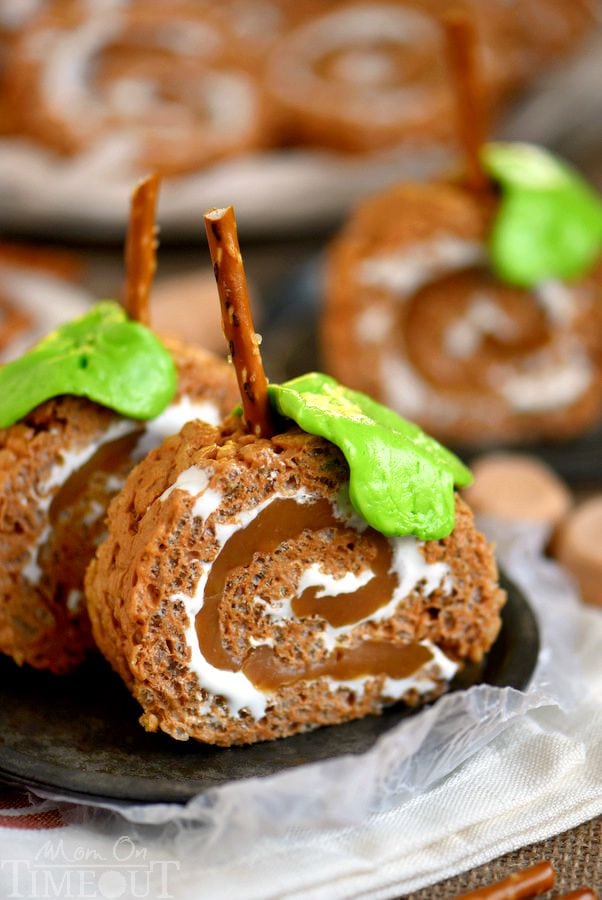 Caramel Pumpkin Spice Rice Krispies Treats Pinwheels
Caramel Pumpkin Spice Rice Krispies Treats Pinwheels - my new favorite fall treat! Amazing flavors, totally fun - what's not to love?
Ingredients
Instructions
Unwrap caramels and place in a small saucepan with butter and sweetened condensed milk.

Cook over medium-low heat, stirring occasionally, until caramels have fully melted and the mixture is nice and smooth. Let cool for about 10-15 minutes or until nice and thick. Set aside

Line a 10x15 jellyroll pan with waxed paper. Generously butter the waxed paper and set aside.

Combine marshmallows and one quarter cup of butter in a microwave-safe bowl. Cover and heat on high for 30 seconds, stir. Repeat until completely blended.

Stir in cereal . Press mixture into prepared pan. Refrigerate for 10 minutes.

Spread marshmallow creme on top using an offset spatula, leaving 1 - 2 inches on one long edge clear.

Spread caramel on top - you will not need to use all of it! Refrigerate for 20 minutes.

Roll up jellyroll style (like a cinnamon roll), starting on the long side. Peel away the waxed paper as you roll. Pinch the seams together.

Place seam side down and refrigerate for 30-45 minutes.

Slice and serve!

To make pumpkins, insert pretzel sticks into the top of each slice and create leaves with green laffy taffy.
Nutrition
Calories:
298
kcal
|
Carbohydrates:
55
g
|
Protein:
3
g
|
Fat:
9
g
|
Saturated Fat:
5
g
|
Cholesterol:
21
mg
|
Sodium:
177
mg
|
Potassium:
106
mg
|
Fiber:
1
g
|
Sugar:
39
g
|
Vitamin A:
806
IU
|
Vitamin C:
6
mg
|
Calcium:
69
mg
|
Iron:
3
mg

Bake sale treats!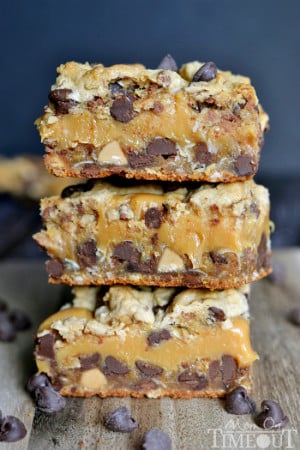 Peanut Butter Caramel Toffee Chocolate Chip Cookie Bars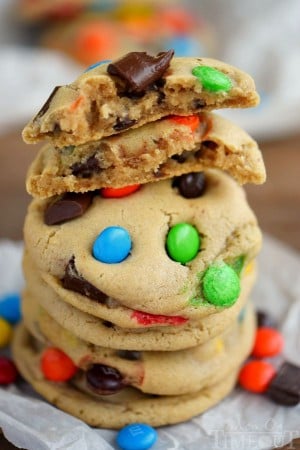 Bakery Style M&M's and Chocolate Chunk Cookies
Brown Butter White Chocolate Macadamia Nut Cookies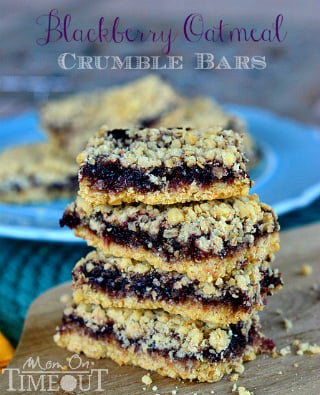 Blackberry Oatmeal Crumble Bars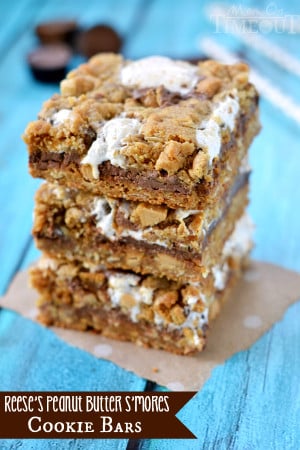 Reese's Peanut Butter S'mores Oatmeal Cookie Bars

For all pumpkin recipes, go HERE.
For all dessert recipes, go HERE.
Sign up to get emails when I post new recipes!
For even more great ideas follow me on Facebook – Pinterest – Instagram – Twitter – Bloglovin'.
Have a great day!
This is a sponsored conversation written by me on behalf of Albertsons Safeway . The opinions and text are all mine.