These crispy Air Fryer Brussel Sprouts are seasoned with garlic and Parmesan and ready to go in just about 20 minutes. Easy and delicious Brussels sprouts make the perfect side dish for any meal! Try them with these favorites: Chicken Fried Steak, the best chicken of your life made with this chicken marinade or these tasty Stuffed Shells!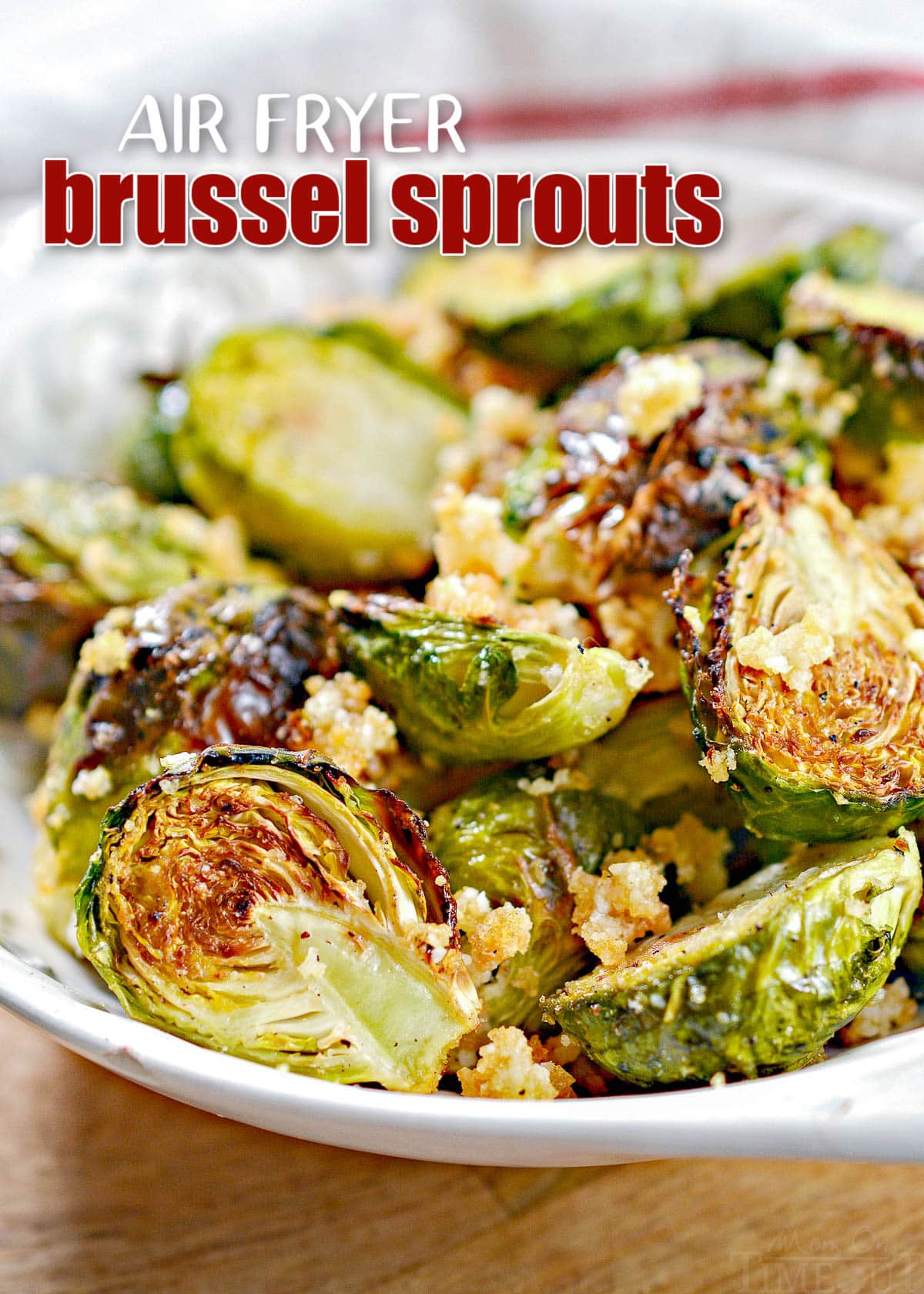 I'm always on the hunt for delicious veggie options that are easy to make, and thanks to the super-hot circulating air of the air fryer, vegetables will never be the same.
They're crunchier, sweeter, packed with flavor, and better than ever! Plus, using the air fryer is so much easier and less time-consuming than roasting them in the oven.
Making crispy Brussels sprouts in the air fryer couldn't be easier! Try these Garlic Parmesan Air Fryer Brussel Sprouts, and they'll become your new favorite way to prepare (and eat) Brussels sprouts!
Air Fryer Recipes
Looking for more air fryer recipes? Try these favorites:
Lemon Pepper Wings – Baked or Air Fried!
Bacon Wrapped Asparagus – Baked or Air Fried!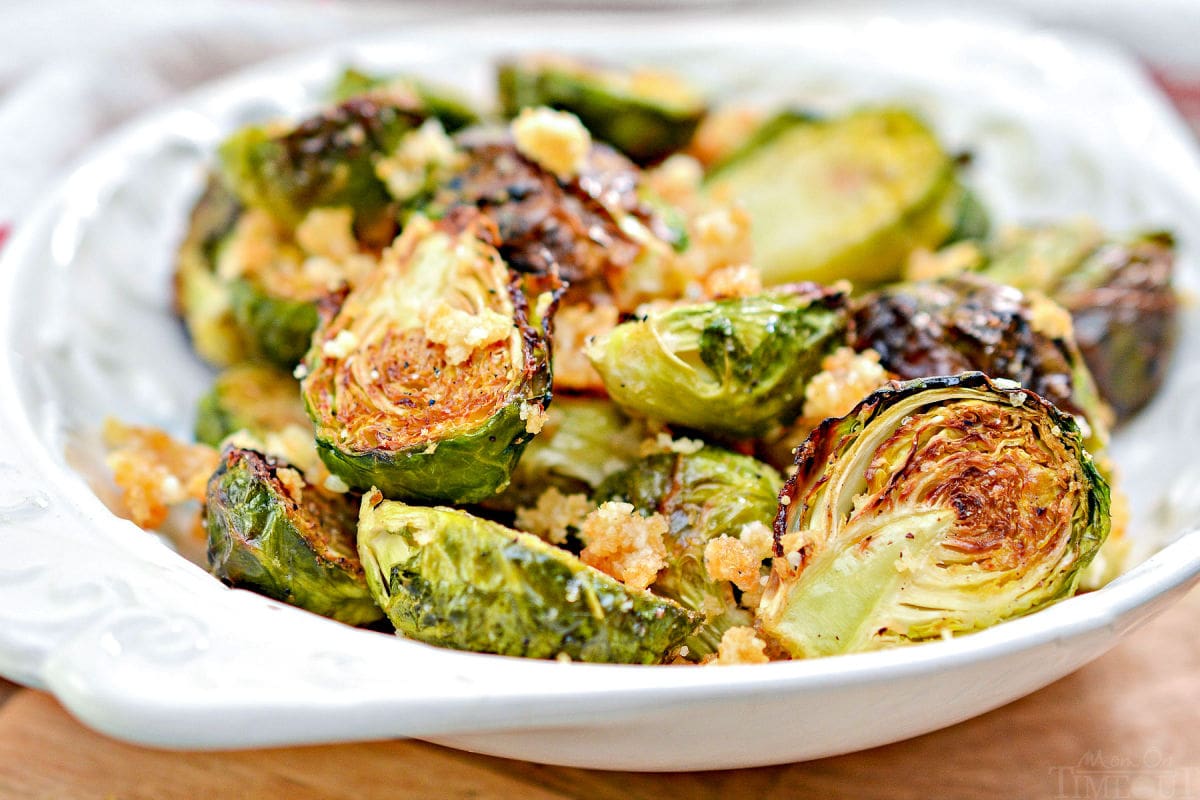 Air Fryer Brussel Sprouts
I think Brussels sprouts may be the perfect veggie to air fry because their outsides get nice and extra crispy while the insides become deliciously tender. I love making roasted Brussels sprouts, but now I'm obsessed with this air fryer version.
Try serving them with Citrus Glazed Roast Chicken (or another one of these amazing chicken dinner recipes), homemade mashed potatoes, and my soft and fluffy dinner rolls for an easy weeknight meal option.
Tip: Brussels sprouts also made a delicious snack option with a side of your favorite dipping sauce. 🙂
Ingredients Needed
Making Brussel sprouts in the air fryer doesn't require a lot of ingredients. Just a few to give them some extra flavor and crunch. Let's take a look at what you'll need:
Brussels sprouts – a hearty veggie full of robust flavor when air fried.
Olive oil – just enough to add the seasonings to the Brussels sprouts and help get the outsides nice and crispy.
Garlic powder, salt, and pepper – flavor enhancing seasonings.
Crushed pork rind crumbs – add a nice flavor while acting as a keto-friendly "breading". See alternative options below and in recipe card.
Parmesan cheese – Parmesan and garlic are two flavors that are meant to go together and they make these Brussels sprouts taste incredible.
Bonus: These Air Fryer Brussel Sprouts are also Keto-friendly! If you aren't following a low-carb diet, you can easily substitute panko or regular breadcrumbs for the pork rind crumbs.
How To Cook Brussel Sprouts in the Air Fryer
Believe it or not, there's very little work that goes into making these Brussels sprouts! And if you don't have an air fryer, you NEED to get one. I love this air fryer!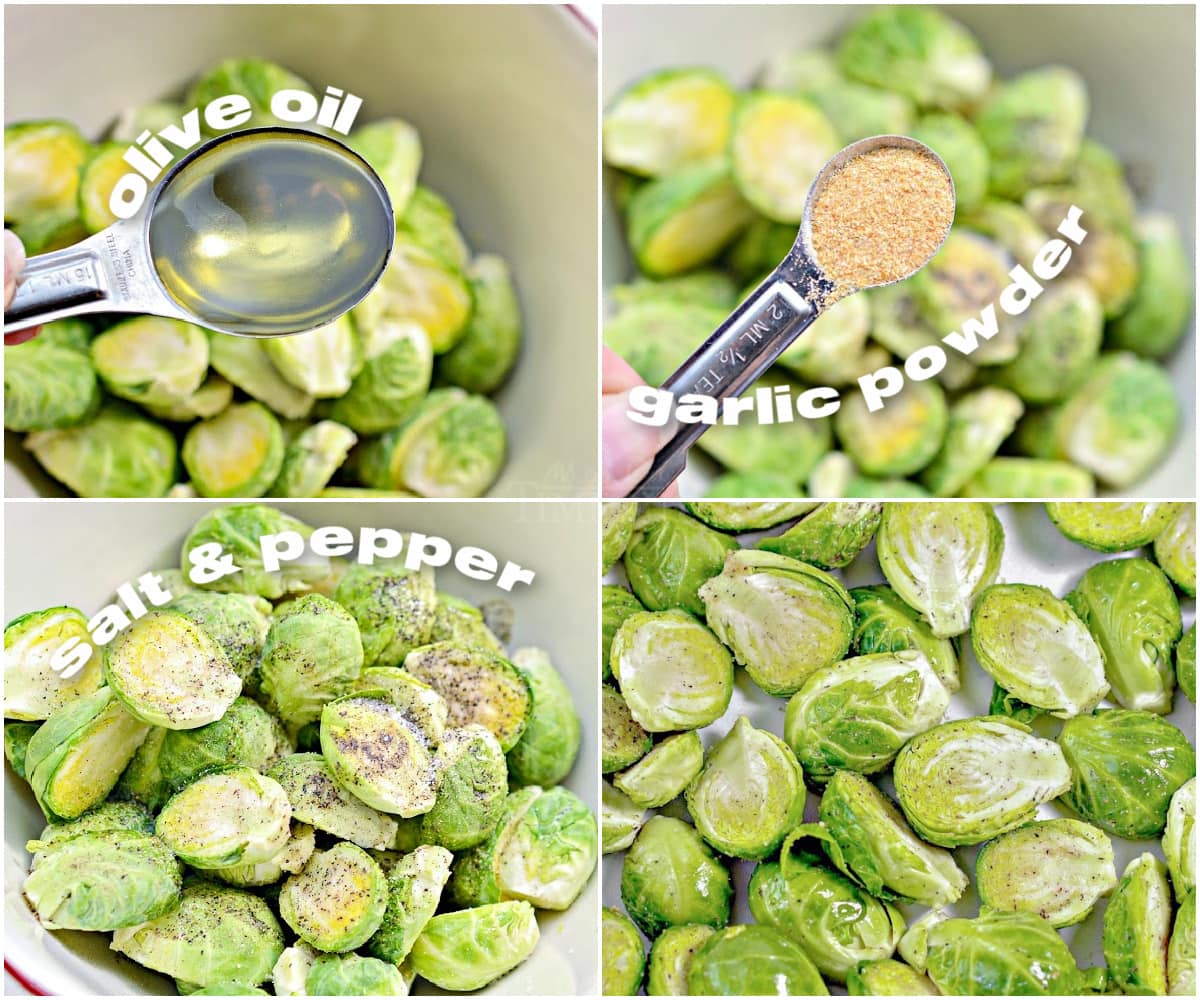 Quarter your sprouts – this ensures they are closer to the same size so they cook evenly and gives them more surface area for the seasoning to cover.
Toss with oil and seasonings then sprinkle with salt and pepper.
Air fry at 350℉ for 8 to 10 minutes, add Parmesan and "breading" and fry just a little longer.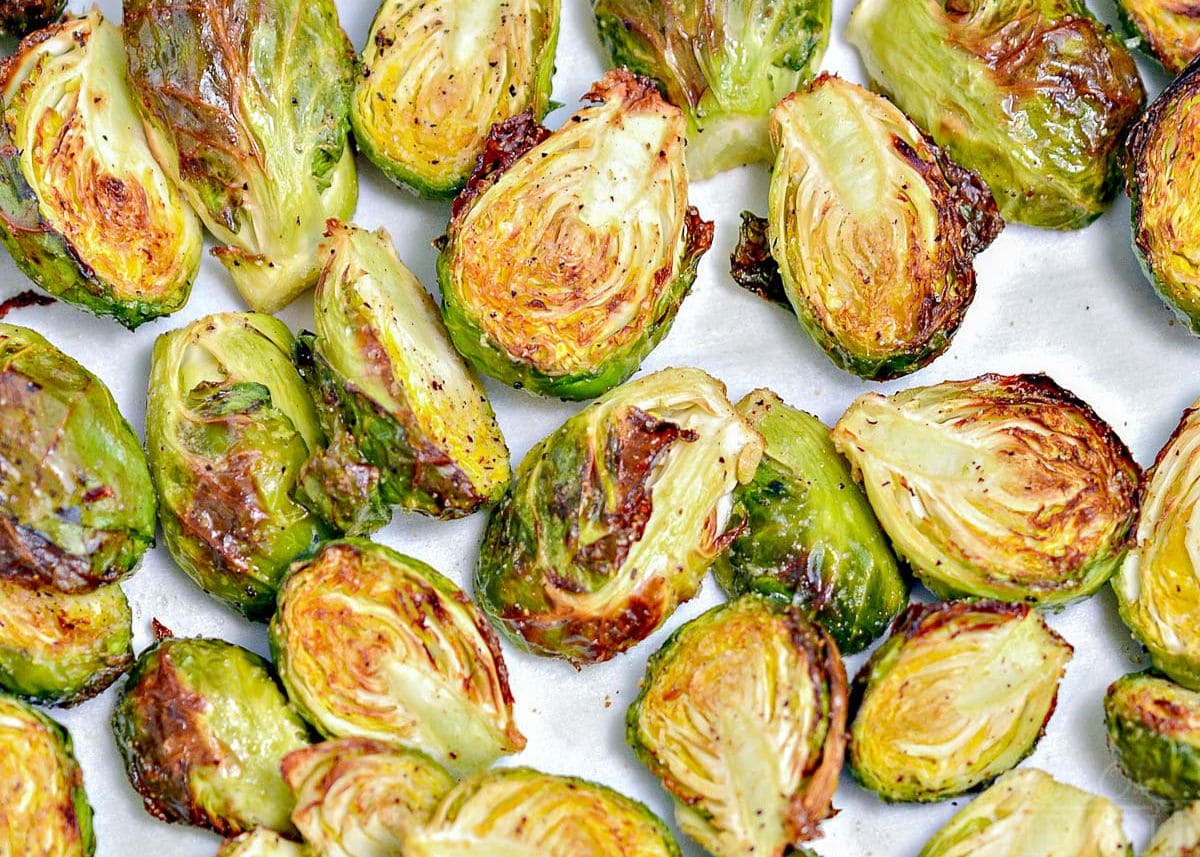 FAQs
Aren't they easy to make? Tossed in just a bit of olive oil, seasonings, pork rind crumbs, and Parmesan cheese, Air Fryer Brussels Sprouts are unbelievably yummy! Here are a few answers to commonly asked questions.
How Do I Store Cooked Brussels Sprouts?
Once your leftover sprouts are cooled completely, you can put them in an airtight container and keep them in the fridge for up to 4 days.
How Do I Reheat Brussel Sprouts in the Air Fryer?
To reheat your sprouts, all you need to do is put them back in the air fryer for 10 to 12 minutes at 350℉.
Tips for the BEST Air Fryer Brussel Sprouts
Follow these quick and easy tips for the best results:
The pork rind crumbs make these Brussels sprouts Keto and low-carb friendly. However, if you want, you can easily replace them with Panko breadcrumbs or even regular breadcrumbs.
Try to purchase Brussels sprouts that are all about the same size to help ensure even cooking.
If you happen to buy a few larger sprouts, cut them slightly smaller so that they are similar in size to the other sprouts.
Don't overfill the fryer basket. There needs to be enough room for the air to circulate around all the Brussels sprouts. If you have too many packed in there, they won't crisp as they should.
I highly recommend giving the basket a quick shake halfway through air frying to help stir up the Brussels sprouts so they all crisp up. Set a timer so you don't forget.
If you want to double the recipe, plan to cook in batches so you don't overfill the fryer basket.
If you do need to cook your sprouts in multiple batches, keep a close eye on them as they cook because the fryer will already be hot so they will likely need less time to cook.
Check for tenderness before serving. If you are cooking larger sprouts (or a second batch), you may need to vary the cooking time slightly.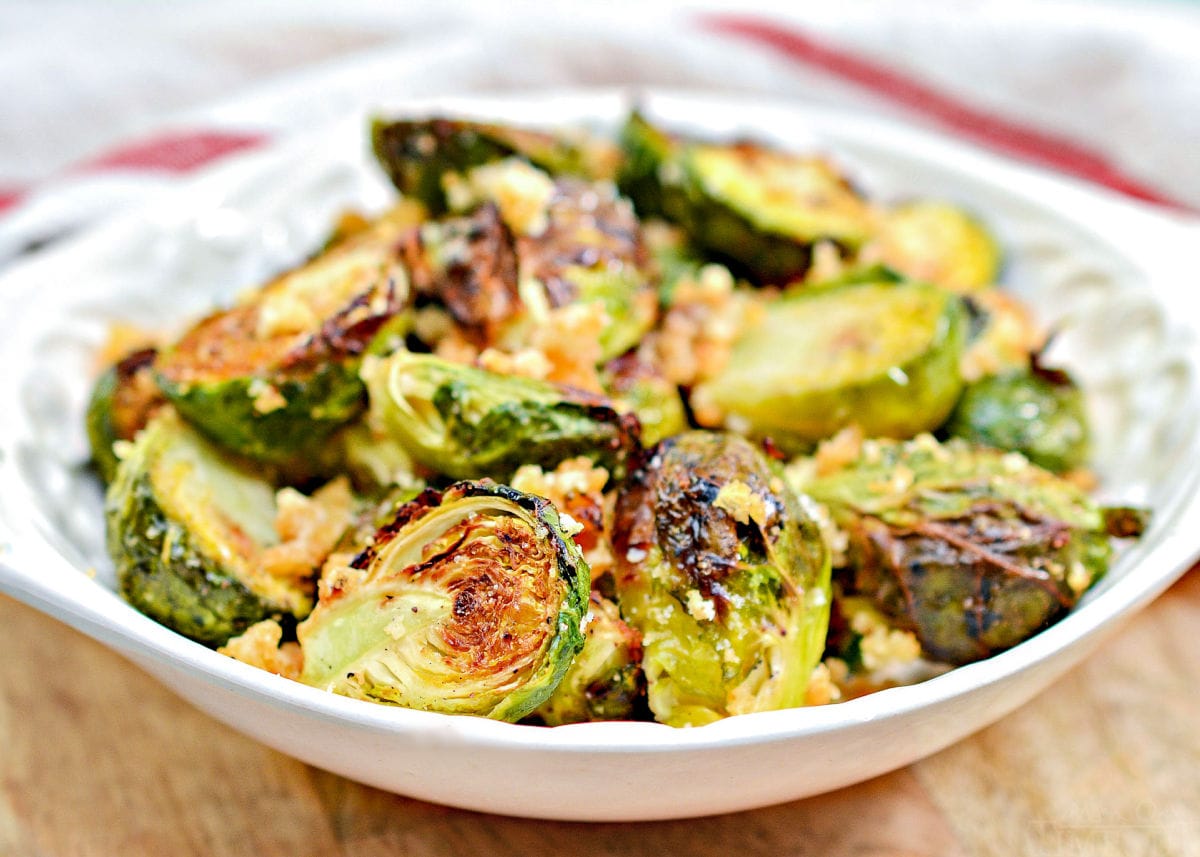 Variations To Try
If you want to change things up from time to time, try these delicious variations:
Try tossing them with olive oil, balsamic vinegar, and a sprinkle of sea salt for a tangy change of flavor.
Toss them in a combination of melted butter, minced shallot, and a splash of vinegar, for an easy weeknight side dish.
Add bacon (because everything tastes better with bacon!) – simply cut four pieces of raw bacon into small 2-inch pieces. Throw the bacon pieces into the basket with the sprouts before putting the basket into the air fryer.
Air fry them in simple olive oil, salt, and pepper. Then once done, drizzle honey and balsamic vinegar over them.
I hope you love these Garlic Parmesan Air Fryer Brussel sprouts! Even if you think you're not a fan, once you season and air fry them, I am confident that you will change your opinion of them!
More Side Dishes To Try
Garlic Parmesan Air Fryer Brussel Sprouts
These crispy Air Fryer Brussel Sprouts are seasoned with garlic and Parmesan and ready to go in just about 20 minutes.
Ingredients
1

pound

Brussels sprouts

trimmed and cut in half

2

tablespoons

extra virgin olive oil

divided

½

teaspoon

garlic powder

¼

cup

crushed pork rind crumbs

or Panko breadcrumbs

¼

cup

grated Parmesan cheese

salt and pepper

to taste
Instructions
Preheat air fryer to 350 degrees.

In a small bowl, combine 1 tablespoon of olive oil, Parmesan cheese and pork rind crumbs (or Panko breadcrumbs). Stir to combine. Set aside.

Place Brussels sprouts in a mixing bowl. Add 1 tablespoon of olive oil, garlic powder and salt and pepper to taste. Stir well to combine.

Line air fryer basket or tray with parchment paper and place the Brussels sprouts on top.

Cook for 8 to 10 minutes until they have softened and begun to brown and turn crispy.

Sprinkle Parmesan cheese mixture over the Brussels sprouts and return to the air fryer. Continue cooking for an additional 2 to 3 minutes or until crispy. Serve immediately.
Nutrition
Calories:
111
kcal
|
Carbohydrates:
9
g
|
Protein:
5
g
|
Fat:
7
g
|
Saturated Fat:
2
g
|
Cholesterol:
4
mg
|
Sodium:
99
mg
|
Potassium:
363
mg
|
Fiber:
3
g
|
Sugar:
2
g
|
Vitamin A:
727
IU
|
Vitamin C:
77
mg
|
Calcium:
94
mg
|
Iron:
1
mg