Spiced Plum Crisp is the easiest, most delightful dessert (or breakfast!) you will make this season!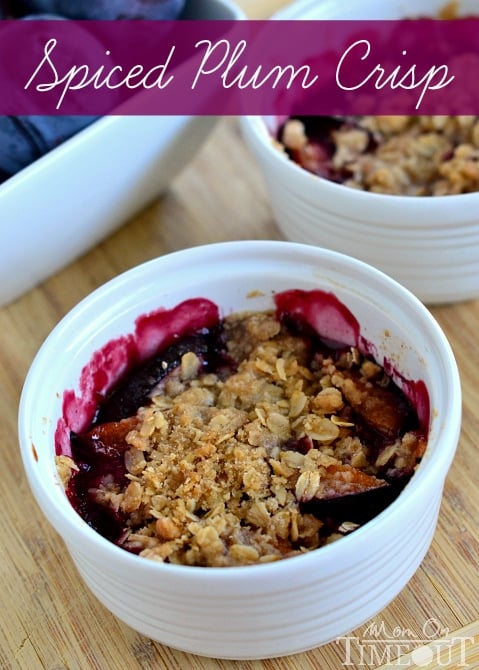 Have I ever told you about our plum tree?  It's kind of on the super-prolific side of plum production.  I mean, we probably eat 100 times more plums than the average family and we LOVE it!  I get a little thrill every time Bryce says "I want a plum!' and walks out to the backyard to pick himself one.
We give away 10-20 lbs bags of plums to everyone that comes to our house.  Kind of like goody bags.  Except they're Target grocery bags and they're filled with plums.  We hear no complaints.
I would guess that our tree produces well over 1000 pounds of plums each year and the number grows annually.  Oh what will we do next year??
Anyhoo, we're getting to the tail end of plum season.  Meaning, every time I walk outside I see another thirty plums sitting on the ground and my heart breaks a little.  I decided to make up some plum crisps for our Labor Day extravaganza and golly gee – why have I never done this before?
I'm calling the Spiced Plum Crisps a "transitional treat" because it's perfect for Summer or Fall.  I will highly recommend that you serve this with a scoop of vanilla ice cream…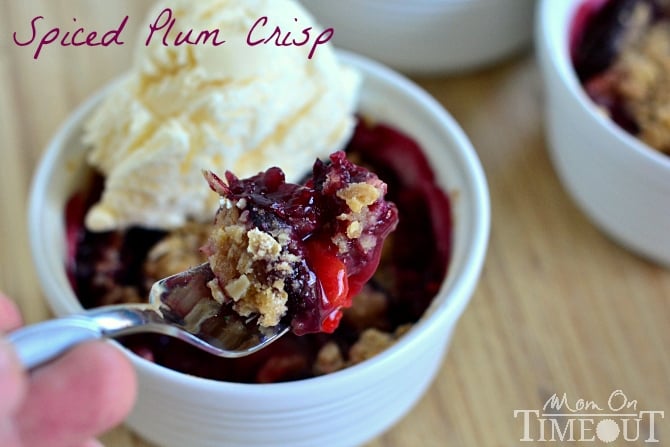 Guuurrll!  It's amazing!
These take like no time at all to whip together and they are so fun served in individual ramekins.  If you don't have ramekins – just throw everything into an 8×8 baking dish and you'll be golden.  Or plum as the case may be.
Spiced Plum Crisps
Ingredients
5 cups sliced, pitted plums (don't peel)
1 Tbls all-purpose flour
¼ cup granulated sugar
Topping
¼ cup all-purpose flour
¼ cup oats
¼ cup brown sugar
¼ cup granulated sugar
1 tsp cinnamon
⅛ tsp allspice
4 Tbls cold butter
Instructions
Preheat oven to 350°F.
Combine one tablespoon of flour and ¼ cup granulated sugar in a large bowl. Stir in plums.
Combine dry ingredients for topping in a medium bowl. Cut in butter.
Divide plum mixture among six ramekins and place on a large baking sheet.
Sprinkle topping over plum mixture.
Bake for 35-40 minutes or until nice and bubbly and topping is crisp.
Serve with a scoop of vanilla ice cream for an amazing treat!
This recipe is also amazing for breakfast.  Just leave out the vanilla ice cream – or don't.  Totally up to you 🙂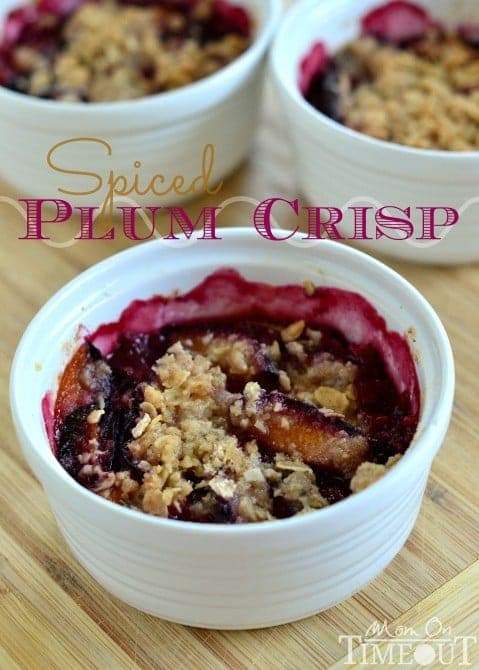 More fabulous recipes: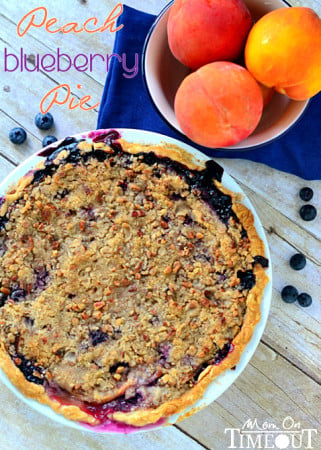 Peach Blueberry Pie with Pecan Streusel Topping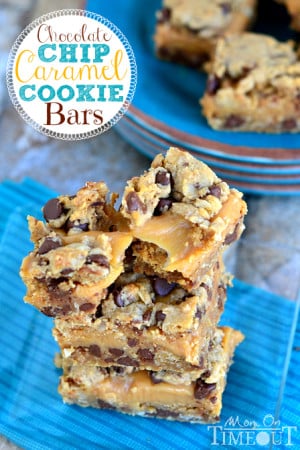 Chocolate Chip Caramel Cookie Bars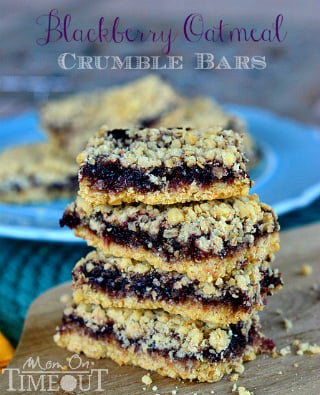 Blackberry Oatmeal Crumble Bars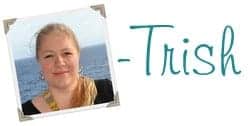 Connect with me!








 Linking up at some of these parties.