This Peach Blueberry Pie with Pecan Streusel Topping is exactly what a summer pie should look and taste like. Don't forget the ice cream!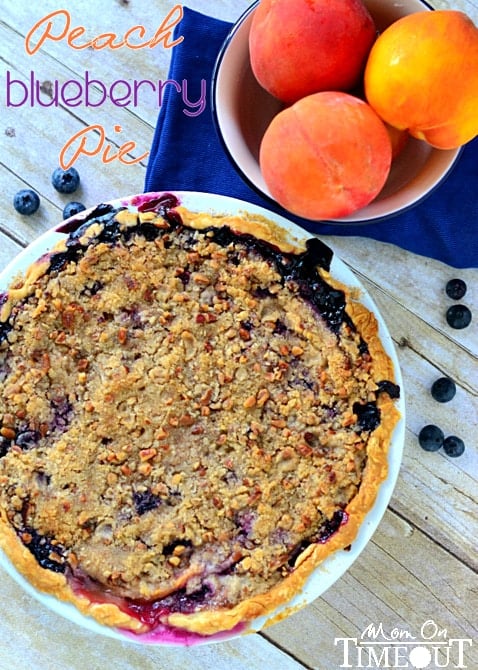 I am not really into pies. I mean honestly, I make like one or two pies a year. My sister is the pie baker in our family. Do you have one of those? You know. That person in your family who everyone knows makes the best pies? That's my sister 🙂
It's funny because sometimes I think our roles in our family are thrust upon us and not totally our own decision. Like maybe one Christmas you bring the most incredible spinach dip and then because it was so good, you're suddenly know as the spinach dip lady. From now through the end of all time, you will be bringing spinach dip to every single party and function that takes place.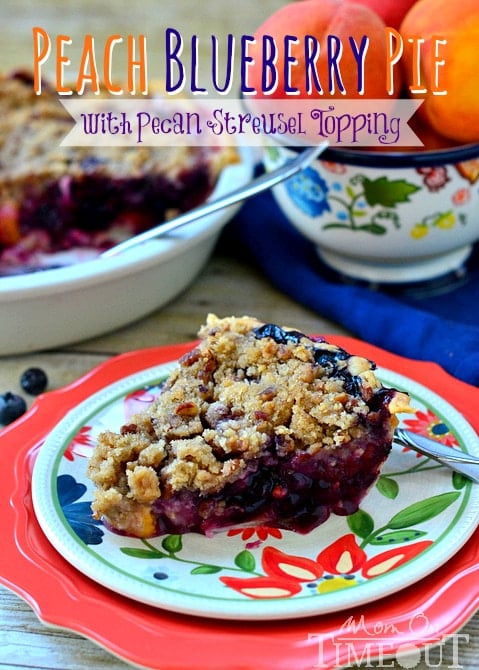 No? Hmmm. That's how it is in my family.
Anyhoo. So my sister is the pie lady in our family and she actually loves to make them. She is forever trying out new recipes and coming up with crazy combinations that I would NEVER think of. It's really amazing.
Well this past week I was shopping and picked up some gorgeous peaches. I love all the fresh finds I make there – especially during the summer! I may or may not have picked up too many but it surely seemed like a good idea to make a pie with those lovely peaches. My husband was all for it. He LOVES pie and I NEVER make them so that's a bit of an issue. When I asked him what I should make with the peaches I'm pretty sure our neighbors could hear him shout,
"PIE!"
So I, of course, being the ever-dutiful, loving wife that I am, created this pie. Just for him. Or so I thought. Until I tasted it. And then it was mine.
ALL MINE.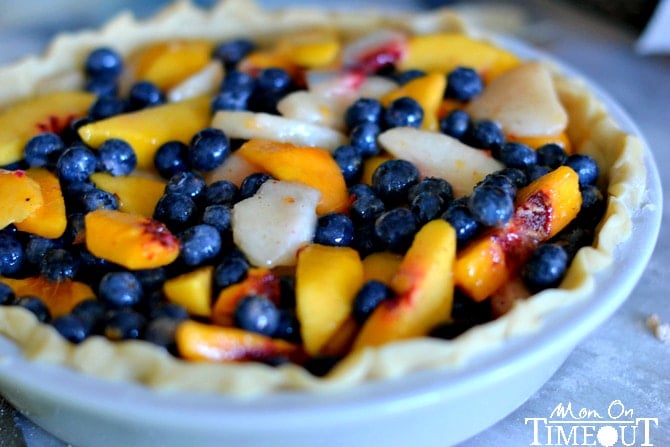 I went with peaches and blueberries because I like the colors. Yep. That's how my decision-making process goes in the kitchen. And, I mean, come on! Aren't they purty together?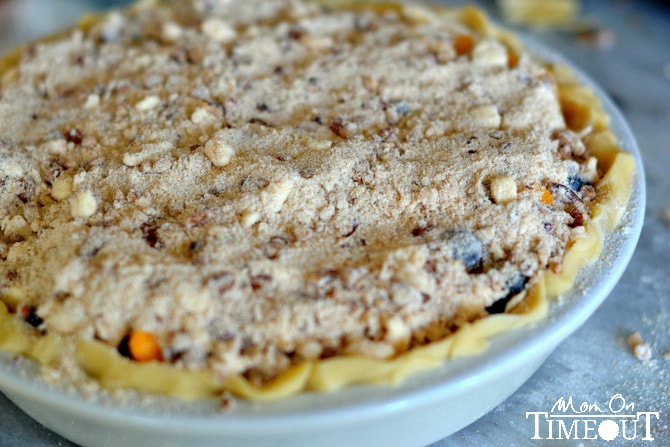 A streusel topping seemed perfect because I thought a little crunch and nuttiness would be nice in this super sweet yummy pie. And it was. Good call there!
This pie was so dang easy to put together and holy moly people – it is SOOOO good! My husband was all like,
"This pie is better than any pie I've had at Apple Hill!"
Which, for those of you who don't know, is his reference point for perfect pies. So yeah. Pretty big compliment there.
We pretty much inhaled this pie on Saturday after a fun day of rafting (and a not so fun day of test driving cars – more on that later.) Two slices is perfectly acceptable because hello people, this is a FRUIT pie. It's totally good for you! Not to mention you burn a lot of calories laying out people with water guns on the river. Bryce, was in total attack mode against all other rafters until they started return fire on him. Then he would shout "No! I'm on your side!!"
Smart kid right?
Almost as smart as making this pie, like tomorrow, and eating a huge slice with a big scoop of vanilla ice cream. Now that's smart!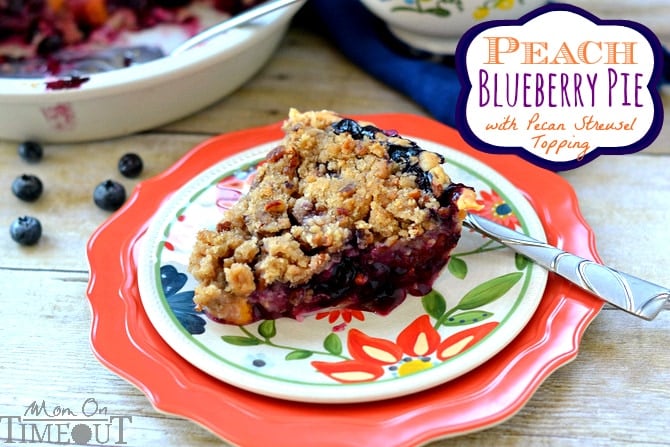 How To Make Peach Blueberry Pie
Peach Blueberry Pie with Pecan Streusel Topping
 This Peach Blueberry Pie with Pecan Streusel Topping is exactly what a summer pie should look and taste like. Don't forget the ice cream!
Ingredients
3

cups

fresh peaches

peeled, pitted, and sliced

2

cups

fresh blueberries

1 1/2

tbsp

fresh lemon juice

3

tbsp

cornstarch

3/4

cup

sugar

1/4

tsp

ground cinnamon

1/8

tsp

ground nutmeg

1

refrigerated pie crust

I used Pillsbury
Pecan Streusel Topping
1/2

cup

all-purpose flour

1/4

cup

sugar

1/4

cup

brown sugar

1/4

tsp

ground cinnamon

4

tbsp

cold butter

1/2

cup

chopped pecans
Instructions
Preheat oven to 375°F.

Combine peaches and blueberries in a large bowl.

Sprinkle with lemon juice and gently mix to combine.

Combine cornstarch, sugar, cinnamon and nutmeg in a small bowl.

Sprinkle cornstarch mixture over fruit and gently toss to coat.

Unroll pie crust and place in a 9" pie plate.

Crimp edges if desired.

Pour fruit onto pie crust.
Streusel Topping
Combine flour, sugars, and cinnamon in a medium bowl.

Cut in butter.

Stir in pecans.

Sprinkle topping over fruit filling.

Loosely cover pie edges with foil and place on a cookie sheet so you don't mess up your oven.

Bake for 1 hour or until nice and bubbly. Remove the foil about 10-15 minutes before pie is finished baking.

Let cool slightly before serving.
Nutrition
Calories:
322
kcal
|
Carbohydrates:
50
g
|
Protein:
3
g
|
Fat:
13
g
|
Saturated Fat:
5
g
|
Cholesterol:
12
mg
|
Sodium:
113
mg
|
Potassium:
163
mg
|
Fiber:
3
g
|
Sugar:
32
g
|
Vitamin A:
309
IU
|
Vitamin C:
7
mg
|
Calcium:
18
mg
|
Iron:
1
mg
Now that you can see how super easy this recipe is you can start being the "pie lady" in your family and wow them with this beauty!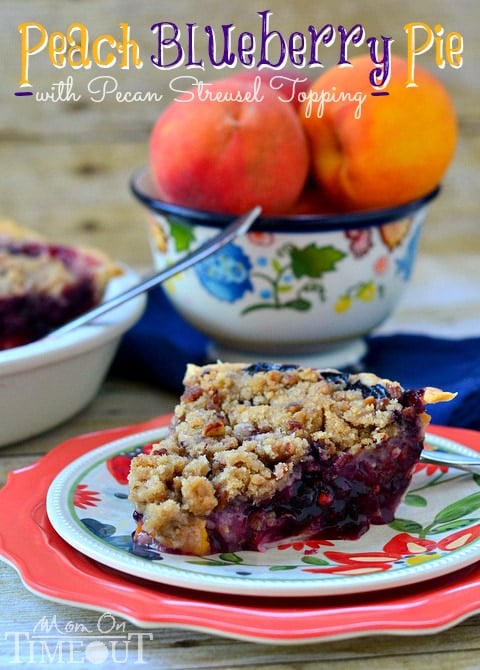 Make sure to check out Lucky's:
Website | Twitter |Facebook | Pinterest