If you love caramel and chocolate you're going to love these bars!  Chocolate Chip Caramel Cookie Bars are SO good with a sweet, gooey, caramel center!
Let's be friends! Sign up to get my new recipes in your inbox! Follow me on Facebook and Instagram too!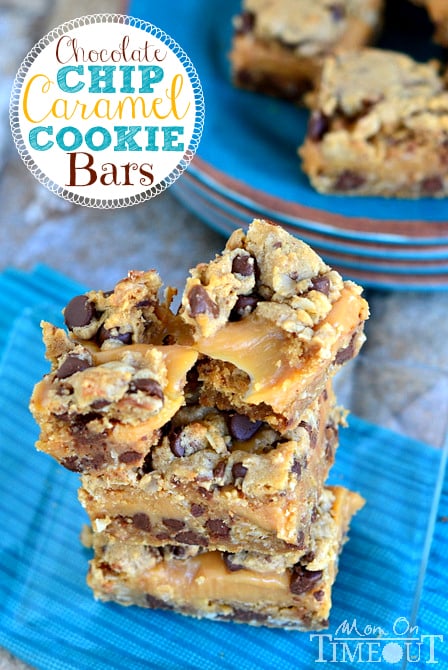 Last week we headed to Disneyland and Universal Studios for a much needed family vacation.  A couple of days before we left I had the brilliant idea to stop off at Universal Studios on our way down so we could actually be at Universal Studios for two days instead of just one.  Well we arrived around 2 p.m. and after walking the 8 miles from the parking garage down to the lower level where all the rides are, we stood in line for a little over an hour to go on Jurassic Park.  Worth it?  Yes!  The ride was totally awesome!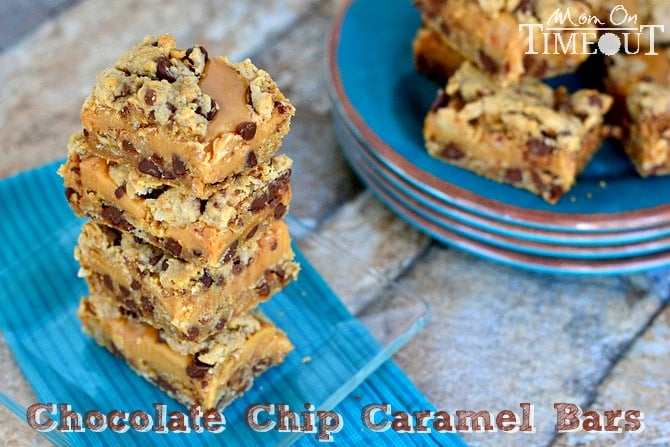 The best part was that right after we got off the ride the boys got to "meet" Optimus Prime and Bumblebee.  I can't even begin to tell you how big of Transformers fans my boys are.  HUGE!  Bryce was totally in his element and was grinning from ear to ear.   The boys also got to meet Curious George – so fun!  I'm so glad we did that little side-trip on Sunday because by Friday we were so exhausted all I wanted to do was get out of Universal Studios and head home!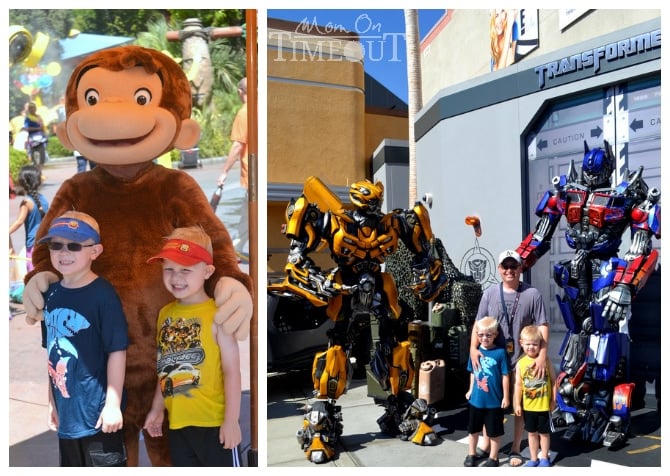 It takes about 7 hours for us to drive to Disneyland, give or take an hour, depending on how many times we stop.  I packed all sorts of yummy snacks and treats including these Chocolate Chip Cookie Caramel Bars.  The bars were a total hit!   The caramel layer is just ridiculous.
Ooey.  Gooey.  Creamy. Caramel.
Perfection.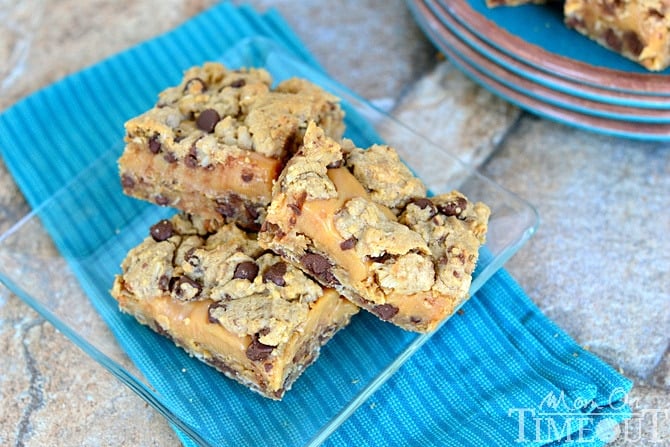 I left some for my Dad who was taking care of the house while we were gone and he agrees – soooo good.  My sister stopped by while we were gone and took several home for herself.  She called me to ask how in the world I made the caramel filling 🙂  It's that good.
Chocolate Chip Caramel Cookie Bars
Ingredients
Caramel Filling
11 oz bag vanilla caramels
14 oz can sweetened condensed milk
4 Tbls butter
Cookie Dough
1½ sticks unsalted butter
2 c light brown sugar
½ c creamy peanut butter
2 eggs, room temperature
1 Tbls vanilla
2 c flour
1 c old fashioned oats
2½ tsp baking powder
¼ tsp salt
2 c chocolate chips
Instructions
Preheat oven to 350 degrees.
Line a 9x13 inch baking dish with parchment paper.
Unwrap caramels and place in a small saucepan with butter and sweetened condensed milk.
Cook over medium-low heat, stirring occasionally, until caramels have fully melted and the mixture is nice and smooth
Cream butter and sugar together in a large mixing bowl. Add peanut butter and continue mixing.
Add eggs one at a time, mixing well after each egg. Add in vanilla.
Combine flour, oats, baking powder, and salt in a small mixing bowl.
Add the flour mixture slowly stirring until well combined.
Stir in the chocolate chips.
Spread ⅔ of the dough on the bottom of the pan.
Slowly pour caramel mixture evenly over the dough.
Drop the remaining dough on top by the teaspoon. It doesn't have to be perfect!
Bake for about 30 minutes. Let cool completely and then cut into bars.
If you love caramel you simply MUST give this recipe a try!  You'll love it – pinky promise!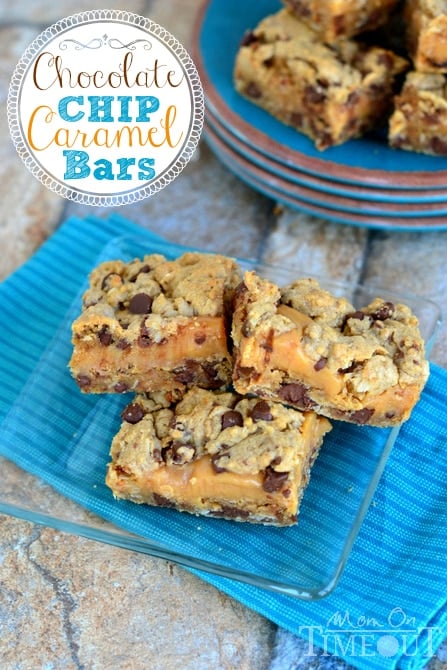 More caramel goodness…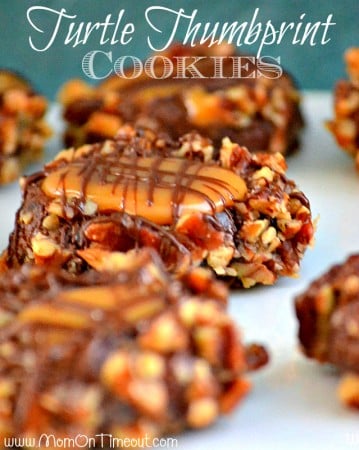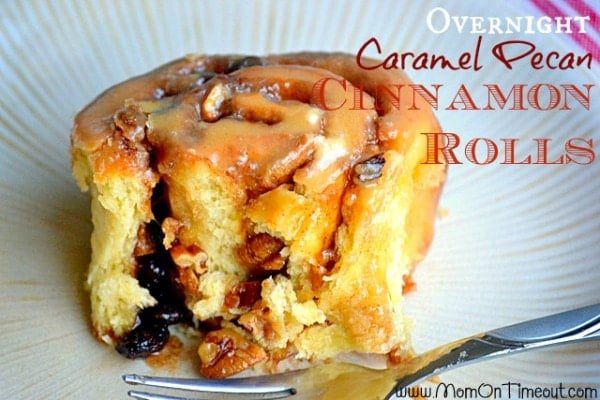 Overnight Caramel Pecan Cinnamon Rolls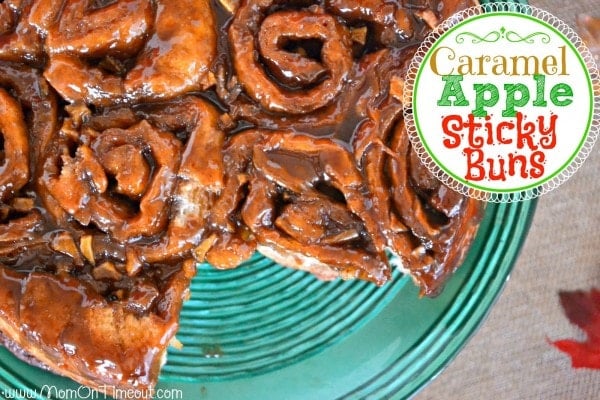 For all cookies recipes, go HERE.
For all dessert recipes, go HERE.
Sign up to get emails when I post new recipes!
For even more great ideas follow me on Facebook – Pinterest – Instagram – Twitter – Bloglovin'.
Have a great day!