Perfect Pasta Salad is loaded with all of your favorites! A great addition to any meal, this delicious pasta salad is made with artichokes, spinach, mandarins and more! Serve with grilled chicken made with the best chicken marinade and spinach artichoke dip for a tasty meal the whole family will enjoy!
Sign up to get my new recipes in your inbox! Follow me on Facebook  and Instagram!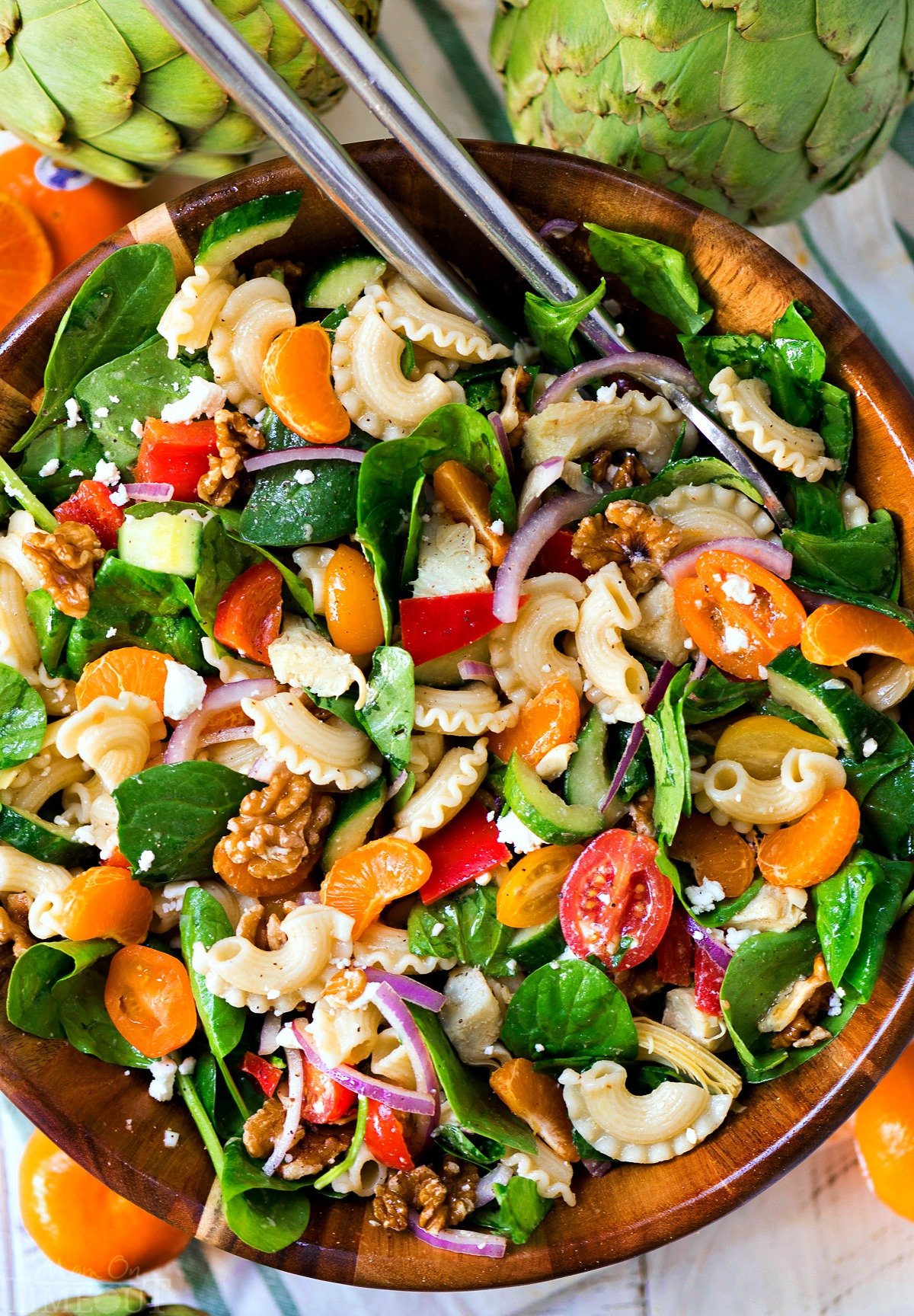 Perfect Pasta Salad
If there is one thing that I look forward to eating during the summer the most, it has to be pasta salads. They are an absolute staple in our house and I make one version or another for every get together we have. They are the perfect side dish with every kind of BBQ imaginable and since that's basically what we live off of during the summer, we end up making a LOT of pasta salad.
Today I've got a salad that could easily be turned into a meal all on it's own. Add some leftover grilled chicken to the mix and this pasta salad recipe would make an amazing dinner.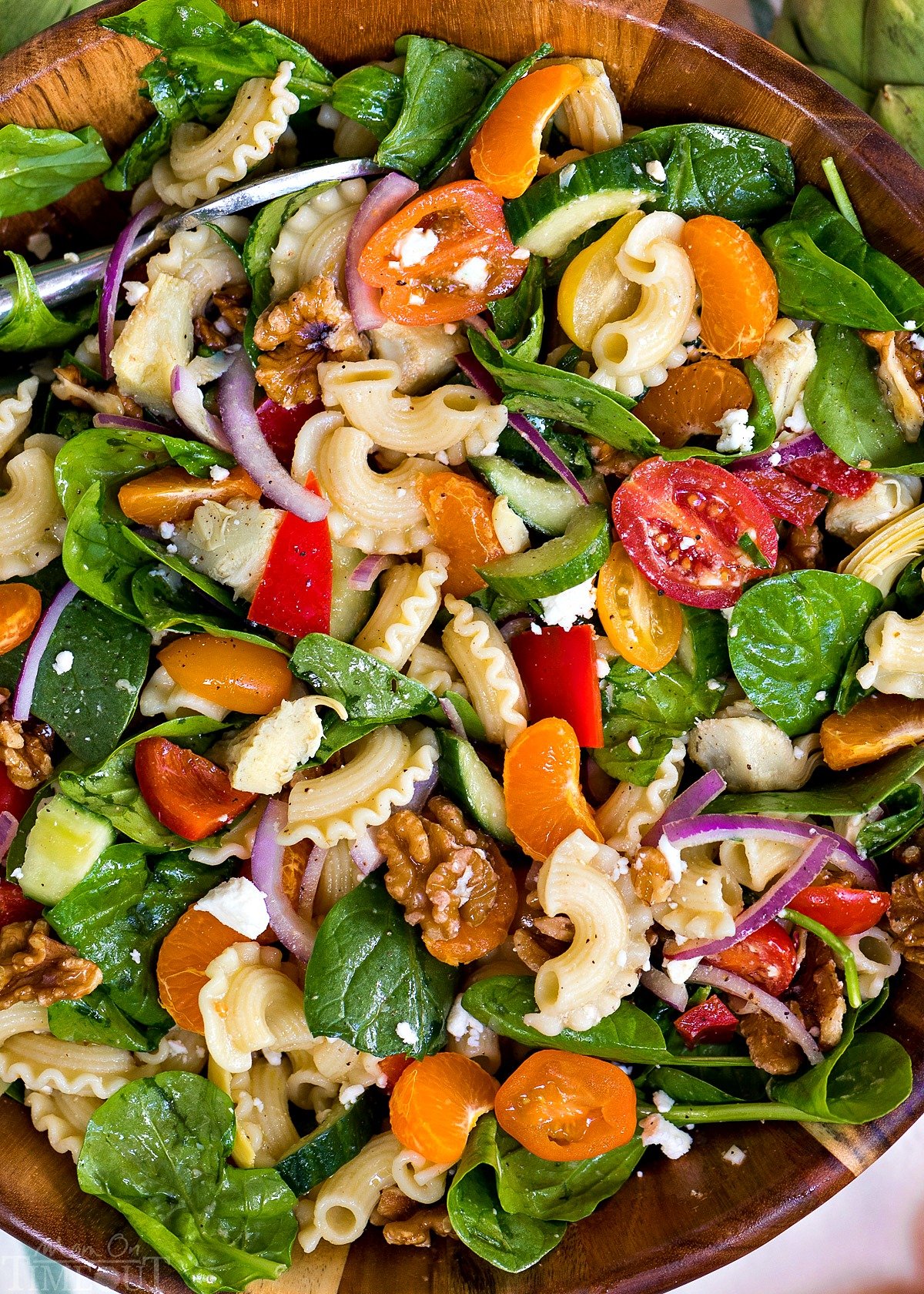 This amazing pasta salad is LOADED. Like, seriously loaded with good stuff: artichokes, spinach, Cutie mandarins, bell pepper, tomatoes, walnuts, feta and it's all topped with a simple dressing that lets the fresh flavors of the salad really shine through.
The inspiration for this pasta salad comes from an incredible opportunity to visit an Ocean Mist artichoke farm  just a few weeks ago. The event was put together by Safeway and let me tell you, they don't miss a beat. Every detail was perfect and I'm a sucker for a good farm tour so this was an incredible experience for me personally.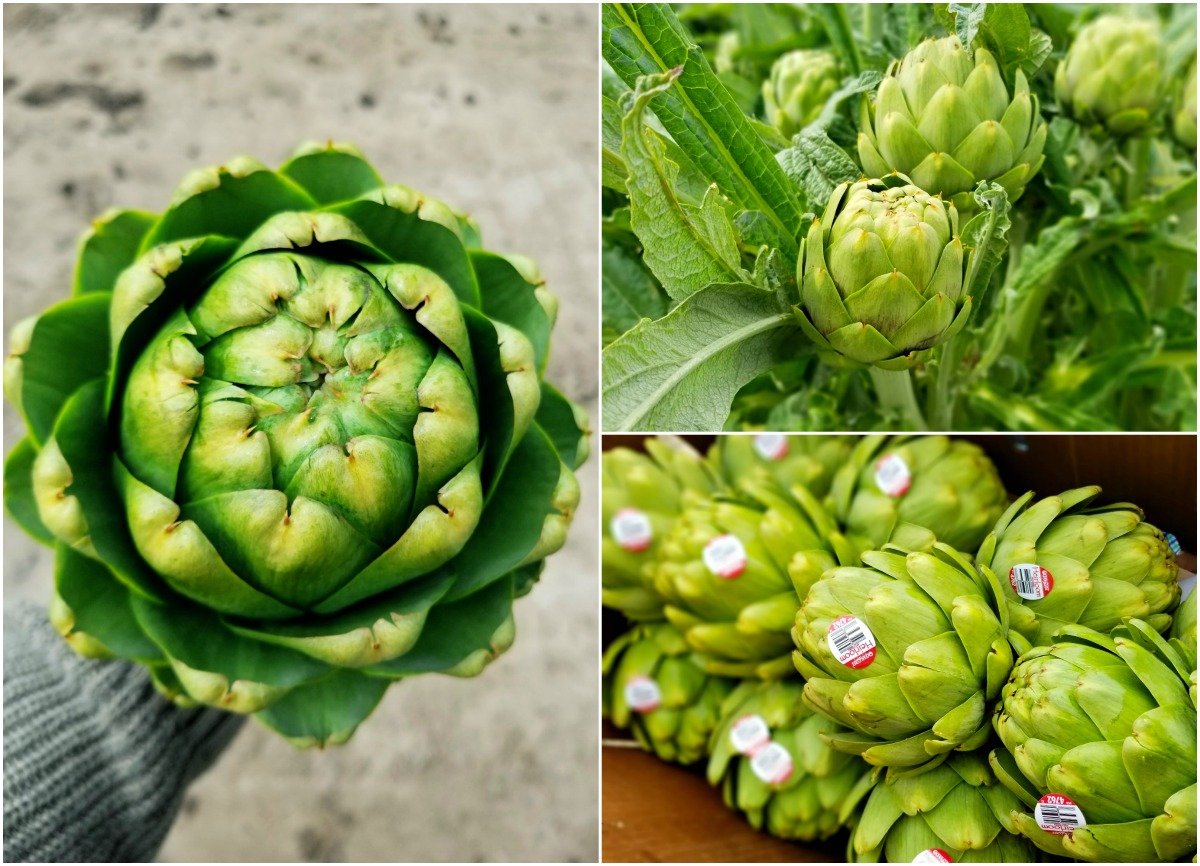 Heaven you guys. Heaven.
For those of you that have been long-time readers you know all about my passion for gardening. I live in the suburbs and have limited space but trust me, I take full advantage of the space I do have.
I have actually planted an artichoke before and harvested several artichokes from it before it was mistaken as a weed by a neighbor's gardener and brutally slaughtered. <<Insert crying face here.>>
It was so much fun walking through the artichoke farm and seeing all those plants with all those beautiful artichokes. I learned so much!
Not only did I get to tour a working artichoke farm, I had the chance to harvest my own artichokes, and then enjoyed a lunch made with Ocean Mist artichokes, Cuties, Chandon sparkling wine and a myriad of O Organics and other Safeway products. Yep, I'm spoiled and I know it. The table setting was gorgeous, the company was awesome, and I'm not ashamed to say that I basically licked my plate clean. (I also got some great tips from Ocean Mist on how to cook my artichokes in an Instant pot – game changer you guys! Find out how to cook artichokes in an Instant Pot in the recipe notes below.)
Safeway challenged us bloggers to create a recipe at home using Ocean Mist artichokes, Sun Pacific Cuties, and Chandon sparkling wine. Challenge accepted.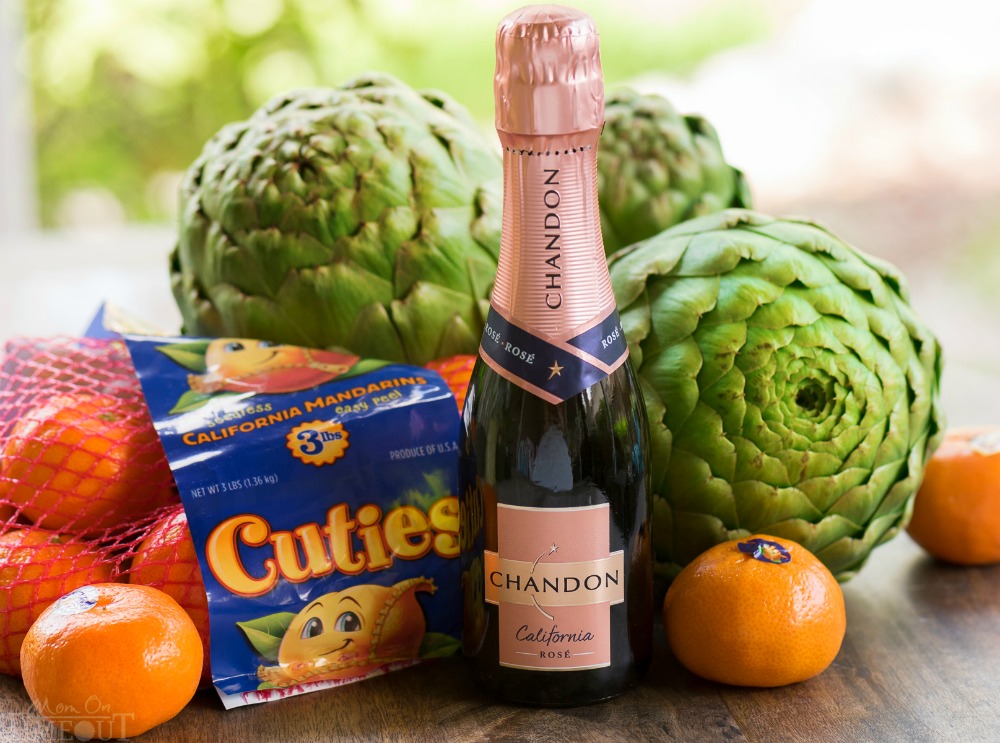 I have always lived in California and artichokes have been a part of my life for as long as I can remember. My mom adored them and made them often. We would usually dip them into mayo but there's literally no end to what you can dip artichokes into: butter, olive oil, aioli, flavored mayos. I mean, basically anything.
I have had artichokes prepared many different ways and each one seems better than the last – grilled, braised, roasted, steamed. All are great options so use whatever works for you.
For this pasta salad recipe, I steamed the artichokes and removed the outer petals until I got down to the heart. Simply remove the choke and cut the tender petals (in the center) and the fleshy part of the heart into bite sized pieces.
The salad comes together so quickly and is vibrant and beautiful – the perfect pasta salad!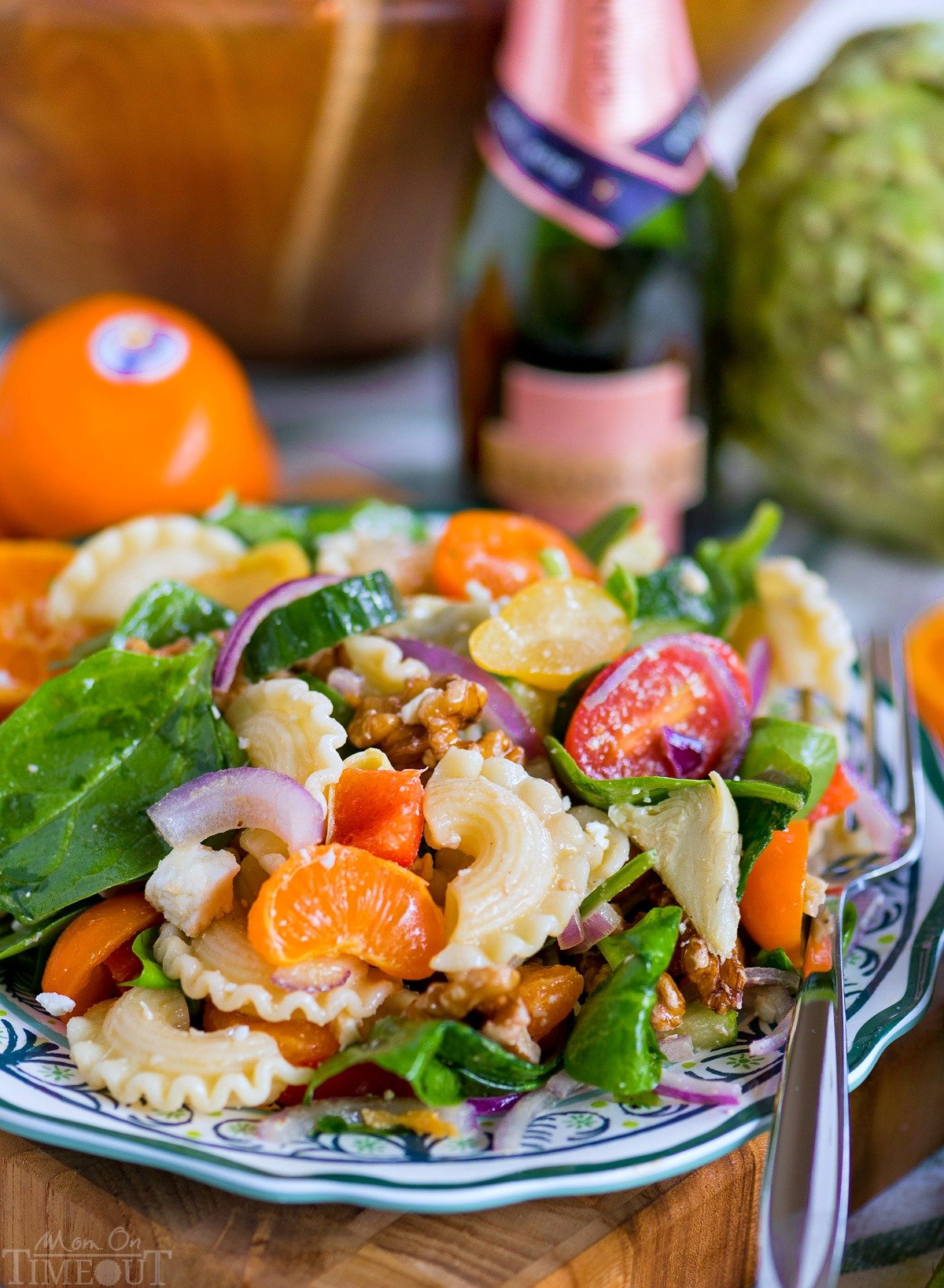 I love how the Cuties (a long time favorite snack of my boys) and the bell pepper add a nice touch of sweetness to this otherwise savory salad. The walnuts add a nice crunch and can of course be swapped with a nut of your choosing – pecans would be particularly delicious.
Choose a pasta that is easy to grab with a fork: penne, bow tie, rigatoni, etc. I like my pasta to be a bit bigger than macaroni for this salad.
The dressing is super simple: extra virgin olive oil, Cutie juice and Chandon sparkling wine. It's a magical combination. I used a bottle of Chandon mini and had enough left over for a nice glass of wine with my dinner.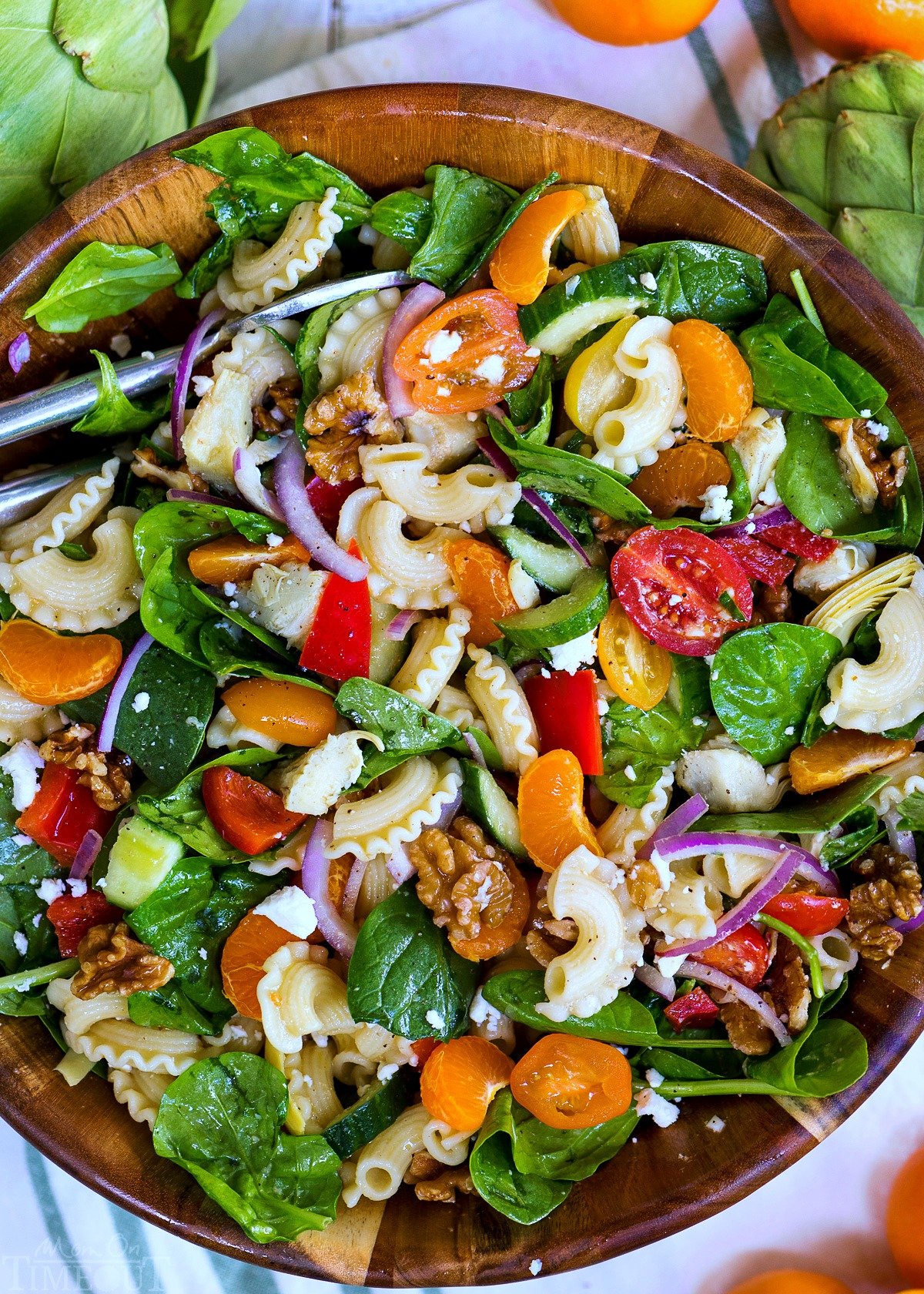 You can find all the ingredients you need for this pasta salad recipe at your local Safeway or, better yet, order them from home using Safeway Home Delivery via Instacart.
Use promo code TENFREE to get $10 Off + free delivery on your first online order when you spend $35 or more* at delivery.safeway.com
Disclaimer: *Service through and subject to the terms and conditions of ] Safeway's third-party delivery provider, Instacart. Requires Instacart account. Special pricing & fees may apply. Subject to Instacart's minimum purchase requirements. Service available in select areas. Enter your zip code online to find if service is available in your location. Offer limited to first-time Instacart users. Minimum order of $35 before taxes, fees, discounts, deposits required. Find additional terms on Safewayand Instacart. Expires 6/30/2018. Other delivery options available. For pricing, fees and terms, visit Safeway.
How to Make a Perfect Pasta Salad
Perfect Pasta Salad
Perfect Pasta Salad is loaded with all of your favorites! A great addition to any meal, this delicious pasta salad is made with artichokes, spinach, mandarins and more! Great for summer BBQs, potlucks and parties!
Ingredients
12

oz

dry pasta, cooked

(bow tie, penne, rigatoni, anything you like)

8

oz

baby spinach

5

mandarins, peeled and segmented

1

cup

artichoke hearts, chopped

1/2

red onion, thinly sliced

1/2

small English cucumber, diced

1

red bell pepper chopped

1/2

pint

cherry or grape tomatoes, halved

1

cup

walnut halves or pieces

3

oz

feta cheese crumbles
Salad Dressing
1/3

cup

extra virgin olive oil

3

tbsp

mandarin juice

3

tbsp

white wine

1/2

tsp

salt

1/2

tsp

pepper

1

tsp

dijon mustard
Notes
How To Cook Artichokes in an Instant Pot
Add 1 cup of water, 2 to 3 smashed garlic cloves, 1 or 2 lemon slices and 1 bay leaf to your Instant Pot.
Place the steamer basket inside.
Trim artichokes and rub with a lemon wedge to keep the artichokes from turning brown.
Place the artichokes in the steamer basket, stem side up.
Close lid and set the vent to "sealing". Press "manual", make sure it is set to high pressure (the default) and then set the timer for 10 minutes. P
Let the artichokes cook and then carefully turn the vent to "venting" for a quick steam realease.
Remove the lid, and carefully remove the artichokes using tongs. 
Peel off the petals until you get to the tender leaves and heart. Remove the choke and chop the heart into bite size pieces.
Do not throw away the outer petals! Dip them in your favorite sauce and enjoy!

More salad recipes!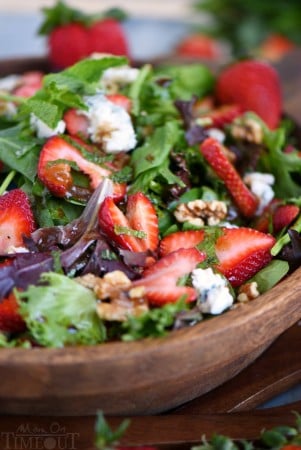 Strawberry Salad with Gorgonzola, Walnuts, and Mint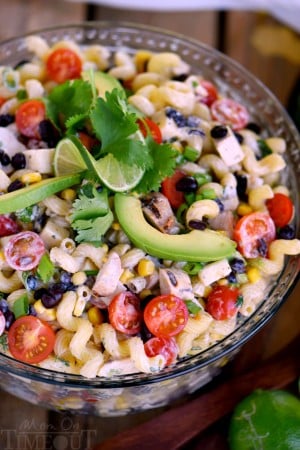 Creamy Cilantro Lime Southwestern Pasta Salad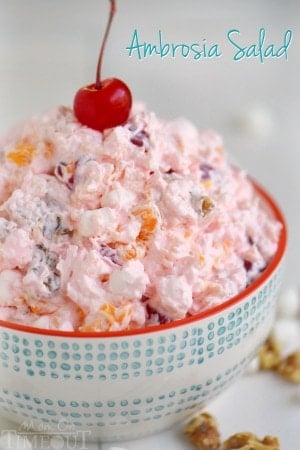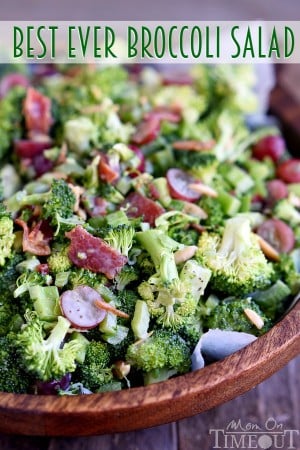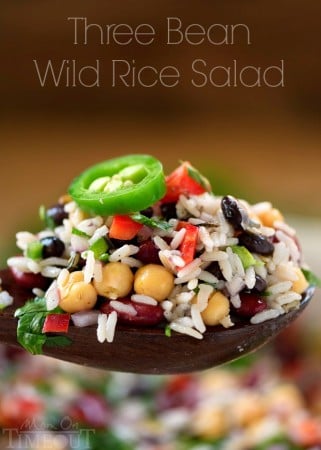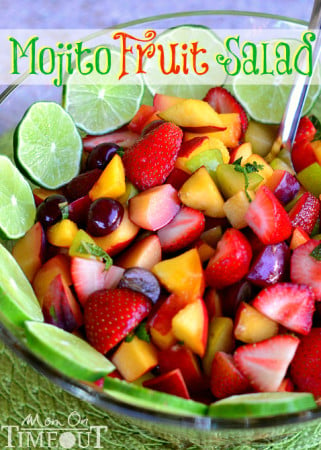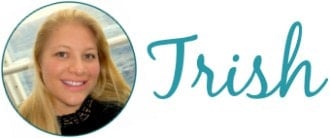 For all breakfast recipes, go HERE.
For all dinner recipes, go HERE.
Sign up to get emails when I post new recipes!
For even more great ideas follow me on Facebook – Pinterest – Instagram – Twitter – Bloglovin'.
Have a great day!
Disclosure: This recipe is sponsored by Safeway. Thank you for supporting the brands that make Mom On Timeout possible!