Perfectly moist, decadent, and fudgy, these sinful Peanut Butter Chocolate Chip Brownies will redefine your love for peanut butter.
Let's be friends! Sign up to get my new recipes in your inbox! Follow me on Facebook and Instagram too!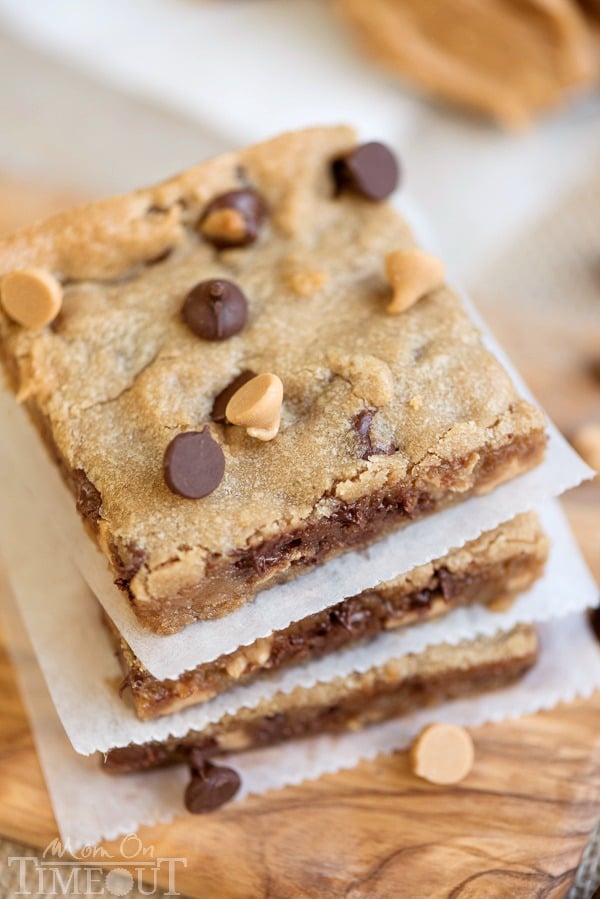 I have eaten insane amounts of peanut butter brownies for the past two weeks trying to perfect this recipe for y'all. You're welcome. This food blogging gig is hard work I tell ya! Good thing I love me some peanut butter.
I'm happy to report…I nailed it!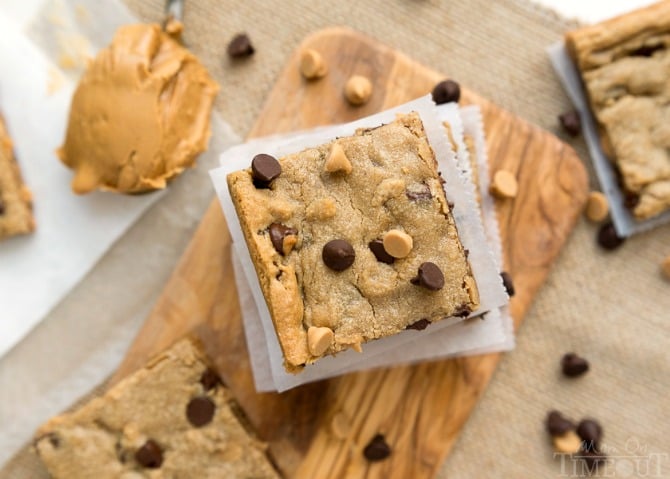 This peanut butter brownie recipe is going to become your newest addiction. It's all things a peanut butter treat should be and rarely are – moist, dense, and totally decadent. I made these brownies with and without frosting, in an 8×8  and in a 9×13, with and without peanut butter and chocolate chips. This is my favorite combination by far.
The other batches were awesome, but not magical. I require magical these days.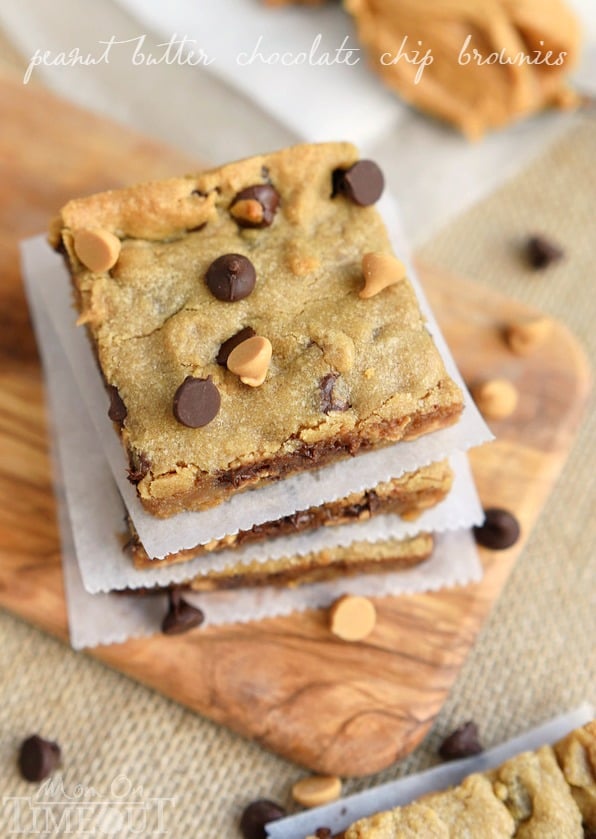 I made a "brownie purist" version with absolutely no chips of any kind inside. It was good and totally an option for those of you who are like, "Oh HECK NO you're not putting anything inside my brownie!" Do what you feel is right. I will not mess with anyone's brownie needs for sure. I understand it is serious business.
Even after eating my fair share of peanut butter brownies, I coudn't seem to to wrest myself away from the allure of this batch. Wicked good I tell you  – wicked good.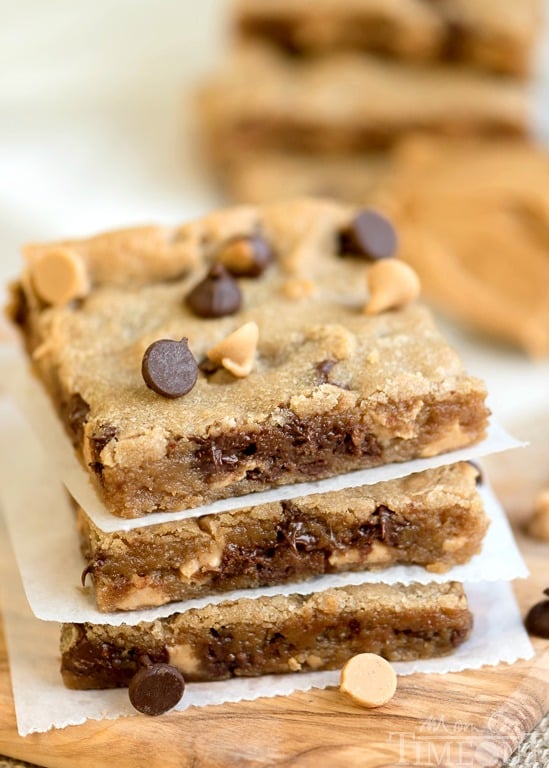 Come get ya some.
Peanut Butter Chocolate Chip Brownies
Perfectly moist, decadent, and fudgy, these sinful Peanut Butter Chocolate Chip Brownies will redefine your love for peanut butter.
Author:
Trish - Mom On Timeout
Ingredients
½ cup granulated sugar
1½ cups brown sugar
4 tbsp Challenge unsalted butter, room temperature
½ cup creamy peanut butter (I used Skippy Natural)
2 eggs, room temperature
1 tbsp vanilla extract
1¼ cup all-purpose flour
1½ tsp baking powder
1 tsp salt
1 cup peanut butter chips
1 cup semi-sweet chocolate chips
Instructions
Preheat oven to 325F.
Line a 9 x 13 inch baking dish with parchment paper or lightly coat with cooking spray.
Cream sugars, butter and peanut butter together in a large mixing bowl.
Beat in the eggs and vanilla just until combined.
In a small bowl, combine the flour, baking powder and salt.
Stir the flour mixture into the creamed mixture just until combined. Do not over mix.
Stir in the peanut butter and chocolate chips.
Spread dough into the prepared baking dish and bake for 28-33 minutes or until an inserted toothpick comes out with a few moist crumbs. Let cool before cutting into squares.
Store in an airtight for up to 4 days.

Get your peanut butter fix in here: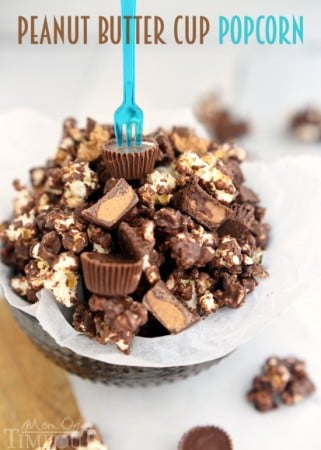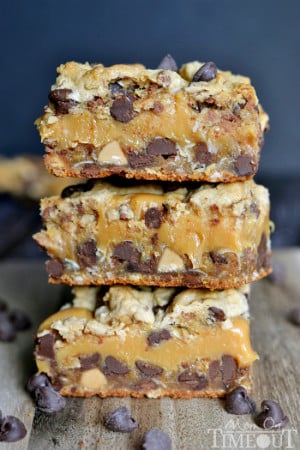 Peanut Butter Caramel Toffee Chocolate Chip Cookie Bars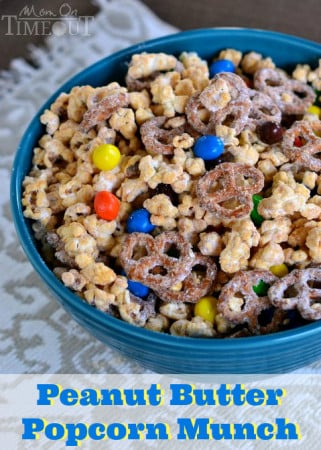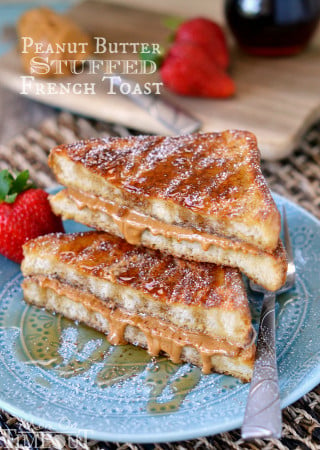 Peanut Butter Stuffed French Toast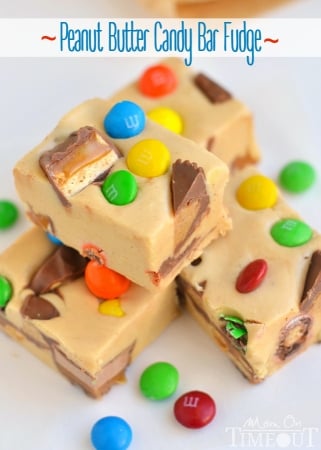 For all peanut butter recipes, go HERE.
For all dessert recipes, go HERE.
Sign up to get emails when I post new recipes!
For even more great ideas follow me on Facebook – Pinterest – Instagram – Twitter – Bloglovin'.
Have a great day!
Disclaimer: As an Ambassador for Challenge, I was provided product and compensation for this post by Challenge Butter, but all opinions are, as always 100% my own.  I LOVE Challenge Butter!