Thanks to Collective Bias® for sponsoring this post and inspiring me to make a delicious summer treat using the sweetest, freshest Driscoll's Berries!!
Lemon Panna Cotta with Mixed Berry Compote is easy to prepare and beautifully elegant!  This dessert is perfect for hot summer months – cool, refreshing, and perfectly sweet!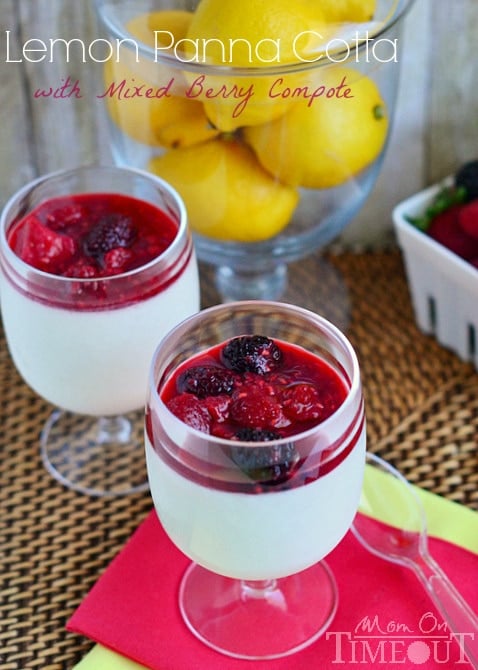 Fresh berries are one of summer's sweetest pleasures.  I mean, there really is nothing better than a perfectly ripe, sweet berry – am I right?  I have been a Driscoll's berries shopper for as long as I can remember.  I feel confident in the beautifully ripe berries from Driscoll's and know how much my family will enjoy their natural sweetness.
Reece and Bryce have always been berry lovers and I like to keep a variety of berries on hand. Right now their favorite is raspberries.  They love to put a raspberry on each finger and then suck the berries off.  Boys 🙂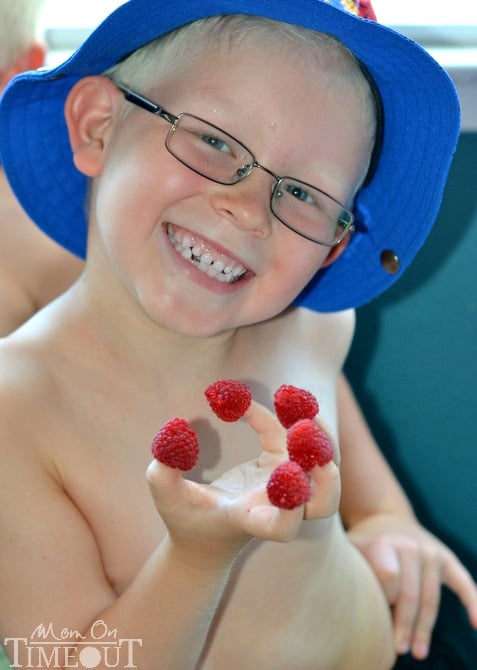 As you can imagine, we go through a lot of berries in our house and enjoy them in so many ways – pancakes, smoothies, cookies and more!  We'll take berries any way we can get them!  Last week the boys and I headed to Lucky Super Market to pick up some berries and other summer food essentials.
Berries were on sale Buy One Get One so we may have gone just a teensy bit overboard in our berry-buying adventure.  That's okay though!  It gave me an opportunity to make up a berry-licious dessert for my family.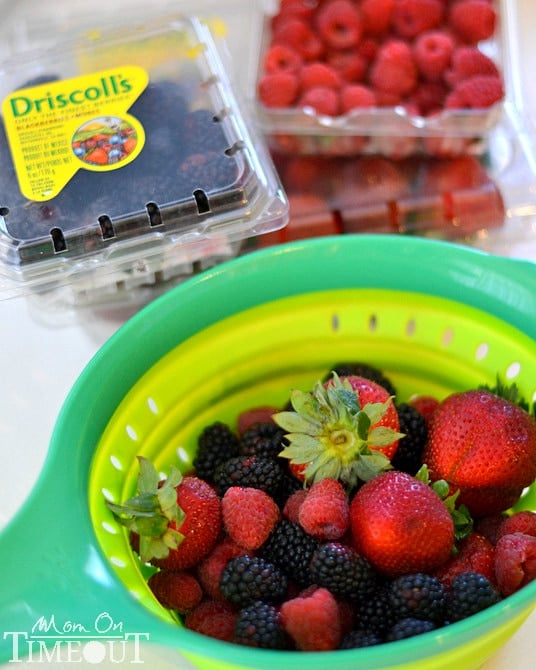 Lemon Panna Cotta is one of the most delightful desserts you will ever taste!  So, so creamy and that bright lemon flavor just bursts through with each bite, perfectly complementing the sweetness of the berry compote.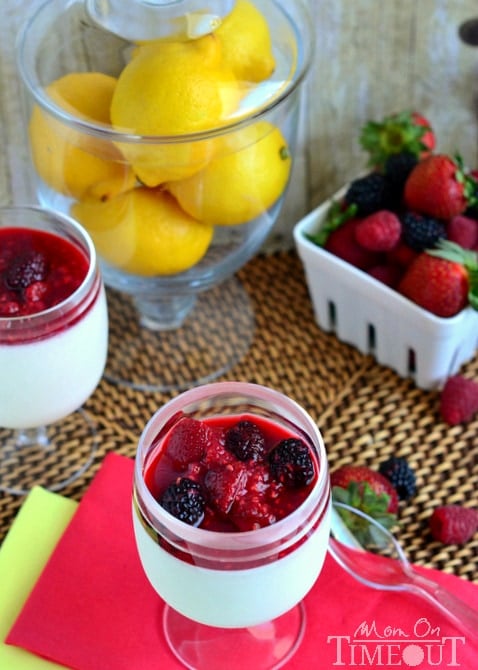 Don't let the name discourage you from trying this easy-to-prepare and delicious recipe!  Think of it as a lemon pudding with a berry sauce on top 🙂  The name just sounds fancy!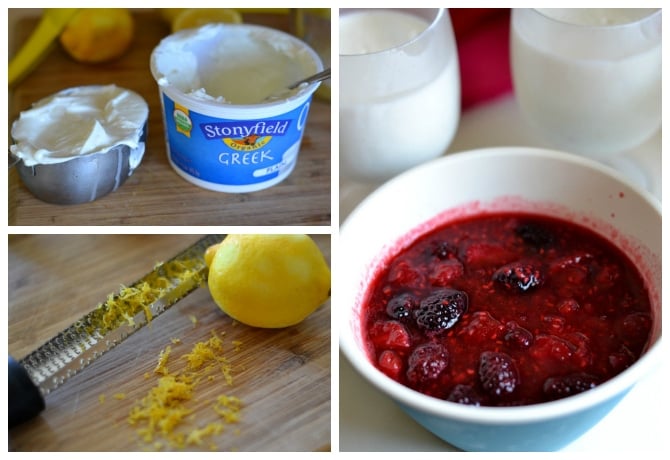 This dessert is perfect for hot summer months – cool, refreshing, and perfectly sweet!  I love that it can be made ahead of time and pulled out in a jif for when friends and family stop by.  It's also quite a show-stopper for parties!  Serving up this dessert in clear containers is a must!  It's just too pretty not to 🙂
Now, having two little boys, I opted for clear acrylic so mommy doesn't end up crying when something gets dropped 😉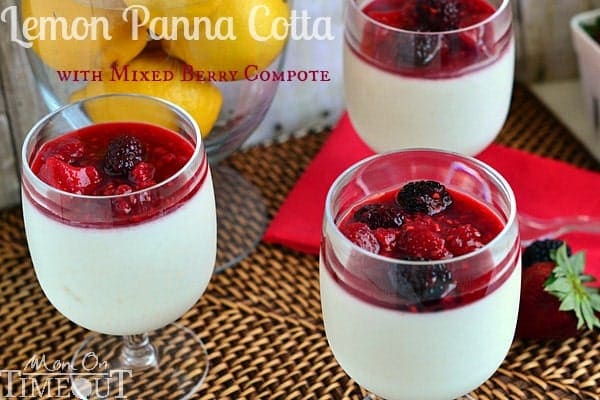 While we enjoy fresh berries immensely, sometimes it's nice to turn them into a lovely summer's day treat like this dessert.  Relatively simple to prepare yet it looks like a million bucks.  Make sure to plan ahead because the panna cotta requires time to set up.
Make sure to connect with Lucky Super Markets:
 Online | Twitter | Pinterest | Facebook
Lemon Panna Cotta with Mixed Berry Compote
Yields 6 servings. Recipe adapted from All You magazine.
Ingredients
Lemon Panna Cotta
¼ cup fresh lemon juice
1 (1/4 oz) envelope unflavored gelatin
1 Tbls lemon zest
½ cup granulated sugar
2 cups half and half
1 cup 2% Greek yogurt
2 tsp vanilla extract
Mixed Berry Compote
2 - 2½ cups fresh berries
2-3 Tbls granulated sugar
2 Tbls honey
1 Tbls fresh lemon juice
Instructions
Lemon Panna Cotta
Pour lemon juice into a bowl and sprinkle gelatin over the top. Let stand just until gelatin softens - approximately 5 minutes. Do NOT let the gelatin harden.
Whisk together sugar and lemon zest in a medium saucepan.
Add half and half and Greek Yogurt.
Whisk together over medium high heat just until sugar dissolves and mixture is simmering. 2-3 minutes. (Do NOT boil.)
Add gelatin mixture and vanilla and continue whisking until gelatin has dissolved and is fully incorporated.
Carefully pour into six ramekins or cups and refrigerate until firm. At least 4 hours.
Mixed Berry Compote
Combine all ingredients in a small saucepan. Cook over medium heat until sugar dissolves and berries begin to break down, approximately 3 minutes.
Reduce heat to low and continue cookies for another 4-6 minutes until compote slightly thickens.
Transfer to a bowl and let cool.
Refrigerate until panna cotta is set up.
Spoon gently over panna cotta immediately before serving.
More berry favorites: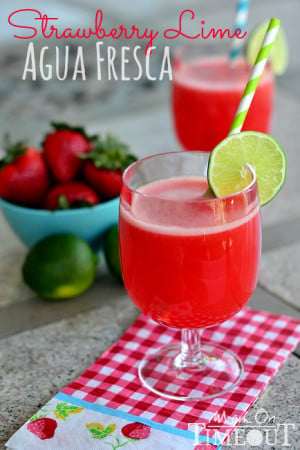 Strawberry and Cream Cheese Muffins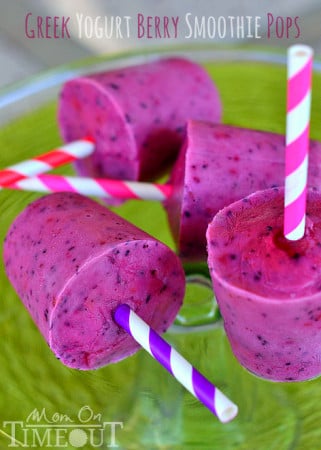 Greek Yogurt Berry Smoothie Pops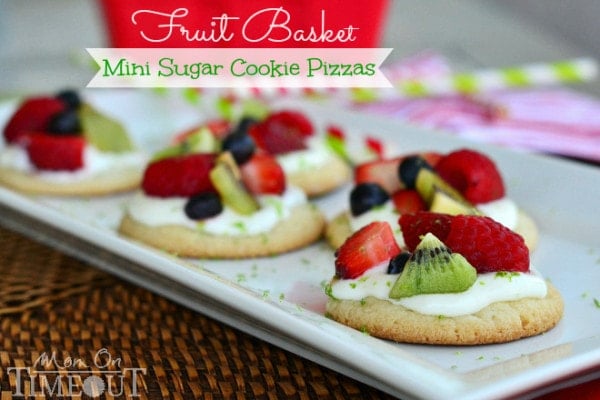 Fruit Basket Mini Sugar Cookie Pizzas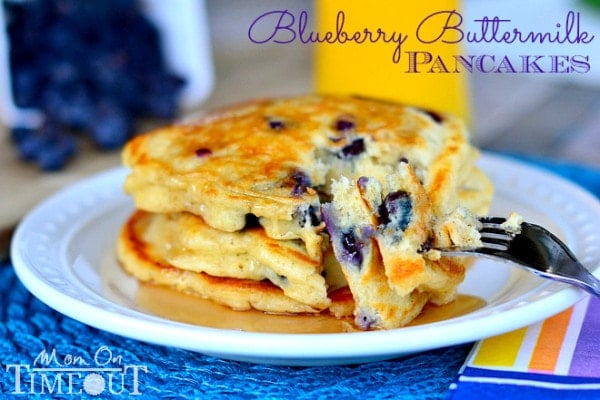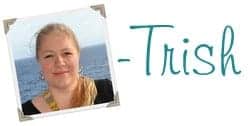 Connect with me!
 Linking up at some of these parties.
Disclosure: I am a member of the Collective Bias®  Social Fabric® Community.  This shop has been compensated as part of a social shopper insights study for Collective Bias and their client. #FreshFinds