Time for some Homemade Almond Joy Ice Cream to cool down during these hot summer months! No machine is needed for this easy-to-make ice cream recipe that uses International Delight's Almond Joy creamer! Sooooo good!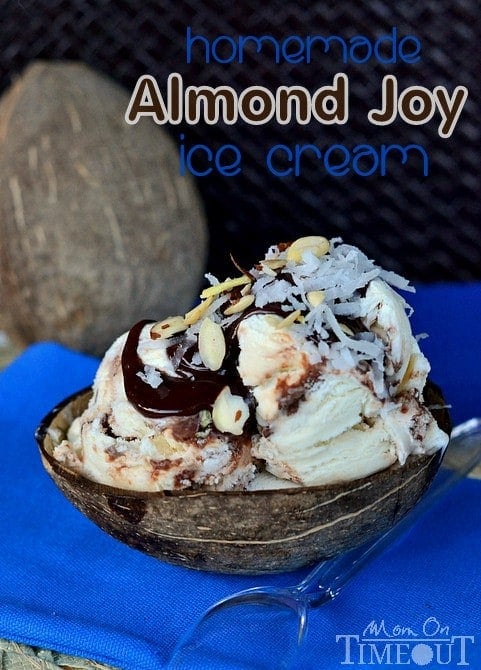 You guys might have figured it out already but I'm here to admit that I'm a total coconut-aholic. When I'm not making coconut treats for my family, I'm dreaming up ways to spoil my dad with yummy coconut recipes because he loves coconut even more than me!
If you're a true coconut lover it's pretty hard to resist the sweet coconut flavor of an Almond Joy. Coconut, chocolate, crunchy almonds….count me in! I'll take Almond Joy flavor anyway I can get and lately I've been finding ways to sneak in some of my very favorite International Delight Almond Joy creamer into homemade treats. It's so easy! Of course, there are over 20 fantastic flavors to choose from and I'm not ashamed to say I've tried at least 8 so far. I've got my work cut out for me to get through them all 🙂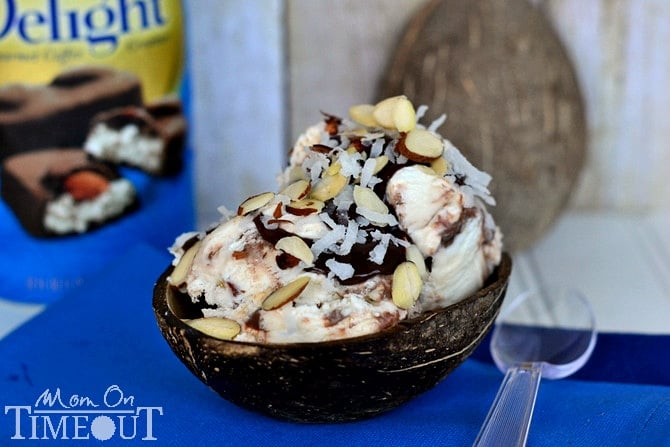 So, do you remember when I shared a recipe for Cherry Cheesecake "Magic" Ice Cream a couple of weeks back? You know, the kind that doesn't require a machine? Yeah. Pretty darn fantastic if you ask me 🙂 Well, I started thinking about the International Delight Creamers and was crossing my fingers that I could use some to really amp up some homemade ice cream. I mean talk about some fabulous concentrated flavor!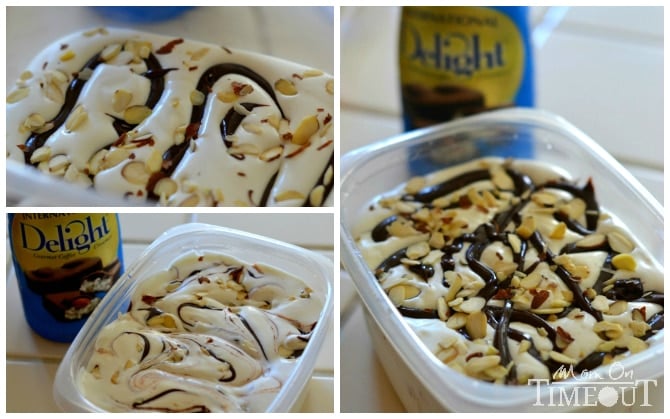 To really make the ice cream stand out as ALMOND JOY ICE CREAM, I swirled in some hot fudge topping and sliced almonds. You can top all of this goodness with some coconut flakes, hot fudge sauce, and more almonds if desired, or just swirl it into the ice cream. Either way would be amazing. Seriously. Amazing.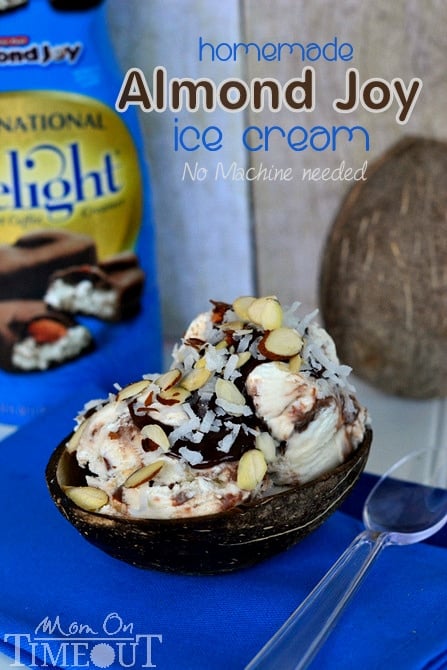 I was so excited to try the ice cream that I must have pulled it out of the fridge 3 or 4 times before it was really set up. I can't remember the last time I was so anxious to eat ice cream! When it was finally time, I pulled out the container and got myself a spoon. Took a bite. Took another bite. And then just sighed.
People. No joke. This ice cream is RIDICULOUS. So, SO good! Now that I know how easy it was to add amazing flavor to my homemade ice cream you can bet your bottom dollar that I will be making all sorts of ice creams with ID Creamers. What an incredibly easy way to make delicious ice cream at home!
Right now, International Delight is running a super fun campaign called "Hey America, What's Your ID?" Head to What'sYourID.com now to create your own flavor profile and be entered to win some seriously awesome prizes such as Visa gift cards, free ID for a year, Kitchen Aid mixer, Keurig coffee maker and so much more!
Now I'm sure you're wondering what my ID  flavor is right?? Well, I'll be honest – I really can't narrow it down to just one but this Almond Joy is in a tie for first right now 🙂  To celebrate all the wonderful coconut flavor I created a Pinterest Board devoted to coconut! Check it out: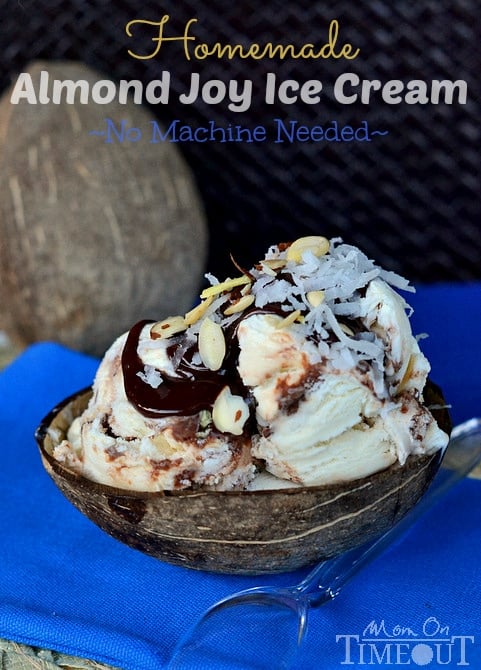 Homemade Almond Joy Ice Cream – No Machine Needed!
Ingredients
2

cups

heavy whipping cream

3/4

cup

International Delight Almond Joy creamer

1

can sweetened condensed milk

3/4

cup

hot fudge topping

I used Hershey's

1/2

cup

sliced almonds

coconut flakes

sliced almonds, hot fudge topping (optional)
Instructions
Whip heavy whipping cream until peaks form.

Gently add creamer and continue mixing until combined.

Fold in sweetened condensed milk.

Transfer half of mixture to a freezer-safe container that has a lid.

Stir hot fudge topping until nice and loose. Avoid heating the topping unless necessary and then allow to cool before using.

Drizzle half of hot fudge topping on top of ice cream mixture and sprinkle with half of almonds.

Use a knife to swirl into ice cream.

Carefully pour the last half of the ice cream mixture into container.

Drizzle remaining half of hot fudge topping and almonds on top.

Use a knife to swirl into ice cream.

Place lid on container and freeze until it reaches ice cream consistency.

Serve ice cream topped with additional hot fudge topping, sliced almonds, and/or coconut flakes if desired.
Connect with International Delight!
Facebook | Twitter | Pinterest | Instagram | YouTtube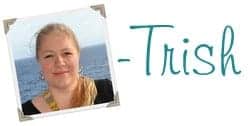 Connect with me!
 Linking up at some of these parties.
What's Your ID? International Delight is looking for their most passionate flavor fans. Put your ID on the map to enter to win a Magical Trip, play games and discover more unexpected delight. Share your ID flavor at http://whatsyourid.com. 
This is a sponsored conversation written by me on behalf of International Delight. The opinions and text are all mine.