This easy Fruit Salad recipe is loaded with fresh fruit all tossed together with a mouthwatering honey lime dressing. Refreshing, delicious, and the perfect addition to your summer menu.
Serve this Fruit Salad with grilled potatoes and grilled chicken made with our famous chicken marinade to complete a perfect outdoor grilling session. Enjoy with a refreshing glass of Watermelon Lemonade or a bright and bubbly Strawberry Italian Soda!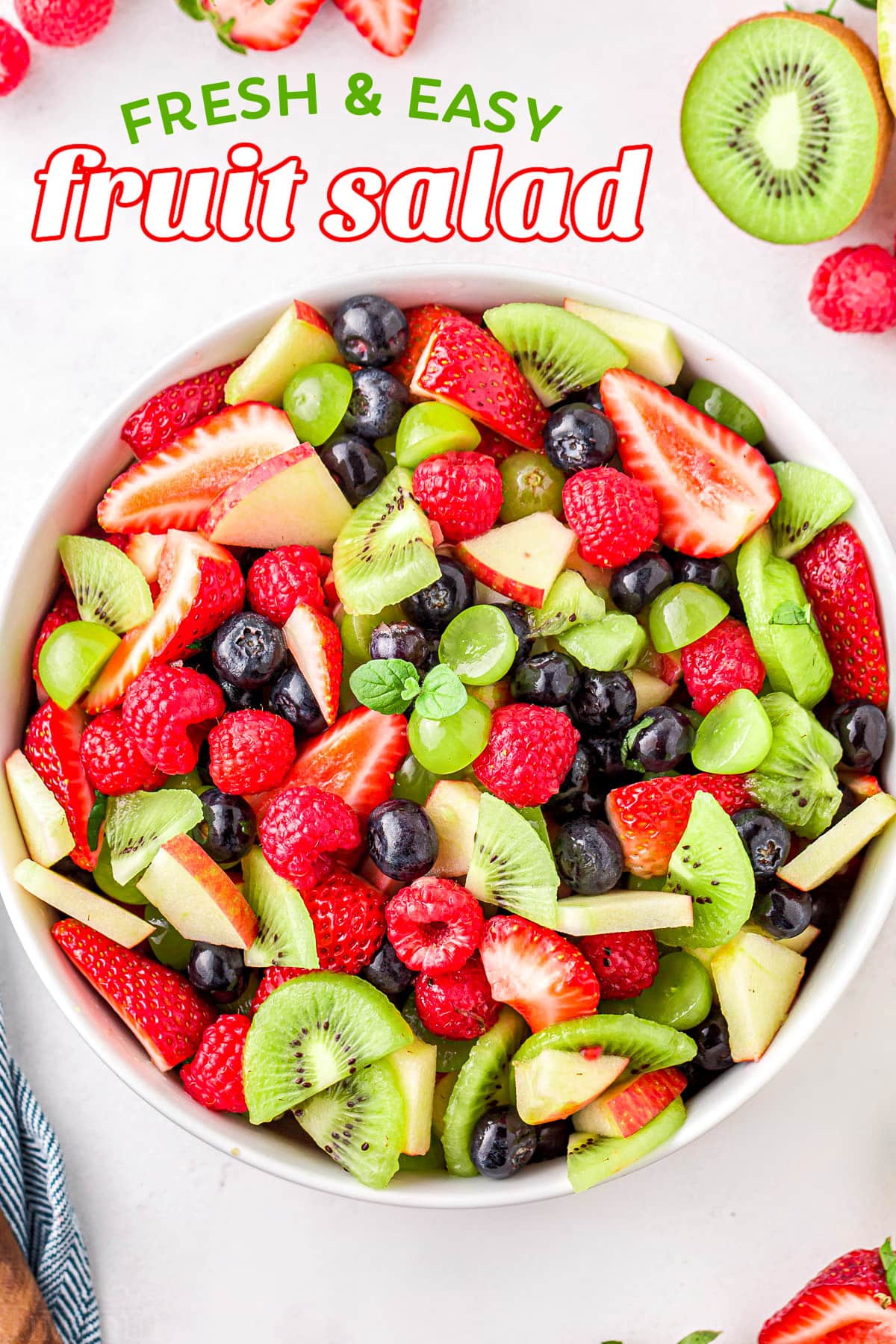 Fruit Salad
Enjoy a refreshing, fantastic taste of summer with a homemade fruit salad that is made with your favorite fruit! It's sweet, tart, bright, and absolutely perfect on a hot sunny day.
Whether you're lounging by the pool, grilling in the backyard, or sunning yourself at the beach, this easy fresh fruit salad will be your go to side dish of the season! It is bright, sweet, tart and perfect for a hot day.
Fruit Salad Recipe
Getting into the heart and heat of summer makes me want to be as far away from my oven as possible sometimes. Lately, in this heat, salads and fruit have become my go-to dishes! And luckily enough, this recipe combines the best of both worlds! Light and refreshing fruit salad with a juicy, fruity, sweet dressing and a surprise hint of mint is all I can think about.
Thankfully, this summery dish comes together in just about 10 minutes, and you can use what you already have on hand! It is so simple and easy to put together, and it's also a great option for the kids to help with while they're home from school.
They can even make their own personalized mini bowls with their favorite fruits! Simple and sweet, you won't want to miss this treat.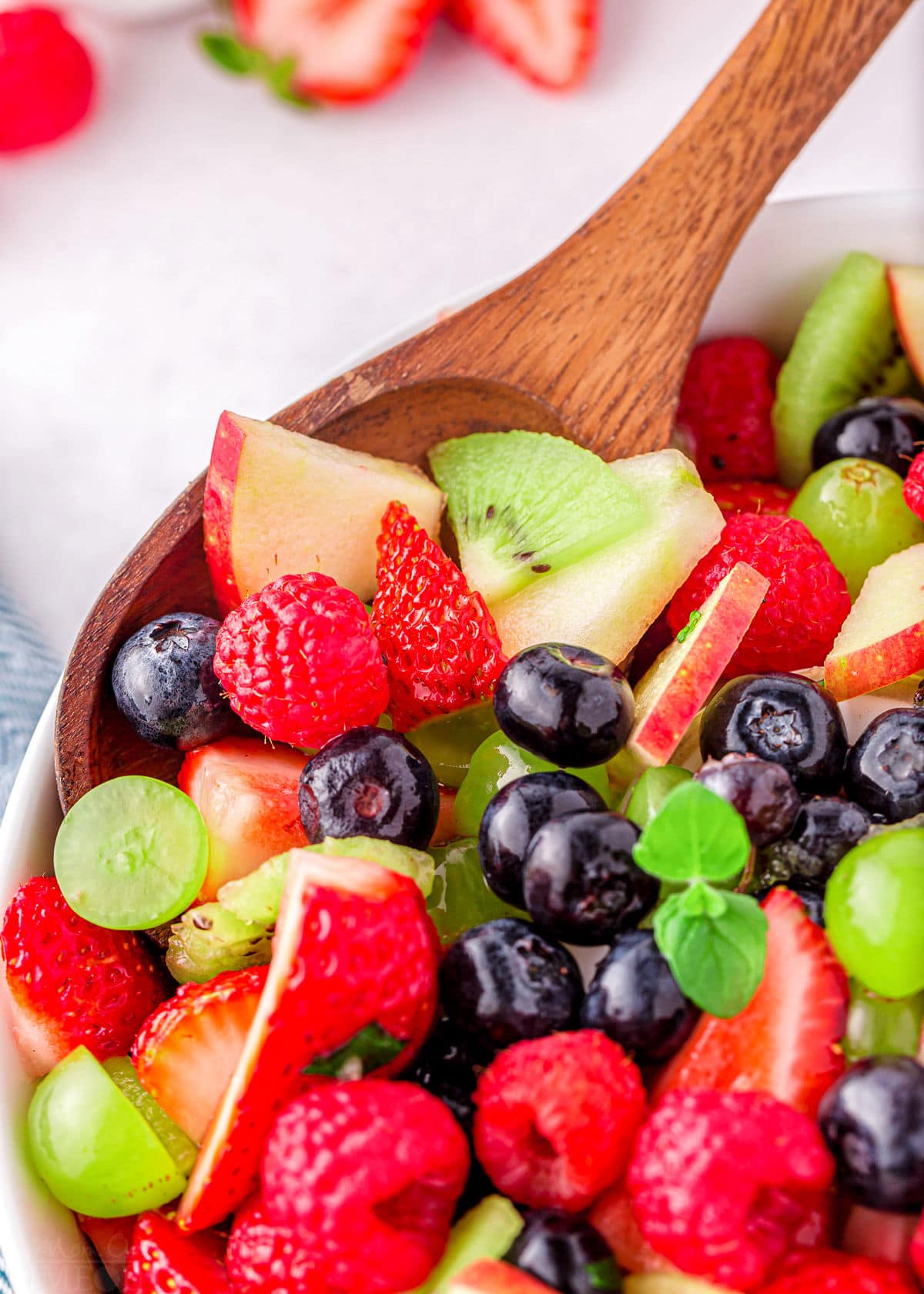 More Summer Salads
Obsessed with fresh summer salads? Check out these for your next pool day!
This dish is also a show stopper during the holidays. It's a great standout among all the heavy holiday foods that come with those cooler winter months. Freeze it at the end of summer and present your guests with a lighter fare at Thanksgiving or Christmas! The texture won't be the same but the flavor is amazing!
Ingredients for Fruit Salad
The fruits listed here are a classic combination, but the best part about a homemade Fruit Salad is that you can completely customize it to your tastes! Feel free to add and remove fruits as you please. I'm giving you some great suggestions below.
strawberries – Be sure to remove the stems and dice rather than slice. Diced strawberries are easier to mix into the salad. A strawberry huller can make quick work of the strawberries.
blueberries – Blackberries are also delicious.
raspberries – Make sure they aren't too ripe or they may fall apart when mixing the salad.
kiwi – I can't get enough of these green gems. Fresh kiwis just scream summer to me!
green grapes or red grapes – Green are more tart, red are more sweet so use what you like.
red apple – Likewise, for more of a tart taste option, substitute green apples instead.
mint leaves – This is my secret ingredient! I love the cool mint taste from the freshly chopped mint leaves. It's a surprisingly great addition to the flavors of the fruit and juice, and it doesn't overpower any of the other fresh flavors.
More Fruits To Try
We mix up this simple fruit salad recipe practically every time we make it. We have a ton of fruit trees so it often depends on what is ripe and ready at the time. Here are some of our favorites:
peaches
nectarines
plums
pluots
cherries
pineapple
apricots
mandarin oranges
blackberries
mango
papaya
cantaloupe
watermelon
Fruit Salad Dressing Ingredients
A quick look at what you'll need for the dressing:
honey – You can also use agave nectar or even maple syrup. Similar great tastes and consistencies! If you stick with honey, try to choose a local organic option for the best taste.
orange juice – Fresh is best. You'll need about ½ an orange.
lime juice and lime zest – Lemon juice is a great option too. Or, make it extra citrusy and use both!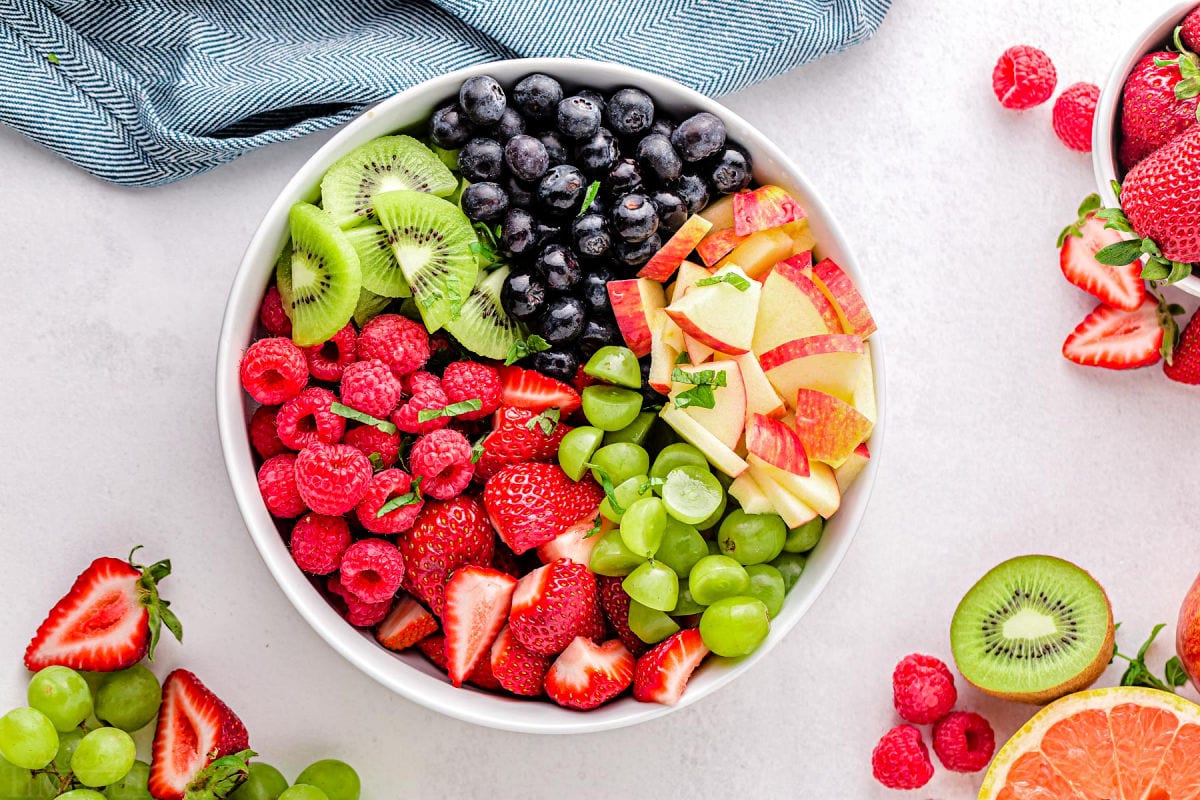 Fruit Salad Dressing
One of the most classic combinations for a fruit salad dressing recipe is that of honey and lime. It's delicious and what I use almost exclusively with my Tropical Fruit Salad. But don't stop there! Any citrus will work for this simple fruit salad recipe including lemon, orange and even grapefruit.
Likewise, try agave nectar in your summer fruit salad dressing in place of the honey. It adds a slightly different flavor which can be nice when you're making this easy salad twice a week during the summer like we are.
Overview: How To Make Fruit Salad
With no cook time, this summer Fruit Salad can be tossed together in just about 10 minutes!
Prep the fruit. Rinse, chop, peel, whatever is needed.
Add fruit to a large serving bowl. In a large mixing bowl, combine the strawberries, blueberries, raspberries, kiwi, grapes, and apples. Set to the side.
Prepare dressing. In a second smaller mixing bowl, combine the honey, orange juice, and lime juice.
Combine. Pour dressing over the fruit and toss to incorporate.
Chill. Top with fresh minced mint leaves and refrigerate for at least an hour before serving for best flavor or enjoy immediately.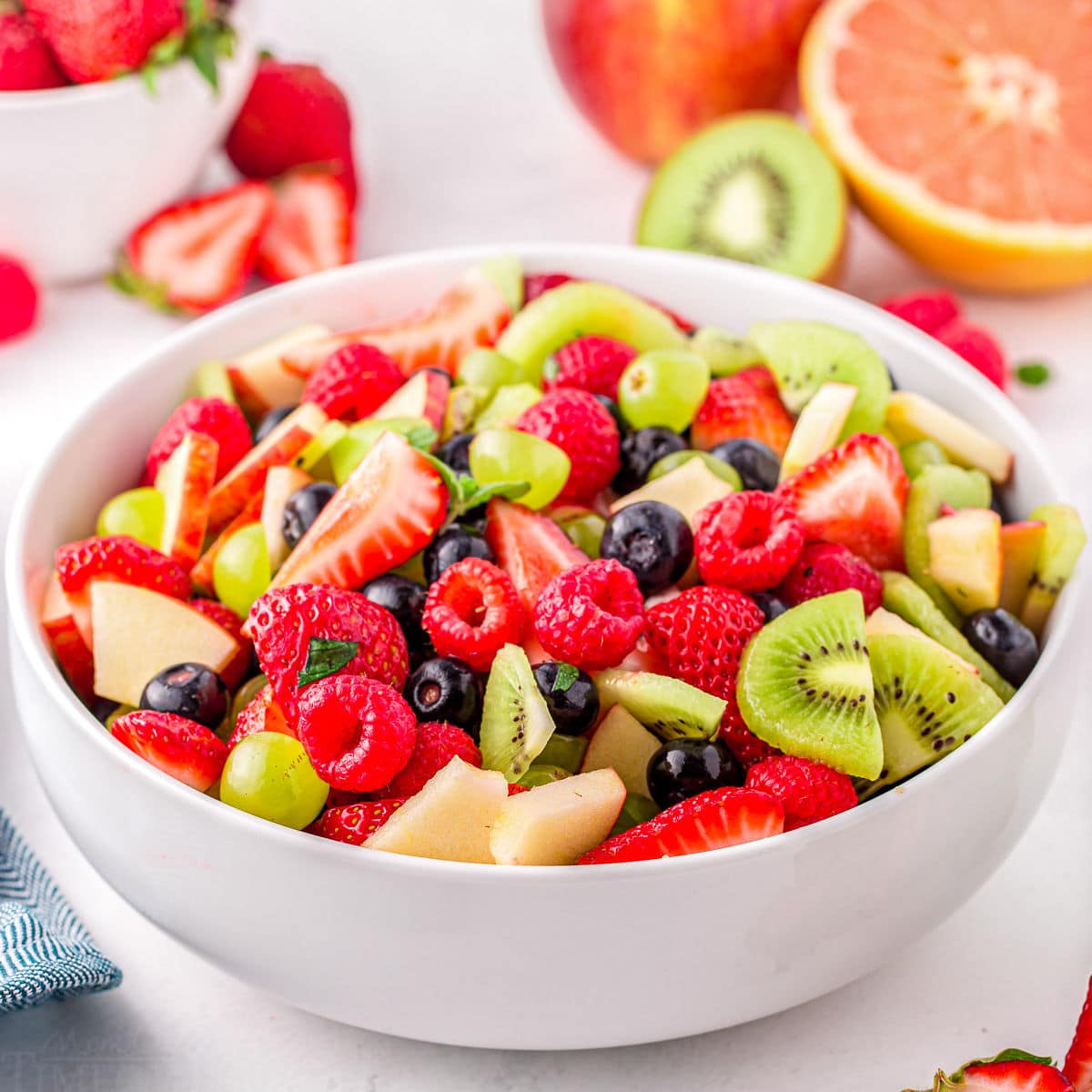 FAQs
How should I store it? This delicious dish can be stored in the refrigerator in an airtight container for up to 3 days. You can even freeze it for up to about 3 months although you will lose the texture of the fruit. Make the most out of what's in season and save it for when it's not! A great article on how long fruit can be frozen and how best to freeze it.
Can I use frozen fruit? As mentioned above, you will most certainly lose the texture of the fruit when you freeze but the flavor will be there. Full disclosure, my mother in law only serves fruit salad that she has frozen. It's amazing, just different.
Can I add any other fruits to this salad? The beauty of a fruit salad is that you can customize it with any fruit you have on hand! There are so many possibilities and combinations you can try. If you make this salad during the winter time, try using fruits that are freshest at that time, like pears and cranberries.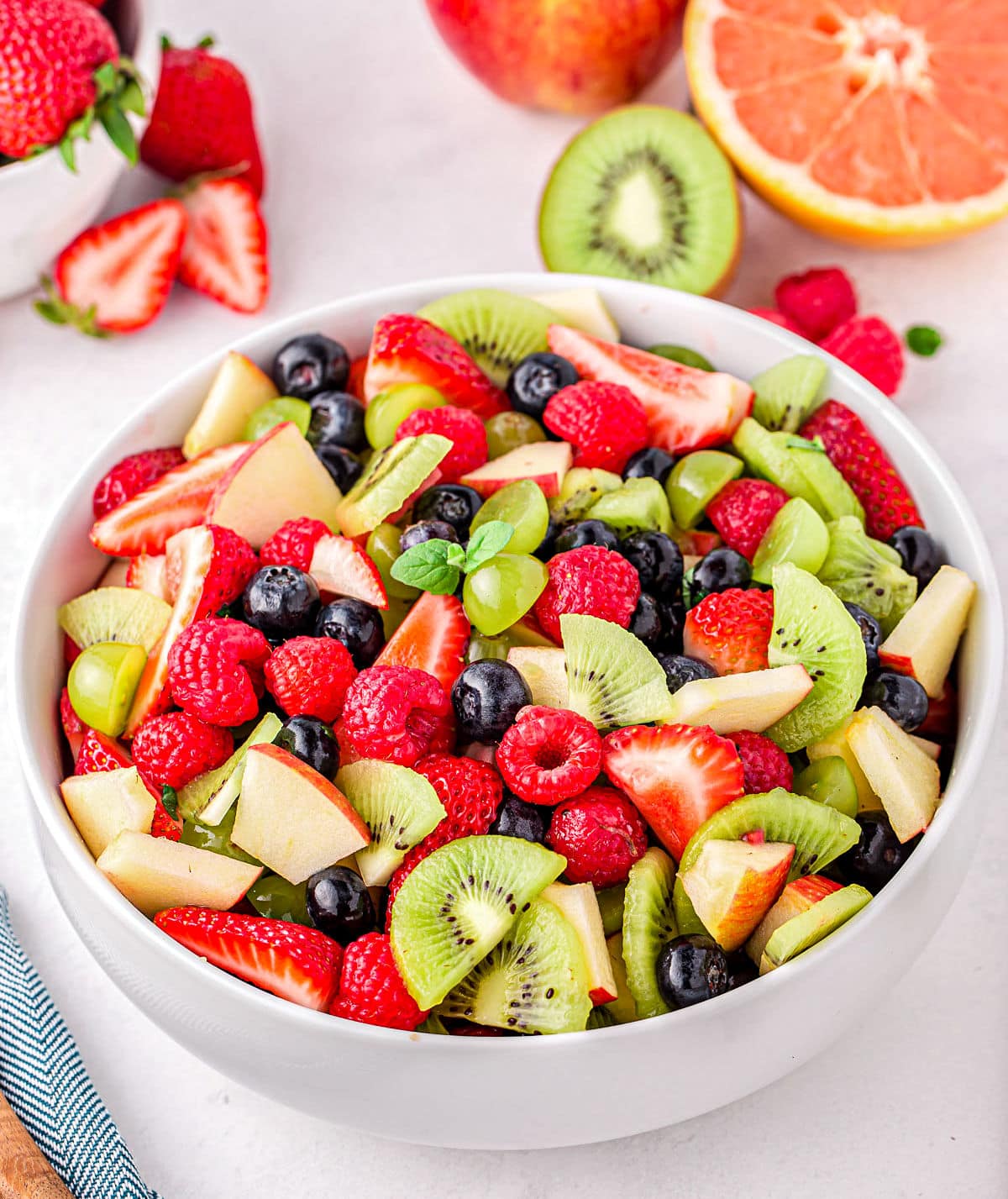 Variations To Try
The most obvious way to switch up this recipe is to swap in some new fruits or change up the dressing.
Add chopped walnuts or pecans for some crunch and texture!
Try sprinkling a touch of cinnamon for a dash of spice atop the sweetness.
Serve with fresh whipped cream.
Trish's Tips
Want the best fruit salad ever? Make sure to follow my tips:
Pick ripe, firm fruit. You want to avoid fruit that is bruised, mushy, or overripe.
Cut fruit into similar sized pieces. Strawberries should typically be quartered or halved while berries like blueberries, blackberries and raspberries should remain whole.
Get creative. Don't limit yourself to the type of fruit pictured. Use what looks good at the grocery store, what's in season or what's grown locally if you can. I've given lots of ideas for different fruits to try – use them!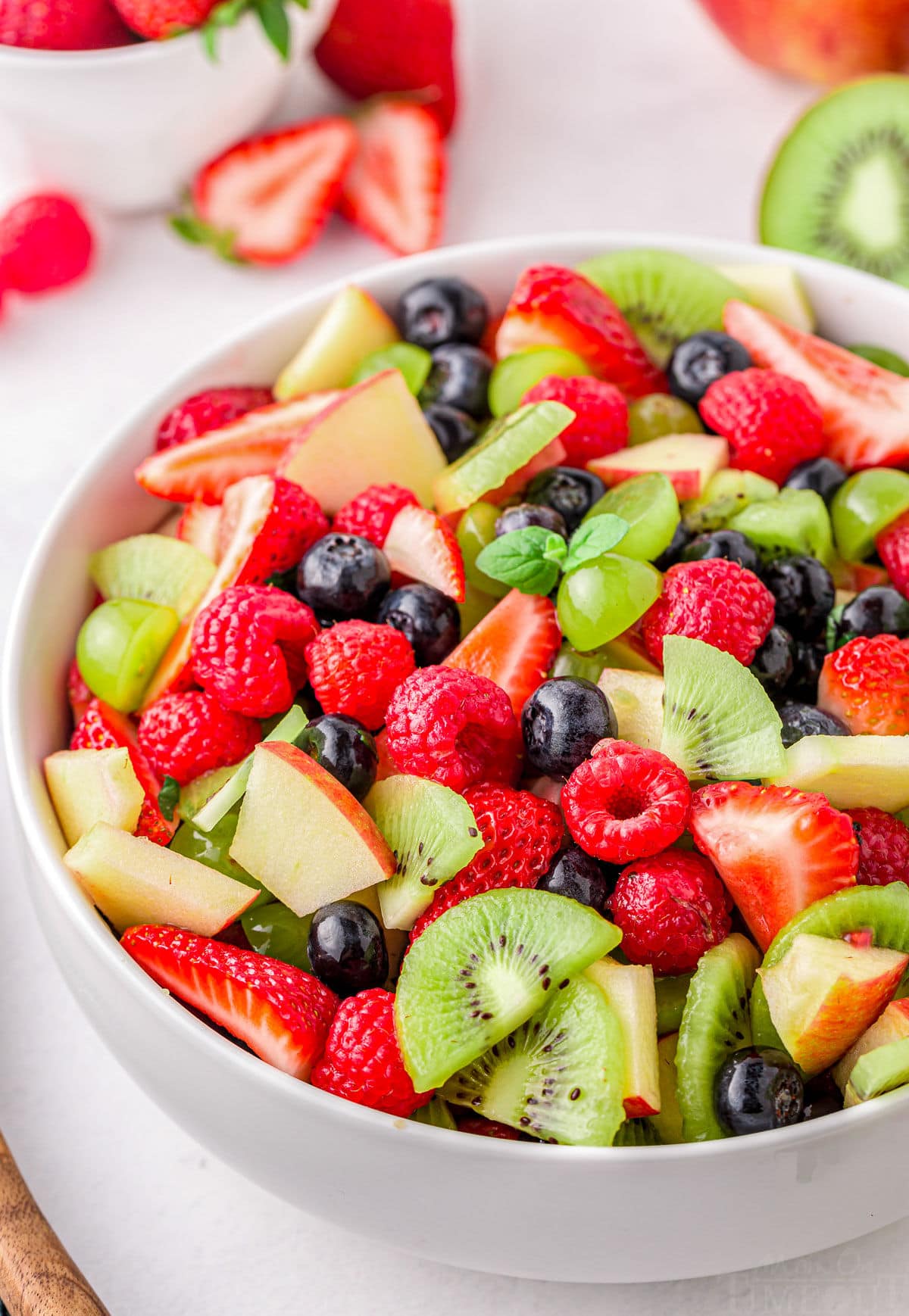 More Fruit Salad Recipes
How To Make Fruit Salad
Fresh Fruit Salad
This easy Fruit Salad recipe is loaded with fresh fruit all tossed together with a mouthwatering honey lime dressing. Refreshing, delicious, and the perfect addition to your summer menu. Takes 10 minutes to make and doubles as a refreshing side dish or salad or even dessert!
Ingredients
Fruit Salad
2

cups

strawberries

stem removed and diced

1 ¼

cups

blueberries

1 ¼

cups

raspberries

4

kiwis

peeled and sliced

1

cup

green grapes

halved

1

medium sized red apple

chopped (~1 cup)

2

tablespoons

mint leaves

minced
Fruit Salad Dressing
2

tablespoons

honey

or agave nectar

2

tablespoons

orange juice

about half an orange

1

tablespoon

lime juice

about half of one small lime

1

teaspoon

lime zest
Instructions
In a large bowl combine the strawberries, blueberries, raspberries, kiwi, grapes, and apple. Set aside.

In a small mixing bowl combine the agave nectar or honey, fresh grapefruit or orange juice, and lemon juice.

Once combined, pour over the fruit mixture and toss to combine.

Top with some fresh, minced mint leaves and refrigerate for at least an hour before serving.
Notes
Helpful Tools: Strawberry Huller, Cherry Pitter
More Fruits To Try:
peaches, nectarines, plums, pluots, cherries, pineapple, apricots, mandarin oranges, blackberries, mango, papaya, cantaloupe, watermelon
Nutrition
Calories:
142
kcal
|
Carbohydrates:
36
g
|
Protein:
2
g
|
Fat:
1
g
|
Saturated Fat:
1
g
|
Polyunsaturated Fat:
1
g
|
Monounsaturated Fat:
1
g
|
Sodium:
5
mg
|
Potassium:
432
mg
|
Fiber:
6
g
|
Sugar:
25
g
|
Vitamin A:
200
IU
|
Vitamin C:
100
mg
|
Calcium:
46
mg
|
Iron:
1
mg