Balsamic Watermelon Salad – so light and refreshing it's perfect all summer long!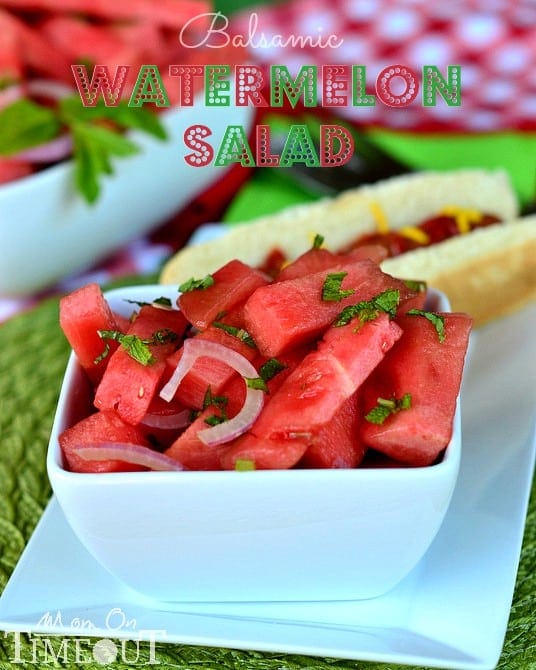 Tomorrow is Reece's last day of school and for us that means summer is just about here! We spend lots of time outdoors during the summer and grill several nights a week. One surefire way to get my boys excited about dinner is to serve them up some hot dogs and some fresh watermelon. Watermelon is THE summer fruit in my opinion. So sweet and juicy – it's the perfect way to cool off! Sometimes I like to kick our weeknight meals up a notch and do something special like with this Balsamic Watermelon Salad. This salad is so light and so refreshing it's perfect any night of the week.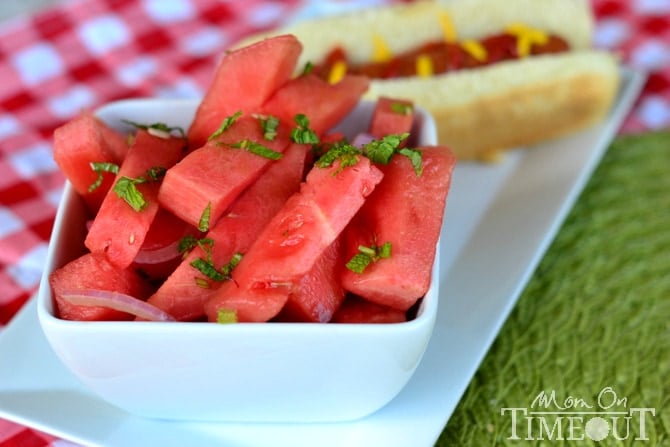 One of my favorite components of this salad is the fresh mint. I'm a bit of a mint fanatic. I love to just chew on the leaves, throw it in water or lemonade, or sprinkle it over fresh fruit. I have tried SO many times to grow it but it just hasn't worked out for me. Does anyone know the secret? What am I doing wrong??
Summer always seems to go by so fast so I try to make each week special for the boys in some small way. We go to the Railroad Museum or to the Children's Museum, maybe meet Chris for lunch or head to Discovery Kingdom on the weekend.
Each year we go to the California State Fair. Last year I had the honor of meeting Jeff Mauro at the Seattle's Best Red Cup Showdown at the fair – SO COOL! He is seriously hilarious. I've gone to the state fair every year for as long as I can remember. My parents used to take us five kids and I look back now and realize something…they were flat out crazy. I can hardly keep my sanity with just my two because they want to go every direction at once. There are so many beautiful exhibits and so much to do that it makes for a very special day.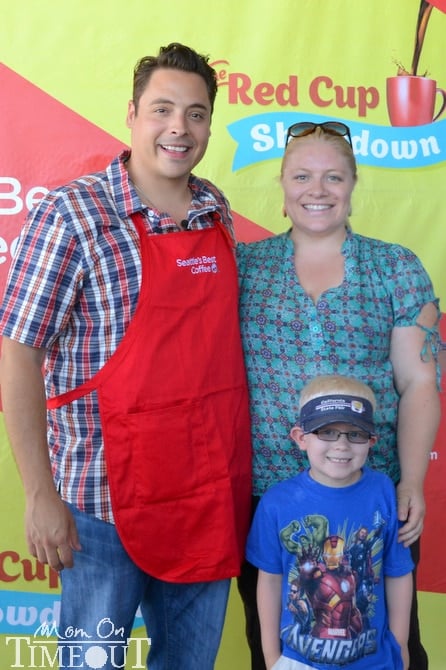 The highlight of our summer will be our trip to Disneyland at the end of July. This time we are spending four days at Disneyland and one day at Universal Studios. The boys have never been to Universal Studios and Chris has had them watching YouTube videos of the rides and they are SO excited! They are really big Transformers fans and I think they are pretty much going to LOVE it 🙂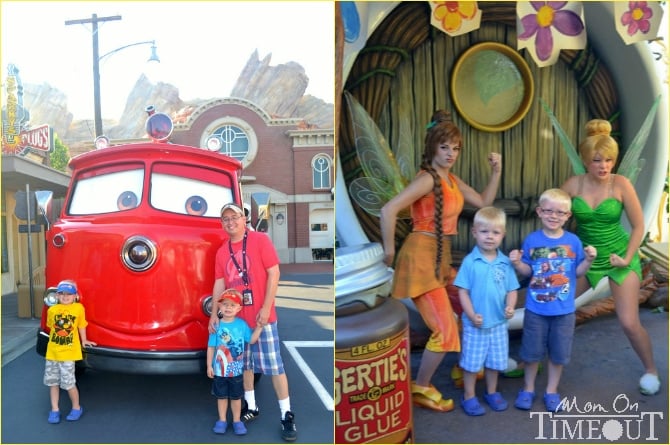 We're wrapping up our summer with a weekend trip to Lake Tahoe. We usually just go up for the day but hubby booked us a hotel so we can spend the whole weekend and really enjoy our time up there this year. It is just breathtakingly beautiful and the boys think it's a blast. I, for one, don't get in that freezing cold water but Chris and the boys get in and have a great time.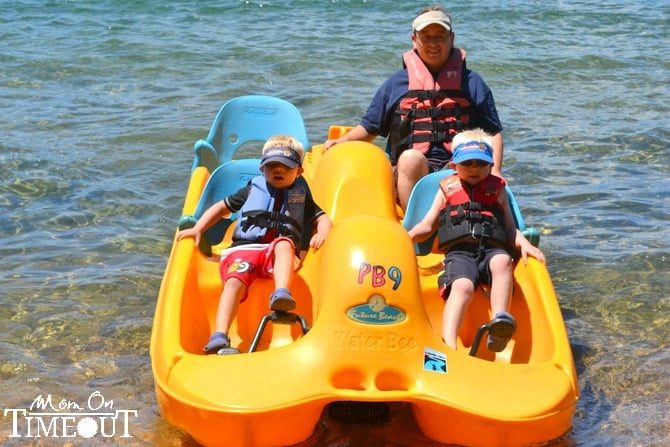 Our summer is going to be TONS of fun this year but I truly believe some of the most memorable days are those where we're just having fun relaxing at home enjoying some awesome barbecued hot dogs and a sweet, refreshing salad like this one 🙂  Simple. Sweet. Nothing is better than that. What fun plans do you have for #99summerdays?
Balsamic Watermelon Salad
Balsamic Watermelon Salad – so light and refreshing it's perfect all summer long!
Ingredients
2

lbs

seedless watermelon

cut into planks

1

red onion

medium - thinly sliced

3

tbsp

extra-virgin olive oil

1/2

cup

balsamic vinegar

GOOD balsamic vinegar

1/4

mint leaves

chiffonade
Instructions
Combine olive oil and balsamic vinegar.

Gently toss watermelon, red onion, mint and oil mixture together.

Serve immediately.
Nutrition
Calories:
200
kcal
|
Carbohydrates:
25
g
|
Protein:
2
g
|
Fat:
11
g
|
Saturated Fat:
2
g
|
Sodium:
11
mg
|
Potassium:
330
mg
|
Fiber:
1
g
|
Sugar:
20
g
|
Vitamin A:
1290
IU
|
Vitamin C:
20
mg
|
Calcium:
31
mg
|
Iron:
1
mg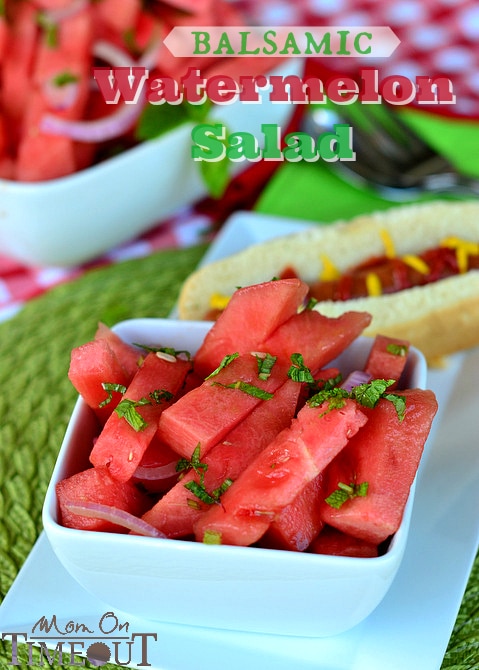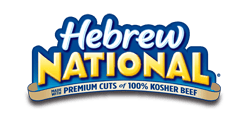 Hebrew National tastes great because, for more than 100 years, we've adhered to the highest quality standards. Hebrew National Franks are made with premium cuts of 100% pure kosher beef, and contain no artificial flavors, no artificial colors, no by-products, and no fillers. Premium taste and high quality every time, for any occasion. That's our guarantee. Learn about even more reasons to love Hebrew National, and tell us why you love them, too! www.facebook.com/HebrewNational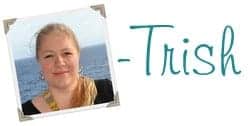 Connect with me!








Disclosure:
 Compensation was provided by Hebrew National via Glam Media. The opinions expressed herein are those of the author and are not indicative of the opinions or positions of Hebrew National.