This delicious Edible Sugar Cookie Dough is safe to eat and oh-so delicious! Perfect for a quick treat or snack! This easy comfort food is fun for the whole family and is made with heat treated flour and no eggs so everyone can dig in and enjoy! Love cookies? Don't miss my Chewy Chocolate Chip Cookies and No Bake Cookies!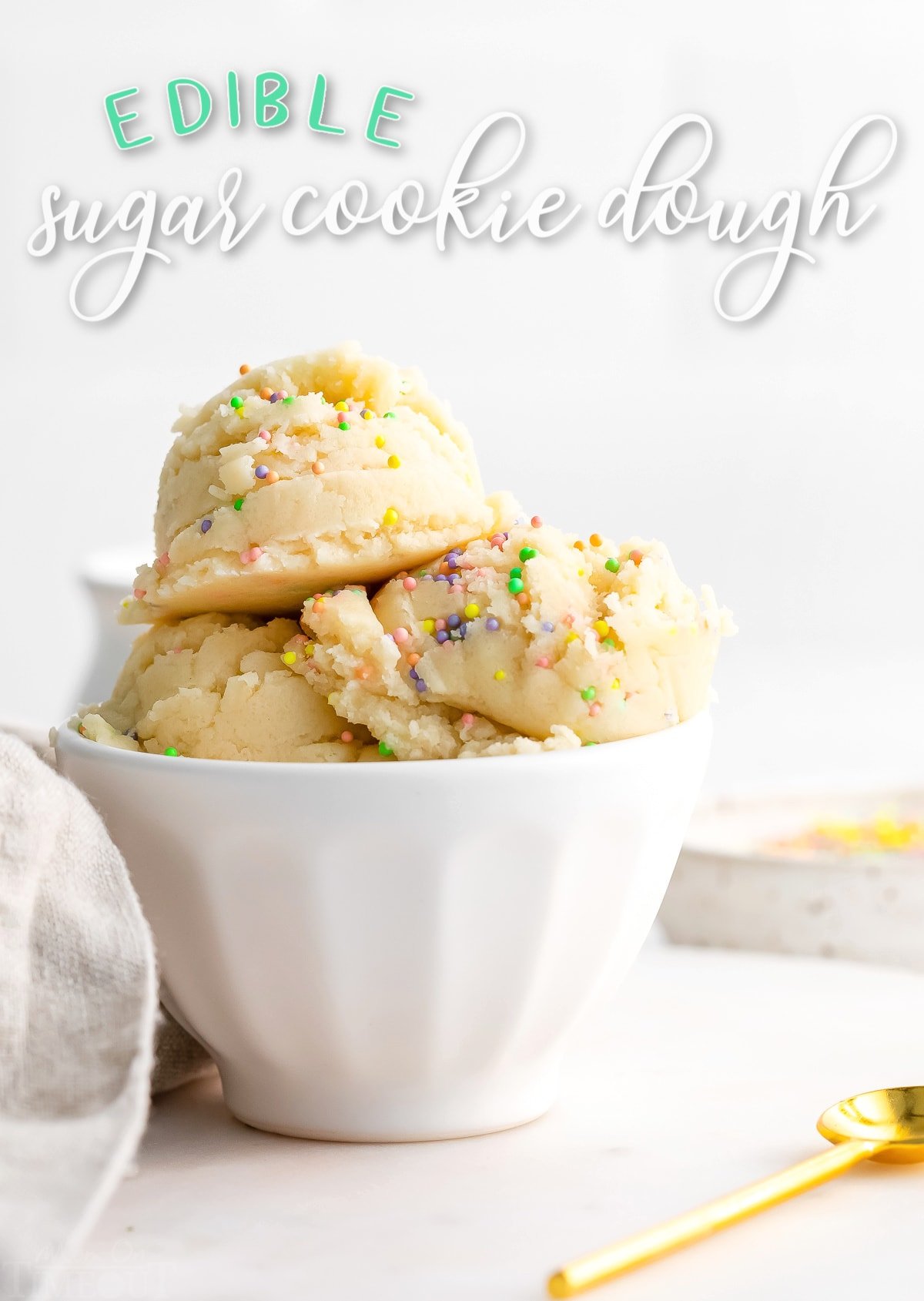 I don't know what it is about cookie dough, but it's nearly impossible to resist sneaking a taste or two when I'm baking up a batch of cookies. My kids would agree.
The good news is that although traditional cookie dough isn't safe to eat on account of the raw flour and eggs, you can make edible cookie dough at home that's equally as delicious and perfectly safe to enjoy! No worries about E. coli or salmonella.
What Is Edible Sugar Cookie Dough?
This edible sugar cookie dough recipe is a dough consisting of ingredients that are safe to consume. While traditional cookie dough contains eggs and flour, both of which can contain bacteria that you should not consume without baking, this dough is different. You can safely eat it and serve it to your children without worrying about anyone getting sick from it.
The edible cookie dough is fun to eat from the spoon or in a small bowl like you would use for ice cream.
You can also roll into cookie dough balls and then roll in sprinkles before serving. Feel free to customize the recipe by mixing in your favorite add-ins like:
chocolate chips
sprinkles
chopped candy bars
small candies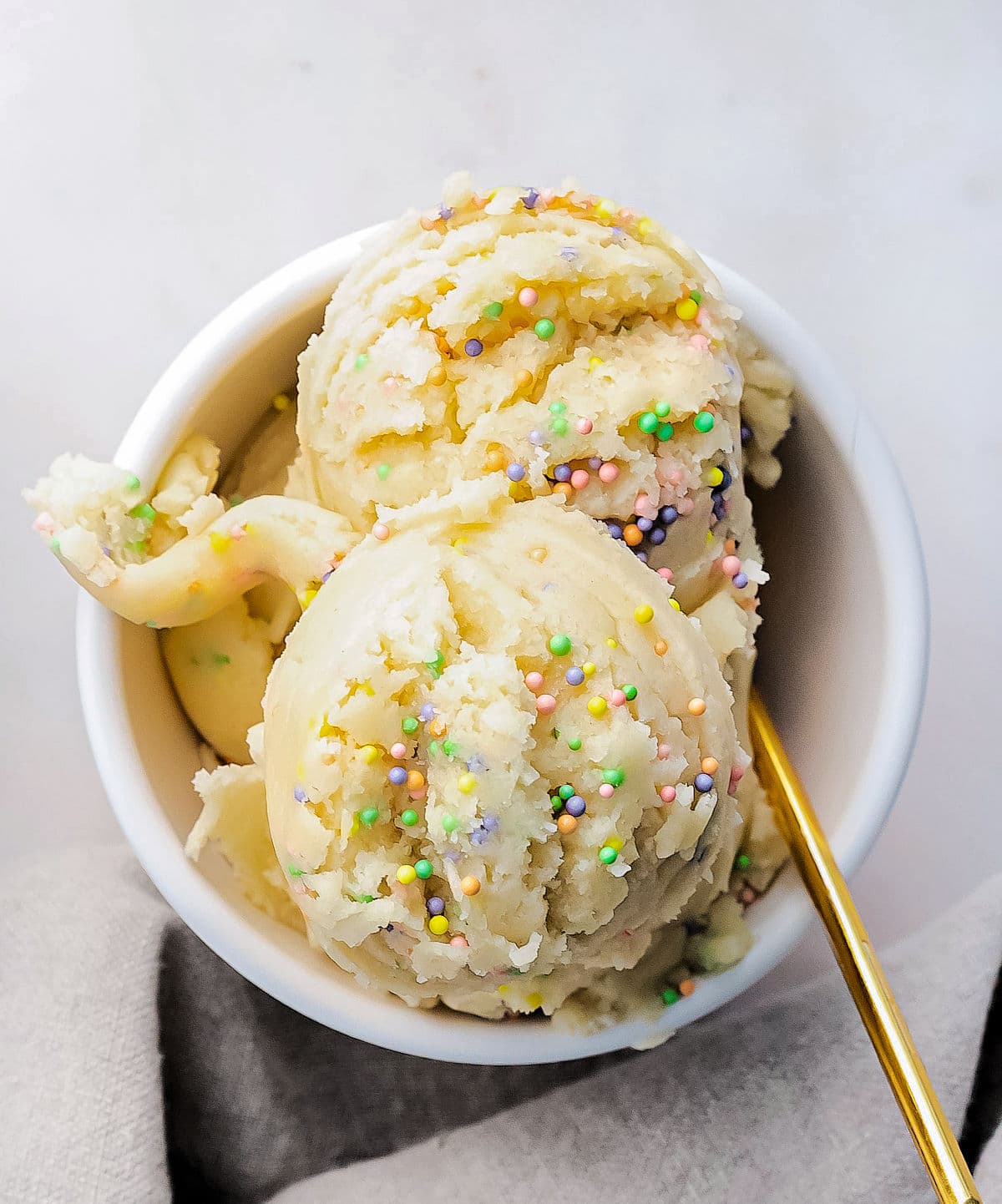 More Cookie Dough Favorites:
Monster Cookie Dough Ice Cream – No Machine Needed!
Edible Cookie Dough Ingredients
Just a handful of ingredients is all you need for this easy sugar cookie dough recipe. You can find the complete, printable recipe below. When preparing this edible sugar cookie dough recipe, you will need the following ingredients:
All-Purpose Flour. The flour creates a base for the dough. It is a must-have ingredient. To make this cookie dough safe to eat you heat (bake) the flour to remove any bacteria.
Butter. Grab a stick of butter to use in this recipe, but make sure to leave it out and let it get to room temperature before using it. Softened butter helps bind everything together.
Granulated Sugar. This helps sweeten your cookie dough. You can also use brown sugar if you want more of a chocolate chip cookie taste but it will definitely effect the color of the dough.
Vanilla Extract. The extract enhances the taste of the cookie dough. You can use homemade vanilla extract, or store bought. The better the quality of the vanilla extract, the better your Edible Cookie Dough will be.
Salt. To balance the sweetness.
Whole Milk. Use two or three tablespoons of milk in the mix. It all depends on the consistency that you prefer to have.
Sprinkles. You can add sprinkles to your cookie dough, if you'd like. They are optional but always add a little bit more fun to any recipe.
That's it! This recipe is so delicious and easy too! With such simple ingredients, you can prepare this easy sugar cookie dough recipe that you can eat and enjoy quickly!
Although I made this edible cooke dough without brown sugar, you can use brown sugar or use equal amounts of granulated and brown sugars in the recipe if you prefer.
How to Make Edible Cookie Dough
Follow this easy edible cookie dough recipe to prepare the perfect treat to eat as a dessert. The steps to make the cookie dough include:
Step 1: Preheat the Oven
Preheat your oven to 350° F.
Step 2: Bake the Flour
You do not need to bake the cookie dough, but you do need to bake the flour. Place the flour on parchment lined rimmed baking sheet (or line with a silicone baking mat), and bake for roughly 6 minutes. This ensures that any bacteria is killed. Keep an eye on the flour, you don't want it to brown at all.
Check the flour to make sure it hits 160 degrees to be safe.
Step 3: Mix Your Ingredients
While the flour bakes, grab a mixing bowl. Put your butter and sugar in the bowl, mixing until creamy and fluffy. You may then add the milk, baked flour, salt and milk into the bowl. Mix your ingredients on a low speed until they begin to form the shape of a ball.
Step 4: Add Milk When Needed
If you think the cookie dough looks a bit dry or crumbly, add an extra tablespoon of milk to the mixture before putting it in an airtight container and storing it in the fridge to get it cold.
Step 5: Add Sprinkles
If you want to make this cookie dough more fun, stir in some sprinkles, chocolate chips, small candies, etc. at this time. Serve immediately or chill in the fridge in an airtight container.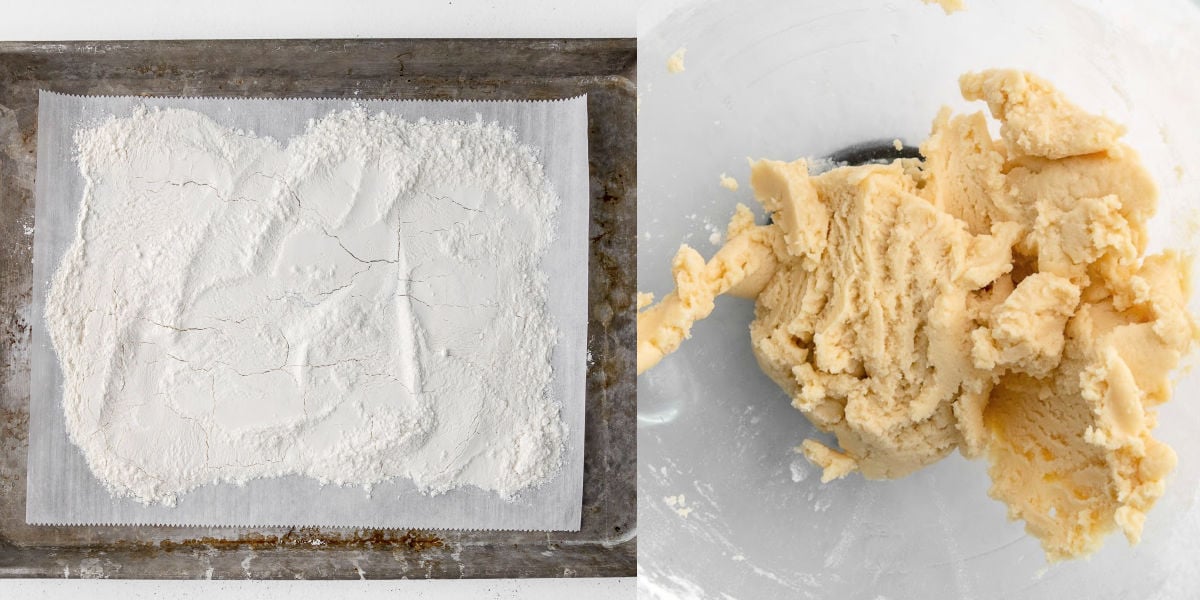 Dip chilled cookie dough balls in chocolate or candy melts to create sugar cookie dough truffles!
Edible Sugar Cookie Dough FAQs
What Happens If I Bake the Dough?
This recipe is specifically for eating the cookie dough raw. Edible cookie dough doesn't have leavening agents, so if you bake it, the cookie ends up being dense and spreading out more. If you can't resist trying it, the result won't be horrible, but it won't be the best.
Why Do I Bake the Flour?
The purpose of baking the flour before using it to prepare your cookie dough is to eliminate any unwanted bacteria. You want to complete this step to ensure that your dough is safe to consume.
Do I Need Eggs for Edible Cookie Dough?
You do not need any eggs for the Edible Sugar Cookie Dough recipe. The recipe is eggless and safe to eat. No eggs means no bacteria and no food poisoning. The butter takes care of the binding in this recipe.
Can I Freeze It?
You can freeze the Edible Sugar Cookie Dough! If you decide to put the cookie dough in the freezer, it can stay there for three months before you pull it from the freezer, allow it to defrost, and then enjoy it.
To freeze your cookie dough, place it in a ziplock freezer bag, and seal completely. Flatten the dough inside the bag so it is easier to thaw. 
How Should I Store Leftovers?
Put your cookie dough in an airtight container when you need to store any leftovers. Place the container in the fridge. It will stay fresh for three days.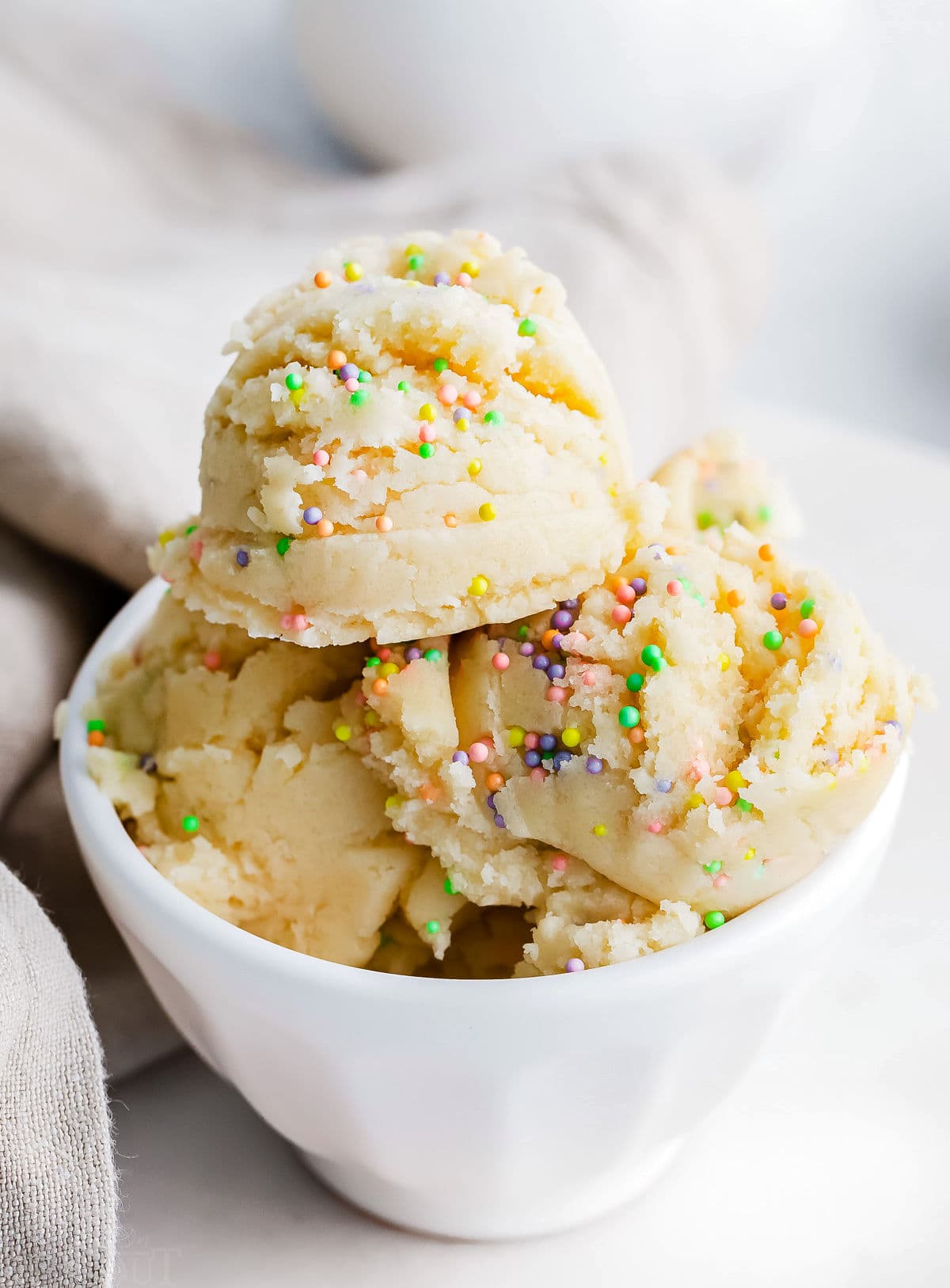 Favorite Cookie Recipes
Cookie dough is delicious on its own, but if you want soft, warm, delicious cookies fresh out of the oven, try some of these other recipes, too:
How To Make Edible Sugar Cookie Dough
Edible Sugar Cookie Dough
This delicious Edible Sugar Cookie Dough is safe to eat and oh-so delicious! Perfect for a quick treat or snack! This easy comfort food is fun for the whole family and is made with heat treated flour and no eggs so everyone can dig in and enjoy!
Ingredients
1

cup

all-purpose flour

8

tablespoons

salted butter

softened

½

cup

granulated sugar

1

teaspoon

vanilla extract

1/4

teaspoon

salt

2 to 3

tablespoons

whole milk

to reach desired consistency
Instructions
Preheat oven to 350°F. Spread flour on a parchment lined or silicone baking mat lined rimmed baking sheet.

Bake the flour for about 6 minutes and then set it aside to cool. The flour needs to be completely cooled before proceeding. (Check the flour to make sure it hits 160 degrees to be safe.) You do not want the flour to brown so keep a close eye on it.

In a large mixing bowl or the bowl of a stand mixer, cream together the butter and sugar until light and fluffy, about 3 to 4 minutes.

Mix in the vanilla extract, cooled flour, salt and 2 tablespoons of milk. Mix on low speed just until the mixture starts to come together in a ball. Add additional milk if the dough appears dry or crumbly.

Stir in sprinkles if using.

Store in an airtight container in the refrigerator for up to 3 days. Dough may need to sit out at room temperature for 10 minutes before soft enough to eat with a spoon.
Notes
The flour must be baked for this recipe unless your flour container specifically states that it is safe to eat raw. Check the flour to make sure it hits 160 degrees to be safe.
If you like, brown sugar can be substituted for the granulated sugar.
Add any sprinkles you want.
Nutrition
Calories:
279
kcal
|
Carbohydrates:
33
g
|
Protein:
2
g
|
Fat:
16
g
|
Saturated Fat:
10
g
|
Trans Fat:
1
g
|
Cholesterol:
41
mg
|
Sodium:
136
mg
|
Potassium:
35
mg
|
Fiber:
1
g
|
Sugar:
17
g
|
Vitamin A:
475
IU
|
Calcium:
13
mg
|
Iron:
1
mg