Chocolate Cherry Marshmallow Crunch Bars combine all my favorite flavors into one satisfying bite!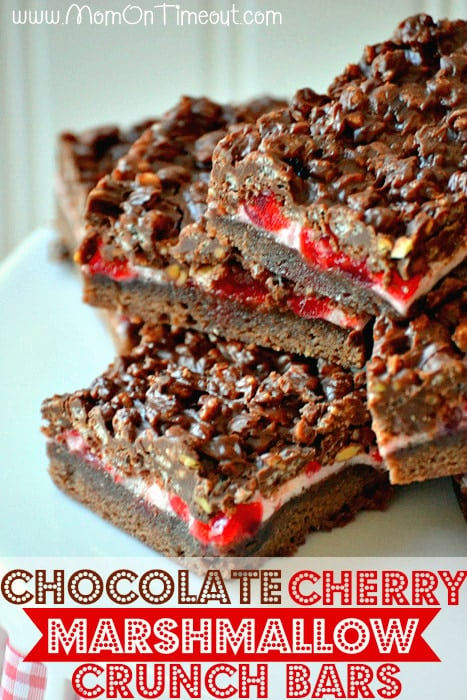 Right now I need to be consoled.  That Super Bowl game was brutal.  I mean, the 49ers were down big time and then the huge come back and then … nothing.  I'm sad.  I need chocolate.  Lots of chocolate.  It could take me weeks to recover from this loss without it.  I have an idea!  How about some Chocolate Cherry Marshmallow Crunch Bars to ease the pain?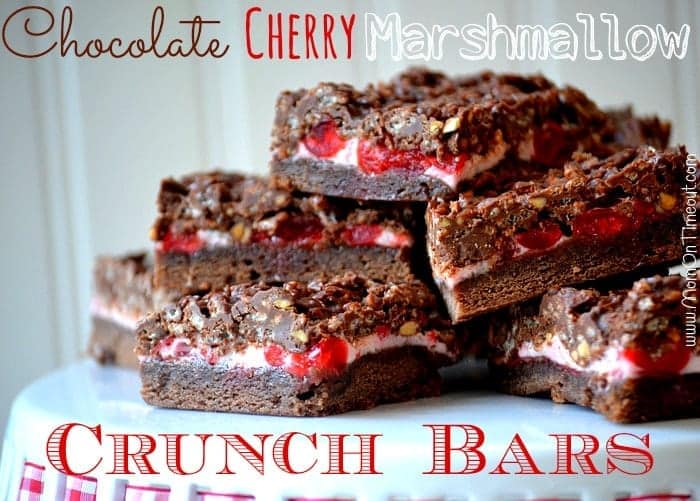 Yeah.  This is going to help. Big time. Chocolate makes everything better. You know what makes chocolate better though? Cherries. Oh man, maraschino cherries are a weakness of mine.  My boys inherited this unfortunately.  I say unfortunately cause now they have to fight me for the extra cherries on their sundaes. You know what else my boys love?  Marshmallows.  Ooey-gooey marshmallows.  Why not put them all together and some CRUNCH to make it more satisfying?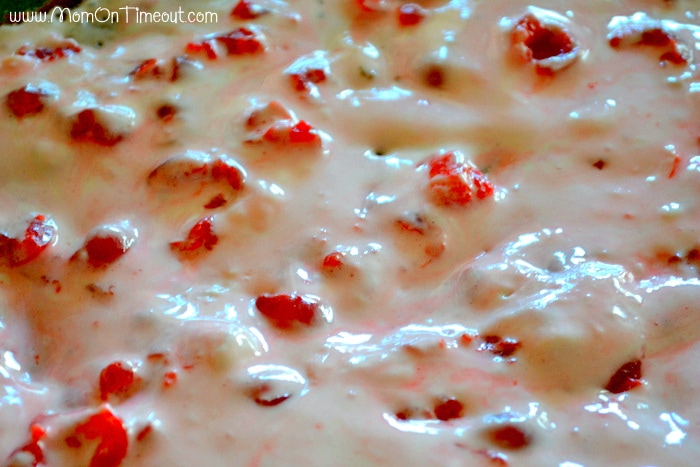 A super delicious chocolatey base topped with yummy marshmallows and cherries and finished with a chocolate peanut butter rice krispies treat – oh yeah!
Chocolate Cherry Marshmallow Crunch Bars
Ingredients
Base:
½ cup butter, softened
1 cup sugar
2 eggs, room temperature
1 teaspoon vanilla extract
¾ cup + 2 Tbls flour
2 Tbls unsweetened baking cocoa
¼ tsp salt
½ tsp baking pwder
Filling:
2 10 oz bottles maraschino cherries, no stems, drained and chopped
3 cups miniature marshmallows
Topping
¾ cup peanut butter
1 cup semisweet chocolate chips
2 Tbls butter
1½ cup Rice Krispies
Instructions
Preheat oven to 350.
Cream butter and sugar together in a mixer bow. Add eggs one at a time, beating until thoroughly combined. Add in vanilla extract.
Whisk together flour, cocoa, salt, and baking powder.
Gradually add to creamed mixture.
Spread in a lightly great 9x13 baking dish.
Bake for 16-18 minutes until set.
Sprinkle marshmallows on top and bake for another 3 minutes or until marshmallows have puffed up.
Sprinkle chopped cherries on top of marshmallows and spread evenly using a knife dipped in water.
Let cool completely.
Melt peanut butter, chocolate chips, and butter together in a small saucepan.
Remove from heat and stir in Rice Krispies.
Spread evenly over top of bars.
Chill for 1 hour or until set. Cut into bars and serve.
You know…I'm feeling better already!  That's the power of chocolate people – never underestimate it!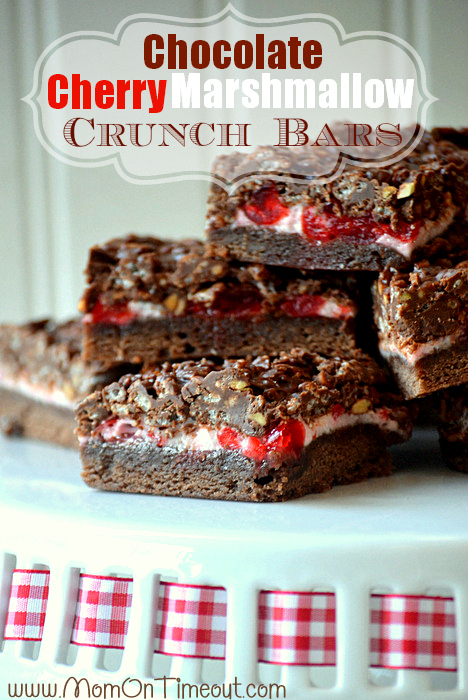 Love chocolate as much I do?  Check out some of my favorite chocolate recipes: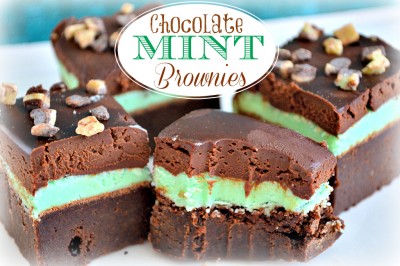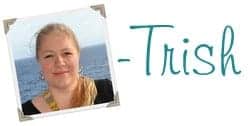 Connect with me!
 Linking up here, Home Stories A2Z, Savvy Southern Style, and My Repurposed Life.