You're going to love the rich chocolate and refreshing mint flavors in these Andes Triple Chocolate Mint Pudding Cookies!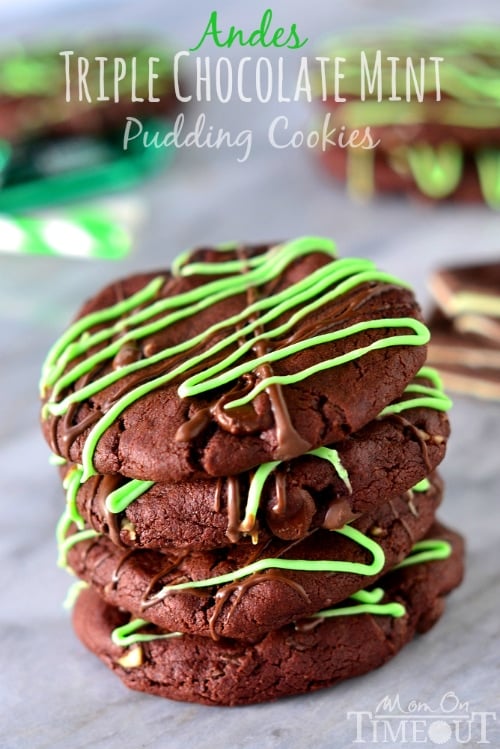 So it's fair to say I'm on a little bit of a chocolate mint kick right now.  This pretty much happens annually as St. Patrick's Day rolls around.  Then, next thing you know it's all about eggs, nests, and pastels :)
My husband has BBQs at his work usually at least once a month. (Yes, I know. Only in California.) It's just for the IT team and everyone chips in and brings something for the group.  If it's available, I always ask Chris to sign up for a dessert.  It's a great excuse for me to bake up something yummy.  Like these Andes Triple Chocolate Mint Pudding Cookies.
I've always had a soft spot for chocolate cookies.  Guess that stems from my chocolate obsession.  I have a really great chocolate cookie recipe that I like to play around with by adding and subtracting ingredients.  I've done maraschino cherries, Reese's, peppermint, cherry-filled, and now these.
This week I wanted to make a chocolate mint pudding cookie.  Perfect, right? Well, it took me a couple of tries but I finally nailed it.
Chocolate pudding, semi-sweet chocolate chips, cocoa and andes baking chips are the key components of this cookie.  (You can never have too much, chocolate, right?) After the first go around I decided to stuff the cookie with an Andes mint. #bestdecisionever
The cookies bake up so soft and tender and are just packed with chocolate and mint flavor! The cookies were absolutely amazing but I didn't stop there.  I melted more Andes baking chips and drizzled them on the top.  Then I made up a mint drizzle in a pretty green that really adds some pop to these cookies.  I'm a total sucker for a drizzle.
Seriously.
What's not to love?
Andes Triple Chocolate Mint Pudding Cookies
You're going to love the rich chocolate and refreshing mint flavors in these Andes Triple Chocolate Mint Pudding Cookies!
Ingredients
Cookies
1¼ cups all purpose flour
½ cup unsweetened baking cocoa
(1) 3.9 oz box instant chocolate pudding mix
½ tsp baking soda
½ tsp salt
¾ cup light brown sugar
½ cup granulated sugar
½ cup unsalted butter, melted
1 tsp vanilla extract
1 egg, room temperature
2 Tbls water
½ cup semi-sweet chocolate chips
¾ cup Andes creme de menthe baking chips
24 Andes mints
Drizzles
½ cup Andes creme de menthe baking chips
4 oz white candy coating (I used CandiQuik)
½ tsp mint extract
green gel food coloring
Instructions
Cookies
Preheat oven to 375 degrees.
Whisk together flour, cocoa, pudding mix,baking soda and salt. Set aside.
Cream sugars and butter together until light and fluffy.
Add in egg, vanilla and water and beat until well blended.
Gradually stir in dry ingredients.
Fold in chocolate chips and Andes baking chips.
Line cookie sheet with parchment paper or lightly grease.
Scoop out rounded tablespoons of cookie dough. Form into a ball and press an Andes mint into the center. Fold dough around mint and slightly flatten. Place on prepared cookie sheet.
Bake for 8 minutes or until they are set. Do not over bake.
Remove from oven and let cool on a rack.
Drizzle
Melt andes chips in a small bowl in microwave at 50% power in 30 second intervals, stirring in between. Transfer to a plastic bag and cut off a corner of the bag. Just a little bit so you have a nice thin drizzle.
Drizzle over the top of cooled cookies.
Melt candy coating according to package directions. Stir in extract and food coloring and transfer to a piping bag or plastic bag. Cut off the corner and drizzle over cookies.
Let drizzles set up before storing in an airtight container.
More refreshing mint recipes:
Chocolate Covered Mint Patties
Mint Chocolate Chip Cheese Ball
Connect with me!
 Linking up at some of these parties.