Comfort in a cup! Now you can make your own Vanilla Chai Tea Latte at home!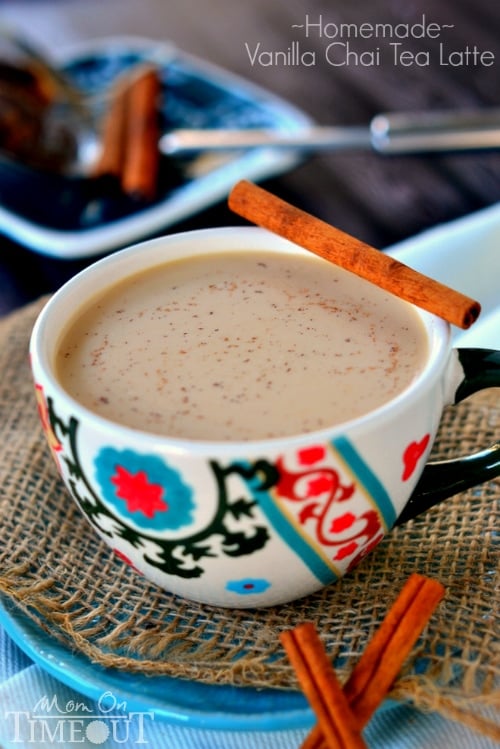 Several years ago my little sister, Ashley, introduced me to chai tea. I know, where was I? Living under a rock I suppose 🙂 We were at our older sister's house and rummaging through her tea collection. (Melissa is quite the tea connoisseur. No joke. I would guess that she has somewhere around one or two thousand bags of tea in her house.)
It's really quite fun because whenever we get together, I get to try out a new tea or indulge in an old favorite. Well, I instantly fell in love with the chai tea blend. It has so much more flavor than other teas. A nice surprise with just enough spice to make you sit up and take notice.
Since then my sister has kept me well-stocked with chai tea but sometimes, I like to make it on my own. I love being able to control the amount of spice that goes into my Vanilla Chai Tea Latte and once I tried it with a dash of vanilla, there was no going back. Now if you are just seriously rolling in it, go ahead and use a vanilla bean. I'm way too frugal for that but I can only imagine how amazing it would taste.
I've been enjoying a steaming mug of tea several times a day as I've been fighting off the cold I caught a few weeks ago in Salt Lake City. Fortunately for me, NO ONE else has caught the cold – can I get a hallelujah!
I love knowing that I have a full-time assistant helping me keep my family healthy. Seriously awesome. My husband is so in love with it that we're planning on buying a second unit for our bedroom to help with his seasonal allergies.
Make sure you try this Vanilla Chai Tea Latte. Instant comfort! This is definitely one of my favorites and I'm sure it's soon going to be yours as well!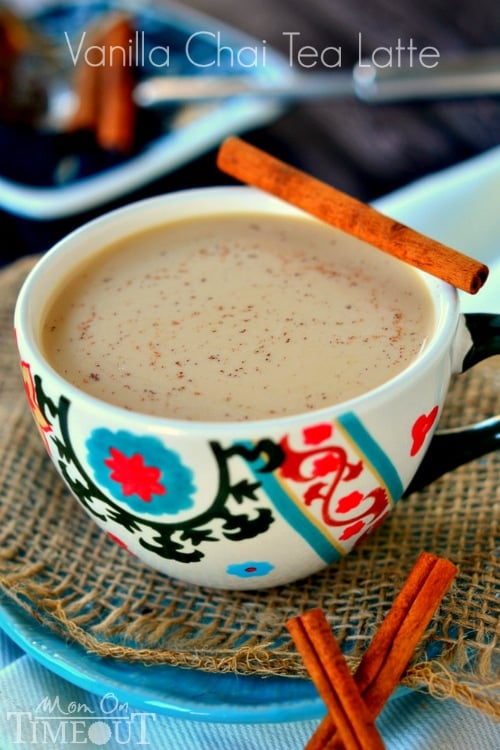 Vanilla Chai Tea Latte
Comfort in a cup! Now you can make your own Vanilla Chai Tea Latte at home!
Ingredients
2

cups

water

2

peppercorns

3

cloves

whole

1/8

tsp

nutmeg

1/4

tsp

ground cardamom

1/4

tsp

ground ginger

1

cinnamon stick

2

black tea bags

1

tbsp

brown sugar

1

tsp

vanilla extract

1/2

cup

milk
Instructions
Combine water, peppercorns, cloves, cardamom, ginger, nutmeg and a cinnamon stick in a small saucepan.

Bring to a boil and boil for at least five minutes. (The longer you boil, the more the spices will release their flavor.)

Turn off the heat and place tea bags in water. Stir for 5-6 minutes.

Stir in brown sugar and vanilla.

Heat milk in microwave for 15 seconds on medium heat and stir into tea. (Helps to avoid curdling.)

Serve immediately.
Nutrition
Calories:
74
kcal
|
Carbohydrates:
11
g
|
Protein:
2
g
|
Fat:
2
g
|
Saturated Fat:
1
g
|
Cholesterol:
6
mg
|
Sodium:
42
mg
|
Potassium:
81
mg
|
Fiber:
1
g
|
Sugar:
9
g
|
Vitamin A:
99
IU
|
Calcium:
94
mg
|
Iron:
1
mg
More yummy drinks: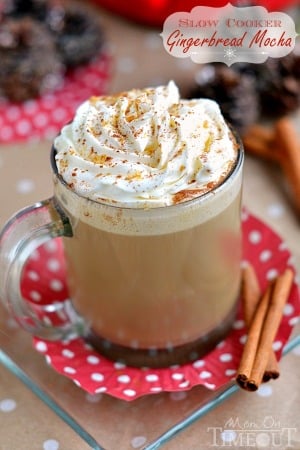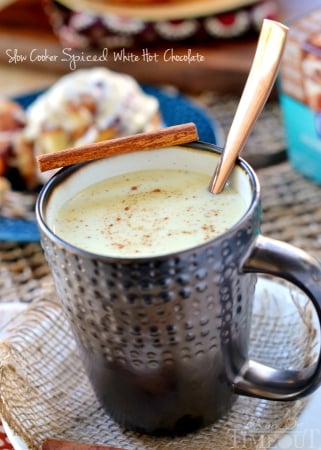 Slow Cooker Spiced White Hot Chocolate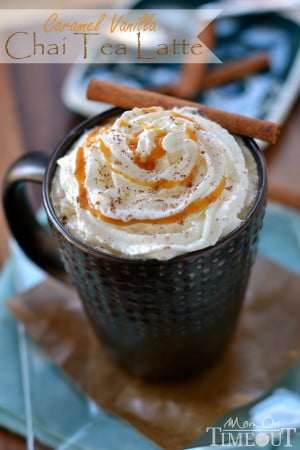 Caramel Vanilla Chai Tea Latte

For all appetizer recipes, go HERE.
For all dessert recipes, go HERE.
Sign up to get emails when I post new recipes!
For even more great ideas follow me on Facebook – Pinterest – Instagram – Twitter – Bloglovin'.
Have a great day!