Once you make these Slow Cooker Peanut Butter Brownies – you'll never make brownies in the oven again!
Seriously, the best brownies EVER and the recipe is SO easy!
Let's be friends! Sign up to get my new recipes in your inbox! Follow me on Facebook and Instagram too!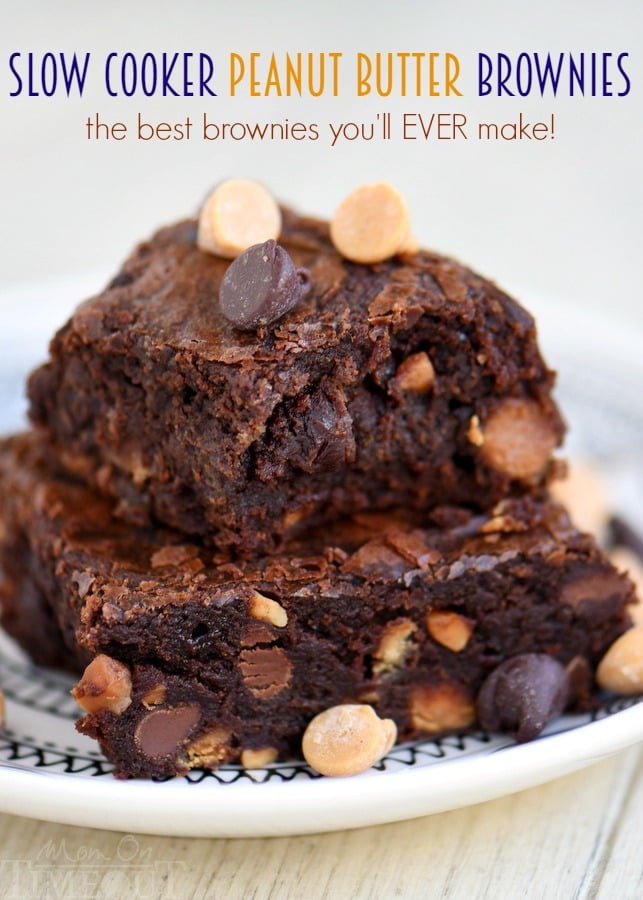 I'm about to blow your mind with this amazing brownie recipe but first I have to tell you what blew my mind this weekend….
I'm heading to Chicago next week for BlogHer Food. I'm going to be gone for 4 days and I'm super excited to leave and actually experience some fall weather because Sacramento just isn't getting the memo.
I jumped online and ordered some new clothes for the trip and was trying to pick out cuter clothes than I might normally wear – you know, something OTHER than yoga pants.
I got a number of cute tops (more than I'll actually need) and some new jeans including a pair of distressed jeans. This is my first pair and I totally thought I was being all trendy and cute until my boys started making comments.
First: "What happened to your pants?"
Second: "Did you know you had holes in your jeans?"
Third: "Mommy I think you might need to throw those away!"
And then finally, and here's the kicker, my son Reece, age 9, says to me "I've seen some teenagers wearing jeans like that when they're trying to look hot." HOT. This is a word I didn't even know was in my son's vocabulary and WHERE are these teenagers he's been seeing?
Chris said the look on my face was priceless. Reece's face? Beet red. I think this is a sign that I should go back to yoga pants, no?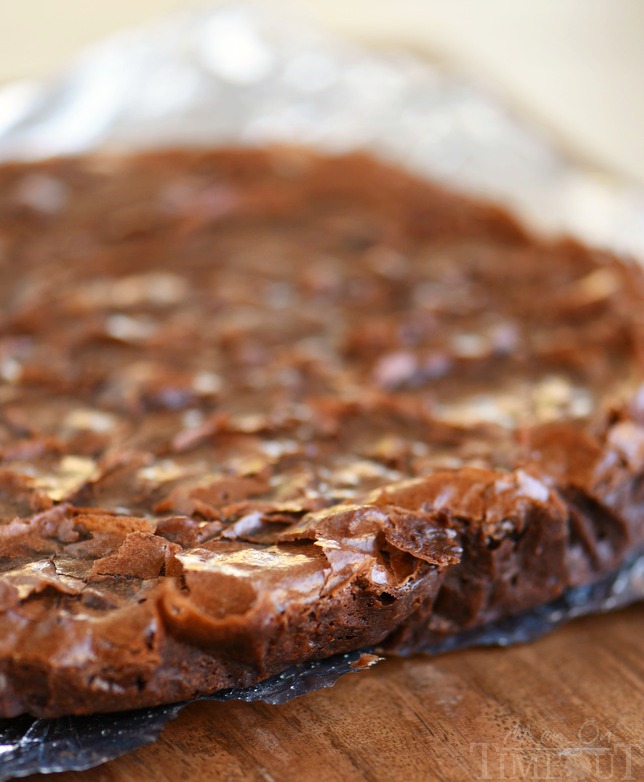 Anyhoo. Let's talk brownies for a bit, shall we? Brownies are what cheat days were made for and once you've made them in the slow cooker, the oven will be forever ruined for you. Slow cookers are magical machines – especially for desserts. The idea of steaming your brownies may sound a bit odd but trust me, what it does is turn your brownies into the MOST decadent dessert ever. Incredibly moist, and perfectly cooked, you can easily make these brownies to your exact liking. Cook them 30 minutes less for a gooier brownie, or 30 minutes more for a more cake-like experience.
The slow cooker is incredibly forgiving and eating hot brownies out of the slow cooker on a fall day, in your distressed jeans, is my idea of paradise. My boys insisted on a scoop of ice cream with their brownies and who can blame them. I took it one step further and made a peanut butter sauce to go on top – addicting!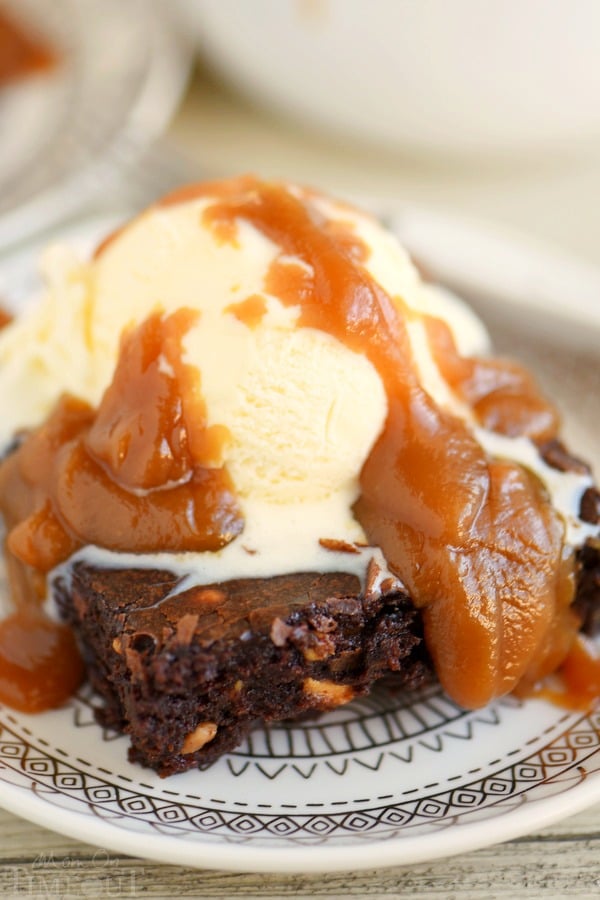 Many people question the legitimacy of using a slow cooker for desserts. For example, why would I cook my brownies for 3 hours in a slow cooker when I can have them in 45 minutes from the oven? Here's why – using the slow cooker frees up not only your oven but it frees you up as well! This is the perfect dessert to make when guests are coming over because the three minutes of work that it takes to make these brownies is done HOURS before anyone comes over. Plenty of time to wash that bowl!
The brownies are good for HOURS after they've finished cooking – just keep the lid on and let your guests serve themselves at their leisure.
And finally, brownies in the oven simply do not compare to brownies cooked in the slow cooker – not even close! Just try this ONE TIME and I know I will convince you!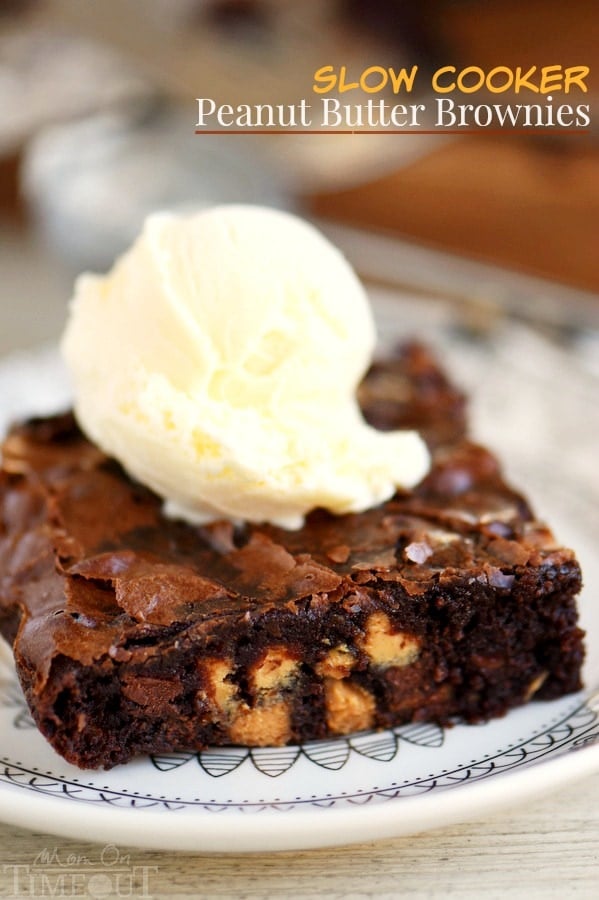 Just give this recipe a try and then come back and let me know if I've convinced you 🙂
Slow Cooker Peanut Butter Brownies
Once you make these Slow Cooker Peanut Butter Brownies - you'll never make brownies in the oven again! Seriously, the best brownies EVER and the recipe is SO easy!
Ingredients
1/2

cup

unsalted butter

melted

1/2

cup

chunky peanut butter

1 1/2

cups

granulated sugar

2/3

cup

unsweetened cocoa powder

3

large eggs

lightly beaten

2

tsp

vanilla extract

1/3

cup

all-purpose flour

1/2

tsp

salt

2/3

cup

semi-sweet chocolate chips

2/3

cup

peanut butter chips
Peanut Butter Sauce
3/4

cup

creamy peanut butter

3/4

cup

heavy whipping cream

1/3

cup

granulated sugar

1/4

cup

light corn syrup

1/2

tsp

vanilla extract
Instructions
Line a 6 qt slow cooker with non-stick foil. (If using regular foil, butter the foil.)

Whisk together melted butter and peanut butter until combined.

Whisk in sugar, cocoa powder, eggs, and vanilla extract.

Stir in flour and salt just until combined.

Fold in chocolate and peanut butter chips.

Pour the batter into the prepared slow cooker and spread evenly.

Place a paper towel in between the lid and the insert when covering. This keeps the steam from dropping back onto the brownies.

Cook on low heat for 2 1/2 to 3 hours. The brownies are down when the edges are set.

Serve hot or cool to room temperature.
Peanut Butter Sauce
Combine all the ingredients, except for the vanilla extract, in a medium sauce pan.

Cook over medium heat, stirring frequently, until all the sugar has dissolved.

Remove from heat, stir in the vanilla extract and let cool slightly before serving.

Keep refrigerated for up to 2 weeks.
Nutrition
Calories:
849
kcal
|
Carbohydrates:
86
g
|
Protein:
18
g
|
Fat:
53
g
|
Saturated Fat:
24
g
|
Cholesterol:
126
mg
|
Sodium:
403
mg
|
Potassium:
501
mg
|
Fiber:
7
g
|
Sugar:
69
g
|
Vitamin A:
779
IU
|
Vitamin C:
1
mg
|
Calcium:
64
mg
|
Iron:
4
mg

Peanut butter rocks!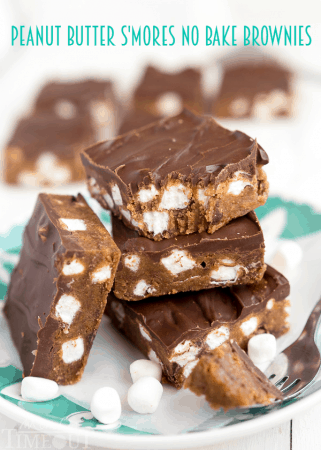 Peanut Butter S'mores No Bake Brownies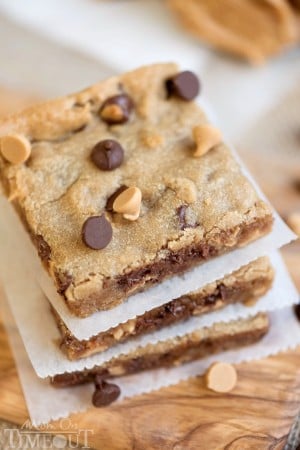 Peanut Butter Chocolate Chip Brownies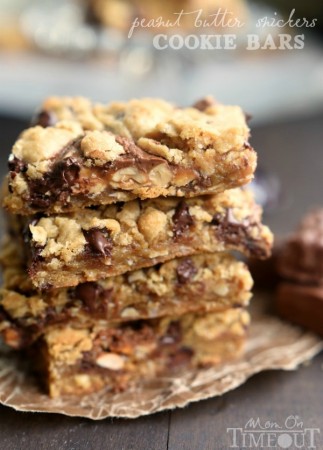 Peanut Butter Snickers Cookie Bars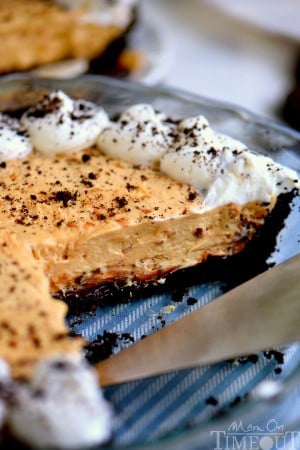 No Bake Peanut Butter Cheesecake Pie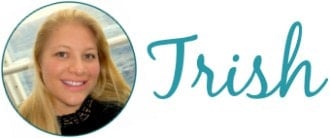 For all Christmas recipes, go HERE.
For all dessert recipes, go HERE.
Sign up to get emails when I post new recipes!
For even more great ideas follow me on Facebook – Pinterest – Instagram – Twitter – Bloglovin'.
Have a great day!