Red, White and Blue Patriotic Peppermint Patties are perfect for the 4th of July and can easily be adapted to work for any holiday!  YOU choose the flavor and the color!
Don't miss any of my recipes! Sign up to get my new recipes in your inbox! Follow me on Facebook and Instagram too!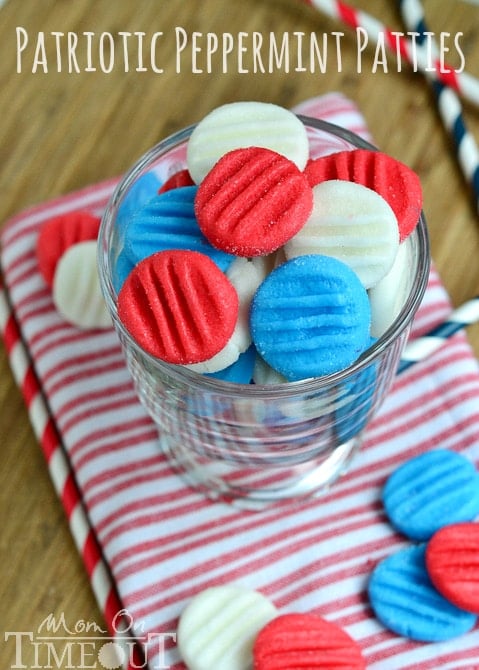 The other day Reece and I were hanging out while Bryce was taking a nap.  We were talking about his upcoming birthday party and he informed me that we needed to make some candies.  I directed him to the kitchen table where I have been amassing all sorts of candies for his pinata and the ice cream sundae bar.
"This isn't enough candy Reece?"
"That's for other stuff Mommy!"
Ooookkkaaayy.
So I started thinking about what we could make – quickly – and immediately liked the idea of peppermint patties.  Reece LOVES peppermint so I knew that these would be perfect for him.  As I was gathering the ingredients, I had to take down a handful of extracts until I found the peppermint.  Reece was looking through them and smelling each bottle of extract and was super excited by the lemon extract.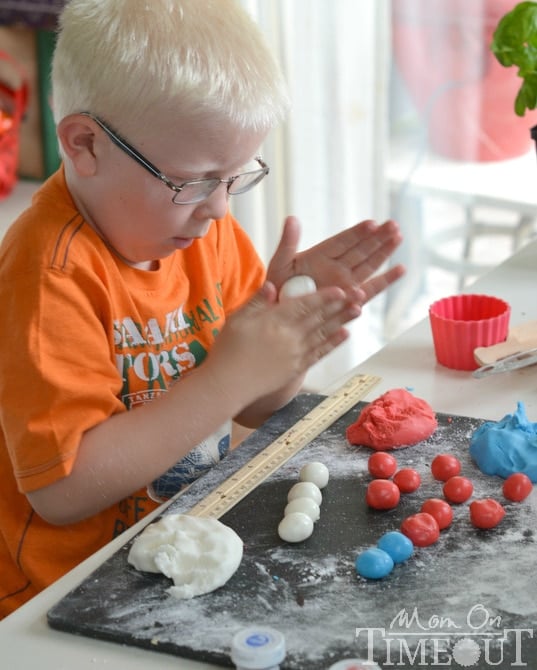 "It smells just like lemons!"  Yup.  That's why it's called lemon extract.  Well, next thing I know Reece is talking me into making lemon-flavored patties.  That would be all well and good if we were making them for Easter and had decided on some pretty pastels.  But, no.  Reece had decided on red, white, and blue – the colors from his train pinata.  You see where this is going right?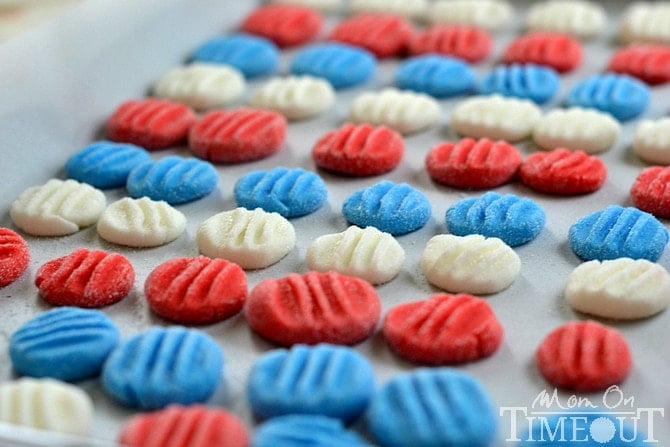 I tried explaining that lemon wasn't necessarily a flavor that one might associate with the colors red, white, and blue but Reece is an out-of-the-box thinker and insisted it would be "a nice surprise!" I rallied behind using cherry extract but was vetoed so we ended up with Patriotic Lemon Patties.  Doesn't sound quite as nice does it??  I have to say though – the lemon flavor is super refreshing and lovely and is going to be perfect for the party this weekend.
And let's face it.  It's his party.  If he wants lemon-flavored, red, white and blue patties – then that's what he's getting 🙂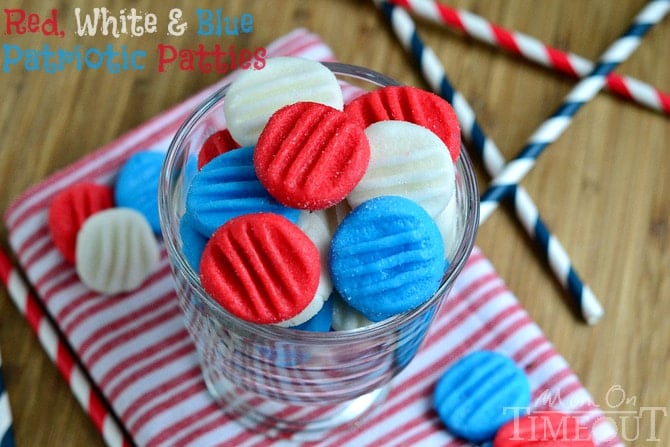 Of course we couldn't resist…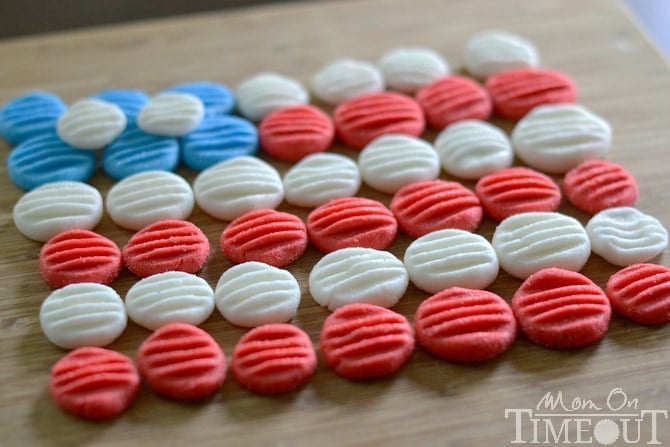 Now this would be awesome for the 4th of July!  We may just have to make another batch – and this time I'm doing cherry!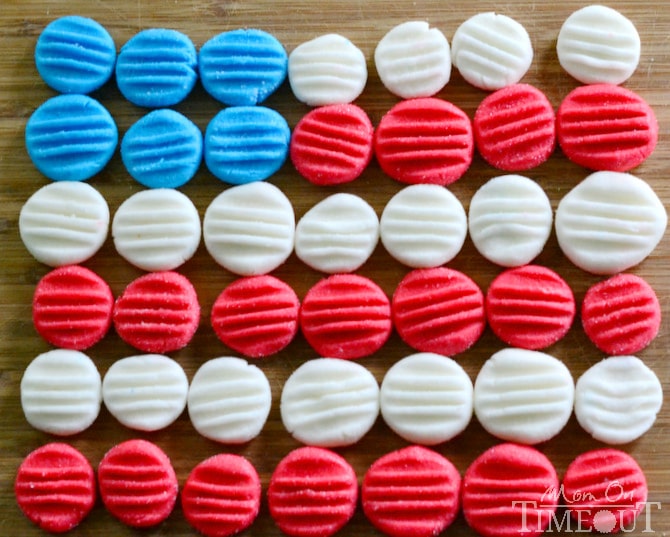 Red, White and Blue Patriotic Peppermint Patties
Author:
Trish - Mom On Timeout
Ingredients
¼ cup butter, softened
⅓ cup light corn syrup
4 cups powdered sugar, divided
1½ tsps lemon extract OR ½ to 1 tsp peppermint extract OR any other extract you want
food coloring - I used Wilton's red and blue icing color in the gel format
½ cup granulated sugar
Instructions
Combine butter and corn syrup together in a small bowl.
Add 2 cups powdered sugar and your choice of extract and beat until well combined. Add extract ½ teaspoon at a time until the mixture reaches your desired flavor.
Stir in an additional cup of powdered sugar.
Turn bowl onto a cutting board sprinkled with last cup of powdered sugar.
Knead the mixture until sugar is absorbed and is completely smooth.
Divide dough into three portions.
Tint one portion red with the red food color/gel and one blue. Leave one portion white.
Shape into ¾ inch balls and roll in granulated sugar.
Flatten gently with a fork.
Let candies stand, uncovered, at room temperature for 1 day.
Store in an airtight container.

More Red, White and Blue recipes: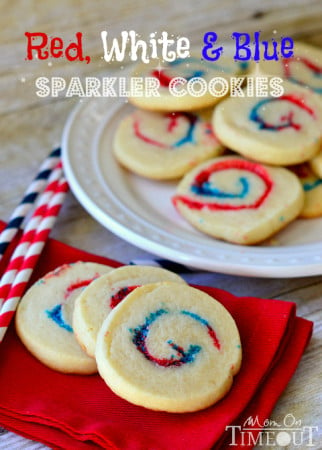 Red, White, and Blue Sparkler Cookies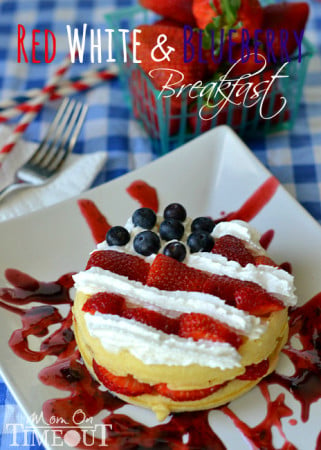 Red, White, and Blueberry Breakfast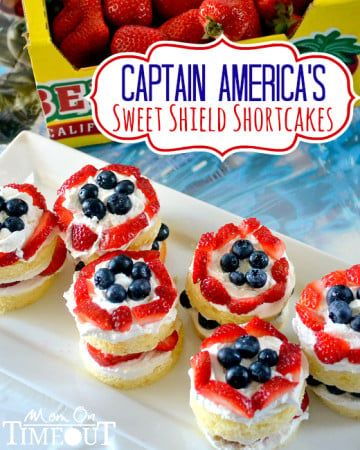 Captain America's Sweet Shield Shortcakes

For all cookie recipes, go HERE.
For all dessert recipes, go HERE.
Sign up to get emails when I post new recipes!
For even more great ideas follow me on Facebook – Pinterest – Instagram – Twitter – Bloglovin'.
Have a great day!