This easy Layered Peppermint Mocha Cheesecake Dip will be the STAR of all your holiday parties! With it's fun, colorful layers, and 5 minute prep time, everyone wins! Works beautifully as a holiday appetizer or dessert!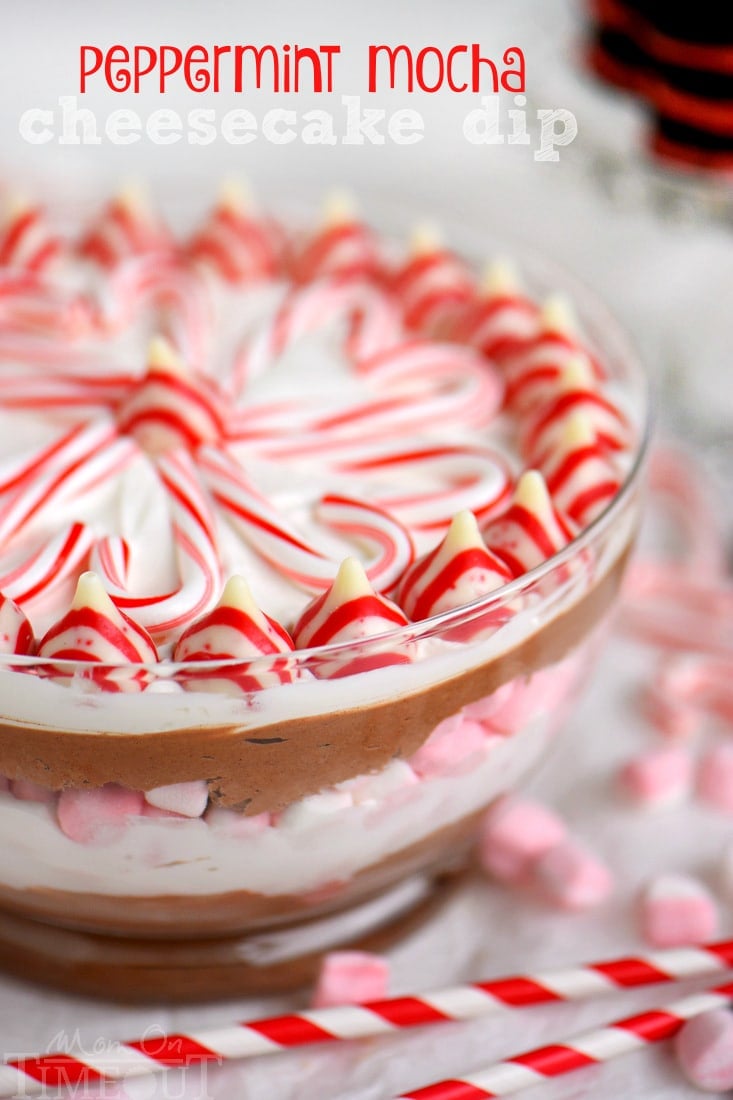 Every year about this time I have this uncontrollable urge to decorate for Christmas. I don't know whether it's that I'm seeing all the stores decked out in their holiday finest or whether it's recognizing the fact that Christmas comes and goes altogether too quickly. Whatever it is, I want to get our Christmas tree(s) decorated, the lights hung up, and cover every possible surface in my home with sparkly, shiny decorations.
My husband on the other hand is a firm believer in not decorating until AFTER Thanksgiving. I get it. I really do. I understand the whole "one holiday at a time" but I just really want Christmas time to be here.
So, here's the compromise: I get to blast holiday music AND I can make all the peppermint treats I want starting November 1st. #iwin
And now, #youwin. Everyone wins with easy dips and this Layered Peppermint Mocha Cheesecake Dip is the one you'll be bringing to holiday parties all season long. I pretty much bought one of everything peppermint at Target last week and my kids got all bright eyed and were just waiting to see what magic I was going to create.
This dip did NOT disappoint.
I'm pretty sure it has to do with the marshmallows…and the peppermint mocha cheesecake…and those candy canes and candy cane kisses on the top. There's kinda a whole lot of awesome going on here. All that red and white just HAS to make you feel cheerful!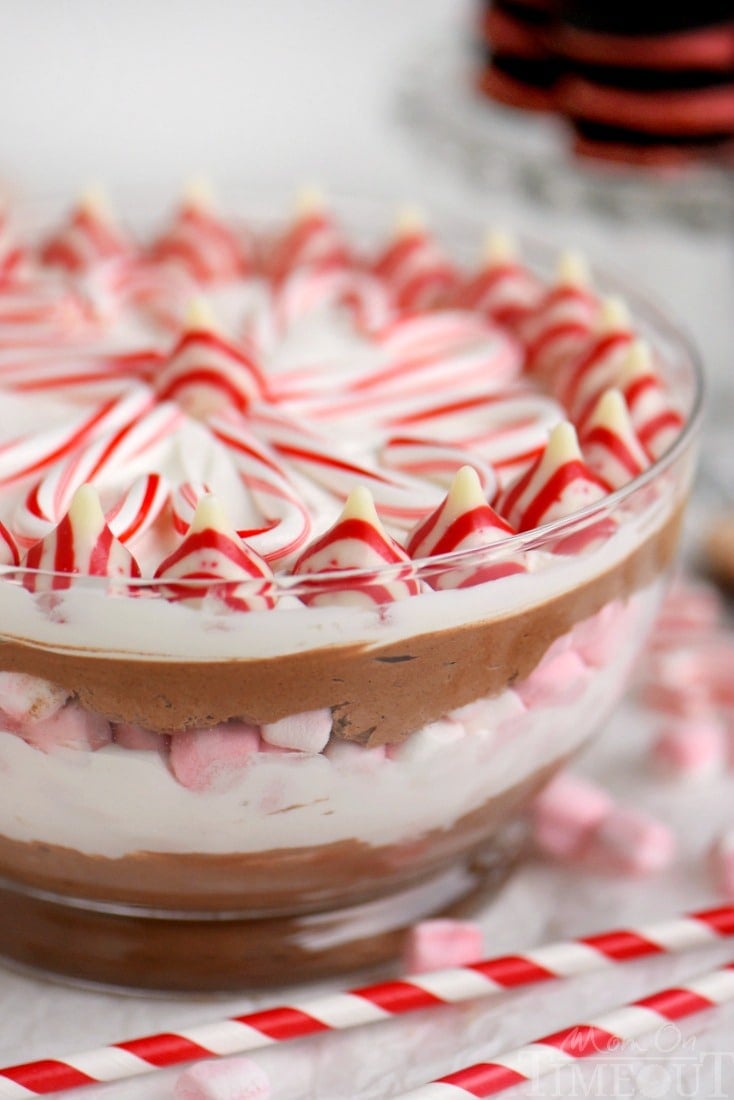 I love making layered dips. They're SO fancy…what? You didn't know that? For sure, they are.
Everyone will be all, "Oh my gosh! You went to so much working making this GORGEOUS dip…just for US!" And you'll be all, "No, really, it was no trouble at all!" And secretly you'll be feeling like a super star and all proud of yourself and you'll only be out five, ten minutes MAX. See? #youwin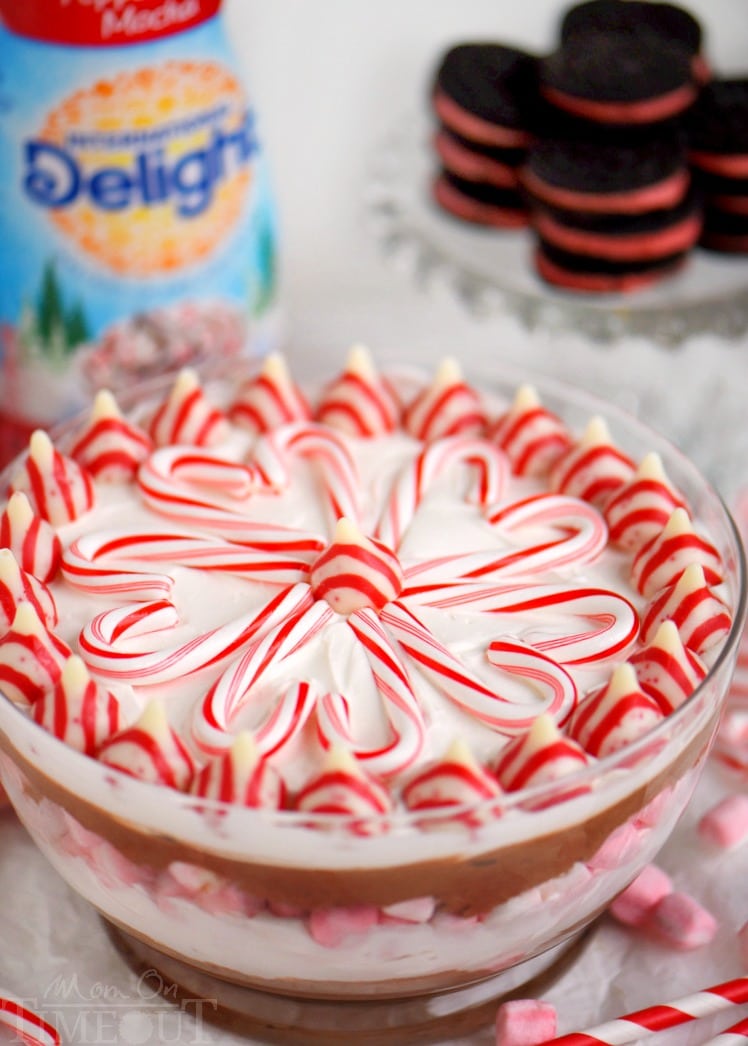 I used my favorite secret weapon for really amping up the flavor in this sensational dip – International Delights Peppermint Mocha creamer. I use it every morning in my coffee and while it makes my coffee delicious, it's even better in this dip.
I started with a layer of chocolate cheesecake flavored with the peppermint mocha creamer – INSANE. You could stop here and call it good. Next I layered on some Cool Whip (or whipped cream!) and then threw in a layer of peppermint marshmallows. Can't find peppermint marshmallows? No biggie. Plain marshmallows would work fine too. Repeat the layers and do what every you want to the top. I opted to go with some small candy canes and candy cane kisses. Crushed up OREOs would also be fantastic.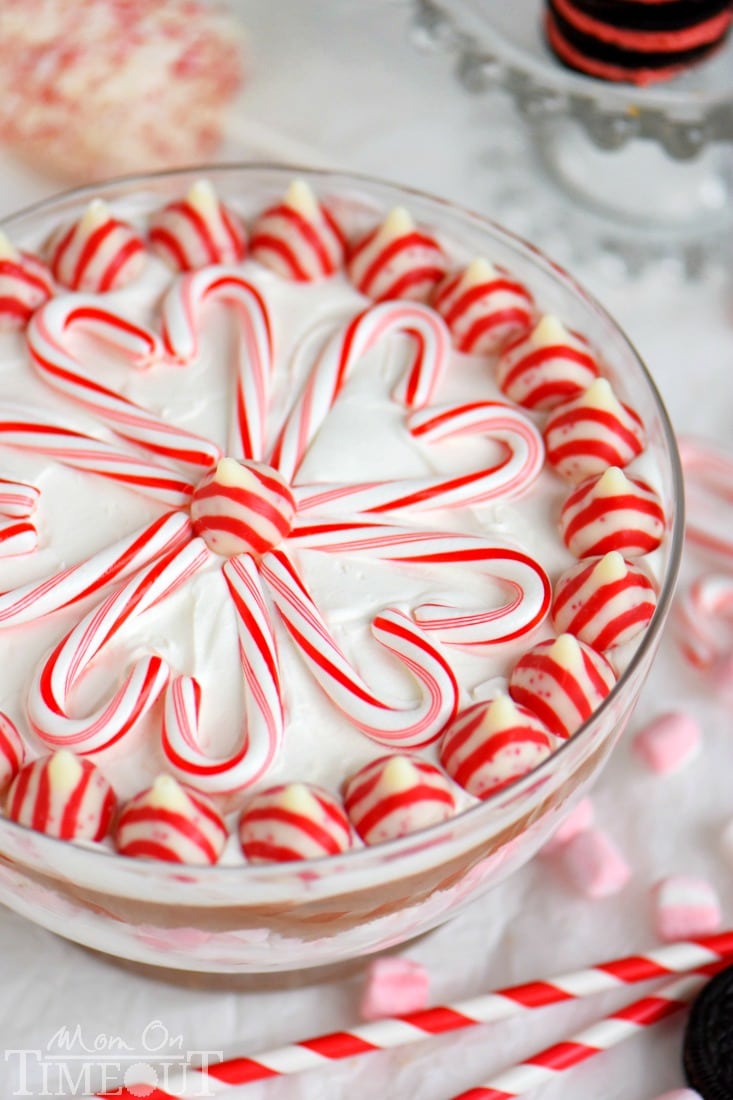 So here's the funny party, I was planning on making this dip with peppermint OREOs – you know, the ones with the red filling? Well, I got home, opened up my box and the cookies were mostly smashed on one side. Not fun. So I decided, no biggie, those will be great as dippers – perfect!
They are quite delicious but what my kids figured out was that the candy canes made EXCELLENT dippers. I scooped them each out a small bowl and they immediately grabbed one of the candy canes and got to work. Go figure! You could use any cookies or graham crackers you like for this dip, ooooor just attack it with a spoon.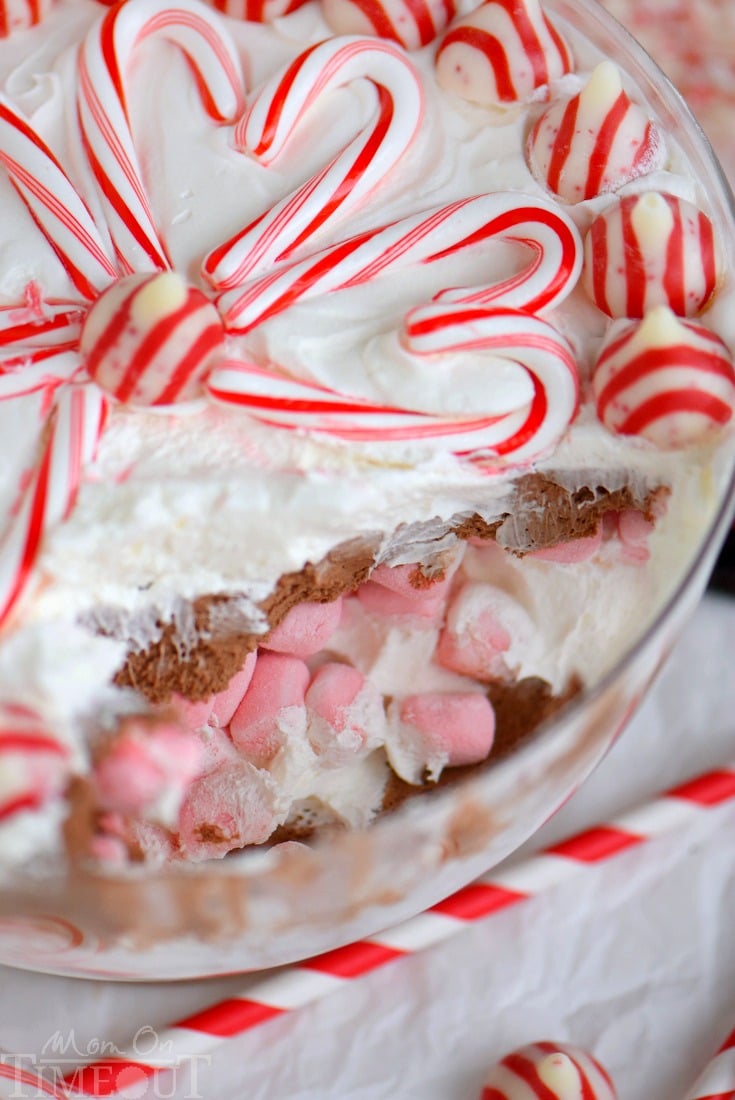 Take a moment to hop over to International Delight to share how ID helps YOU capture the spirit of the season! You have a chance to win a holiday brunch for family and friends HOSTED by International Delight – so fun! Good luck!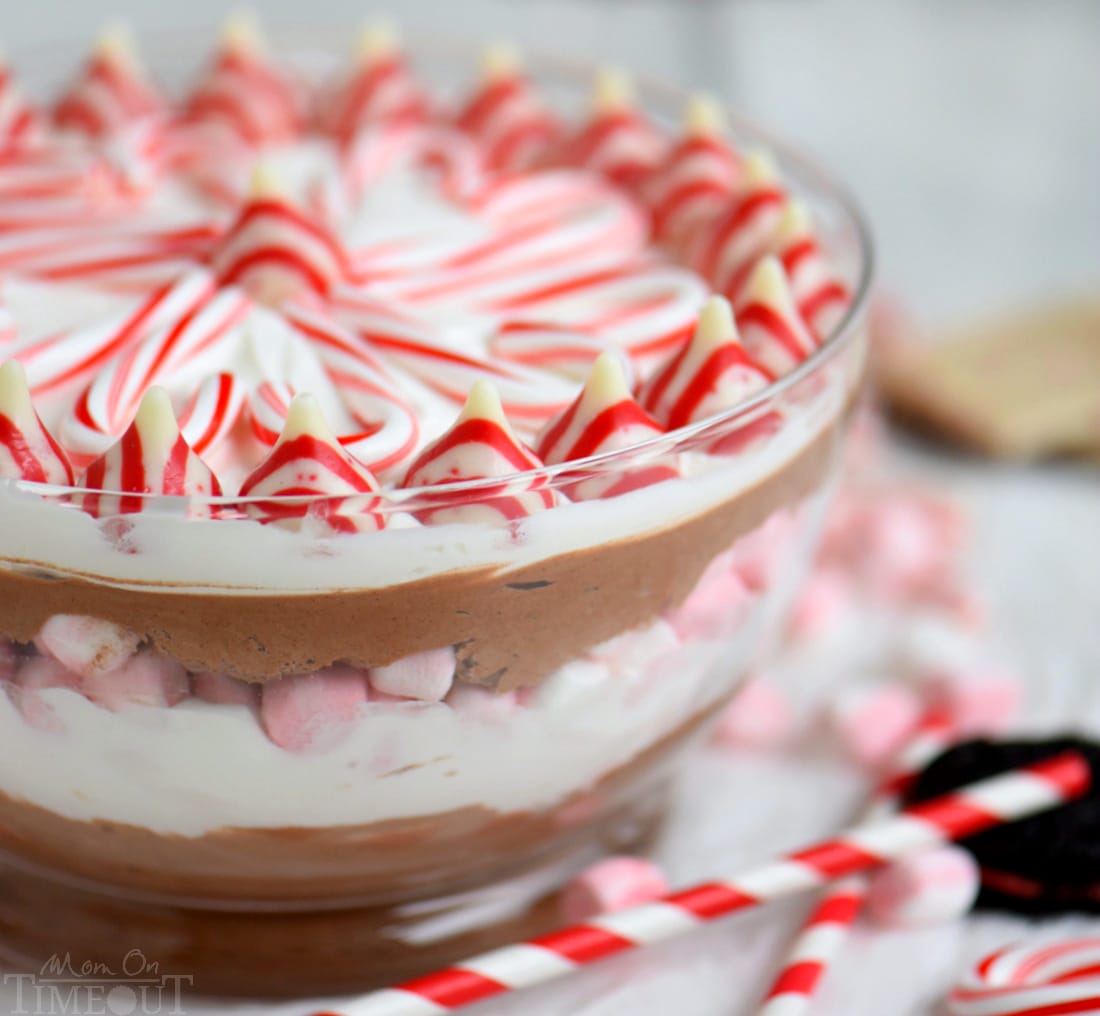 Layered Peppermint Mocha Cheesecake Dip
This easy Layered Peppermint Mocha Cheesecake Dip will be the STAR of all your holiday parties! With it's fun, colorful layers, and 5 minute prep time, everyone wins!
Author:
Trish - Mom On Timeout
Ingredients
1 8 oz package cream cheese, room temperature
½ cup International Delight Peppermint Mocha creamer, room temperature
1 cup semi-sweet chocolate chips
1 8 oz container Cool Whip (I used lite)
1 cup peppermint marshmallows
additional peppermint candies to decorate with (candy canes, etc.)
Instructions
Beat cream cheese in a large mixing bowl until light and fluffy.
Beat in creamer until smooth.
Melt chocolate chips in the microwave on high heat in 30 second increments, stirring in between.
Pour melted chocolate into the mixing bowl and beat until combined and smooth.
Fold in ⅔ cups Cool Whip.
Layer half of the peppermint mocha cheesecake filling into the bottom of a clear bowl.
Top with half of the remaining Cool Whip.
Top with marshmallows, remaining half of peppermint mocha cheesecake filling, and finally the remaining Cool Whip.
Decorate with your choice of peppermint candies.
Keep refrigerated until ready to serve.
Make sure to sign up to receive the International Delight newsletter for coupons, prizes, special offers, information, and more! And don't forget to connect with them on Facebook, Pinterest, Twitter, and Instagram!
Check out International Delight on their Take Back 10 site – savings, recipes and more!
How do you create delight? Check out International Delight's new Delightful Moments site to play fun games, find recipes, and more!

More "delightful" peppermint treats!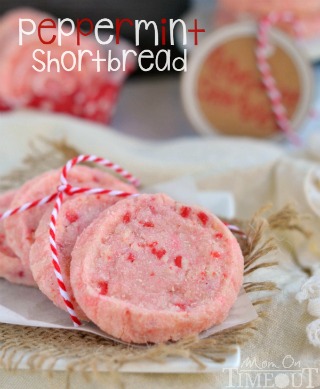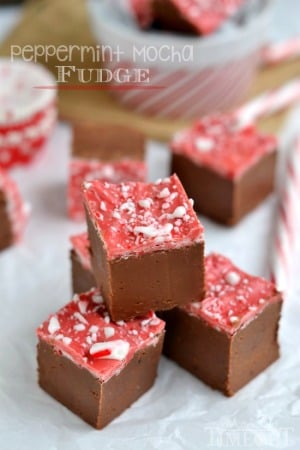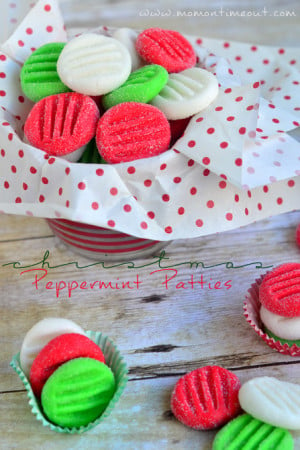 Easy Christmas Peppermint Patties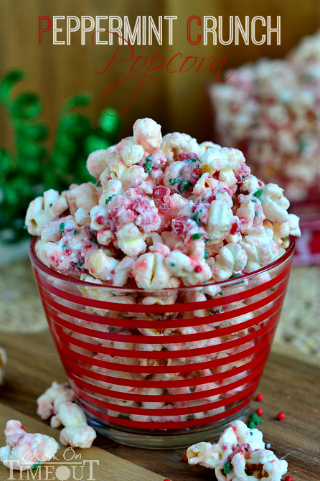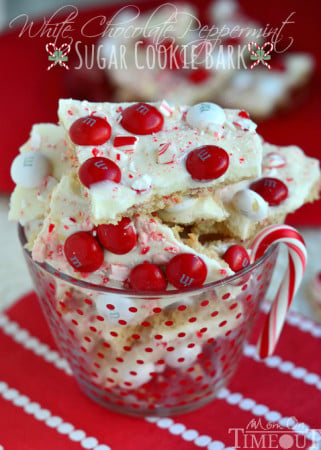 White Chocolate Peppermint Sugar Cookie Bark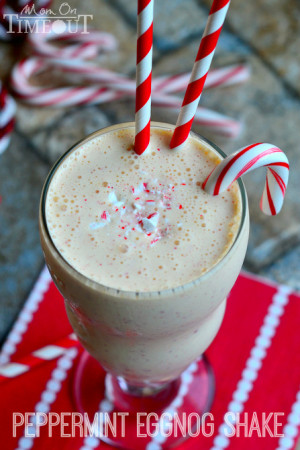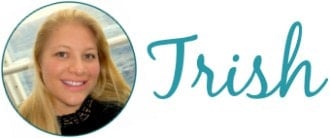 Connect with me!
This conversation is sponsored by International Delight. The opinions and text are all mine.