Dark Chocolate Marshmallow Nut Fudge Bars are perfect for an after-school snack or a late night craving! Decadent bars made with dark chocolate, pecans, marshmallows with a rich fudge layer on top!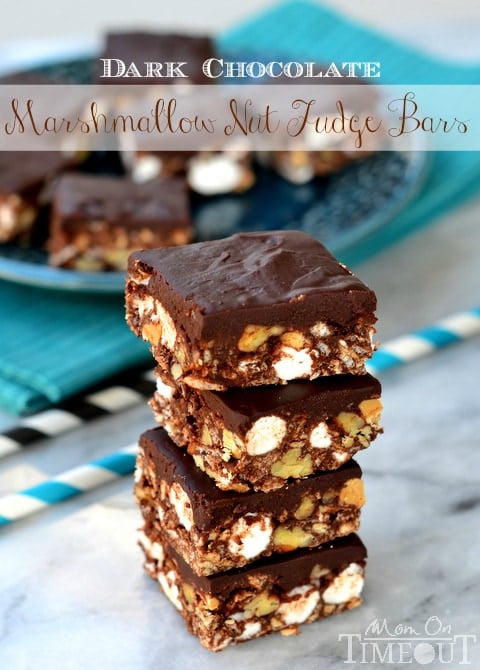 These bars are bites of pure bliss!  Pecans, marshmallows, dark chocolate – what more could a girl ask for??   What I love about these bars is that there is so much FLAVOR in each little nibble.  I cut the bars pretty small because the dark chocolate makes them so rich – you only need a little bit!
The boys screamed "MARSHMALLOWS" when they saw them and dove right in.  Just in case you didn't know, marshmallows are the secret ingredient for getting kids to eat pretty much ANYTHING.  At least at my house 🙂
I actually made these for the boys with the intention of making a "healthy snack".  They were going to be "energy bars".  What started as a few marshmallows quickly turned into just a few more and then I thought they could use some creamy peanut butter goodness in the form of Reese's Peanut Butter chips and by then I realized that maybe they weren't exactly "healthy".  But that's okay!  Because they are still made with dark chocolate and pecans – both of which are excellent for you!  You can totally sub in walnuts or any other nut that you prefer.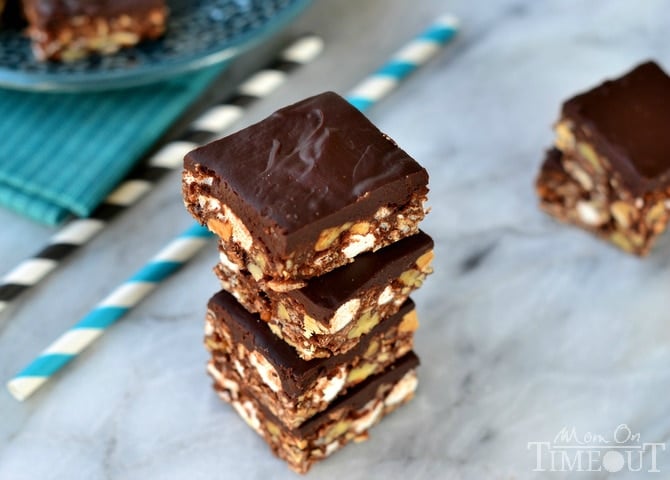 So I actually made these bars up yesterday thinking I was good to go for after-school snacks for the kids for the week.  Then my husband came home and informed me that he was "Snack Master" at today's meeting and that he would be commandeering the remaining bars for work.
Whaaaaat?
Then he told me to make sure I had this post up because everyone would ask for the recipe soooo – as the ever-dutiful wife that I am (HA!) – here it is!  I pushed back today's scheduled post for tomorrow so that I could bring you this incredible yumminess today 🙂  #thankmelater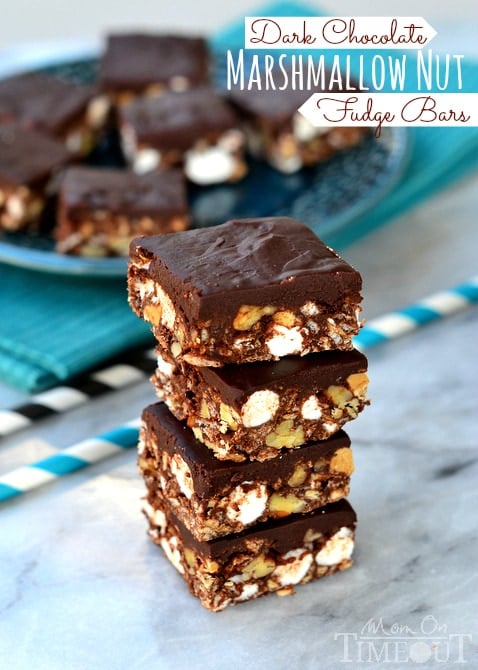 You are going to go crazy for that dark chocolate fudge layer on top – #todiefor!  Make sure you make these in secret and stash away a few for yourself, cause trust me, they're gonna go quick!
Save your favorite recipes to your personal recipe box with the 

  button on all my recipes! Create a Meal Plan out of your favorite recipes and the ingredients will automatically be added to your own Grocery Shopping List.
Dark Chocolate Marshmallow Nutty Fudge Bars
Ingredients
1 cup bittersweet or dark chocolate chips
½ cup evaporated milk
20 vanilla wafers, crushed
½ cup crispy rice cereal
3 Tbls powdered sugar
¾ cup miniature marshmallows
½ cup peanut butter chips (can replace with chocolate, butterscotch, etc.)
⅓ cup chopped pecans or walnuts or almonds or any nut you like 🙂
Instructions
Line 8 inch square pan with parchment paper.
Melt chocolate chips and evaporated milk together in the microwave, in 15 second increments, stirring until smooth.
Combine crushed vanilla wafers, crispy rice cereal, powdered sugar, marshmallows, peanut butter chips and nuts in a medium bowl.
Stir in half of the melted chocolate making sure to coat everything well.
Press into pan firmly.
Pour remaining chocolate over the top and use an offset spatula to smooth.
Refrigerate until set, 1 to 2 hours. Cut into squares and serve.
Sweets from friends:
Snickers Cookie Bites from Ginger Snap Crafts
Macaron Brownie Bombs from The Domestic Rebel
Baked Peanut Butter Cup Mini Donuts from The Gunny Sack
More treats from Mom On Timeout: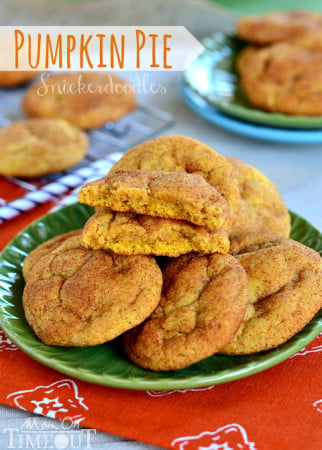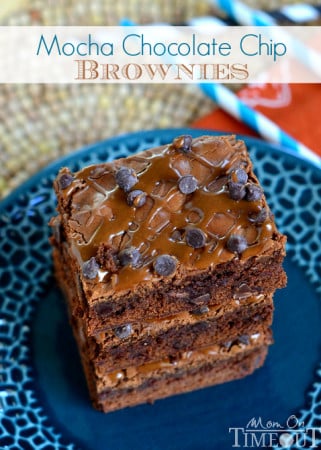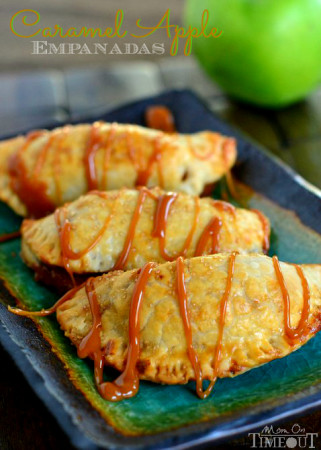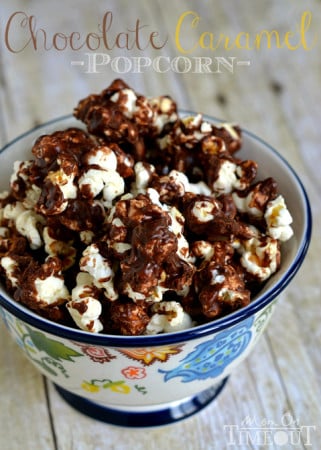 Chocolate Caramel Popcorn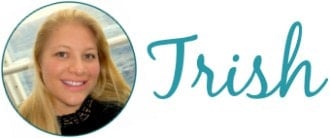 Connect with me!
 Linking up at some of these parties.