Chocolate Caramel Popcorn is the perfect snack for movies and makes a wonderful treat for school lunches!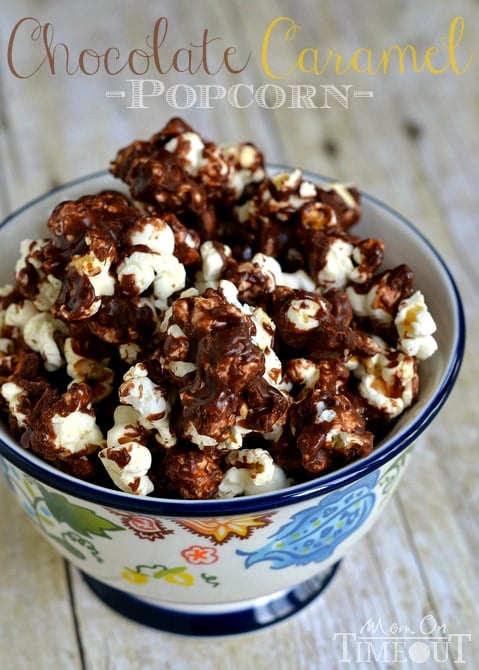 Oh my goodness! We just got back from Lake Tahoe yesterday – our last vacation of the summer!! We had a wonderful time and the weather was just perfect. We did the Vikingsholm trail and toured the mansion too. The boys did very well considering that it's 1 mile down and about 2.8 miles back up – at least that's what it feels like! It's steep!!
They had so much fun playing in the sand and water and even made some friends. It was a super relaxing weekend which was just what we needed. School starts on Wednesday and the boys are both nervous and excited. Bryce  is still not sure what this Transitional Kindergarten thing is all about but I'm hopeful that it will be an easy transition for him. He's so used to just hanging with me that going to school Every. Single. Day is going to be a bit of a challenge.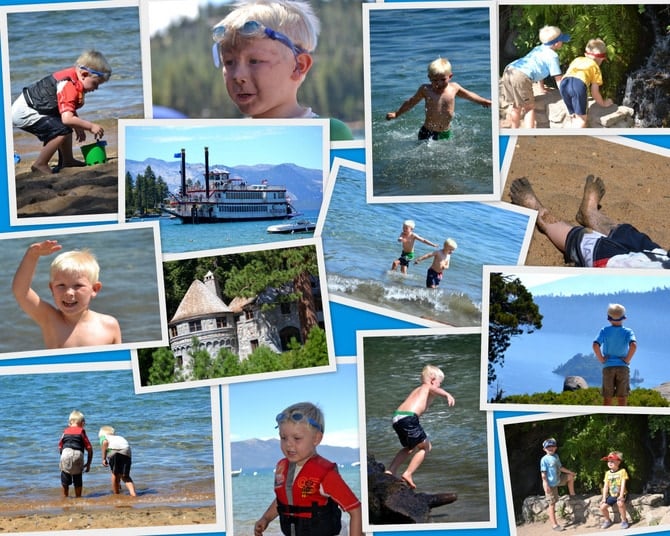 Reece and Bryce got haircuts this morning and are looking pretty sharp if I do say so myself 🙂  All the school clothes are bought and the backpacks are ready but I've still got loads of laundry to do from the trip and also all of their new school uniforms need to get washed. I'm trying to really keep these last few days easy. I really want the boys to just relax these last few days of summer vacation so they feel nice and rested to start their school year off right. Transitional Kindergarten and second grade can be awfully tiring I've heard 🙂
With summer winding down I'm letting the boys enjoy some of their favorite things and watching movies is definitely high up there on their list.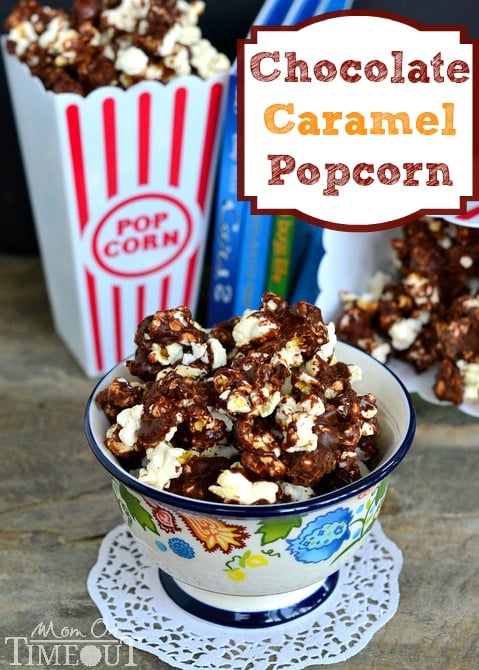 We are definitely a popcorn family. The boys love munching on popcorn during movies and it really makes the perfect snack. It's so easy to make and inexpensive too!  Caramel corn is always a family favorite but when I tried out this Chocolate Caramel Popcorn – I think the boys were impressed! I've already had requests to make sure this yummy treat makes it into their lunch boxes for school. It really is the perfect snack for school and it makes me feel better knowing that when they open up their lunch boxes and see this yummy treat inside that it will for sure bring a smile to their faces.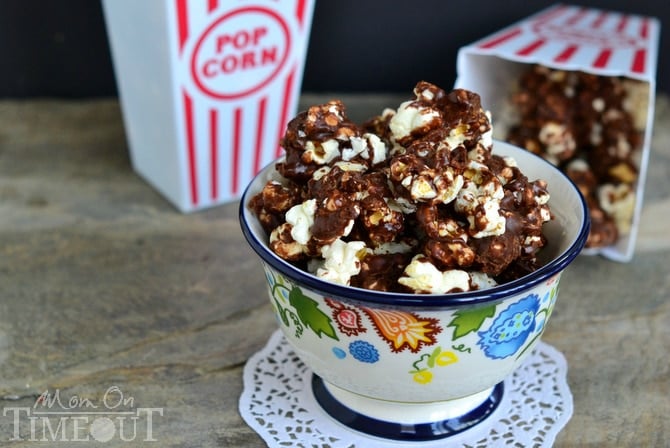 How To Make Chocolate Caramel Popcorn
Chocolate Caramel Popcorn
Chocolate Caramel Popcorn is the perfect snack for movies and makes a wonderful treat for school lunches!
Ingredients
10

cups

popped popcorn

2

cups

coarsely chopped mixed nuts

optional

8

oz

semi-sweet chocolate squares

1

cup

packed brown sugar

1/2

cup

Karo® Corn Syrup

1/2

cup

butter

1/2

teaspoon

baking soda
Instructions
Preheat oven to 225ºF. Spray a 15 x 10-inch baking pan with cooking spray.

Combine popcorn and nuts in baking pan and place in oven to keep warm.

Heat chocolate, brown sugar, corn syrup and butter in a 2-quart saucepan over medium heat until boiling, stirring occasionally

Boil 5 minutes, stirring constantly.

Remove from heat and immediately stir in baking soda.

Pour chocolate-caramel mixture carefully over popcorn and nuts.

Use cooking spray-coated tongs or a spatula to toss the popcorn and chocolate-caramel mixture.

Bake popcorn for 60 minutes stirring popcorn about halfway through.

Let popcorn cool completely on wire rack.

Break popcorn into bite-sized pieces and store in an airtight container.
Nutrition
Calories:
600
kcal
|
Carbohydrates:
105
g
|
Protein:
12
g
|
Fat:
16
g
|
Saturated Fat:
7
g
|
Cholesterol:
16
mg
|
Sodium:
104
mg
|
Potassium:
380
mg
|
Fiber:
14
g
|
Sugar:
28
g
|
Vitamin A:
185
IU
|
Calcium:
28
mg
|
Iron:
4.1
mg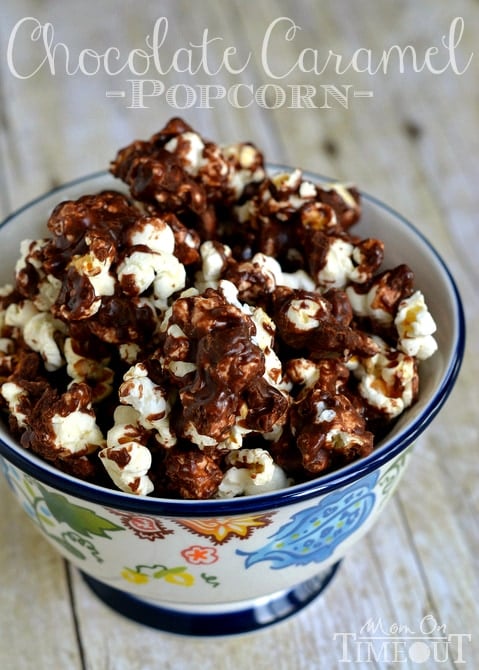 I keep seeing so many "first day of school" pics on Facebook and I'm starting to wonder if we're the last school to start! Have your kids started back to school yet or are you still enjoying your summer vacation?
More yummy recipes we love: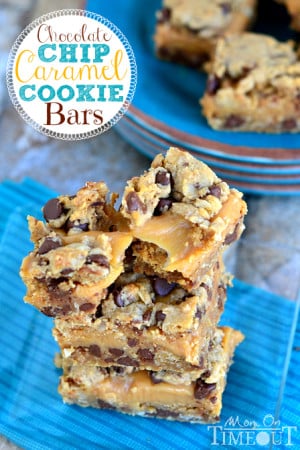 Chocolate Chip Caramel Cookie Bars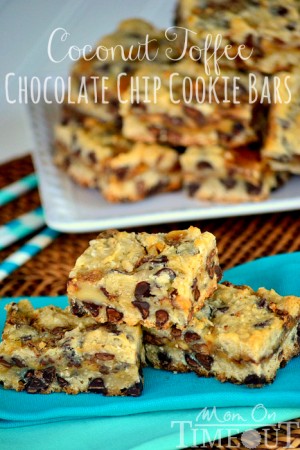 Coconut Toffee Chocolate Chip Cookie Bars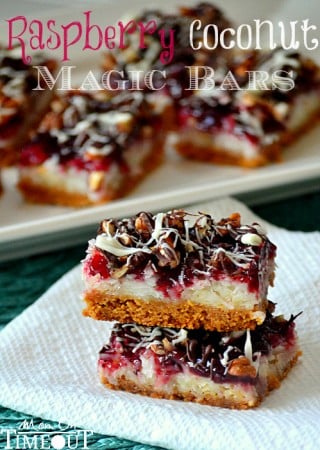 For all cookies recipes, go HERE.
For all dessert recipes, go HERE.
Sign up to get emails when I post new recipes!
For even more great ideas follow me on Facebook – Pinterest – Instagram – Twitter – Bloglovin'.
Have a great day!