This easy Pinto Beans recipe yields the most delicious, amazing pinto beans you've ever had – without having to soak your beans! A simple blend of ingredients and spices turns that bag of dried beans into your new favorite side dish. Bonus: Makes amazing refried beans too! Complete your meal with homemade cornbread, taco seasoning, or homemade tortillas!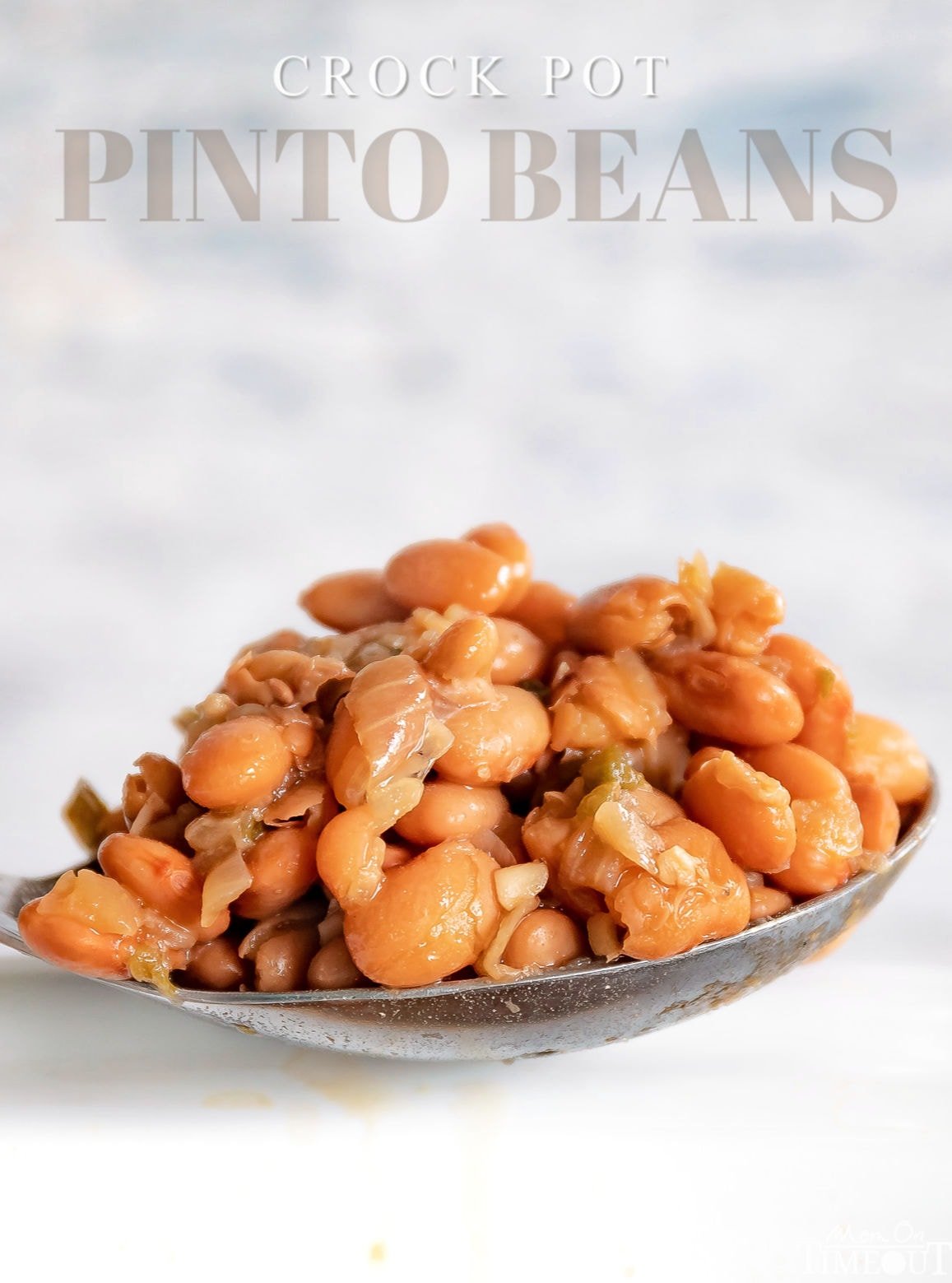 Pinto Beans
If you're looking for a versatile, hearty side dish, this easy pinto beans recipe is perfect for so many meals. The flavor is unmatched and you're not going to believe how easy these beans are to prepare.
Whether you're making them for a Mexican fiesta or just want something to serve along side some grilled chicken or steak made with my famous chicken marinade or steak marinade, this recipe delivers.
One of our favorite ways to enjoy these beans is with this delicious homemade cornbread – so good!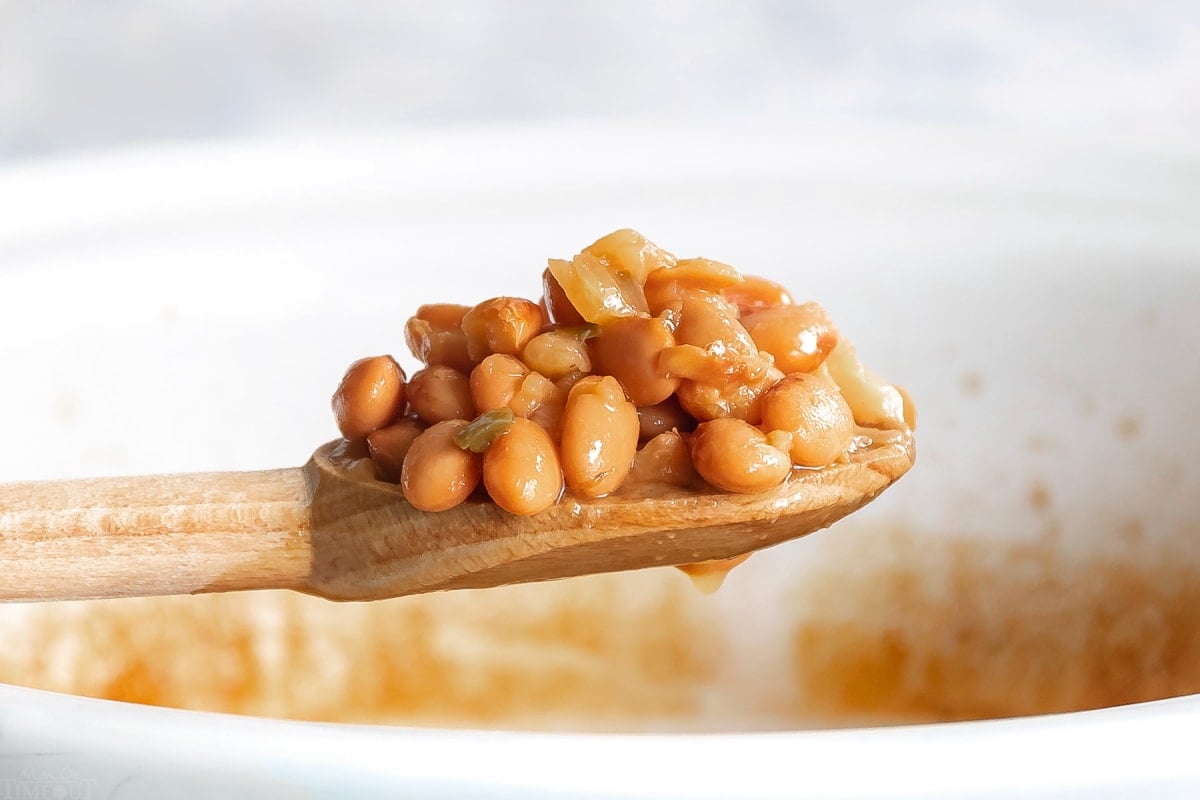 Why Homemade Crock Pot Pinto Beans?
If time allows, I always prefer to make something from scratch instead of using the canned version. Luckily pinto beans can be done in the slow cooker which frees up a lot of time when it's closer to dinner AND they taste sooooo good!
With just a little bit of work you can have amazing beans that blow away anything you'll find in a can. Just like my homemade flour tortillas, these slow cooker pinto beans will become a staple for any Mexican dish your family loves.
easy – with just a few simple steps, this recipe is easy for even a novice cook
versatile – goes with so many different dishes
convenient – ready to eat when it's dinner time
cost effective – beans are so inexpensive to buy and you need so few ingredients in this recipe that it's incredibly cost effective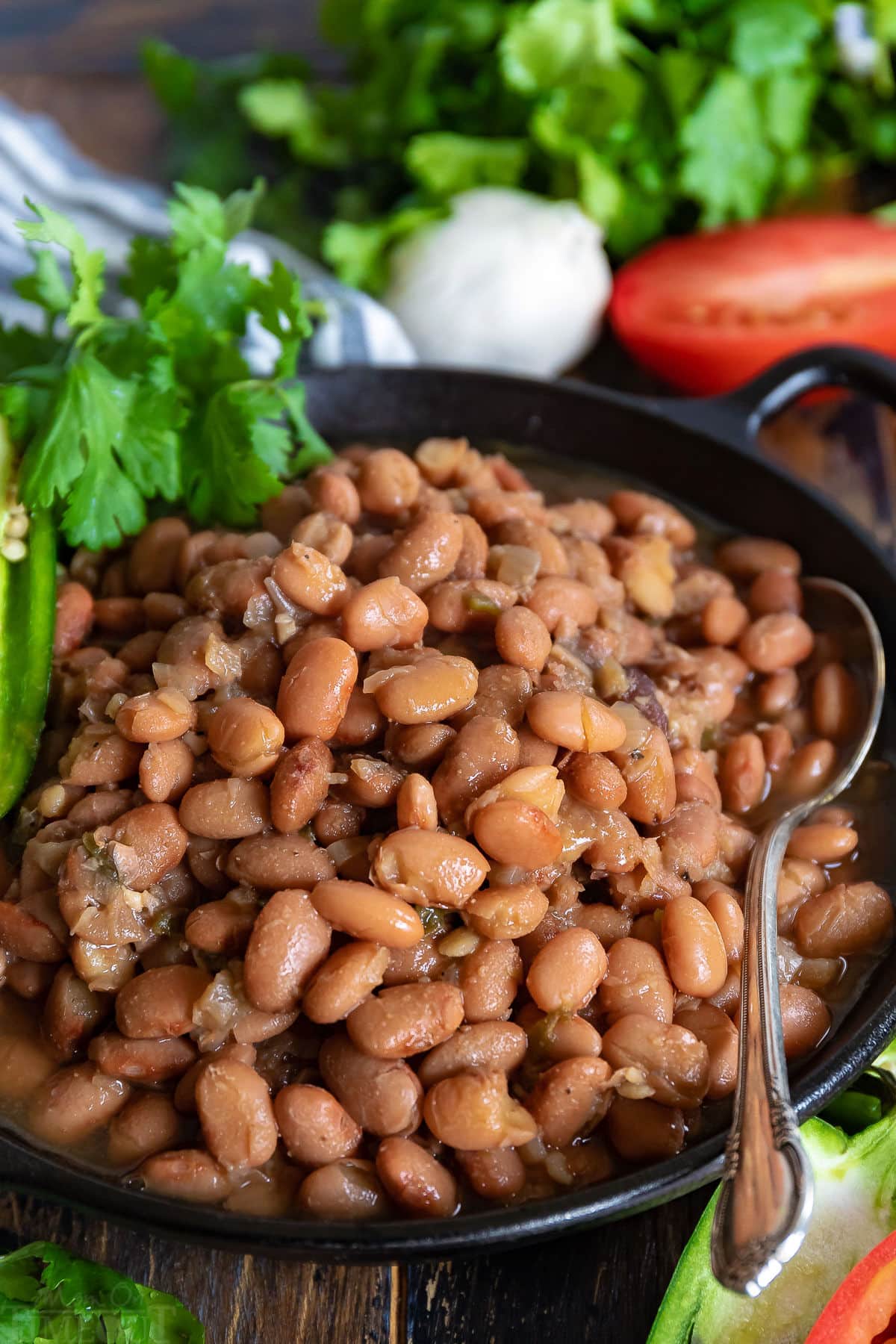 Pinto Beans FAQ
Do you need to soak the beans over night if you cook them in a slow cooker? Nope. That's one of my favorite parts of cooking beans in the slow cooker. You don't have to presoak!
Is it safe to cook pinto beans in a slow cooker? Like with any bean, you want to make sure that all the beans are cooked thoroughly. You don't want to get sick because of some undercooked beans. The slow cooker does a great job of ensuring all the beans are cooked evenly.
Are pinto beans healthy? Very much so. They are an excellent source of protein. As well as fiber, minerals, and vitamins.
How many carbs are in pinto beans? Beans are mainly comprised of carbohydrates, fiber, and protein. One serving of this recipe contains approximately 40 grams of carbs.
Ingredients Needed
Just 8 main ingredients is all it takes. A lot of these ingredients may already be in your pantry and spice rack.
dry pinto beans – you'll want to pick through these carefully before cooking.
jalapeno – this does not make these recipe overly spicy, just adds flavor. If you want a little more heat, feel free to double the amount.
yellow onion – a sweet onion will also work in a pinch.
garlic – fresh is best but use whatever you have on hand. If you need to use granulated garlic or garlic powder, use 1 teaspoon.
salt and pepper – the pinto beans get seasoned generously before cooking in the crock pot but you'll want to test after they are done to see if they need additional salt or pepper.
ground cumin – this ingredient is essential as it is one of the main flavors in this recipe.
chicken broth – look for low sodium. Chicken stock is also great in this recipe.

How To Cook Pinto Beans
There are lots of ways to cook pinto beans but making them in your slow cooker is fool proof. You don't even need to soak your beans beforehand!
I typically start in the morning and let the beans cook all day long. However, you could also start them overnight and have them ready to go in the morning. Whatever is convenient for you. (These are a delicious addition to breakfast burritos!)
Saute onions, jalapeno and garlic in olive oil. You just want to soften them and bring out their flavor. You can skip this step but for the best flavor, don't.
Place the beans in the slow cooker and add sauteed mixture.
Season with salt, pepper and cumin.
Pour in chicken broth and stir gently.
Cook on high for 8 to 9 hours or until the beans are tender.
How To Make Refried Beans
You can check out my recipe here for refried beans but essentially all you're going to need to do is mash these beans into your desired consistency. It's just that easy!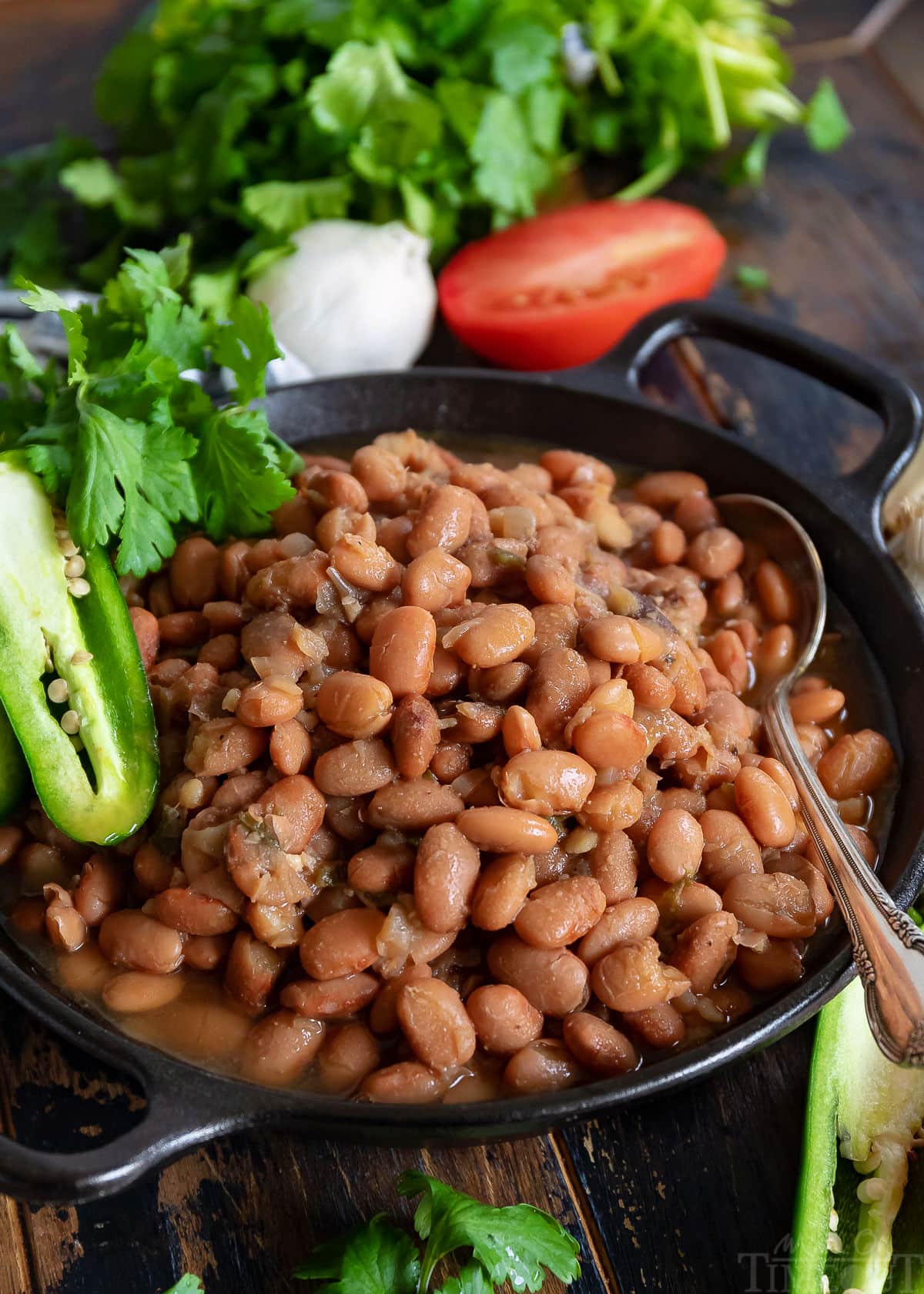 Freezing Pinto Beans: Let the beans cool completely before placing in freezer bags. The beans can be frozen for up to 3 months. To Thaw: Remove from freezer and let that in refrigerator overnight. Reheat over low heat with additional chicken broth or water as needed.
I know you're going to love this pinto beans recipe as much as my family does!
More Favorite Bean Recipes
How To Make Pinto Beans
Crock Pot Pinto Beans
This easy Pinto Beans recipe yields the most delicious, amazing pinto beans you've ever had - without having to soak your beans! A simple blend of ingredients and spices turns that bag of dried beans into your new favorite side dish. Bonus: Makes amazing refried beans too!
Ingredients
3

cups

dry pinto beans

rinsed and picked through

1

tbsp

olive oil

1

jalapeno

seeded and chopped

1

yellow onion

dice

3

cloves

garlic

minced

1

tsp

pepper

1

tsp

salt

1

tsp

ground cumin

64

oz

low sodium chicken broth

may use stock
Instructions
Heat olive oil in a medium skillet. Add onion and jalapeno saute for 3 to 5 minutes until soft. Add garlic and saute for an additional minute.

In a large, 6 quart slow cooker, place beans, onion mixture, salt, pepper, and cumin.

Pour broth over the top and stir gently. If beans are not covered, add just enough water to cover the beans.

Cook beans on high for 8 to 9 hours or until tender. Test seasoning and add salt if needed.
Nutrition
Calories:
237
kcal
|
Carbohydrates:
40
g
|
Protein:
16
g
|
Fat:
2
g
|
Saturated Fat:
1
g
|
Sodium:
62
mg
|
Potassium:
986
mg
|
Fiber:
9
g
|
Sugar:
2
g
|
Vitamin A:
15
IU
|
Vitamin C:
6
mg
|
Calcium:
79
mg
|
Iron:
3
mg