Chocolate Caramel Christmas Wands are a breeze to make and are perfectly festive! Great for gift giving, parties, and more!
Do you remember when you were a kid and sitting at the kids table totally SUCKED. I mean, who wants to sit at a kids table?? I would so much rather be at the grown ups table.
Not anymore.
This holiday kids table is going to have your whole family wishing they were a kid!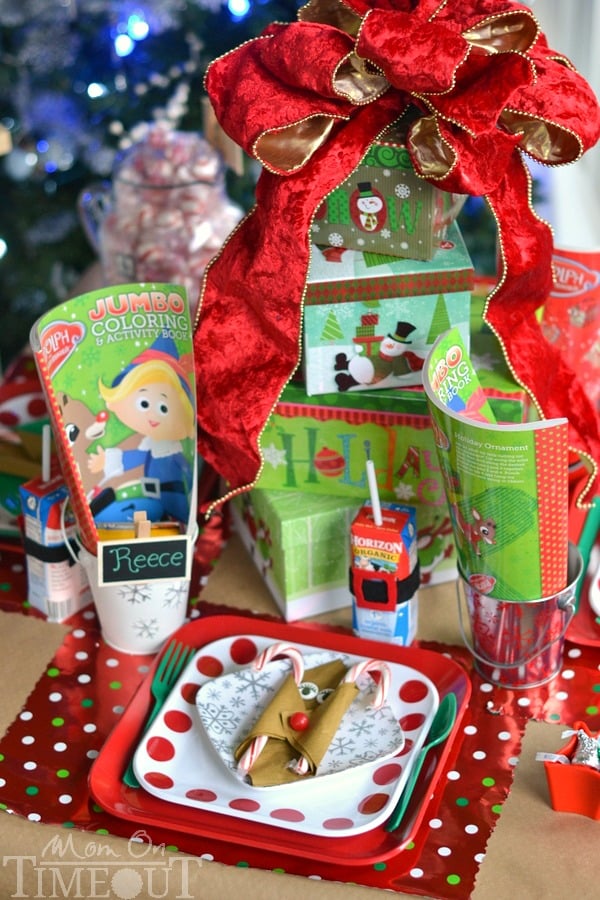 I had so much fun coming up with ideas for this kids table and the response from my boys was priceless – total success! Let's start at the bottom and work our way up , shall we?
I covered the table in brown packaging paper. It's durable, neutral, and best of all – disposable. The place mats are made out of gift wrap – easy, fun and festive! Also, disposable! You get where I'm going with this right?
Now you could totally use paper plates but I saw these cute melamine plates and knew I could use them for Valentine's Day as well so I splurged. I layered the plates using a full size dinner plate as the charger. I used coordinating green plastic cutlery…also disposable 🙂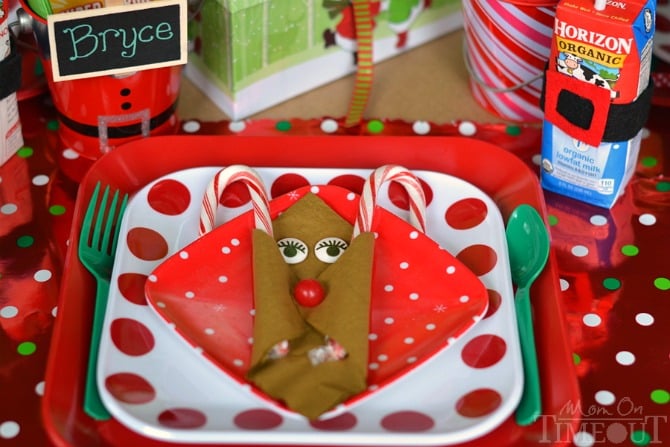 Now, because it's Christmas and I want every part of the day to be magical, including dinner, I made these fun reindeer napkins. Two candy canes, a beverage napkin, two candy eyes, and a gumdrop or sour cherry ball and you're set. And really, could this be any more adorable? Nothing is glued down or anything. The candies just rest on the napkin making it easy for the kids to remove the candy and use the napkin.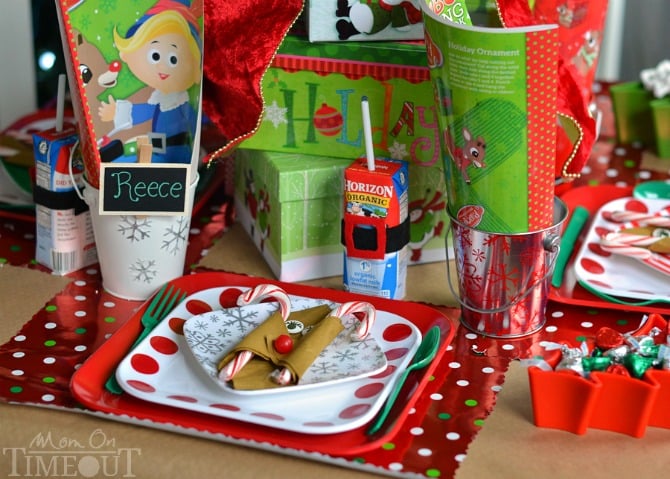 I think personalization makes kids feel imporant. Heck! It makes me feel important! I found these cute chalkboard pins and wrote the names here. These are clipped to a a tin pail (check the dollar section at Target), which is filled with a Christmas coloring book and crayons. Keep 'em busy folks, that's what I always say!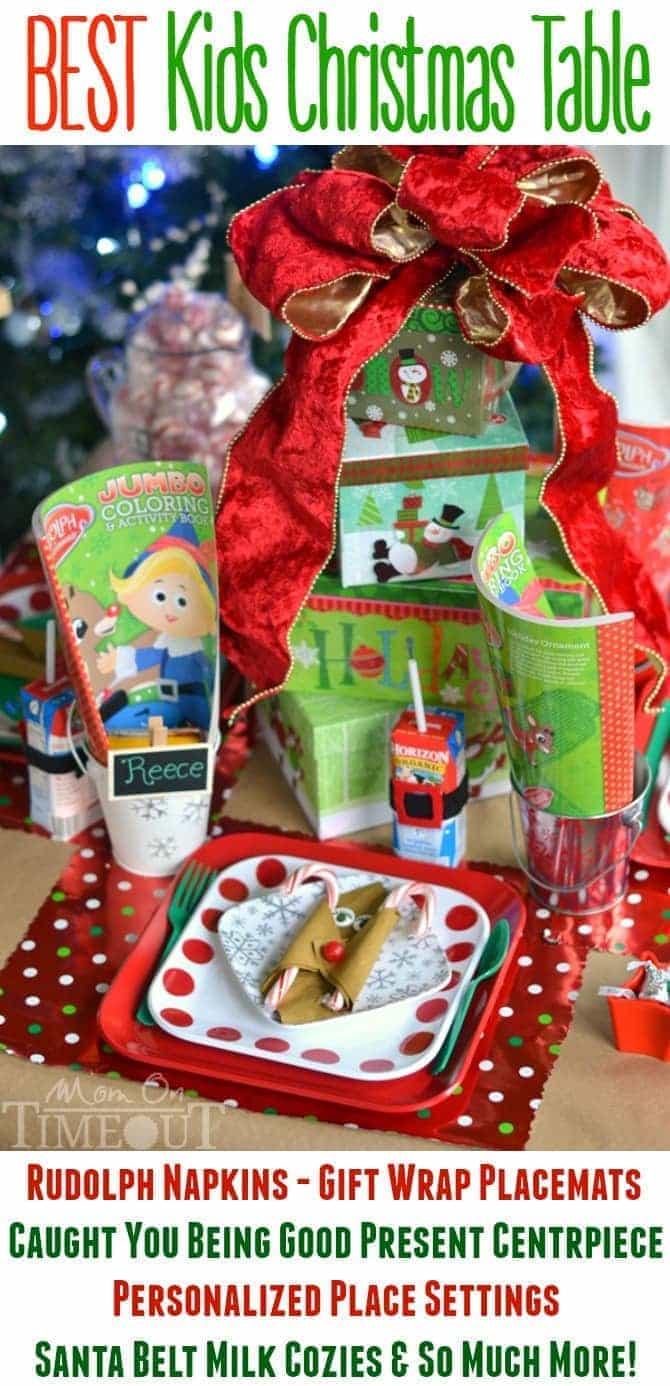 You see that stack of presents in the center of the table? Those are "caught you being good presents" that are earned after your kid has been good during dinner. I never said I was against bribery. Never.  There's a ribbon that leads down from the present to each place setting so the kids will know which one is theirs. My mom used to do this for us and let me tell you, it WORKED.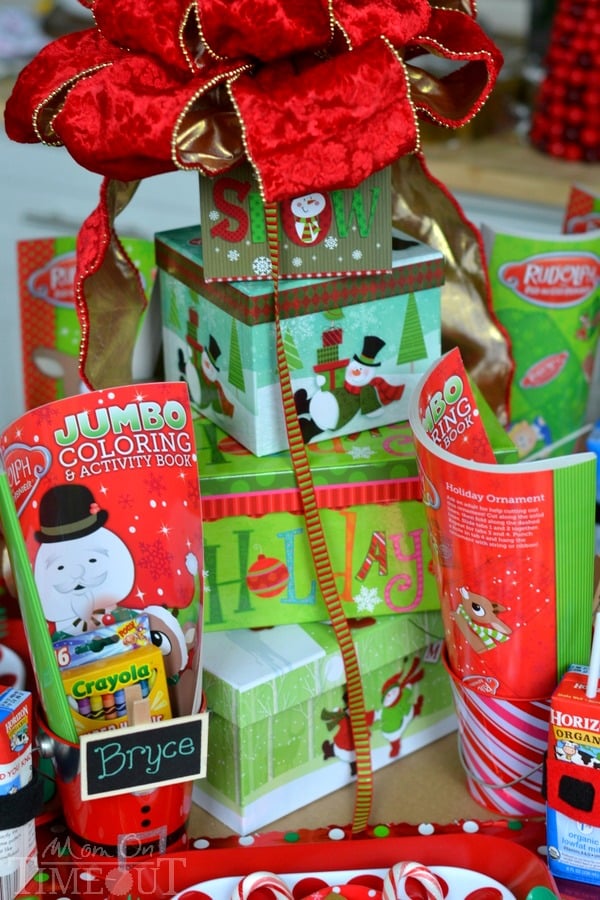 Other fun stuff…time for a game of "guess how many" – whoever gets closest wins the whole jar! Use the crayons and just write the guesses on your table cover – easy peasy!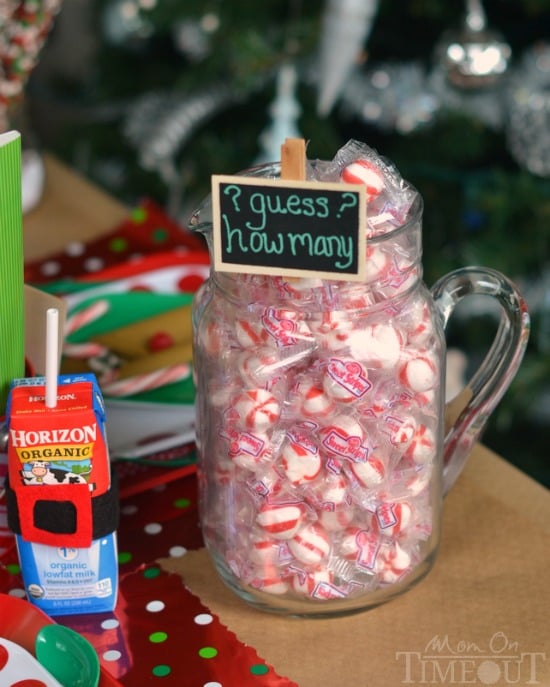 There are lots more sweets on the table because, hey, it's Christmas! So, to kind of even things out (ha!) I made sure to serve up my boys favorite Horizon Organic milk complete with Santa belt cozies. Now, I'm fortunate to have kids that drink milk like it's going out of style, but if you happen to have one or two that require some encouragement, this is most definitely the way to go. So dang cute! Also, my kids INHALE the strawberry flavor – soo good!
Of course one of our favorite treats to make for Christmas are these Chocolate Caramel Christmas Wands. Make up a batch of these, place in a jar and you'll have all the kids oohing and aahhing all night long. So pretty!

Chocolate Caramel Christmas Wands
Chocolate Caramel Christmas Wands are a breeze to make and are perfectly festive! Great for gift giving, parties, and more!
Ingredients
20

pretzel rods

11

oz

caramels

1 bag - unwrapped

1

tsp

water

16

oz

Candiquik chocolate candy coating

1 package

assorted sprinkles
Instructions
Line baking sheet with parchment paper.

Place caramels and water together in microwave safe container. Heat in microwave in thirty second intervals stirring in between until caramel is fully melted and smooth. Pour into a canning jar for easy dipping. Let cool for five minutes.

Carefully dip pretzel rod into caramel leaving two inches at the end free for the handle. Gently tap off extra. Use a silicone spatula to smooth if needed. Place on parchment paper.

Repeat until all pretzels are coated with caramel. If you notice the caramel puddling under the pretzel, use less the next time. The caramel will stick to the parchment paper until it is totally set up. Once set, it will easily release. You can trim away excess caramel if need be.

Let caramel set up fully.

Melt chocolate candy coating according to package directions. Pour into a canning jar for easy dipping.

Dip pretzels into melted chocolate and tap off excess. Sprinkle on desired sprinkles and/or candy. Place on parchment paper to set up.
Nutrition
Calories:
193
kcal
|
Carbohydrates:
29
g
|
Protein:
1
g
|
Fat:
8
g
|
Saturated Fat:
7
g
|
Cholesterol:
1
mg
|
Sodium:
57
mg
|
Potassium:
33
mg
|
Fiber:
1
g
|
Sugar:
26
g
|
Vitamin A:
7
IU
|
Vitamin C:
1
mg
|
Calcium:
22
mg
|
Iron:
1
mg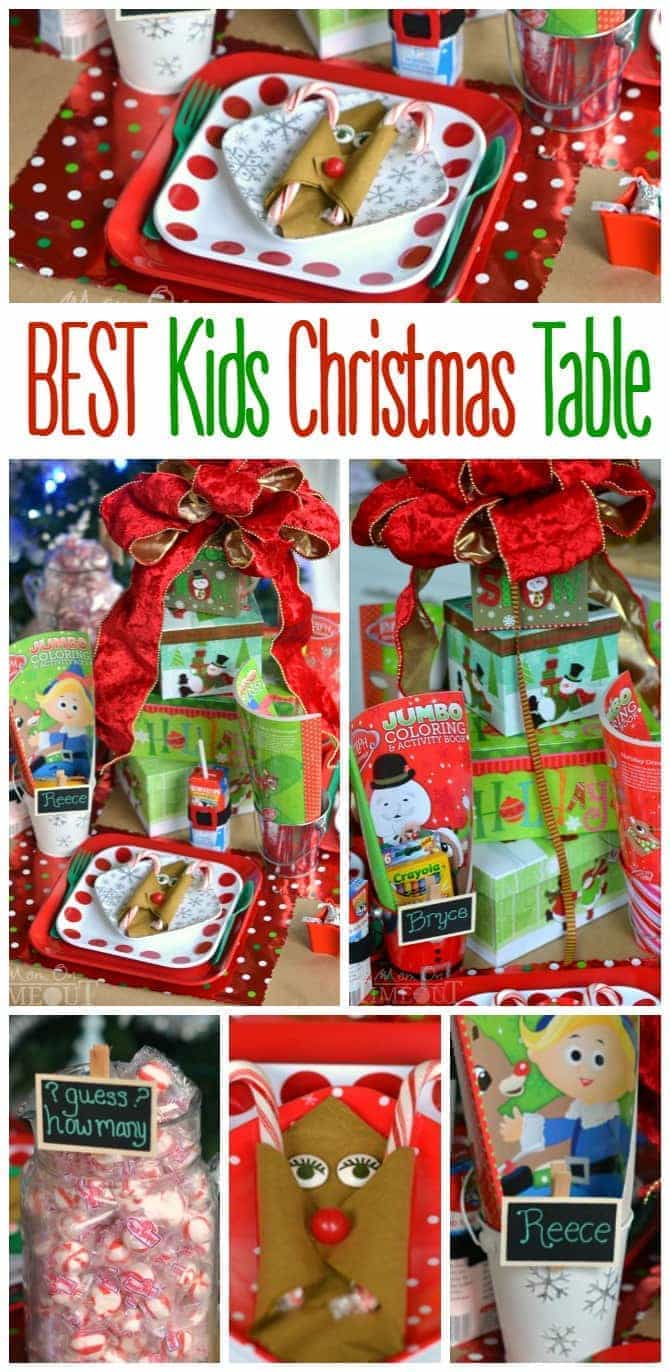 More treats perfect for the holidays!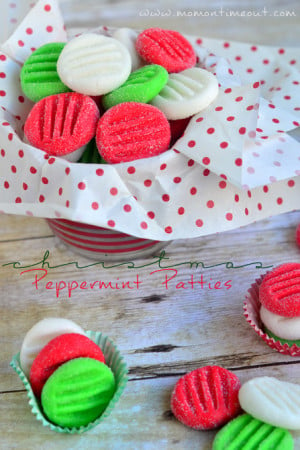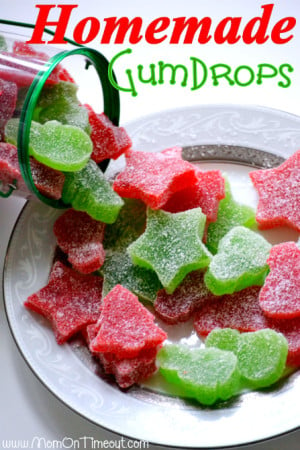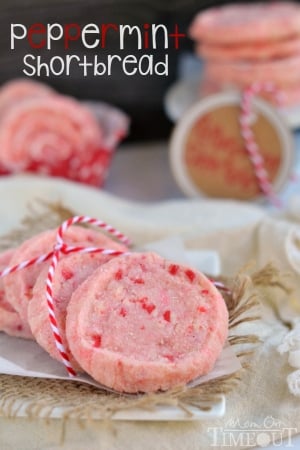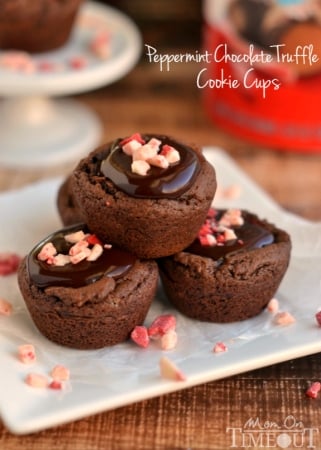 Peppermint Chocolate Truffle Cookie Cups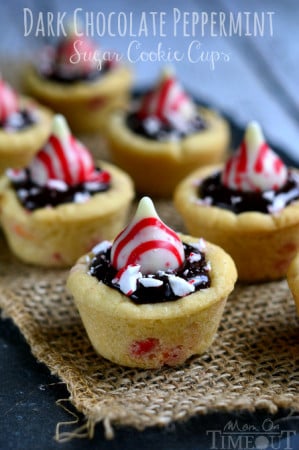 Dark Chocolate Peppermint Sugar Cookie Cups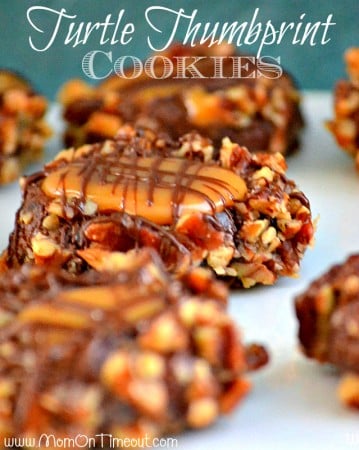 Yummy dessert recipes!
Tasty dinner recipes!
Sign up to get emails when I post new recipes!
For even more great ideas follow me on Facebook – Pinterest – Instagram – Twitter – Bloglovin'.
Have a great day!
This conversation is sponsored by Horizon Organic. The opinions and text are all mine.