The prettiest green cookies EVER! Super soft and chewy, these Pistachio and White Chocolate Pudding Cookies are perfect for Easter and St. Patrick's Day! No one can eat just one!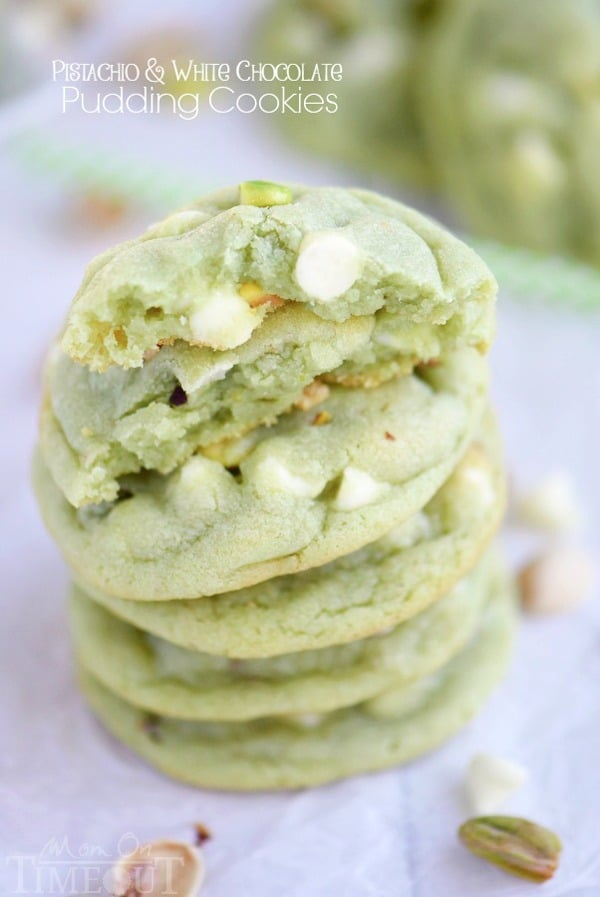 Does anyone else have an obsession with pistachios that I don't know about? I was never that into pistachios growing up. My little sister Ashley was a totally different story. I can remember her getting bags of pistachios as presents and her being THRILLED. She also would choose to eat my Nana's stewed tomatoes over ice cream any day of the week.
Weirdo.
But now I've totally come around to pistachios and I can't get enough of them. I always have a bag tucked away for snacking on and that brilliant green color that peeks out from their shells always gives me a thrill.
I'm not a pistachio snob though. I'll take it anyway I can get it and pistachio pudding mix is one of my faves.
It adds the prettiest green color as well as fantastic flavor to so many great recipes. I don't know a single person that wouldn't turn down a bowl of Pistachio Fluff and likewise with these cookies, no one can resist.
Incredibly soft, these cookies are perfectly chewy and just melt in your mouth. Studded with white chocolate chips ad chopped pistachios, they are just as pretty as can be.
This recipe makes about two dozen and I'm a little ashamed and embarrassed to say that a full dozen had disappeared by the time Chris got home from work.
I blame the boys.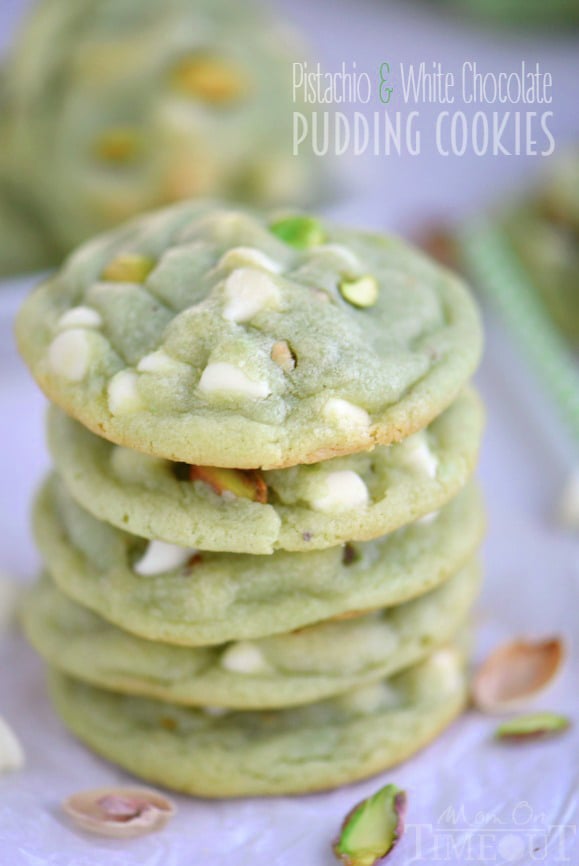 The white chocolate chips add the perfect touch of sweetness to these cookies and complement the pistachio flavor beautifully. I couldn't resist adding in some "real" pistachios to the mix because I love a little crunch in my cookies. You do too, right?
So here's a couple tricks you'll want to use to get the perfect cookie:
Use clear vanilla extract if you can find it. Regular vanilla can make the pretty pistachio green color turn brownish.
Make sure to refrigerate the dough. If you want a super thick cookie, bake at 350F for about 8 or 9 minutes. For a more traditional looking cookie bake at 325F for 11 to 14 minutes. I made them both ways and preferred the look of the cookies at 325F.
I made these cookies three times before figuring out that as much as I love brown sugar, I had to drastically reduce the amount for the same reason as I needed to use the clear vanilla extract – it negatively impacts the color of the cookies. Don't freak out when you see I only use 1/4 cup :)
White chocolate chips tend to turn brown when baked in the oven. When you're scooping your cookie dough keep those white chips inside the cookie dough. You can always add a few to the top when you pull them out of the oven.
Pistachio and White Chocolate Pudding Cookies
Super soft and chewy Pistachio and White Chocolate Pudding Cookies are so pretty and delicious you won't be able to stop at just one!
Author:
Trish - Mom On Timeout
Recipe type:
Dessert, Cookies
Ingredients
1⅔ cups all purpose flour
(1) 3.4 oz box instant pistachio pudding mix
1 tsp baking soda
½ tsp salt
¼ cup light brown sugar
¾ cup granulated sugar
¾ cup unsalted butter, softened
1 tsp clear vanilla extract
1 egg, room temperature
1 cup white chocolate chips
½ cup chopped pistachios
Instructions
Whisk together flour, pudding mix, baking soda and salt. Set aside.
Cream sugars and butter together until light and fluffy.
Add in egg and vanilla and beat until well blended.
Gradually stir in dry ingredients.
Fold in chocolate chips and pistachios. Refrigerate dough for at least 30 minutes.
Preheat oven to 325F.
Line cookie sheet with parchment paper or lightly grease.
Scoop out rounded tablespoons of cookie dough and place on prepared cookie sheet.
Bake for 11-13 minutes or just until they are set. If you see any brown, pull them out.
Remove from oven and let cool on baking sheet for several minutes before moving to a rack.
You're gonna wanna eat these cookies too…you're welcome.
Maple Cinnamon Gazed Peanut Butter Cookies
Reese's Stuffed Giant Chewy Chocolate Chip Cookies
Reese's Peanut Butter Oatmeal Bars
Giant Chewy Brown Butter Toffee Cookies
Connect with me!
 Linking up at some of these parties.