Chicken Cordon Bleu Crescent Rolls make dinner easy and your family happy!
Let's be friends! Sign up to get my new recipes in your inbox! Follow me on Facebook and Instagram too!
The other day Reece was talking to me about what he wanted to be when he grew up.  The conversation went something like this:
Reece: I know what I want to be when I grow up!
Me: Oh yeah?  What's that?
Reece: I want to be an engineer.  But not like an engineer like you and daddy.  I want to be a real engineer – a TRAIN engineer.
Me: Wow!  That would be cool!
Reece: Yeah.  And I wouldn't need to learn that much because I already know A LOT about trains.  I mean, I've watched the Polar Express like at least 100 times.
Me:  That's true….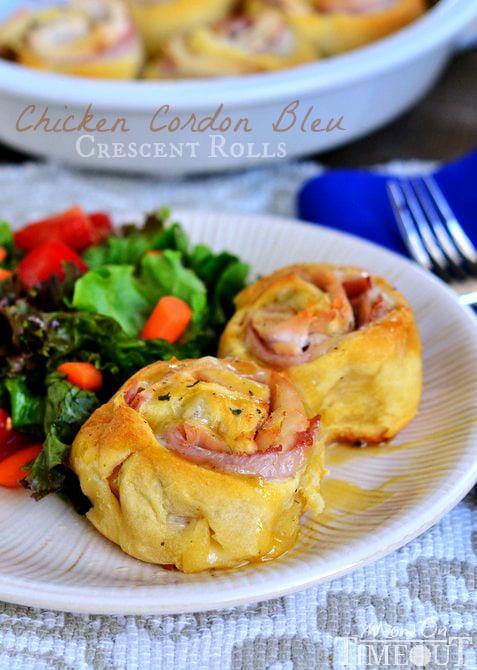 As much as I think I know about cooking, I'm always looking for new, creative, delicious, and FAST dinner options for our family.  Sure, I'm a stay-at-home mom BUT I also work from home which can get a tad tricky from time to time.  No matter how much time I think I have there never seems to be enough when it comes to dinner.
Chris gets home between 5:30 and 5:45 ever night.  Soccer practice starts at 6.  And it's not next door.
Anyone else doing the math here?
Yep.  Not only do we need fast meals, we need to be able to eat them quickly and sometimes, eat them on the run :)
I am officially a super-fan of this recipe and plan on making as many variations as my creativity allows for in the future.  These rolls were gobbled up SO fast and I didn't hear any complaints.  That's rare.
I made a honey-dijon sauce for the adults that also doubled as a quick salad dressing.  YUM.  I roasted up a couple chicken breasts real quick but you could easily substitute Rotisserie Chicken and it would be even easier.  The trick is making sure you slice the chicken thinly enough that it's nice and flexible and rolls well.  But not too thin because then I run the the risk of my husband thinking I'm trying to feed him a vegetarian meal…and that is strictly forbidden ;)
Hands off ladies!  He's all mine…
You make these just like cinnamon rolls using Pillsbury Crescent Rolls for the base.  I layered on cheese, ham, and chicken and then rolled it up.  Cut 'em, bake 'em, eat 'em!  Dinner is served!
This delicious and easy recipe is one of several that inspired my new book 100 Creative Ways to Use Rotisserie Chicken in Everyday Meals. I love using rotisserie chicken to create meals that my family will love! You'll find casseroles, bakes, comfort food, soups, sandwiches and more!
I have an entire chapter devoted to meals you can can create in 20 minutes or less and another devoted to recipes with 5 ingredients or less. This cookbook is filled with simple and fast recipes that your whole family will love.  Check it out!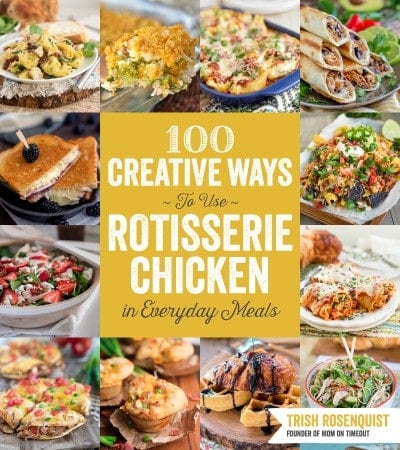 Chicken Cordon Bleu Crescent Rolls
Ingredients
1 can Pillsbury Crescent Rolls
6 slices Swiss cheese
6 slices deli ham
2 chicken breasts, cooked, thinly sliced
1 teaspoon Italian seasoning
2 Tbls honey (optional)
2 Tbls Dijon mustard (optional)
Instructions
Preheat oven to 375°F.
Remove crescent rolls from can and lay out in a long rectangle. Pinch the seams together well.
Sprinkle with Italian seasoning.
Layer first Swiss cheese, then ham and finally the chicken breast on the rolls.
Roll up like a cinnamon roll and cut into 8-10 rolls.
Place in a pie pan or 9-in square baking dish and bake for 18-20 minutes or until golden brown.
Mix honey and Dijon mustard and serve with rolls if desired.
Want a winning weeknight dinner the family will enjoy, make Pillsbury Crescent Rolls. Get Recipes at www.Pillsbury.com
For all dinner recipes, go HERE.
For all dessert recipes, go HERE.
Sign up to get emails when I post new recipes!
For even more great ideas follow me on Facebook – Pinterest – Instagram – Twitter – Bloglovin'.
Have a great day!
Disclosure: Compensation was provided by General Mills via Glam Media.  The opinions expressed herein are those of the author and are not indicative of the opinions or positions of General Mills.