Lunch rut got you down? Try these three out of the box lunch ideas to keep you in the lunching game! Chicken Nachos Bar, Salsa Chicken Wrap, and Kabobs-a-lot lunches!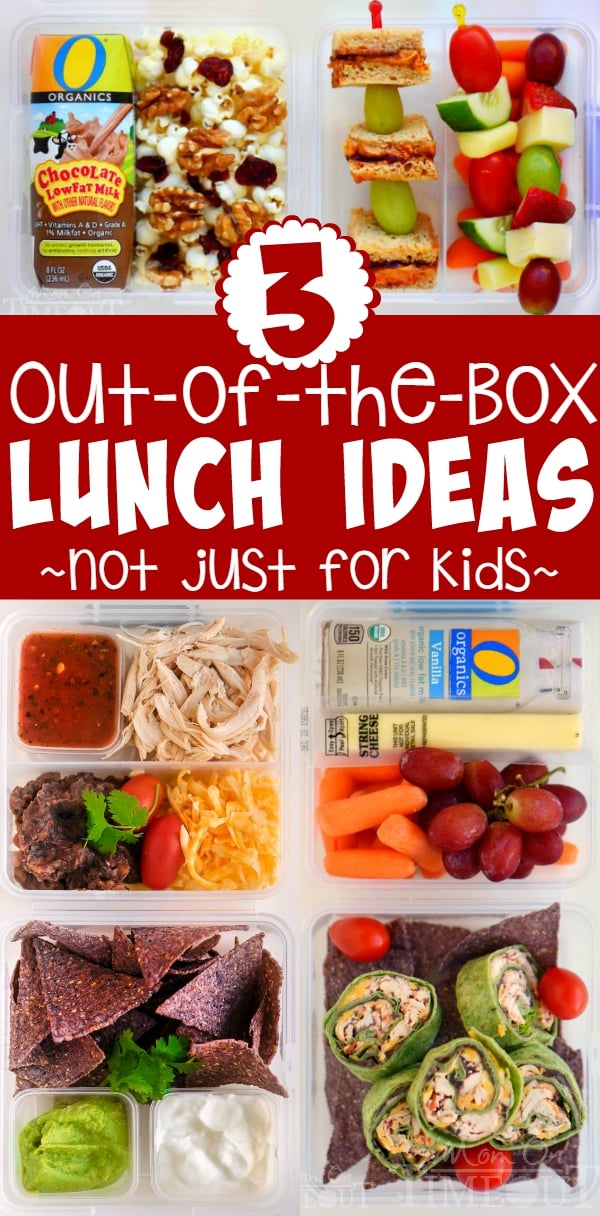 This week we had back to school night for the boys. It was an eye-opening experience in many ways. I sat in for Reece's class and Chris did Bryce's class. Let me tell you, 4th grade is apparently when things get kicked up a notch in school.
Book reports, daily logs, reading requirements – you name it – 3rd grade is looking pretty darn easy right about now. I learned all about his daily schedule and routine, math in the morning, writing in the afternoon, but you all know what I was really looking for…snack and lunch time!
See, lunch is kinda crazy when you're a kid at school. Bryce has lunch at 10:40….whaaat? He's in school for another four hours after lunch time and you guys know this, Bryce likes to EAT. Reece's lunch is at a really "normal" time this year – 11:30, but his teacher encouraged all the parents to send along TWO snacks and a bottle of water every day in addition to lunch. Some kids, ahem, my kids, like to play HARD and they need constant nourishment throughout the day.
Reece's teacher is way smart. So am I.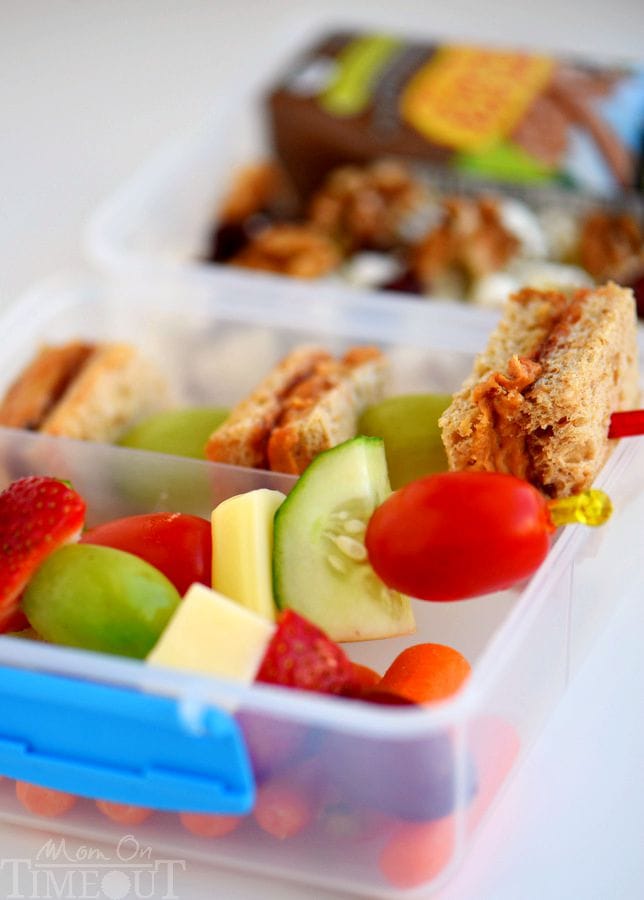 I know that lunch time can be a struggle in many ways but the biggest, most devastating thing about packing your child's lunch is to have them return 7 hours later with half of it still in their lunchbox. No bueno.
Here's my tip to all the mamas and papas out there that make their kids lunches…try it at home first. I learned this way back when Reece was in first grade: if he won't eat it at home, he won't eat it at school. And visa versa. All my super awesome lunch ideas I try out at home first before sending it with the boys to school. It's a humbling experience. truly. Apparently, they don't like everything I make. I know. It's a crazy world out there you guys.
Enter tip #2 – kids like pretty food. You do. I do. They do too. Make the food look appealing and fun and they will come. To lunch that is.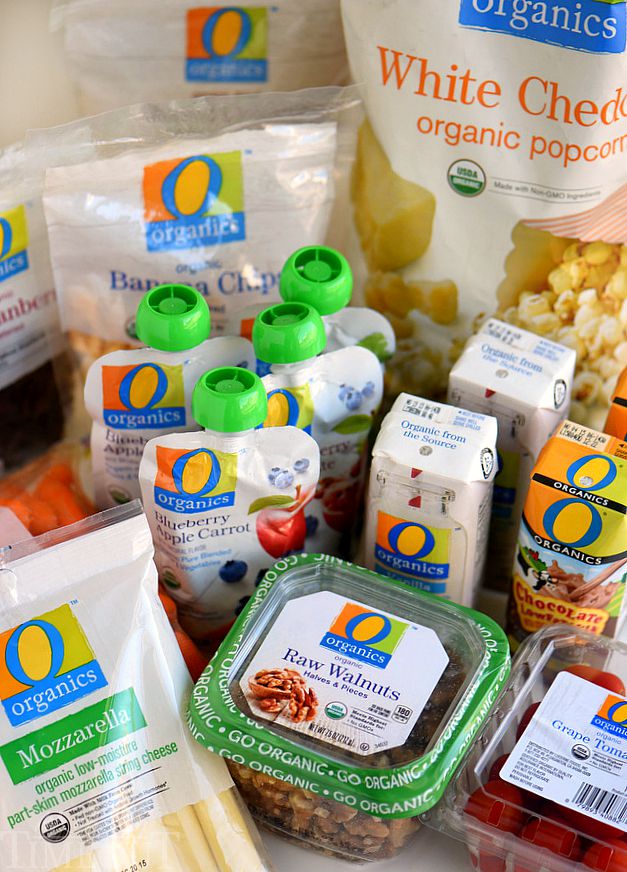 I do a lot of my shopping at Safeway, you guys know this, and I am in love with their O Organics line of products. In fact, I have to yet to find one that I don't like. Remember when I was talking a few weeks ago about keeping your pantry stocked? Yep, this is the best kind of way to stock your pantry, with awesome, healthy food for the whole family.
Today I'm sharing three lunch box ideas that are "out of the box" and are tried and true hits with the boys AND actually super good for them too.
I'm going to start with the boys favorite…a chicken nachos bar! This is all about the "build". Kids love to put their own meals together and what could be more to fun to build that nachos?
I include everything they need to make the perfect nachos including chips, shredded cheese, guacamole, refried black beans, Greek yogurt (or sour cream) and salsa. Then it's up to them to build the perfect nachos at lunch time. Way fun.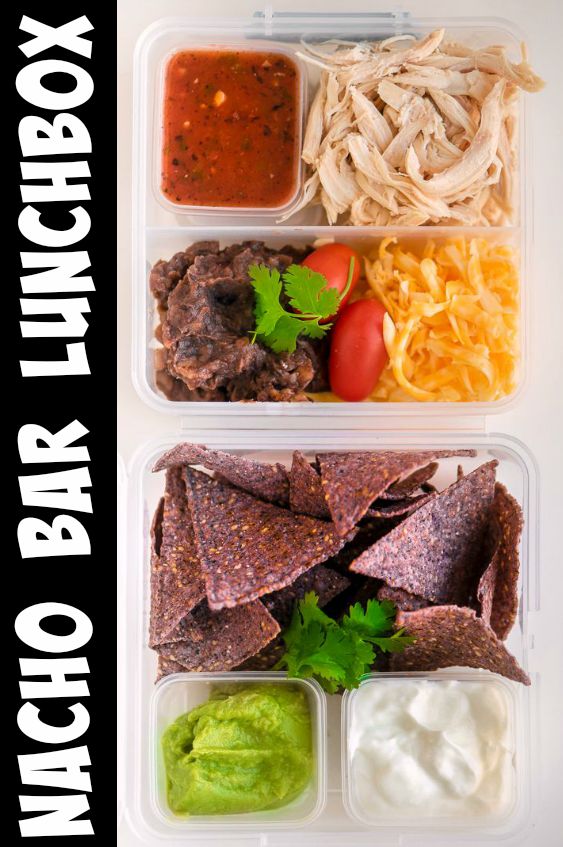 The second lunch idea is Salsa Chicken Pinwheels. It uses a lot of the same ingredients as the nacho bar but has a totally different look and feel.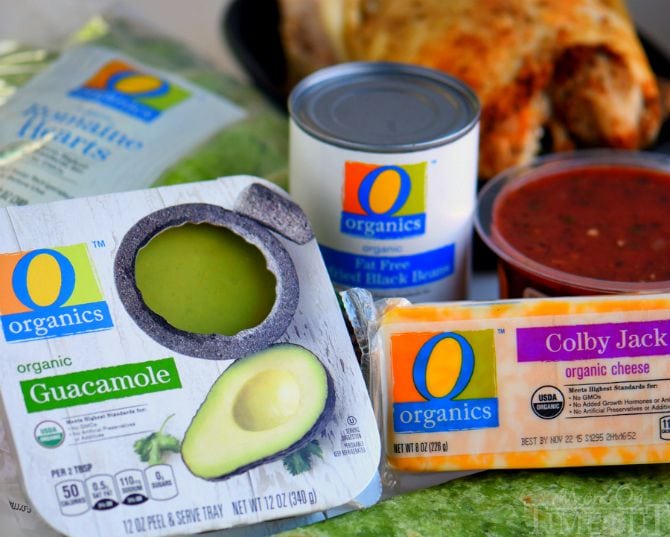 Shredded chicken is mixed with some salsa and rolled up in wrap together with black beans, cheese, romaine lettuce and guacamole. Outstanding! I like to pair these pinwheels with some fresh fruit and veggies, string cheese, and milk. It's a really balanced meal that keeps them full and satisfied.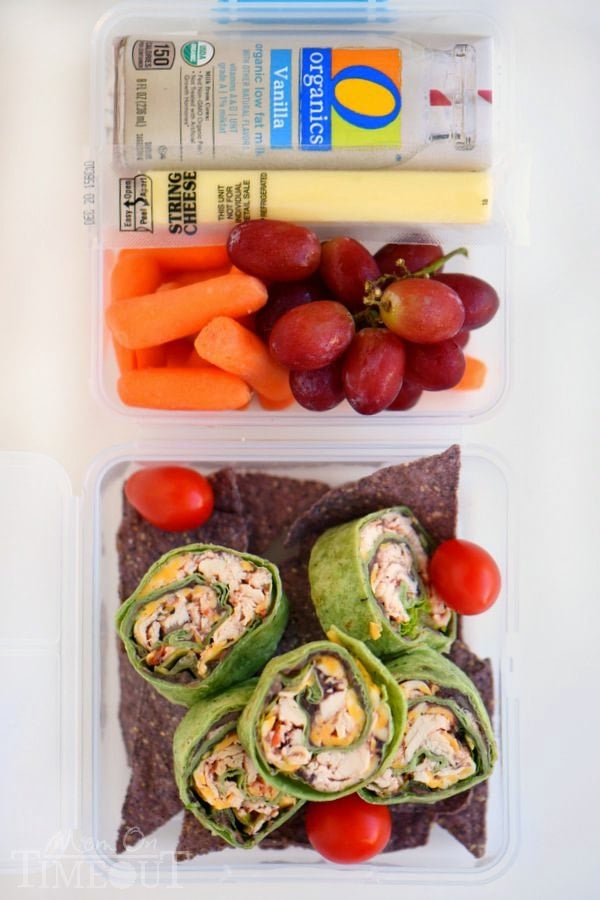 The final out of the box lunch idea is the PB&J Kabobs. I start with peanut butter, fruit preserves, and bread. I make a PB&J just like I normally would, cut into into quarters and skewer it with some fresh fruit. I used cocktail stirrers for my kabobs. They're fun, not dangerous, and re-usable.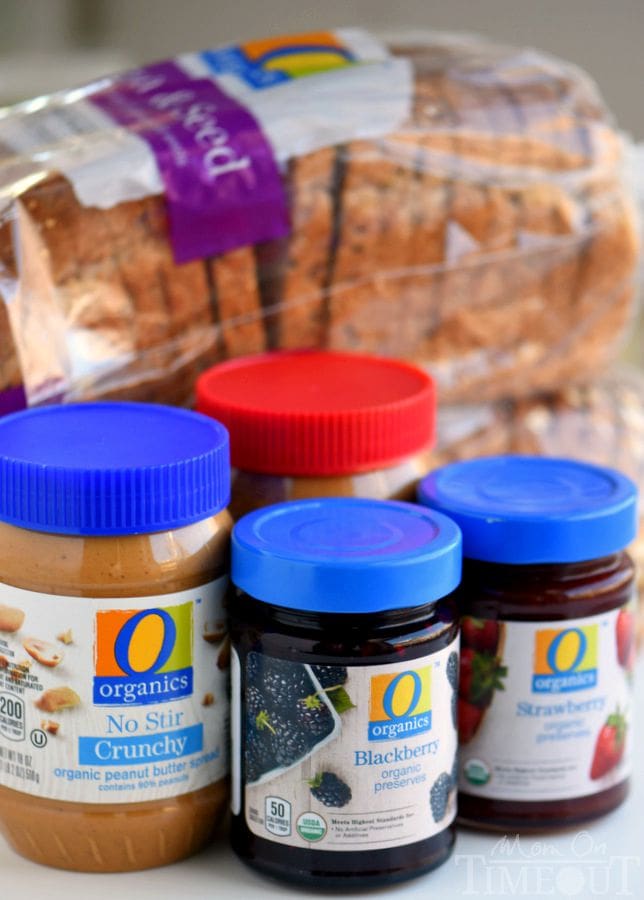 I mean, are you kidding me? How fun is this lunch! You can see I take the kabobs thing seriously. I have a fruit and cheese kabob (made with O Organics White Cheddar – my FAVE!) and a veggie and string cheese kabob thrown in there for good measure. My boys adore the white cheddar popcorn. I topped it with some dried cranberries and walnuts. This box come back empty every time. Every.Single.Time.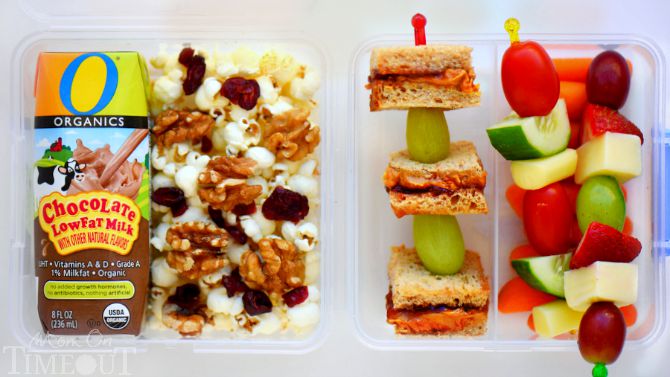 I love using O Organics for school lunches (and breakfast, and snacks, and dinner…you get the idea). If you're looking for even more great recipes, I've got a few more for you to try out like these Pesto Turkey Pinwheels, DIY Strawberry Lemonade Fruit Leather (yum!), Apple Fries with Cinnamon Dipping Sauce and this awesome Chicken Salad Wrap.
As you can see, O Organics has everything you need to make awesome lunches for your kiddos AND you!
Three Out of the Box Lunch Ideas - Not Just for Kids!
Lunch rut got you down? Try these three out of the box lunch ideas to keep you in the lunching game! Chicken Nachos Bar, Salsa Chicken Wrap, and Kabobs-a-lot lunches!
Ingredients
Nacho Bar
1/3

cup

shredded chicken

1/4

cup

refried black beans

1/4

cup

salsa

1

oz

shredded cheese

2

tbsp

Greek yogurt or sour cream

2

tbsp

guacamole

chips
Salsa Chicken Pinwheels
1/2

cup

shredded chicken

3

tbsp

salsa

romaine lettuce

1/4

cup

refried beans

2

tbsp

guacamole

1

oz

shredded cheese
PB&J Kabobs
2

tbsp

peanut butter

1

tbsp

preserves or jam

2

slices

of bread

fresh fruit
Instructions
Nacho Bar
Use individual containers with lids for the wet ingredients. Place everything inside the lunch box. Make sure there is a big enough space for the nachos to be built.
Salsa Chicken Pinwheels
Combine salsa and shredded chicken in a small bowl.

Spread refried beans onto the wrap.

Top with lettuce, shredded cheese, guacamole, and salsa chicken. Wrap tightly.

Cut each wrap into 6 to 10 pinwheels depending on the size of the wrap.
PB&J Kabobs
Make a peanut butter and jelly sandwich like you normally would. Do not overfill or it will make a mess you cut it up.

Cut the crusts off if desired and then quarter the sandwich.

Place quarters onto the kabob along with fresh fruit.

Serve with a fruit and cheese kabob and a veggie kabob.
Nutrition
Calories:
1008
kcal
|
Carbohydrates:
80
g
|
Protein:
68
g
|
Fat:
48
g
|
Saturated Fat:
15
g
|
Cholesterol:
134
mg
|
Sodium:
2086
mg
|
Potassium:
1412
mg
|
Fiber:
17
g
|
Sugar:
24
g
|
Vitamin A:
954
IU
|
Vitamin C:
10
mg
|
Calcium:
477
mg
|
Iron:
6
mg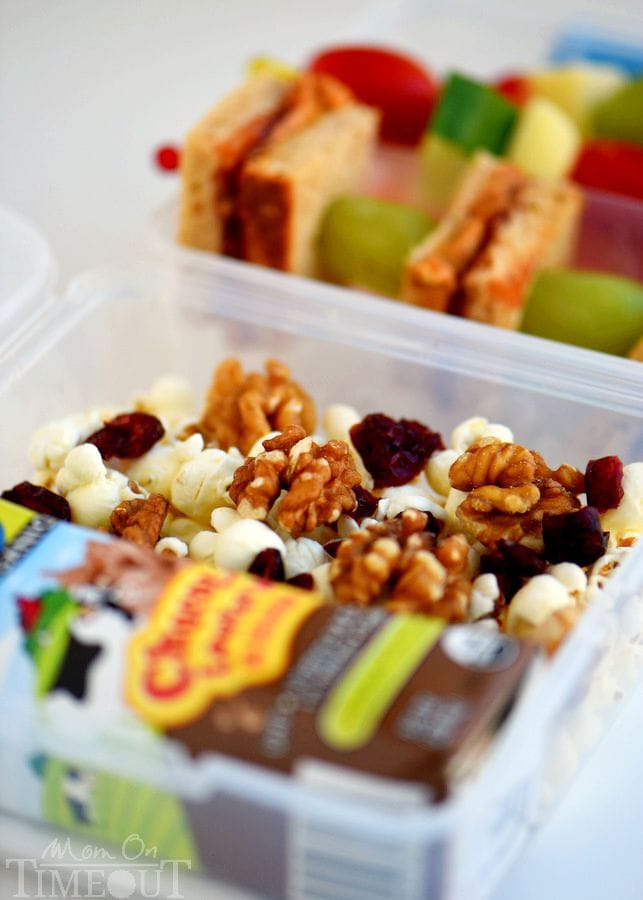 More lunch and snack ideas!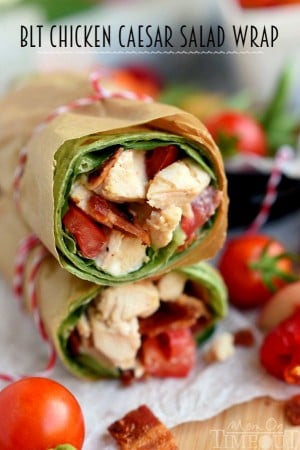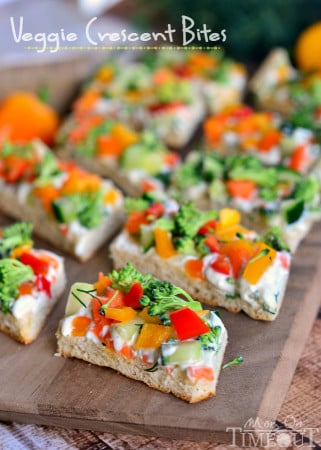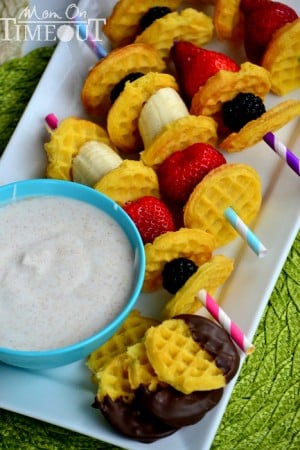 Fruit 'n Waffle Kabobs with Maple Cinnamon Yogurt Dip
Funfetti Rice Krispies Treats Fruit Kabobs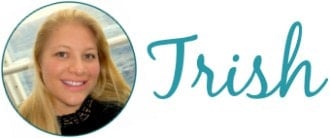 Connect with me!
This is a sponsored conversation written by me on behalf of O Organics. The opinions and text are all mine.