Feast your eyes on this stunning Strawberry Spinach Salad with Gorgonzola, Walnuts and Mint! It's a party in your mouth! The perfect summer salad that will keep you coming back again and again. Love salads? Make sure to try this Broccoli Salad and Pineapple Cucumber Salad!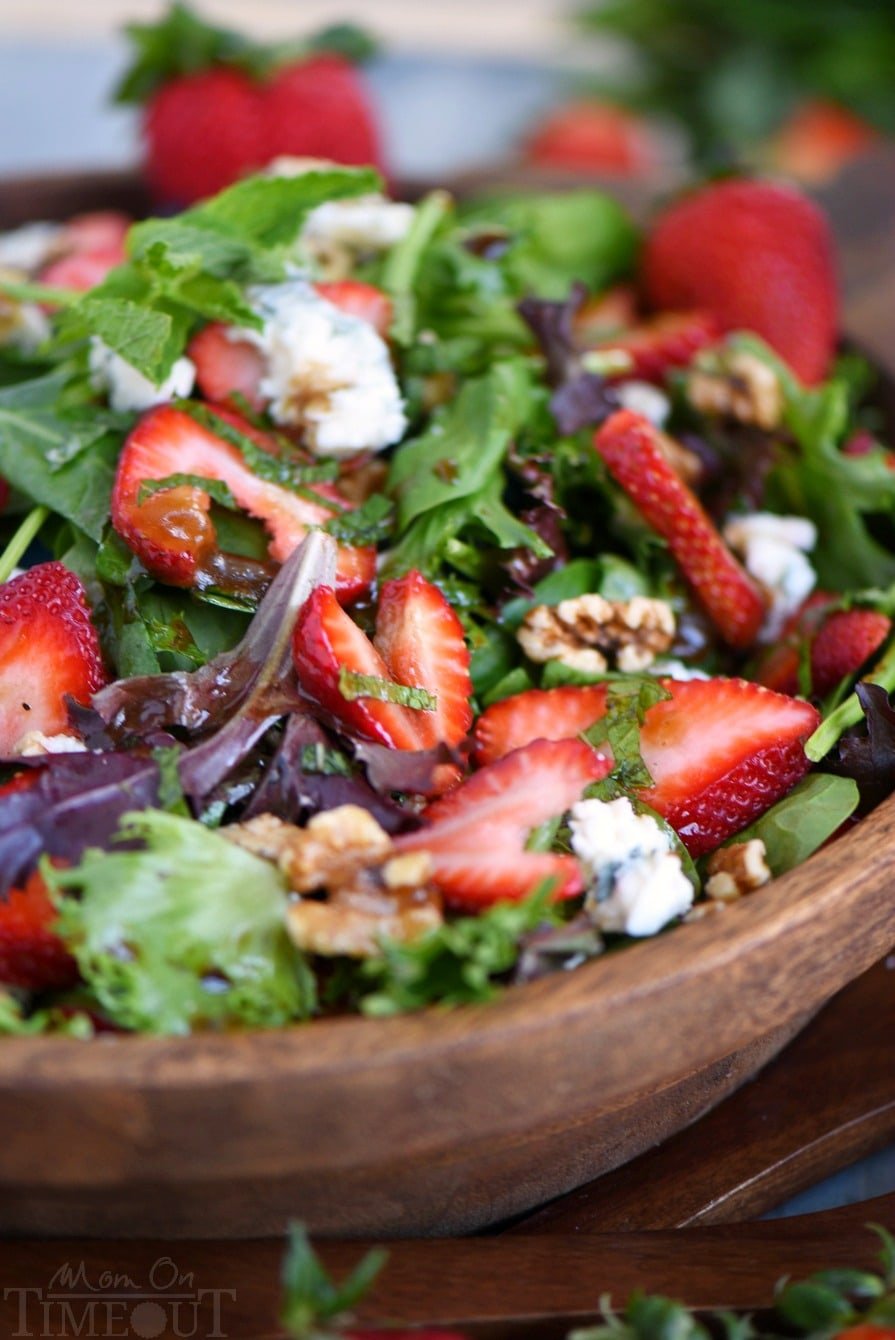 Strawberry Spinach Salad
I've eaten this strawberry spinach salad with Gorgonzola, walnuts, and mint three out of five days this week for lunch and I'm still craving this amazing salad!
I love when a salad has it all – something sweet, something crunchy, something savory, and it all ties together in the most delightful bite that you can imagine. This salad is IT.
What Is In Strawberry Spinach Salad
There isn't a whole lot to it you guys:
greens – I like the 50/50 mix with half spring mix and half spinach
strawberries, washed, hulled, sliced
walnut halves
Gorgonzola
mint

Strawberry Spinach Salad Dressing
I opted to go with a balsamic vinaigrette for this salad. Strawberries and balsamic go together so, so nicely and it's the perfect complement to the flavors going on.
extra virgin olive oil
balsamic vinegar
salt
pepper
Super simple, super delicious.
I recreated this salad from a lunch that I recently attended as part of a California Strawberry Farm Fresh Tour. You might have seen some of the pics on Instagram. The day started early with Amy and I heading down to Watsonville first thing in the morning. We arrived and had a chance to meet the other tour attendees and then we all piled in a bus to head to a local strawberry farm.
Strawberry Farm Tour
Let's rewind. Can I tell you how excited I was to get invited to a strawberry farm? I mean, strawberries are my LIFE. I eat them all the time and love cooking and baking with them. They're just so perfectly sweet and that bright red color is impossible to resist. Need proof? Just look at this salad!
The strawberries were UNREAL. Like, I live in California and hadn't seen strawberries like this before. Huge, delicate, and perfectly sweet, I definitely had my fill. While I was navigating the fields and picking strawberries, Miguel taught us a lot about this marvelous fruit.
All About Strawberries
Did you know that 90% of United State's strawberries are grown in California by 400 family farms creating 70,00 jobs and helping to sustain their communities? Impressive, I know. California Strawberry farmers grow both conventional and organic strawberries. An analysis from a toxicologist with the University of California's Personal Chemical Exposure Program found that residues on strawberries are so low, if present at all, that a child could literally eat 1,508 servings of strawberries in a day and still not have any effects from residues.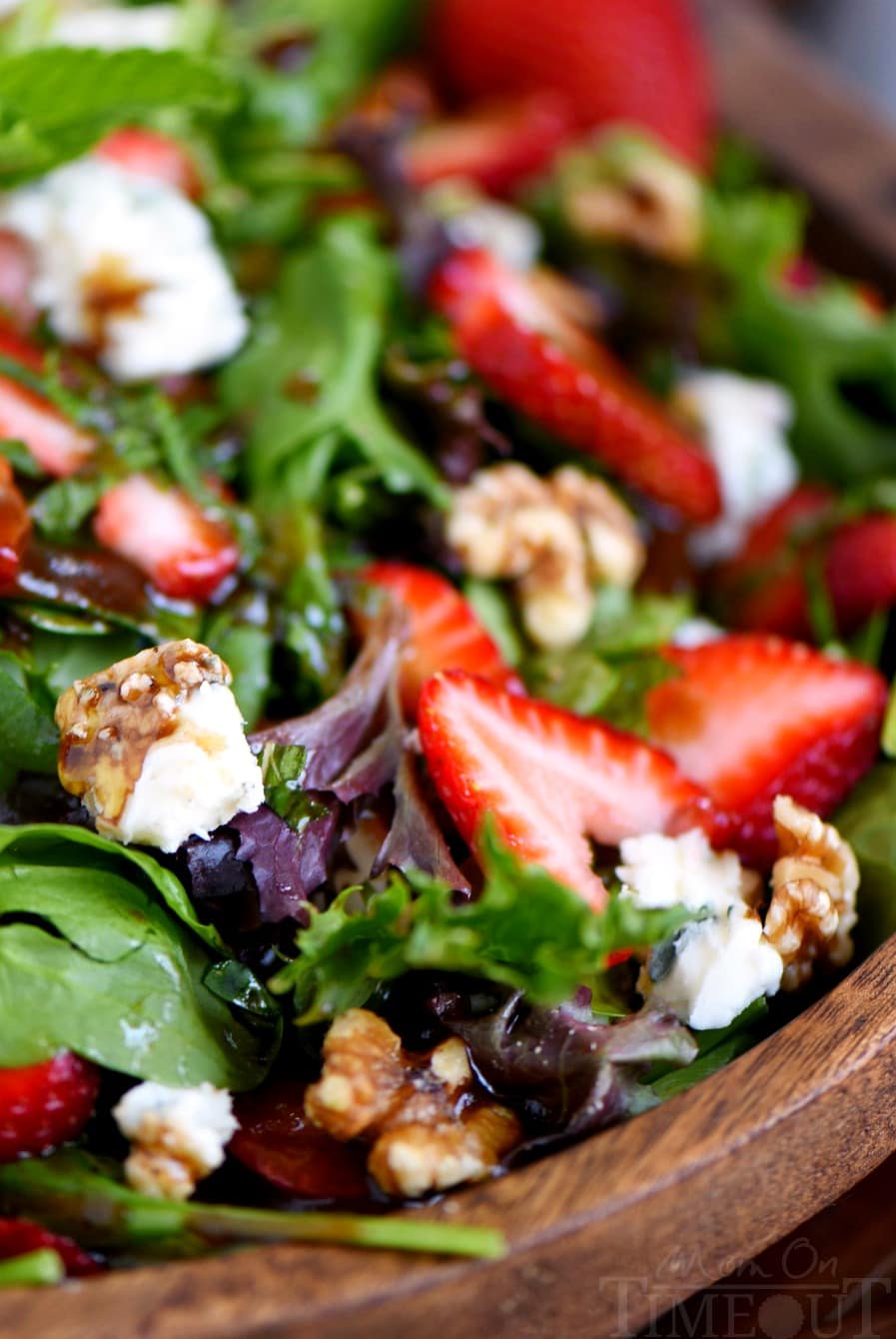 I've always know that strawberries were good for me but honestly, I had no idea HOW good…
Research suggests that eating just 1 cup (#8aday) is good for the whole body, promoting heart health, diabetes management, supporting brain health, and reducing the risk of some cancers.
With year-round availability and a 12-month growing season, California strawberries are an easy way to pack a nutritional punch in your daily diet!
With more vitamin C than an orange and loaded with nutrients, California strawberries are a nutritious and versatile fruit to enjoy every day.
Strawberries are naturally sweet but low in sugar — only 7 grams and 45 calories per cup!
The tour wrapped up with a delicious strawberry-filled lunch at Ella's at the Airport. Part of our lunch was this salad that I've recreated for you here today. It's the mint that really makes this salad so unique and special. Strawberry + Mint + Gorgonzola = Happy Trish.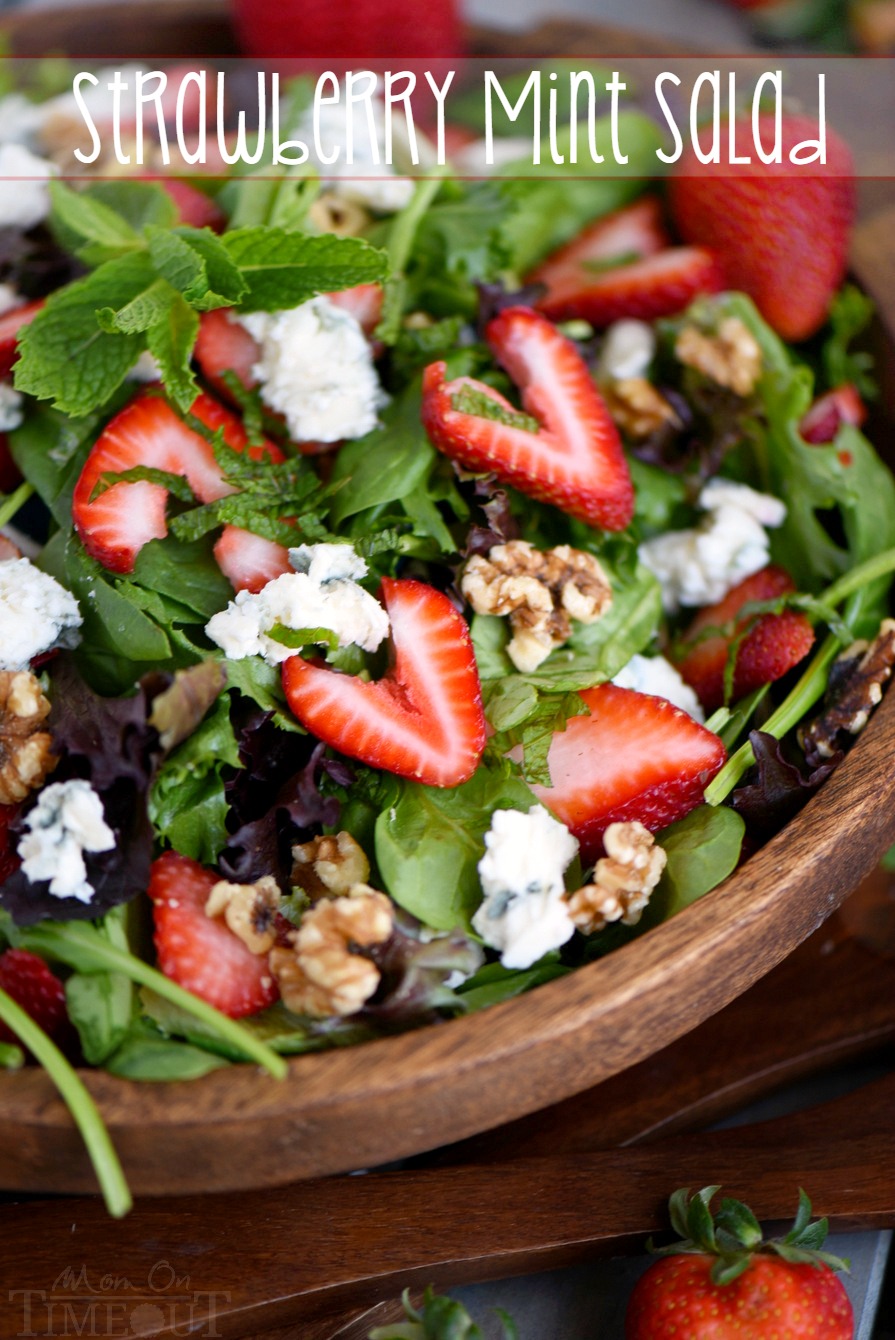 Tip: Use a strawberry huller to make quick work of hulling the strawberries. I use mine DAILY. Not kidding. This is the exact one I use and it's amazing.
More yummy strawberry recipes:
How To Make Strawberry Spinach Salad
Strawberry Salad with Gorgonzola, Walnuts, and Mint
Feast your eyes on this stunning Strawberry Salad with Gorgonzola, Walnuts and Mint! It's a party in your mouth! The perfect summer salad that will keep you coming back again and again.
Ingredients
5

oz

spring mix

(I like the 50/50 mix with half spring mix and half spinach

1

pint

strawberries

washed, hulled, sliced

1

cup

walnut halves

3

oz

creamy Gorgonzola

look for the Gorgonzola that doesn't just crumble apart, you want the really creamy kind

1/2

cup

mint

chiffonade
Balsamic Vinaigrette
3/4

cup

extra virgin olive oil

1/4

cup

balsamic vinegar

1/2

tsp

salt

1/2

tsp

pepper
Instructions
Place spring mix in a large bowl. Top with strawberries and walnuts.

Sprinkle Gorgonzola and mint chiffonade over the top.

For the dressing.

Combine all ingredients in a glass jar with a lid.

Place the lid on the jar and shake vigorously until the dressing has emulsified. It should look homogeneous in appearance.

Serve salad with dressing on the side or drizzle over the top just before serving.
Notes
This salad can easily be turned into an entree salad with the addition of cubed chicken. Grilled or roasted is my favorite. Enjoy!
You won't need all of the dressing for this salad. Store leftovers in the fridge.
Nutrition
Calories:
367
kcal
|
Carbohydrates:
15
g
|
Protein:
9
g
|
Fat:
31
g
|
Saturated Fat:
6
g
|
Cholesterol:
15
mg
|
Sodium:
601
mg
|
Potassium:
425
mg
|
Fiber:
4
g
|
Sugar:
7
g
|
Vitamin A:
820
IU
|
Vitamin C:
79.9
mg
|
Calcium:
171
mg
|
Iron:
1.8
mg
Originally published April 20, 2016.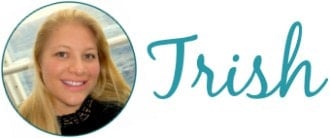 For all breakfast recipes, go HERE.
For all dessert recipes, go HERE.
Sign up to get emails when I post new recipes!
For even more great ideas follow me on Facebook – Pinterest – Instagram – Twitter – Bloglovin'.
Have a great day!
Disclousre: This post is sponsored by California Strawberries. Thank you so much for supporting the brands that make Mom On Timeout possible!