This easy Spicy Ranch Dip is made with Greek yogurt and lots of fresh ingredients for tremendous, bold flavor! Great for dipping all your favorite snacks!
Love easy appetizers? Try these Stuffed Mushrooms, Turkey Cranberry Pinwheels and Pizza Dip!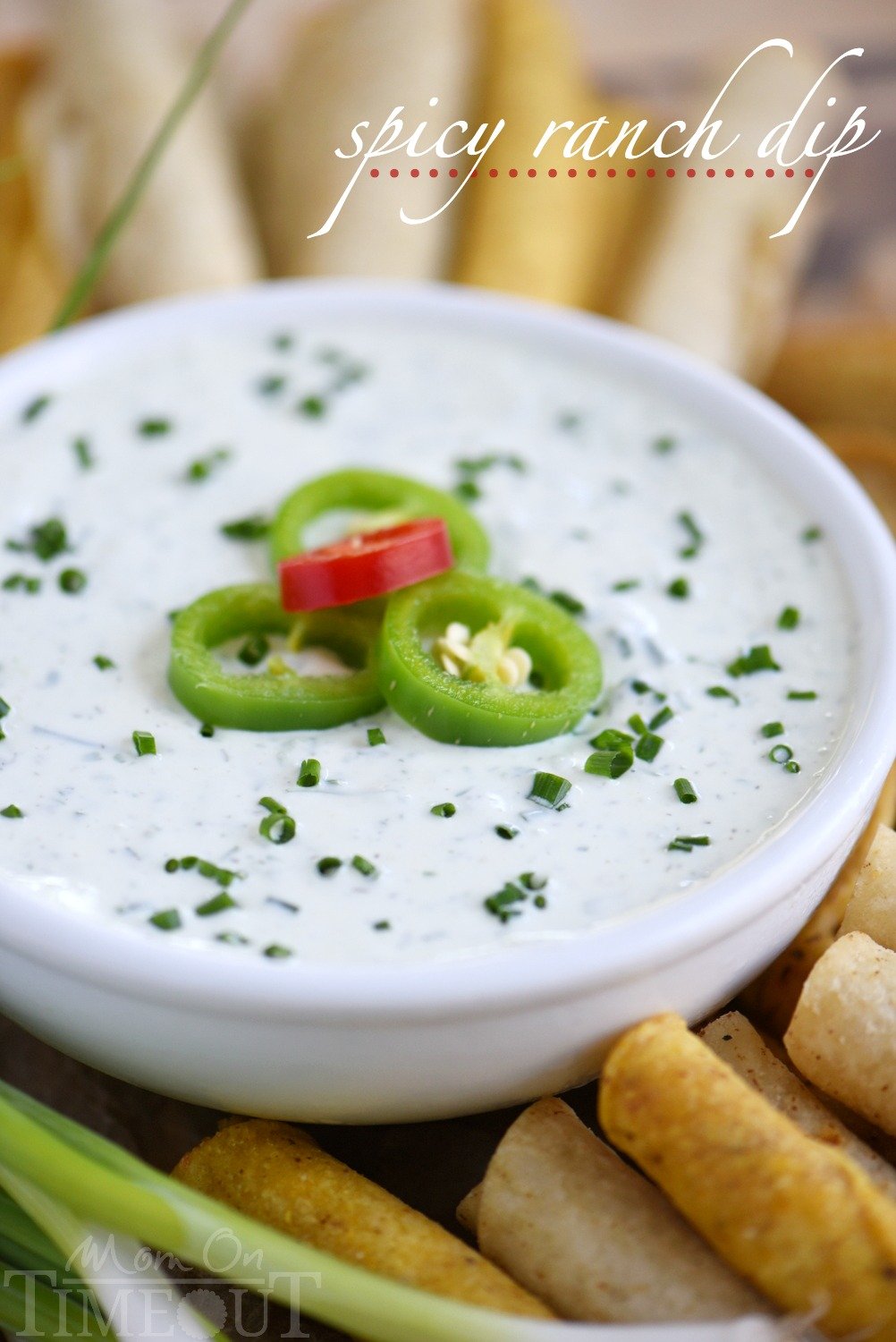 The boys have been back in school now for nearly a month. I can't believe we're already in mid-September! Soccer season is in full swing and the boys had their first game of the season this past weekend. At the beginning of each sports season, I'm always so excited. Excited to watch them play, excited to go to practices, excited to watch them having so much fun.
The excitement tends to wear off just a wee bit as the season drags on and by the last game I'm cheering harder than ever because, hooray, the season is over. And then, just a few weeks later, the next sports season starts and these my friends, are the days of my life.
I'm always looking for a hearty snack that can carry my kids between school and soccer practice. Bryce's practice starts at 5:30 and Reece's starts at 6 p.m. which just happens to be when we normally eat dinner. I'm finding that a really hearty snack is the best route to go to keep them fueled through homework and practice.
I like to change things up once in awhile and this week I scored a home run with this Easy Spicy Ranch Dip. My boys look a lot like me…white. Blonde, fair skin, blue eyes. But as far as tastebuds go…they've got a lot of Peruvian in them. Reece can handle foods that I wouldn't touch with a ten-foot pole. He thinks hot sauce is a mandatory condiment for all meals. I think that's why he loved this dip so much!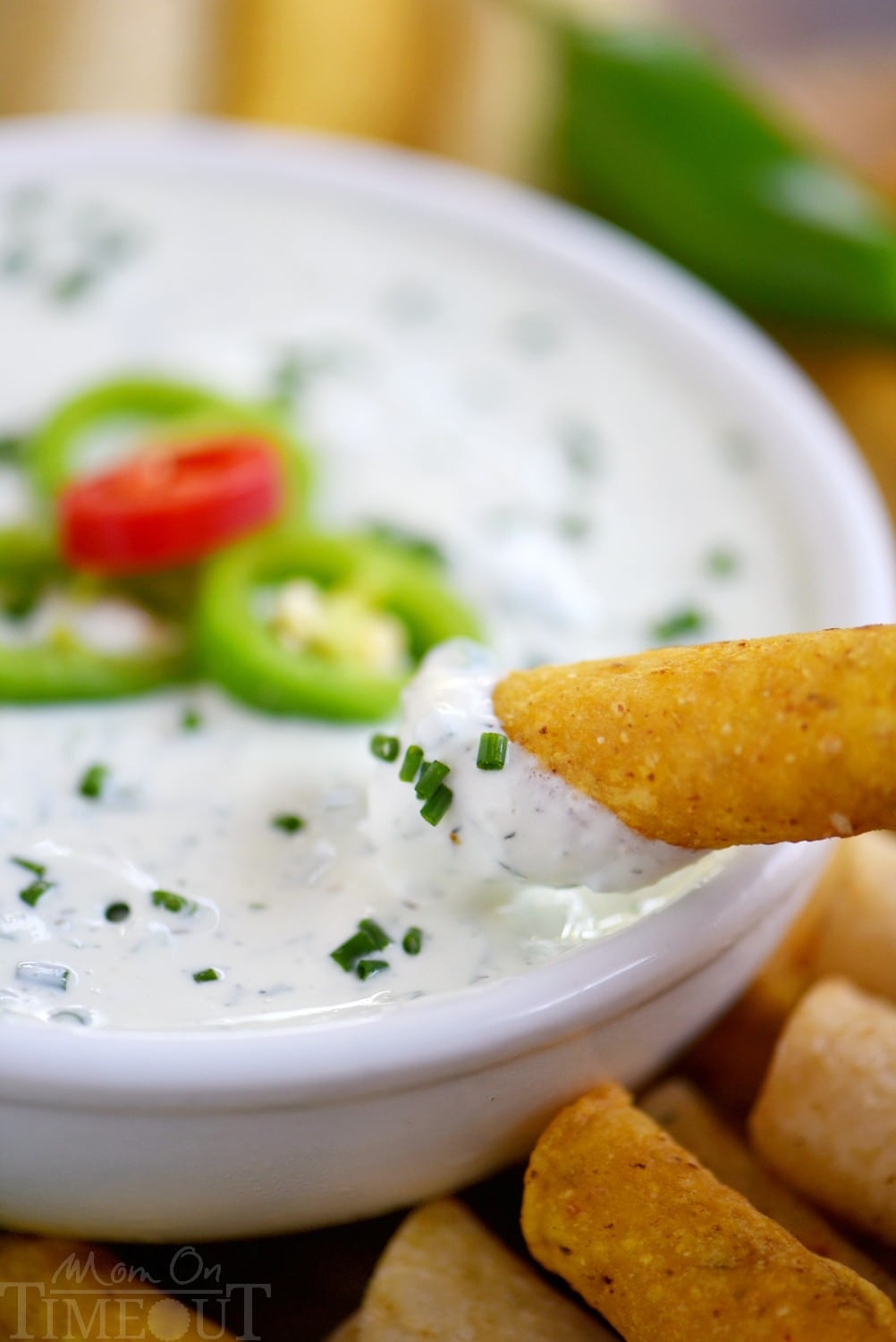 But don't worry, you can tone down the heat by using just half a jalapeño or by omitting entirely. Instead of mayonnaise, I used Greek yogurt and light sour cream for the base. Yeah, not only is this dip light, it's packed with protein as well. Trust me, you're not going to miss the fat or the calories. This dip is bursting with flavor!
I used a combination of fresh and dry ingredients because that's what I had on hand. Feel free to mix and match according to what you have on hand. I do love the fresh chives and parsley and find that these two ingredients add a lot of freshness to the dip so use fresh here if you can.
I made this particular dip on the more mild side because goshdarnit I wanted to eat it too. Feel free to increase the heat with the addition of a second (or third jalapeno).
I cheated and used the food processor to take care of all of the chopping and dicing and general work that I'm too lazy to do. This mama is biz-ay.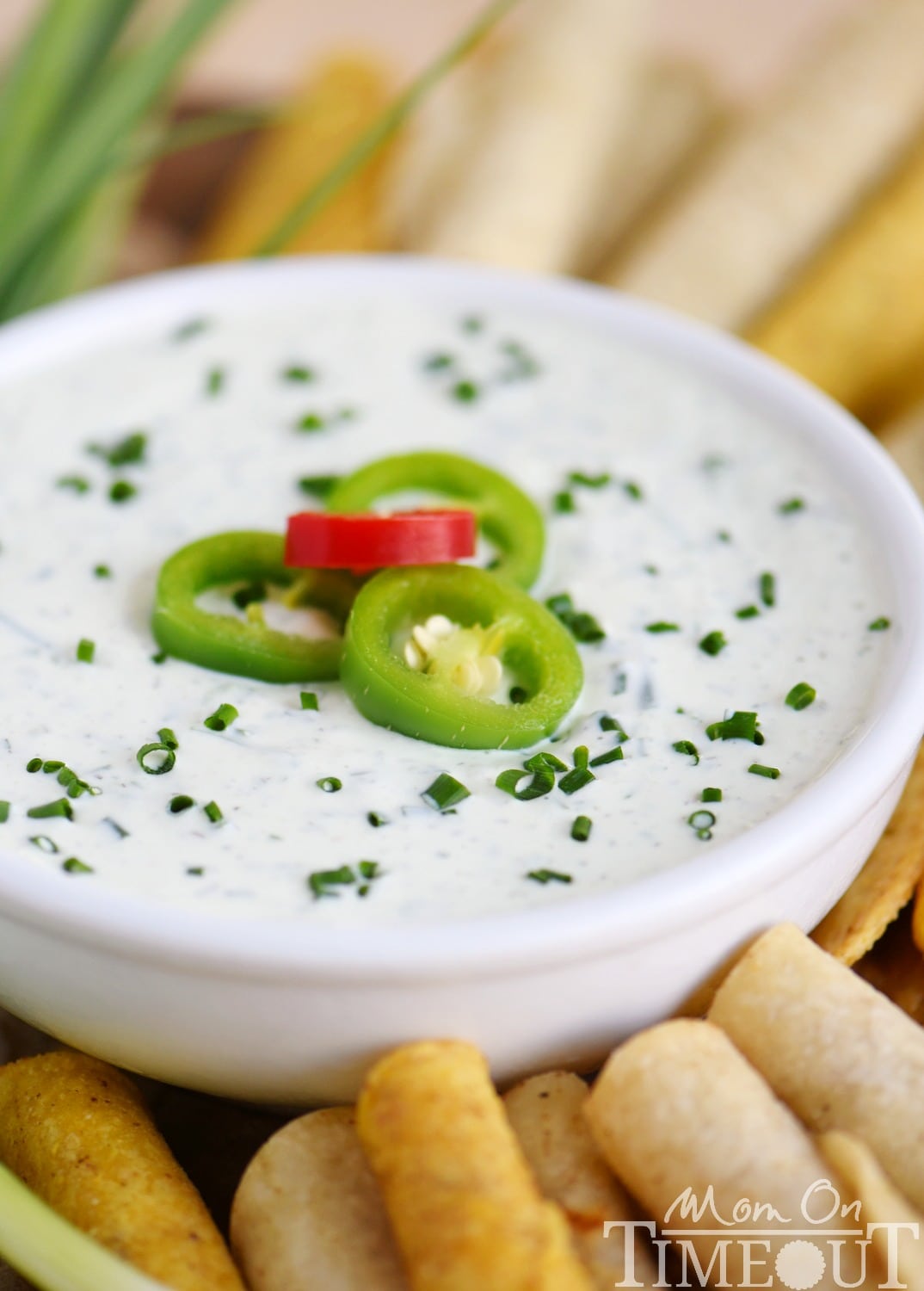 Dip dip hooray! I know you're going to love this dip as much as we did. The boys have already requested a repeat for next week and I am oh-so happy to oblige.
More Appetizer To Try
How To Make Spicy Ranch Dip
Easy Spicy Ranch Dip
This easy Spicy Ranch Dip is made with Greek yogurt and lots of fresh ingredients for tremendous, bold flavor! Great for dipping all your favorite snacks!
Ingredients
¾

cup

plain Greek yogurt

¾

cup

light sour cream

3

tablespoons

fresh parsley

3

tablespoons

fresh chives

approximately 10 chives

1

jalapeño

seeded

½

teaspoon

dill weed

or 1 tsp fresh dill

½

teaspoon

garlic powder

or 1 clove garlic

salt and pepper to taste
Instructions
Combine all ingredients in a food processor.

Blend until jalapeños, parsley, and chives are broken down into small little bits.

Pour into a bowl and let chill for at least 2 hours.

Serve with your favorite snack items: taquitos, veggies, chips, etc.
Notes
Store dip in refrigerator for up to 3 days.
Nutrition
Calories:
57
kcal
|
Carbohydrates:
3
g
|
Protein:
4
g
|
Fat:
3
g
|
Saturated Fat:
2
g
|
Cholesterol:
11
mg
|
Sodium:
31
mg
|
Potassium:
107
mg
|
Fiber:
1
g
|
Sugar:
1
g
|
Vitamin A:
345
IU
|
Vitamin C:
6.4
mg
|
Calcium:
71
mg
|
Iron:
0.1
mg