This Hot Spiced Citrus Grape Punch is the perfect beverage to serve up at your holiday celebrations!  Cinnamon, cloves, orange and grape juices come together for a fantastically festive flavor!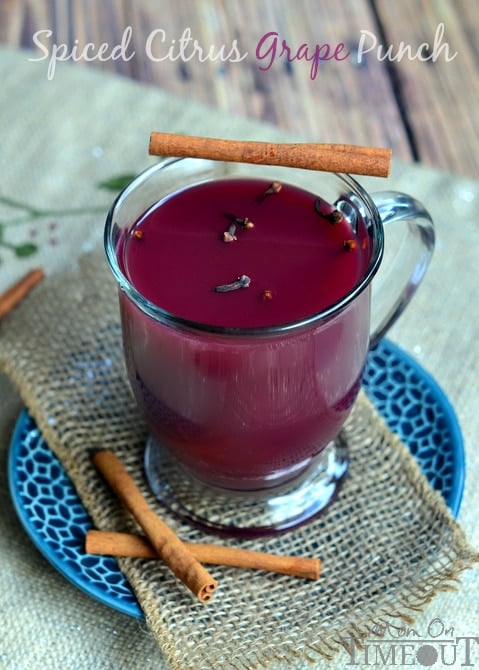 It's kind of shocking to me that Christmas is ONE WEEK from today.  It hit me this morning like a ton of fudge and I instantly went into I-don't-want-to-work-anymore-I-just-want-to-listen-to-Christmas-music-and-wrap-presents mode.  There isn't going to be a lot more coming from Mom On Timeout until after the New Year's because, well, I need a timeout – with my family!
I've got a few more posts, of course, and this punch recipe that I wanted to share with you.
I was away for a few days last week hanging out with some of the most awesome blogger gal pals a girl could ask for at the General Mills World Headquarters in chilly Minneapolis (more to come on that later) and I was telling them all about this punch.
See, it's my Grandma's recipe (on my mom's side) and it's a doozy.  Buuuut she calls this "Hot Grape Punch" which doesn't sound all that appealing, right?  I was having them help me come up with a descriptive, more elegant name for this punch and I landed upon this: Spiced Citrus Grape Punch.
Think you wouldn't like orange juice and grape juice together?  Think again! I dare you to try it, double dare you!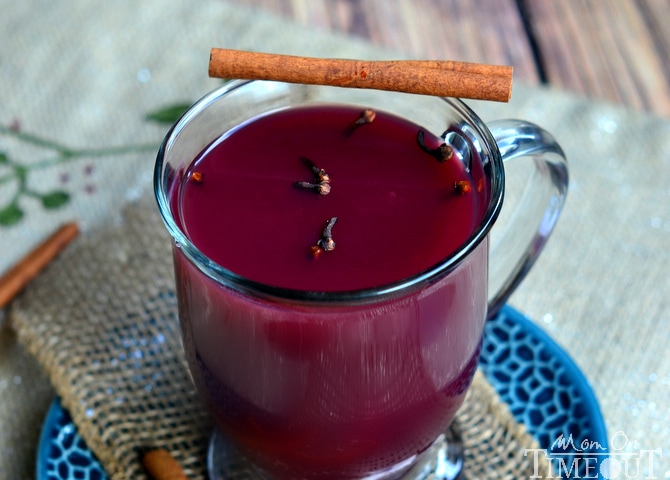 Like, you'll make this once, and then you'll find yourself coming up with all sorts of reasons why you should/need to make it again.  This punch is served hot and is served all Fall and Winter long in our home.  Thanksgiving, Christmas, New Year's, Super Bowl, etc.  It's perfect for pretty much any celebration.
First off let's talk about how this punch makes your home smell.
AMAZING.
With the cinnamon sticks and cloves heating up with the grape and orange juice it's like nothing you've ever experienced before.  Candle makers out there?  This is one fragrance you need to replicate.  ASAP.
Second let's talk about how easy this is.
You throw a whopping four ingredients (plus water) into a slow cooker and bam! You're done. You can also make this up on the stovetop, of course.  I just love having a gigantic slow cooker full of this goodness at the ready all day long.  I put some nice mugs beside the slow cooker and a ladle plus some extra cinnamon sticks just for fun 🙂
I'm pretty sure I've convinced you by now that this NEEDS to be on your holiday menu – at least once – but if I haven't accomplished that yet…let me just say this – my mother-in-law LOVES this punch.  She doesn't really love much of anything but this punch, YES. So make it. You won't regret it 🙂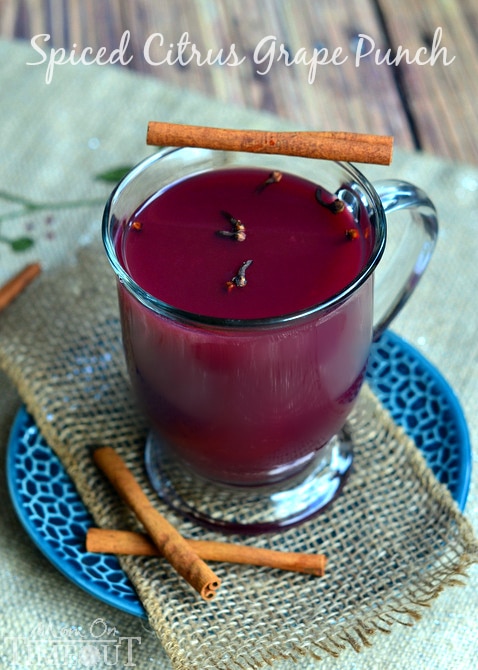 Hot Spiced Citrus Grape Punch
Ingredients
6 oz frozen concentrated grape juice
3 oz frozen concentrate orange juice (I prefer pulp free)
30 oz water
2-4 sticks of cinnamon
½ tsp whole cloves
½ cup sugar (optional)
Instructions
Combine all ingredients in a slow cooker and turn on low.
Let heat for at least one hour before serving.
Notes
My Grandma used to make this with the sugar but my sister and I started omitting it a few years back and didn't notice a difference. If you like punch on the sweeter side go ahead and add it..
More delicious beverages: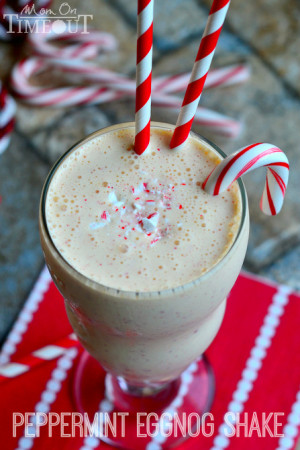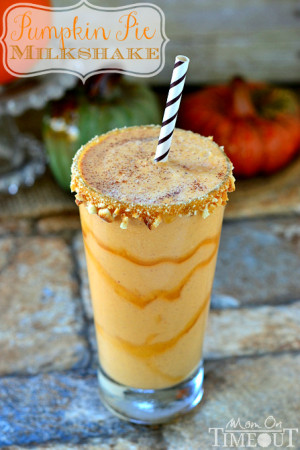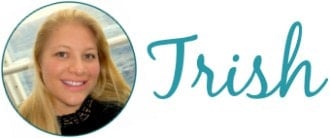 Connect with me!
 Linking up at some of these parties.