A recipe that is sure to please kids and adults alike – Chicken Ranch Waffle Sliders!  Buttermilk chicken nuggets are baked to perfection and topped with bacon, Swiss cheese, and ranch and served between two mini waffles for the ultimate chicken slider!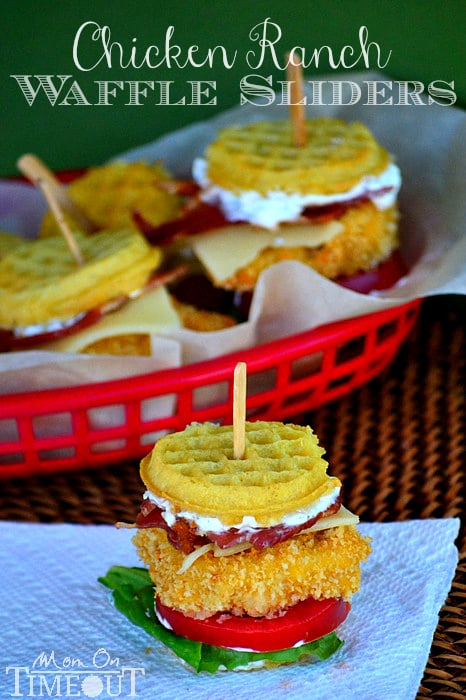 Waffles and chicken.  Chicken and waffles.  Two things that definitely go together in my world!  Today I'm putting a spin on that classic combination that makes my chicken and waffles a little more kid-friendly and so delicious!  I love using waffles in savory recipes and this is the perfect recipe for you to try out.  I marinated my chicken in buttermilk to really play into that waffle flavor and then breaded them in panko bread crumbs for that ultimate crunchy nugget.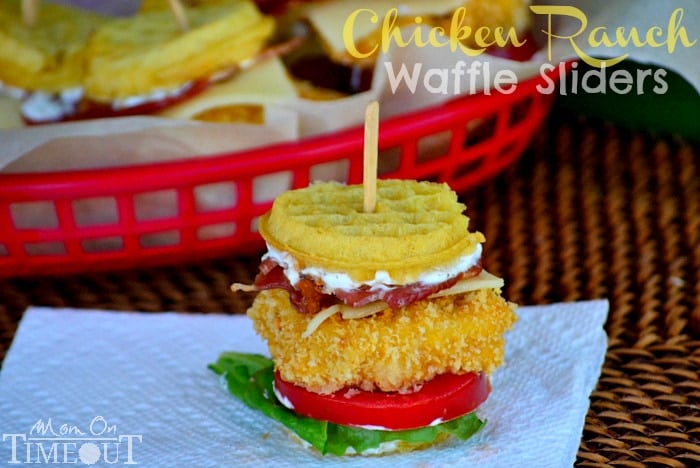 The chicken nuggets are baked – not fried – which is definitely the preferred method in our home.  Oh my goodness were they good!  (These mini waffles are definitely seeing a lot of action in our home and I can't wait to show you a few more fun treats that we've whipped up with them.)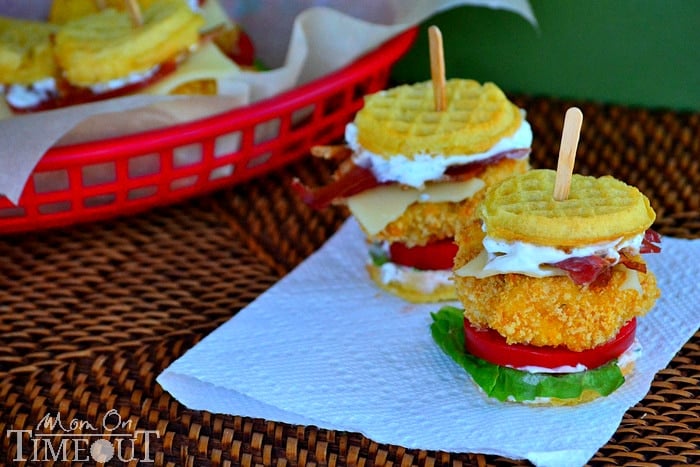 The waffles are perfectly crunchy and all those little pockets fill up so nicely with ranch – yum!  Of course, bacon makes everything taste better so these sliders are topped with baked bacon and Swiss cheese and finished off with tomato and lettuce.
Buttermilk Chicken Ranch Waffle Sliders
Ingredients
1 lb boneless skinless chicken breasts
1½ cups buttermilk
1 Tbls hot sauce
salt and pepper
2 eggs
1 cup panko bread crumbs
1 Tbls olive oil
½ cup all purpose flour
salt and pepper
5 Eggo® Homestyle Minis waffles
5 slices of baked bacon
3 slices of swiss cheese, quartered
lettuce
Roma tomato, sliced
Hidden Valley Ranch dip
Instructions
Cut up the chicken breasts into nugget-sized pieces. Marinate in buttermilk and hot sauce for 3+ hours. Remove chicken from marinade.
Preheat oven to 400 degrees. Spread panko bread crumbs on a baking sheet and bake until golden brown (approximately 5-7 minutes). Transfer to a shallow dish. Add olive oil and stir to combine.
Place eggs in a separate shallow dish and lightly beat.
Place flour in a separate shallow dish. Salt and pepper the flour.
Preheat oven to 450 degrees.
Place a wire rack in a baking sheet and spray with cooking spray.
Coat chicken in flour, shaking off excess, dip in egg, letting excess drip off, and then finally coat with the panko mixture. Place on rack and let sit for 10 minutes before baking.
Bake until chicken is cooked through (approximately 12-15 minutes) turning and flipping chicken halfway through.
Meanwhile, prepare waffles according to package instructions and set aside.
To assemble:
Spread a teaspoon of ranch dip on two waffles. Top with bacon, cheese, chicken nugget, lettuce, tomato, and finally the second waffle. Serve immediately.
Makes 10 sliders.
Each bite is absolute perfection and the boys just love the tiny size of these sliders – so much fun!  We had these for dinner after swim practice and boy were they filling!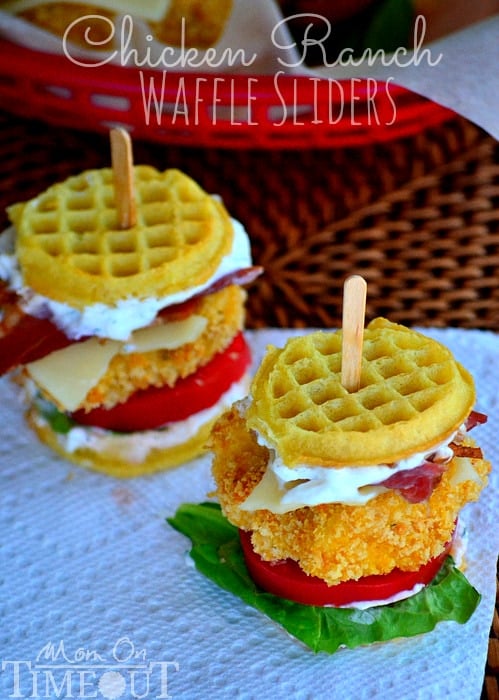 I was selected to be a Chief Waffle Officer by Kellogg's which means I will be sharing seven Eggo waffle recipes in seven days.  You don't need to wait for my recipes though – head on over to Eggo's Facebook page and enter the Great Eggo Waffle Off! contest with your own recipe creation!
Now that you've seen some of what you can do with waffles – where would you like to see waffles on the menu??  Birthday parties, snack days at school, barbecues?  The possibilities are endless and I'd love to know what you think!
Don't miss my other waffle creations!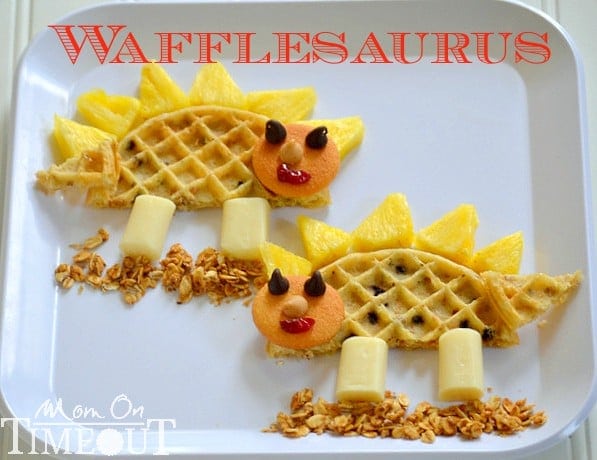 Wafflesaurus After School Snack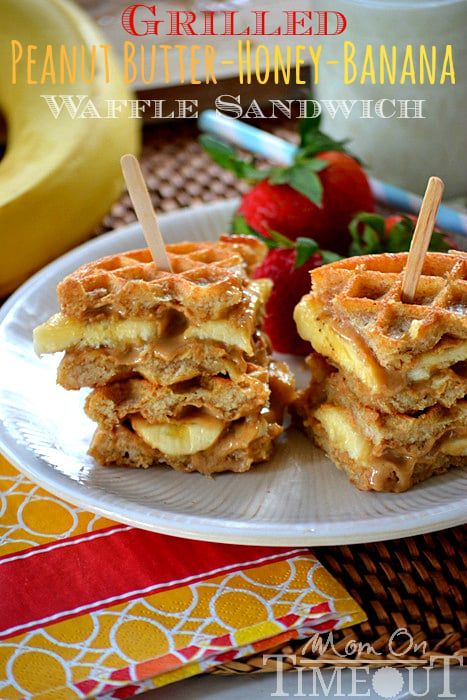 Grilled Peanut Butter-Honey-Banana Waffle Sandwich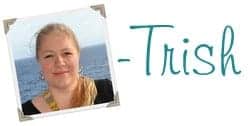 Connect with me!
 Linking up here, Home Stories A2Z, Savvy Southern Style, Serenity Now, and My Repurposed Life.
Disclosure: Kelloggs sponsored this post and provided me with products and compensation to develop this Eggo waffle recipe. All opinions are, as always, 100% my own. #EggoWaffleOff