Brussels Sprouts made more delicious with a creamy cheese sauce and bacon!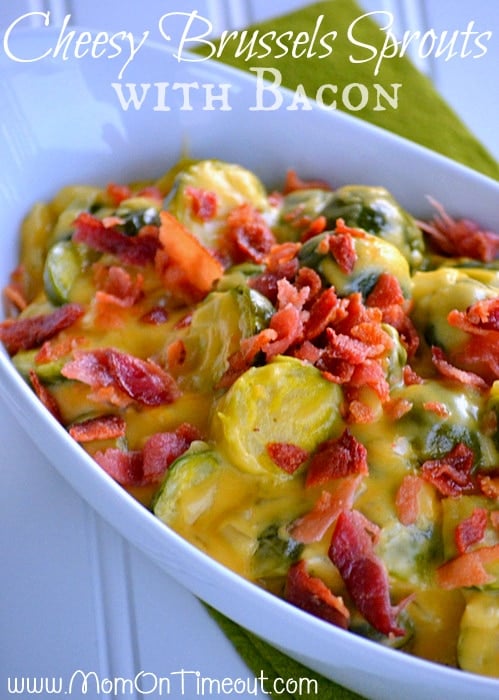 Side dishes can be a little boring.  I put so much focus on the main dish that sides are often an afterthought.  Both of my boys happen to love salads so that's what I frequently serve with dinner.  I've been trying to introduce new vegetables to them each week and also continually offering those veggies that they don't L.O.V.E. at first bite.  Brussels sprouts are definitely one of those veggies.   I think you either love them or hate them.  I happen to really love them, my husband – not so much.  I think serving up Brussels sprouts with creamy cheese sauce and topping them with bacon is a great way to introduce Brussels sprouts and man are they good!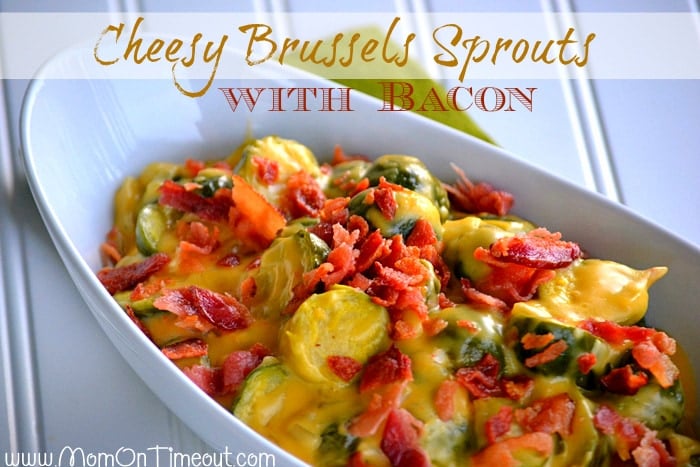 We all know that I love cooking for my family but I'm always on the lookout for shortcuts in the kitchen.  Progresso Recipe Starters are available in five flavorful varieties and are a great way to save time AND add flavor to your meals.
I'm officially hungry!  I used the Creamy Three Cheese sauce in this recipe and have my eye on the Fire Roasted Tomato- yum!  I'm so excited to be able to give you an opportunity to win this awesome prize pack shown below: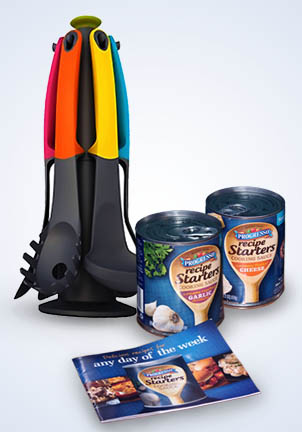 A set of 6 kitchen tools that is designed to improve hygiene and minimize the mess made by placing utensils onto kitchen surfaces during use
Progresso Recipe Starter recipe book featuring 5 recipe ideas
Can Progresso Recipe Starter (Creamy Three Cheese)
Can Progresso Recipe Starter (Parmesan Basil)
Enter using the rafflecopter form and good luck!
a Rafflecopter giveaway

Cheesy Brussel Sprouts with Bacon
Ingredients
1½ lb fresh Brussels sprouts, 1 to 1½ inch, cut in half (6 cups)*
2 tablespoons butter or margarine
1 medium onion, chopped (1/2 cup)
2 tablespoons Gold Medal® all-purpose flour
1 can (18 oz) Progresso™ Recipe Starters™ creamy three cheese cooking sauce
½ cup shredded Cheddar cheese (2 oz)
6 slices bacon, crisply cooked, crumbled
Instructions
Heat oven to 350°F. In 3-quart saucepan, place Brussels sprouts and enough water just to cover sprouts. Heat to boiling; boil 6 to 8 minutes or until crisp-tender. Drain; place in ungreased 2-quart casserole.
In same saucepan, melt butter over medium-high heat. Add onion; cook 2 to 3 minutes, stirring frequently, until crisp-tender. Add flour; cook until well blended (mixture will be thick). Gradually add cooking sauce until mixture is well blended. Heat to boiling, stirring constantly; boil and stir 1 minute. Remove from heat; stir in cheese until melted. Pour over Brussels sprouts in casserole; mix gently.
Bake uncovered 25 to 30 minutes or until hot and bubbly. Sprinkle with bacon.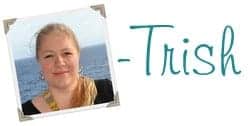 Connect with me!
 Linking up here, Home Stories A2Z, Savvy Southern Style, and My Repurposed Life.
Disclosure:  The information, products and Progresso™ Recipe Starters™ gift packs were provided by Progresso through MyBlogSpark.  All opinions are, as always, 100% my own.