These freezer-friendly Bacon Potato and Cheese Waffles make school mornings just a little bit easier and a lot more yummy! Perfect for breakfast, brunch, or an after school snack!
I'm crazy excited to be partnering with Challenge Dairy as an ambassador for their Real Challenge Foodies program this year.  I'll be bringing you awesome recipes, like this one, made with real Challenge butter!
Let's be friends! Sign up to get my new recipes in your inbox! Follow me on Facebook and Instagram too!
Anyone have any trouble at all on school mornings? You know, getting your sleepyhead kids out of bed, getting them dressed, checking for homework, packing lunches, and then getting them out the door and arriving at school…on time?  Shoot! I didn't even mention the most important part, and perhaps the most challenging, breakfast!
School days are challenging…no doubt.  But they can be made easier with a little planning.  These Bacon, Potato and Cheese Waffles are exactly what mama ordered. Packed full of flavor, my boys devour these waffles like there aren't any more in the freezer…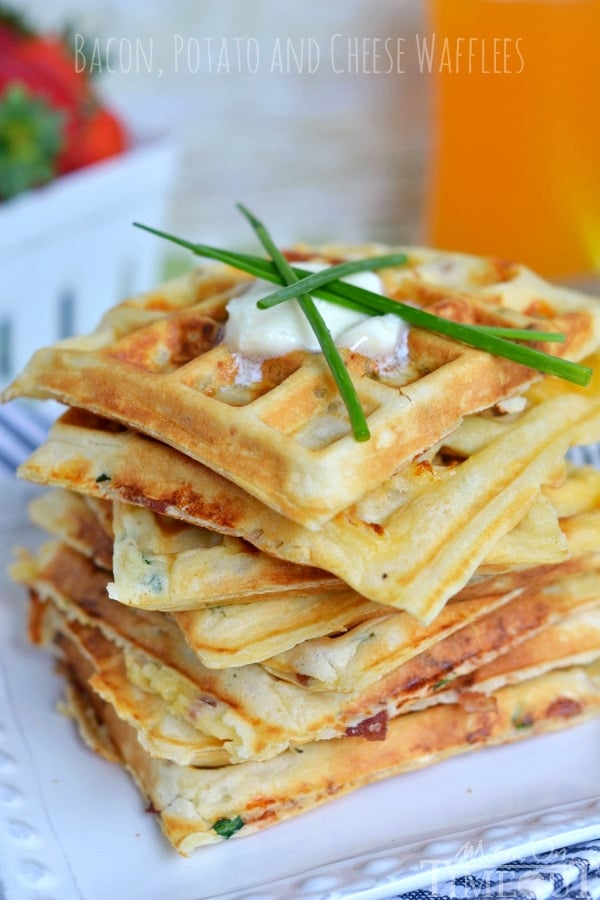 But there are! Along with our tried and true freezer breakfast burritos, these waffles are a staple in our freezer.  I went with bacon for this batch but sausage, ham or anything else you want to throw in there is just fine.  You can make them fresh in the morning (they take under 20 minutes) or make ahead and freeze (for up to 3 weeks!).  Pop them in the toaster on busy mornings, just as you would store-bought waffles, and breakfast is served in minutes!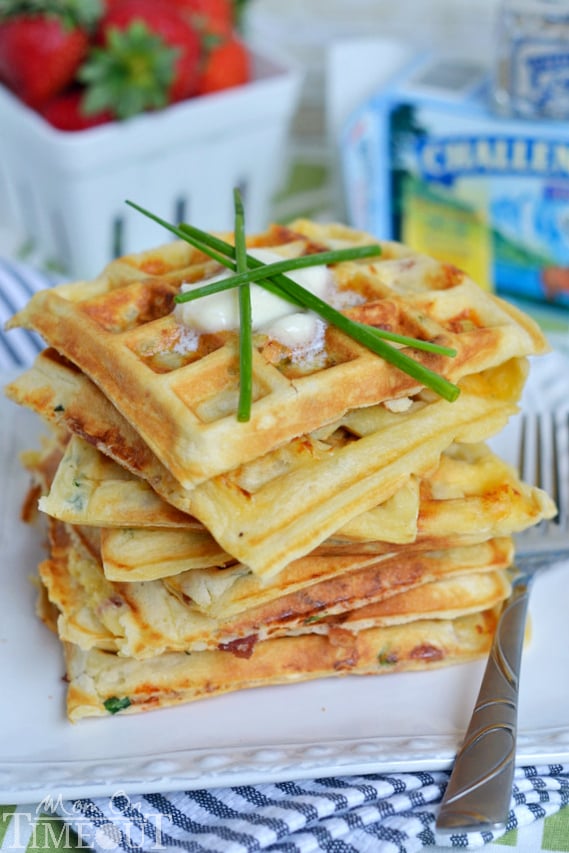 These waffles can be eaten on the go, for those super crazy mornings, or if you've got the time, topped off with yummy Challenge butter and drizzled with maple syrup.  Serve with your favorite fruit and a glass of milk and breakfast is DONE.  And you're like, dang, I am gooood!
Challenge Butter is made from 100% real cream. For real.  The cows that produce this milk are not treated with the growth hormone rbST.  It's a butter that I feel good about feeding to my family. It's honestly my favorite butter and I have been using it FOREVER.  Kind of awesome that I get to talk about them like, all the time now, because I really do love them SO much!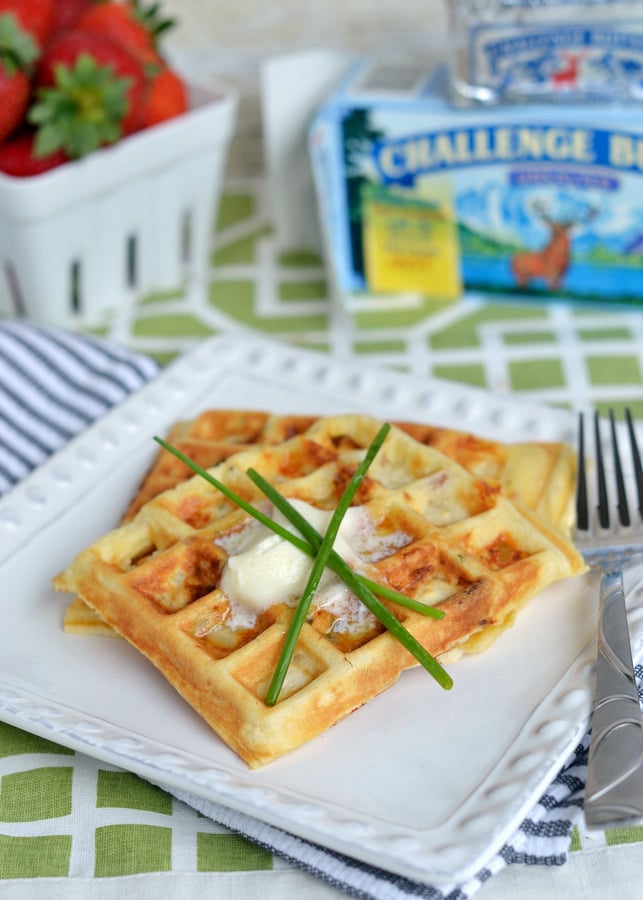 PIN IT NOW!

Bacon Potato and Cheese Waffles
These freezer-friendly Bacon Potato and Cheese Waffles make school mornings just a little bit easier and a lot more yummy! Perfect for breakfast, brunch, or an after school snack!
Author:
Trish - Mom On Timeout
Ingredients
1 cup refrigerated hash browns (if using frozen, thaw and pat dry)
¼ cup Challenge Unsalted Butter
1 teaspoon salt
½ teaspoon pepper
1¾ cups all-purpose flour
1 Tablespoon baking powder
2 cups milk
2 eggs, lightly beaten
½ cup shredded sharp cheddar cheese
5 strips bacon, cooked and crumbled
2 Tablespoons chopped chives
Instructions
Melt butter in a medium skillet. Add potatoes and cook for 3-5 minutes. Season with salt and pepper, remove from heat and let cool.
Whisk flour and baking powder together in a large bowl. Whisk in milk and eggs until smooth.
Stir in cheese, bacon, chives, and potatoes.
Preheat waffle maker and cook waffles according to manufacturer's directions.
Tips for Freezing
Place waffles on a parchment lined baking sheet making sure they don't touch. Place baking sheet in freezer for 30-60 minutes to "flash" freeze the waffles. Place frozen waffles in a ziploc bag and store for up to three weeks in freezer. To reheat, place in the toaster and toast until heated through.

Head on over to Challenge Dairy to get the full recipe for these awesome waffles!
You can thank me later 🙂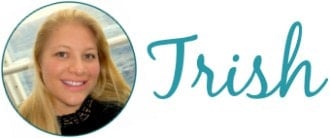 For all breakfast recipes, go HERE.
For all bacon recipes, go HERE.
Sign up to get emails when I post new recipes!
For even more great ideas follow me on Facebook – Pinterest – Instagram – Twitter –Bloglovin'.
Have a great day!
Disclosure: I was compensated for this post by Challenge Butter.  All opinions are, as always, 100% my own.