Another fabulously easy slow cooker recipe – Slow Cooker Root Beer Pulled Pork Sandwiches!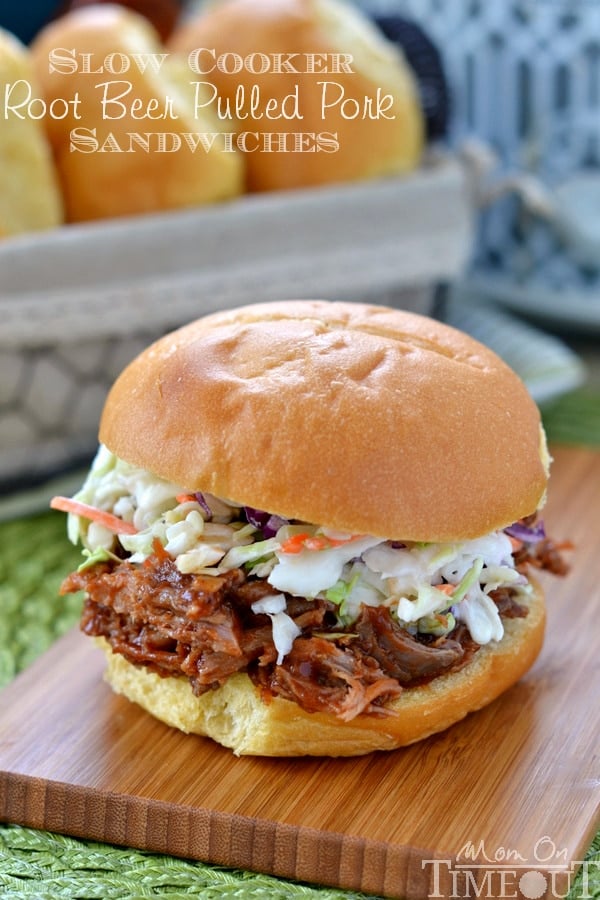 This past week was the first week in FOREVER that we didn't eat out during the week.  Swim team is done for the year and our evenings are finally freed up.  That is, until soccer starts this next week. Oh, well…
I am continually relying on my slow cooker to crank out meals on these busy weeknights – and weekends – because 1. I am so tired by the end of the day that my kids could just eat crackers and peanut butter and I'd be totally okay with it. 2. My husband  "insists" on home-cooked meals. and 3. My brain power gets sucked out by about noon so if I haven't started dinner by that time, chances are good I won't be able to think of anything that night.
Enter the slow cooker.
This is one of my favorite slow cooker meals because it's a whopping three ingredients.  Two of which I always have on hand – root beer and barbecue sauce.
I grab some buns, whip up my Copycat KFC Coleslaw and bam – dinner is DONE.  Oh, and did I mention that this pulled pork is killer?? I mean, SO good!  You can also use this on chicken breasts.  Just sub in equal weights and you're good to go.  Don't have root beer? Try Dr. Pepper instead – also insanely delicious.
So here's the crazy thing, you can't.taste.the.root.beer. Promise.
It really does not taste like drinking a root beer when you bite into these sandwiches. However, root beer does seem to go quite well with them…
Now for the barbecue sauce.  Here's the thing – just use your favorite sauce and you can't go wrong. If you like it a little spicy, use a spicy sauce, if you like a little molasses, go with a sauce with molasses.  As long as you pick a barbecue sauce you love, you're going to go crazy for this pulled pork.
So, I truly hope I've convinced you to give this recipe a try.  Your family will thank you!

Slow Cooker Root Beer Pulled Pork Sandwiches
Slow Cooker Root Beer Pulled Pork Sandwiches - simple and delicious!
Ingredients
2 lb pork loin roast
12 oz can of root beer (your favorite)
18 oz bottle barbecue sauce (your favorite)
8 hamburger buns
Instructions
Place pork in slow cooker.
Pour root beer over the pork.
Cover and cook on low heat for 6 hours or until it shreds easily with two forks.
Remove pork and shred it using two forks.
Drain liquid from slow cooker.
Return shredded pork to slow cooker and stir in barbecue sauce.
Continue heating on low for an additional 30 minutes.
Serve on hamburger buns with coleslaw if desired.
More slow cooker favorites:
Slow Cooker Philly Cheesesteaks
And for more slow cooker inspiration…
Connect with me!
 Linking up at some of these parties.