My favorite cookies just got even better with brown butter and toffee! Giant, Chewy Brown Butter Toffee Chocolate Chip Cookies – pretty much the most amazing cookie ever!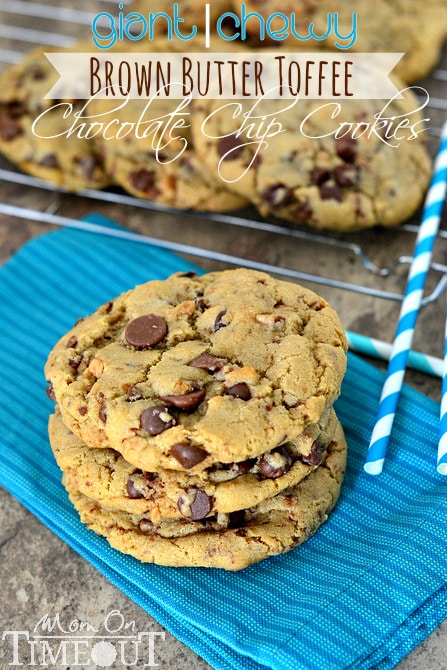 A couple of nights ago I had the strongest craving for chocolate chip cookies. But not just ANY chocolate chip cookie. What I wanted was a Giant, Chewy Chocolate Chip Cookie because, well, they are the bestest! There is something about chocolate chip cookies that is just so comforting and amazing and makes me oh-so happy. Had a bad day? Eat a cookie.  Celebrating something? Time to eat a cookie.  The boys went to bed on time?  Bake some cookies.  And then eat one.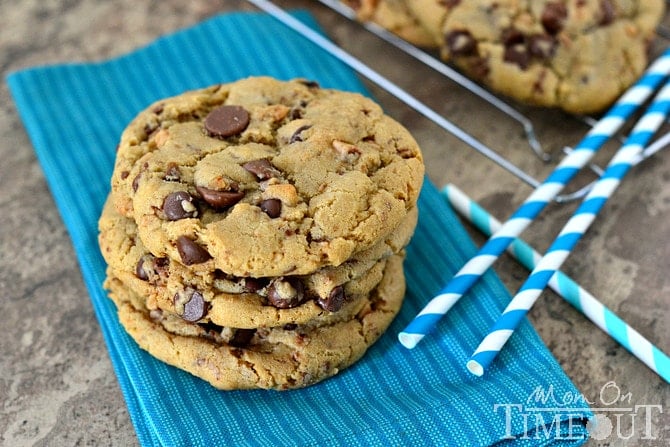 As I was pulling out the ingredients it occurred to me that I should try my recipe with brown butter. I've long been a HUGE fan of brown butter cookies and for some reason, had yet to try it with my very favorite cookie recipe. I got the butter browning and pulled out my tub of "baking stuff" where I happened across about 3,067 half-used bags of chocolate chips, toffee bits, caramel bits, etc.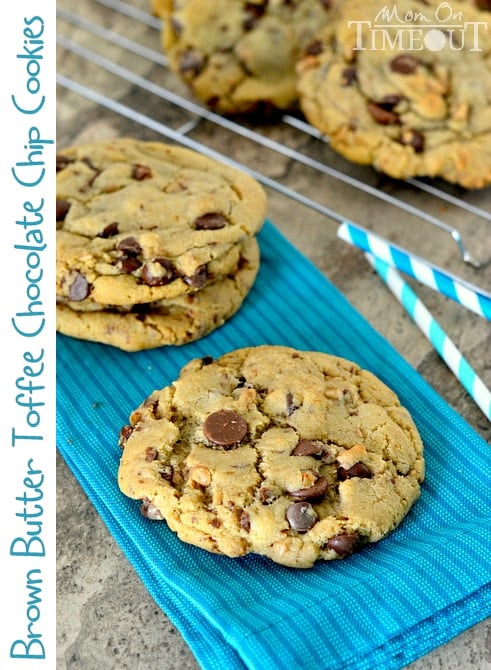 I called over to Chris who was sitting on the couch to find out what sounded good for the cookies. Now Chris is ALWAYS up for cookies and he is usually a strict "only chocolate chips" guy but we compromised and went with Heath toffee bits and a combination of milk chocolate and semi-sweet chips.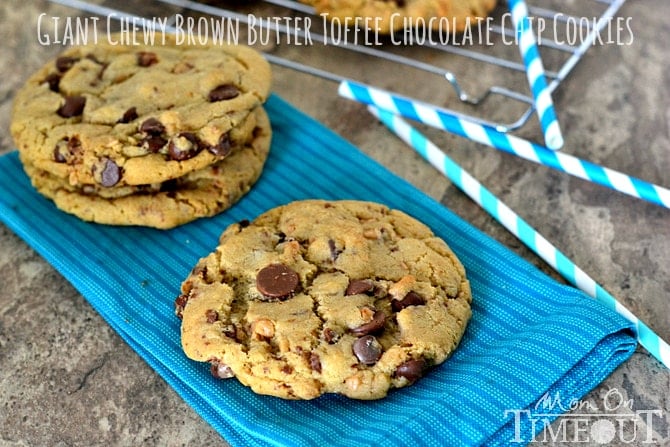 Now this particular recipe requires an hour of chilling (pure torture!) so we sat down to watch Under the Dome. The house was already smelling amazing from the brown butter and after about 45 minutes I decided it was close enough and pulled the dough out a few minutes early because I. Just. Could. Not. Wait. Another. Second. Fifteen minutes later I was pouring myself a glass of milk and enjoying perhaps the greatest cookie I have ever had in my life. Ever.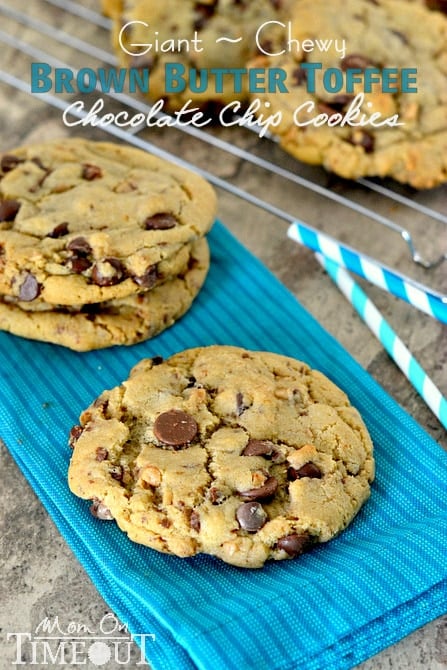 These are now officially my new favorite cookie.
Soft and chewy and incredibly tender on the inside. Slightly crunchy on the outside and did I mention giant?? Yes. Like big enough that you really only want to eat one and then you feel so good about yourself because you only ate one that it's pretty easy to convince yourself that you need to make these more often because you have developed amazing self control and will only eat one cookie.
Or is that just me??
Anyways. you want these. Trust me. Reece and Bryce assured me that these were AMAZING. I asked Reece "Are they good?" His response? "Mommy. These are not good…they're amazing!" Love that little guy!
Giant, Chewy, Brown Butter Toffee Chocolate Chip Cookies
My favorite cookies just got even better with brown butter and toffee!  Giant, Chewy Brown Butter Toffee Chocolate Chip Cookies – pretty much the most amazing cookie ever!
Ingredients
2

cups

flour

1/2

tsp

baking soda

1/2

tsp

salt

1/2

tsp

corn starch

1

tbsp

vanilla

3/4

cup

unsalted butter

1

cup

brown sugar

1/2

cup

white sugar

1

egg

room temperature

1

egg yolk

room temperature

1

cup

semi-sweet chocolate chips

or milk chocolate chips or a combination of chips

1

cup

Heath toffee bits
Instructions
Combine the dry ingredients (flour, baking soda, salt, corn starch) and sift together.

Melt the butter in a small skillet over medium heat. The butter will start to foam and then start browning. You will be able to smell a nutty aroma when it's ready. Remove from heat and allow to cool slightly. Do not burn!

Cream butter with sugars together in a large mixing bowl.

Beat in the vanilla and then add in the egg and egg yolk and continue beating until the mixture is light and creamy.

Add in the dry ingredients and mix just until combined.

Stir in the chocolate chips and toffee bits.

Put the dough in the refrigerator for an hour to chill.

Preheat oven to 325 degrees.

Drop cookie dough 1/4 cup at a time onto a parchment lined baking sheet.

Space cookies about 3 inches apart and bake for 15 to 17 minutes.

The cookies are done when the edges are golden. Let the cookies cool on the baking sheet for a few minutes and then transfer to a wire racks to finish cooling.

Enjoy!
Nutrition
Calories:
385
kcal
|
Carbohydrates:
51
g
|
Protein:
4
g
|
Fat:
19
g
|
Saturated Fat:
11
g
|
Cholesterol:
62
mg
|
Sodium:
165
mg
|
Potassium:
140
mg
|
Fiber:
2
g
|
Sugar:
32
g
|
Vitamin A:
415
IU
|
Calcium:
35
mg
|
Iron:
2
mg
More cookies we love: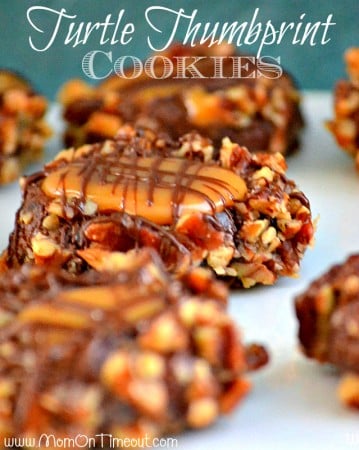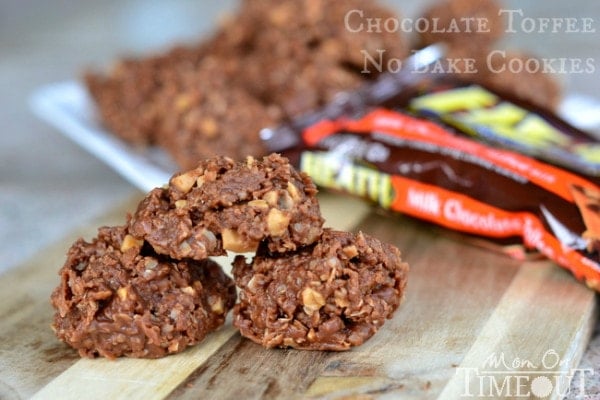 Chocolate Toffee No Bake Cookies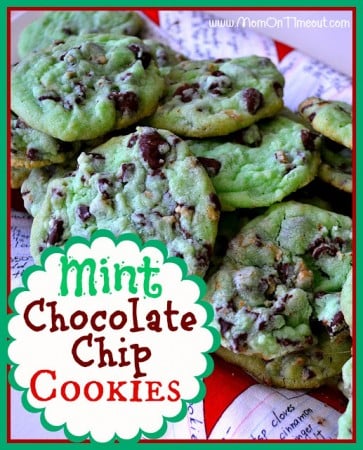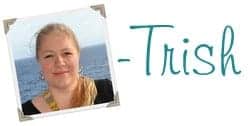 Connect with me!
 Linking up at some of these parties.