Celebrate the sweetness of Valentine's Day with these Easy Valentine's Day Patties – you choose the flavor!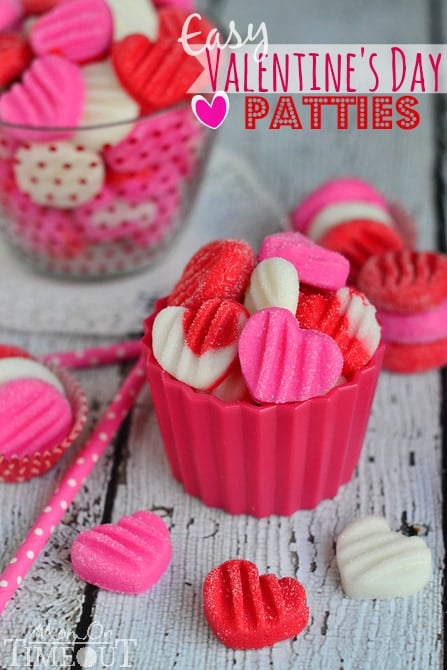 Come on now! You guys all KNEW this one was coming, right? I revamped my easy Christmas Peppermint Patties and I made my most favorite flavor ever – cherry! Now, obviously you could use whatever flavor of extract your heart desires. Strawberry, cherry, vanilla, rum, banana…you get the idea, yes?
Now if you're like one of those super moms, you could totally make multiple flavors and be the talk of the town. Strawberry pink patties, cherry red patties, pina colada white patties. Just threw that in there.
Now I want to make pina colada patties. Shoot!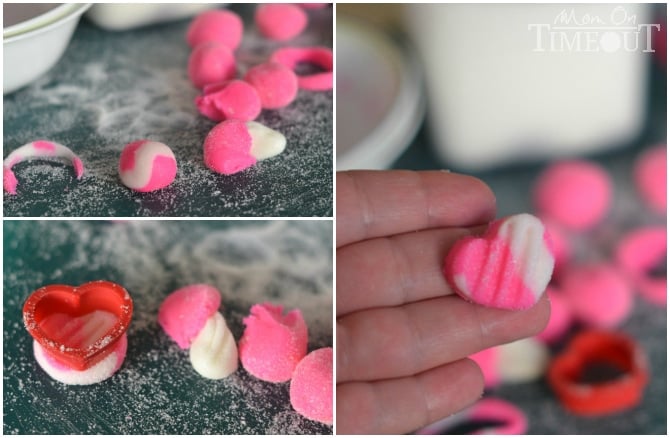 So you might have noticed that I added a few twists to these patties. One, some of these bad boys are heart shaped. Cause who can resist hearts when we're so close to Valentine's Day? Not me!
Super easy to do. Just make your patties as instructed and then use a small heart-shaped cookie cutter to cut the heart-pattie out. I totally tried to roll out the dough and cut them out like sugar cookies BUT it.just.didn't.work. Whatevs. This was just as easy. Oh yeah. Those scraps? Totally reusable AND those sweet thangs are what gave me my next idea…
You can make tie-dye looking hearts (or circles!) by just rolling together two or more colors at a time! Super easy and my kids totally think I'm a genius now. I'm not sure why they didn't before but…ok.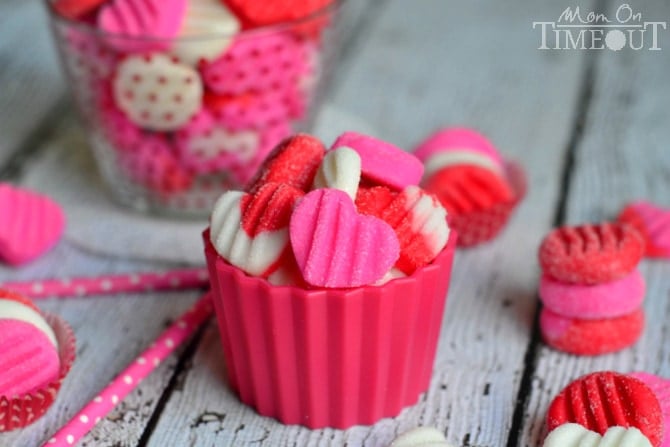 So when you're all done (10 minutes later) you can package these up for the kiddos or be a hoarder and eat them all by yourself. I will NOT judge.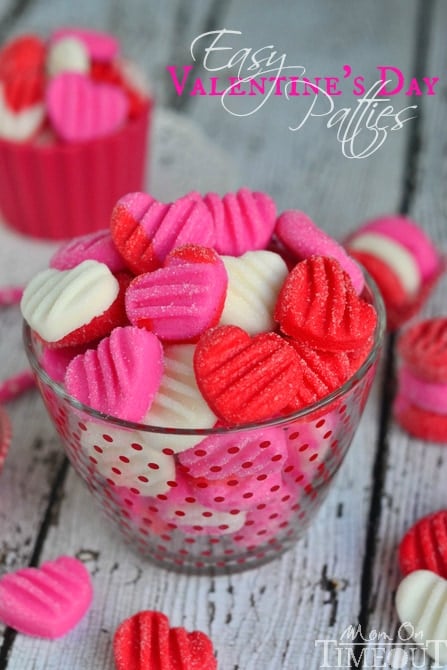 Oh my goodness these things are addictive! Get them out of your house quick if you can 🙂 So there you have it, totally easy Valentine's Day Patties. Make them. Now!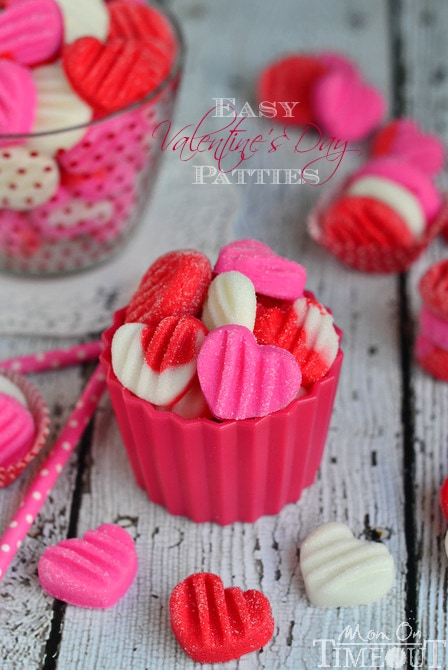 Easy Valentine's Day Patties
You're going to love this Easy Valentine's Day Patties recipe! Super easy to make, fantastically festive, and always a hit with kids and adults alike. These holiday treats are perfectly sweet treats for friends and family on this special day!
Ingredients
1/4

cup

butter

softened

1/3

cup

light corn syrup

4

cups

powdered sugar

divided

1

tsp

your choice of extract or candy flavoring

1 to 2 tsp

food coloring

preferably gel or paste

1/2

cup

granulated sugar

to roll balls in
Instructions
Combine butter and corn syrup together in a small bowl.

Add 2 cups powdered sugar and your choice of extract and beat until well combined. Add extract 1/2 teaspoon at a time until the mixture reaches your desired flavor.

Stir in an additional cup of powdered sugar.

Turn bowl onto a cutting board sprinkled with last cup of powdered sugar.

Knead the mixture until sugar is absorbed and is completely smooth.

Divide dough into three portions.

Tint one portion red with the red food color/gel and one pink. Leave one portion white.

Shape into 3/4 inch balls and roll in granulated sugar.

Flatten gently with a fork.

Use a small heart-shaped cookie cutter to cut into heart shapes. (Optional)

Let candies stand, uncovered, at room temperature for 1 day.

Store in an airtight container.
Nutrition
Calories:
83
kcal
|
Carbohydrates:
19
g
|
Protein:
1
g
|
Fat:
1
g
|
Saturated Fat:
1
g
|
Cholesterol:
3
mg
|
Sodium:
14
mg
|
Sugar:
18
g
|
Vitamin A:
39
IU
|
Calcium:
1
mg
|
Iron:
1
mg

More Valentine's Day treats: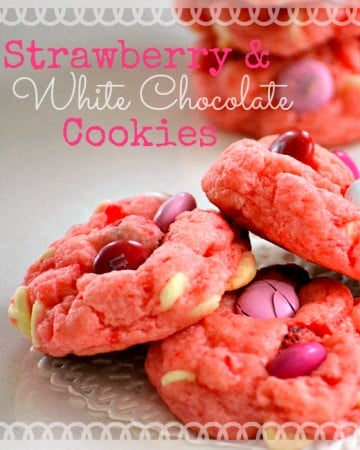 Strawberry and White Chocolate Cookies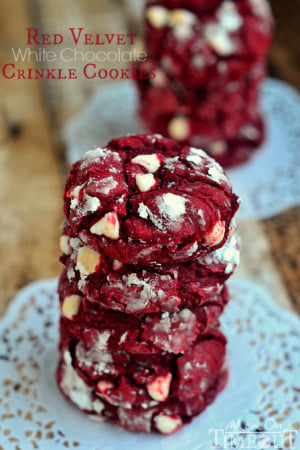 Red Velvet White Chocolate Crinkle Cookies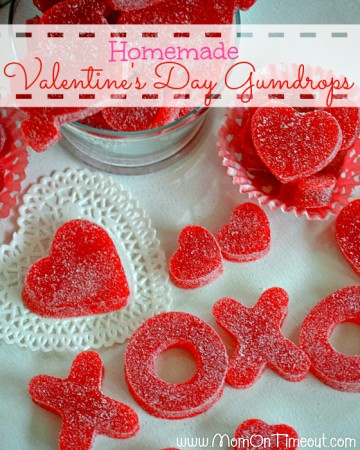 Homemade Valentine's Day Gumdrops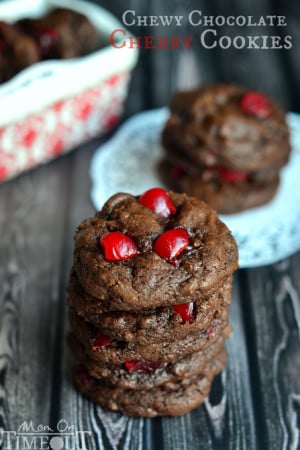 Chewy Chocolate Cherry Cookies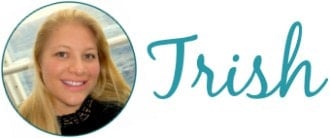 For all Valentine's Day recipes, go HERE.
For all dessert recipes, go HERE.
Sign up to get emails when I post new recipes!
For even more great ideas follow me on Facebook – Pinterest – Instagram – Twitter – Bloglovin'.
Have a great day!