Anyone can make this DIY Garden Planter Box!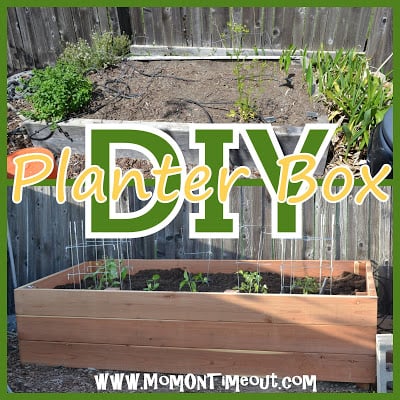 I'm so excited to share my new planter box with you! This was sooooo easy to do! Honestly, anyone can make this planter AND you can do it in just a couple of hours! Maybe less if you don't have 5 and 3 year old helpers 😉 
Last year we decided that we would build a new planter box this year because we were having a hard time growing veggies in our current planter boxes. They just weren't deep enough! We have clay soil so once the roots hit the clay – well, let's just say it isn't pretty. A couple ideas were tossed around and we finally decided on the following design: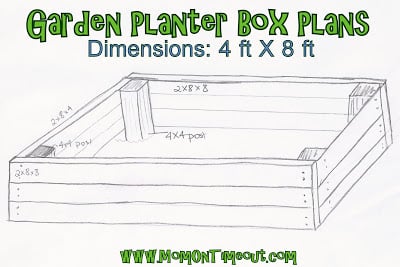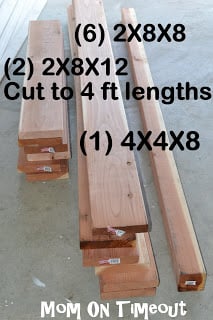 I am not an artist by any means but hopefully the illustration helps. The planter box is 8ft x 4ft and is built of redwood. You don't HAVE to use redwood but it's a great material to use for a planter box. The planter box requires the following materials:
(6) 2″x8″x8′
(2) 2″x8″x12′ – cut to 4 ft lengths, resulting in (6) 2″x8″x4′
(1) 4″x4″x8′ redwood posts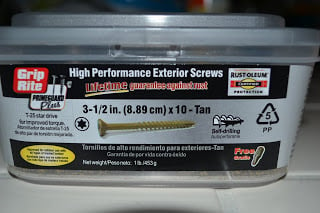 We purchased the materials at Lowes and it came to just under $170 including tax which I think is a fair price for a planter box this large. Too big for your space?? Redwood too expensive? This design can easily be modified to any size planter you desire and you can use lumber that works for your budget. For example:
4 ft x 4 ft  planter would require a total of 48 linear feet of wood, 16 ft for each level
3ft x 6 ft planter would require a total of 54 linear feet of wood, 18 ft for each level
Go to your local home improvement store and price out the different lengths of lumber and do the math to make sure you aren't wasting anything. Make sure you get your money's worth!
We had the Lowes associate cut down our 12 ft board into (3) 4 ft lengths. They are not able to cut the 4×4 post so we used a circular saw at home to do that. We cut the 8 ft post in half, and then in half again so we had four equal lengths.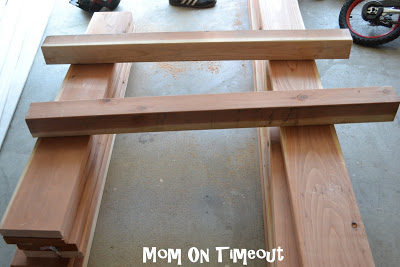 Next we began assembling the planter box. We started with a short end making sure that the pieces were squared up on both sides. We used two screw per board, per side. So four screws in each board.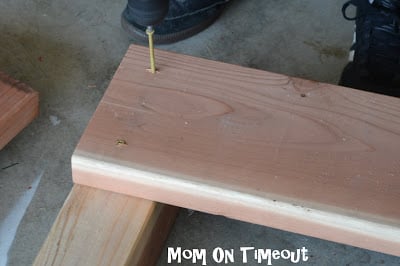 Here is what the completed "short" side looks like with all three boards in place: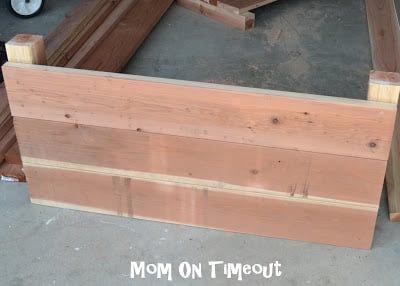 We repeated this process for the other short side and then moved the operation to the back yard. We could tell that we weren't going to be able to easily move the entire planter to the backyard once it was completely built. We made Reece carry everything 😉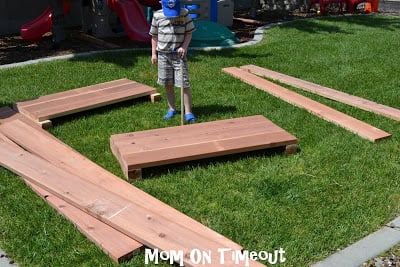 The next step definitely requires two or more people. It's crucial that each corner is squared up at this point.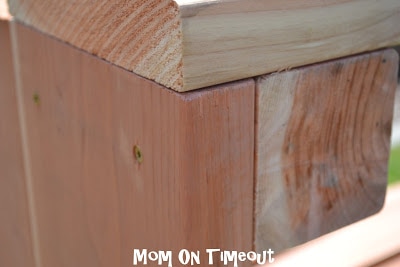 Holding up the two short sides, lay an 8 ft board across to create the long side of the planter. Making sure the first one is PERFECT makes the other two boards a breeze to install.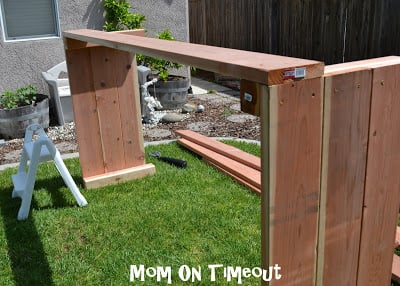 Here is the planter with three sides completed: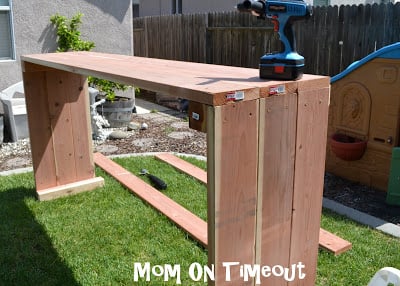 Flipping it over and onto the ground was when I realized how big this planter was – soooo exciting! This is a good view of the posts. You can see that they are a couple of inches longer than the height of the planter. These will go into the ground, stabilizing the planter box. Considering the size of this planter, it will be holding about 64 cubic feet of material. The planter isn't going to move anywhere but it would be  a good idea for smaller boxes.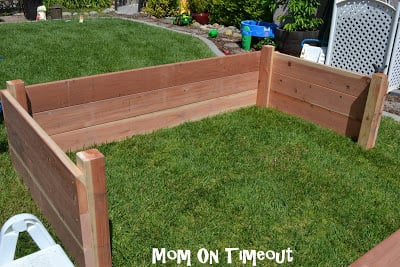 Next step – the final side!!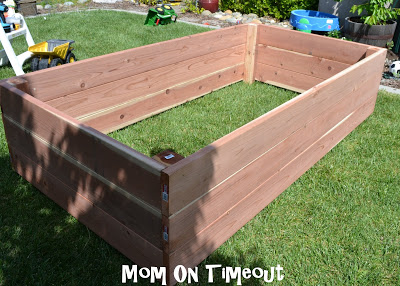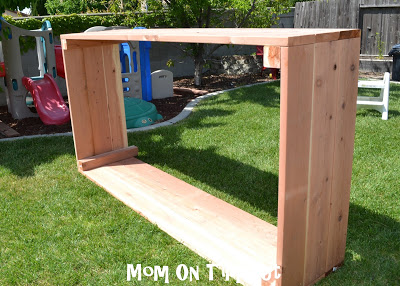 Now that the planter is done – we have to move the old one! Empty first…thanks Reece!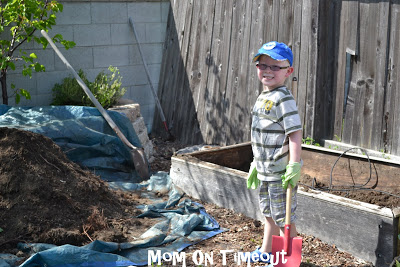 We removed the old planter and put the new one in it's place. Our old planter was 3 ft x 6 ft so this one is much larger. We made sure that the planter was nice and level before we started filling with soil.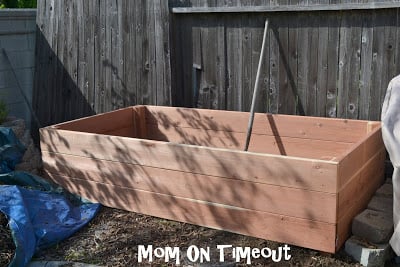 A week later we finally had it filled and started planting…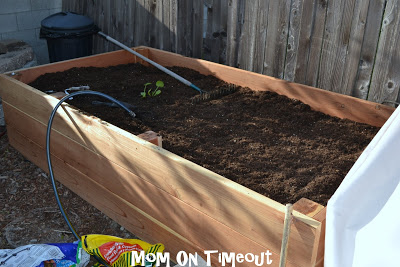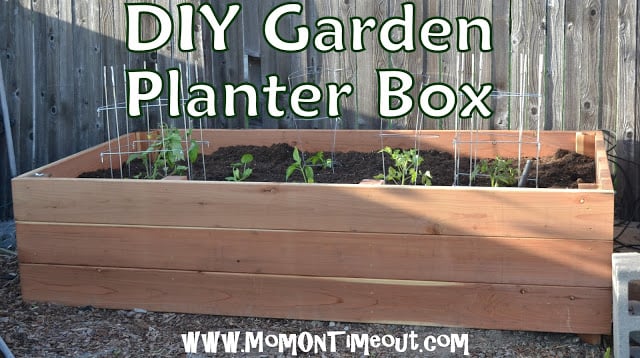 Building the planter only took a couple of hours and I think it's just GORGEOUS! We chose not to stain, paint, or line it to eliminate those chemicals in our soil. We are just going au natural and I will enjoy this beautiful color while it lasts. We have been busy planting seeds and plants and I walk out everyday and enjoy my beautiful planter.
What do you think? Do you have planter boxes or do you garden right in the ground?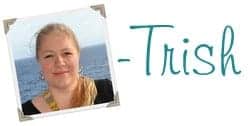 Connect with me!
Linking up here, Home Stories A2Z, Savvy Southern Style, and My Repurposed Life.