These Cheddar Bay Biscuits (Red Lobster Copycat) are entirely irresistible and can be on your table in less than 20 minutes! I dare you to eat just one! Packed with cheesy goodness, these easy biscuits are the perfect addition to every meal!
Let's be friends! Sign up to get my new recipes in your inbox! Follow me on Facebook and Instagram too!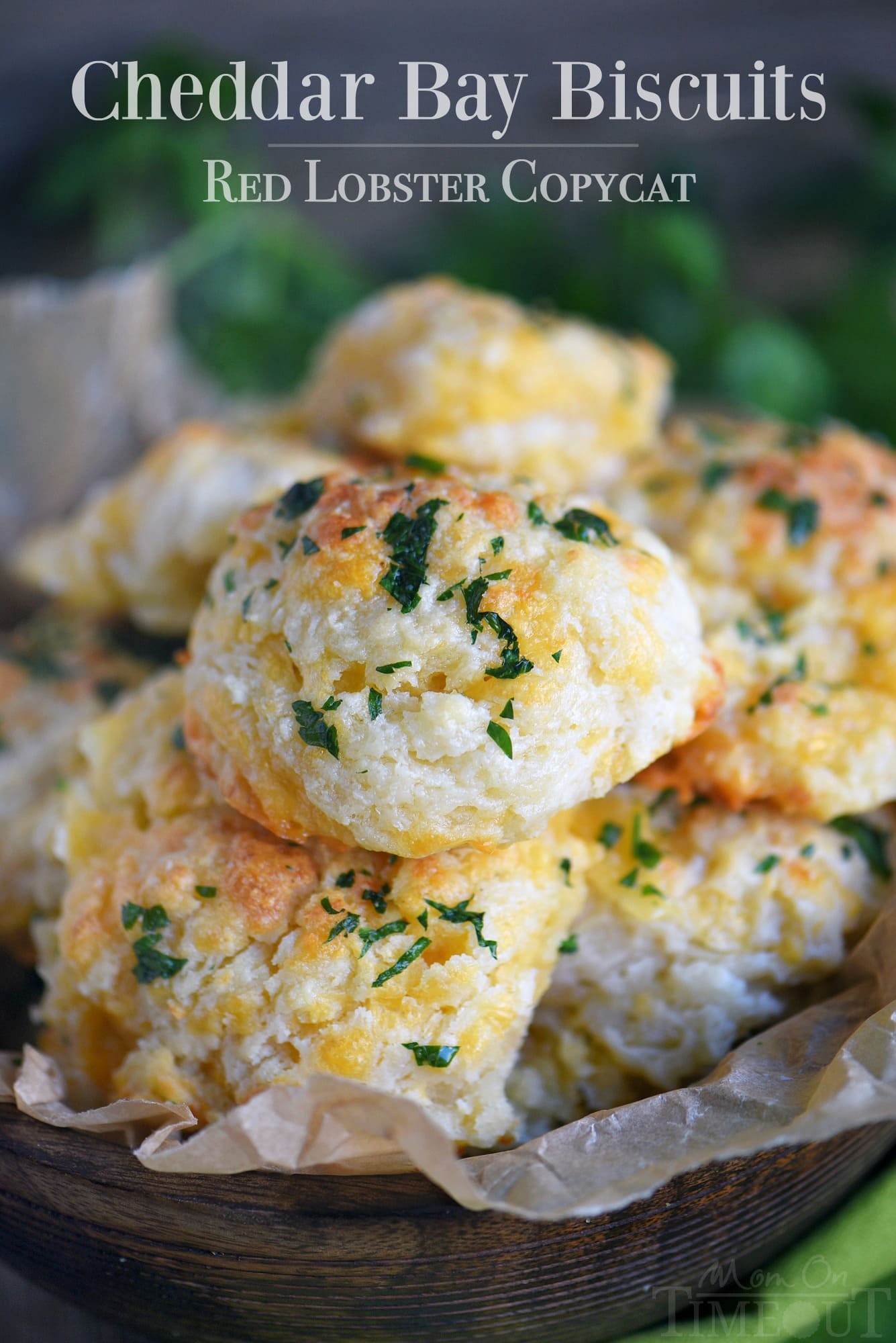 Some friends and I recently hit up one of our favorite girls night restaurants, Red Lobster, before we went and saw La La Land. I know. I'm always late to the party on this stuff.  Anyways, for days afterwards I couldn't get those melt-in-your-mouth Cheddar Bay Biscuits out of my mind. I decided I needed to come up with my own copycat version. Nailed it if I do say so myself.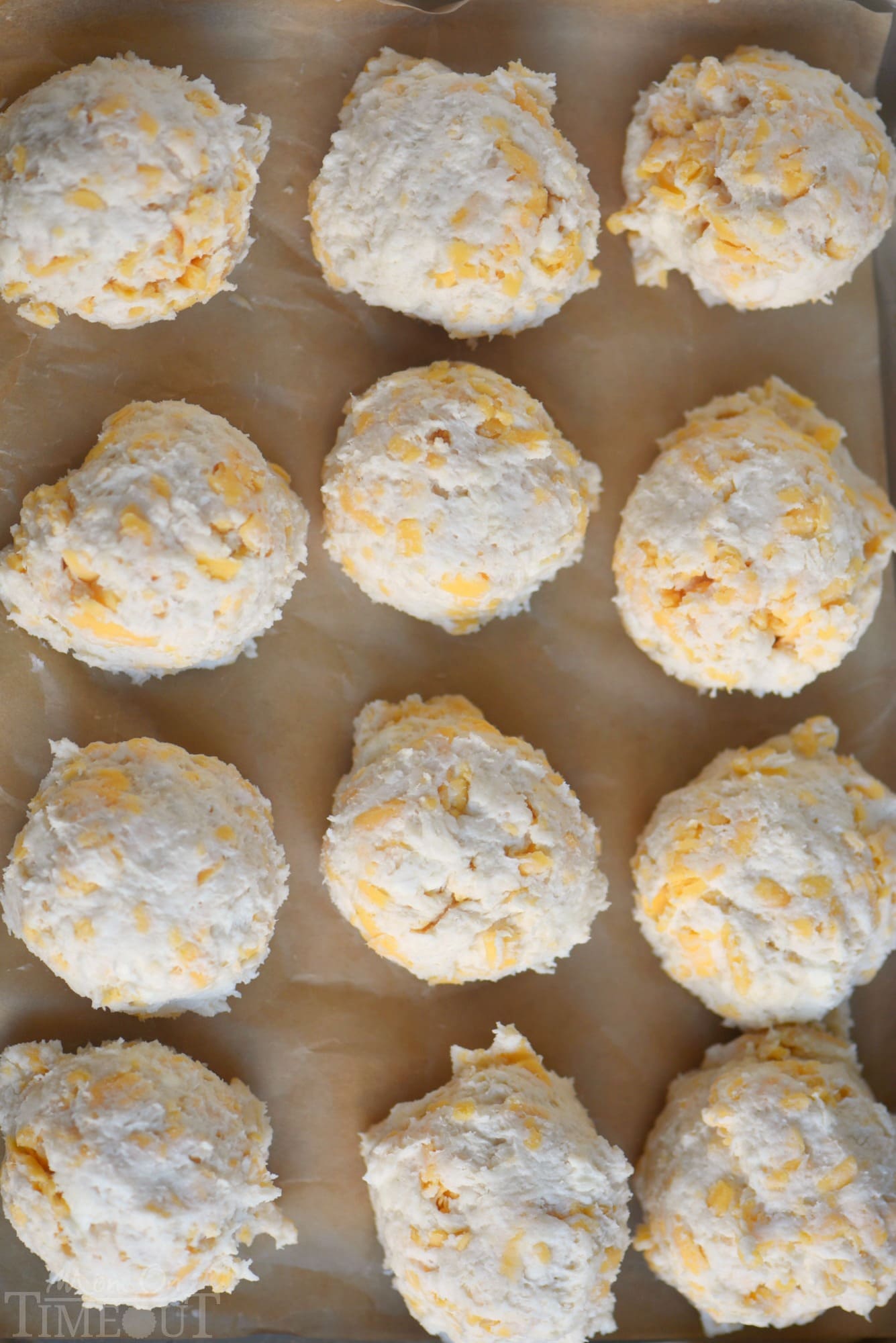 I started with my perfect biscuit recipe and then checked the ingredients list on the boxed mix that they are selling now at Costco. I pulled out the words that I recognized (not that many to be honest, lots of filler in those mixes) and created a spot-on recipe that my husband couldn't stop thanking me for.
I served them with some grilled tri-tip and a fresh garden salad last night and talk about heavenly… WOW. Lots of shredded sharp cheddar cheese creates these hot pockets within the biscuits that are gooey and fabulous. A small amount of onion and garlic powder add a lovely savoriness to these biscuits.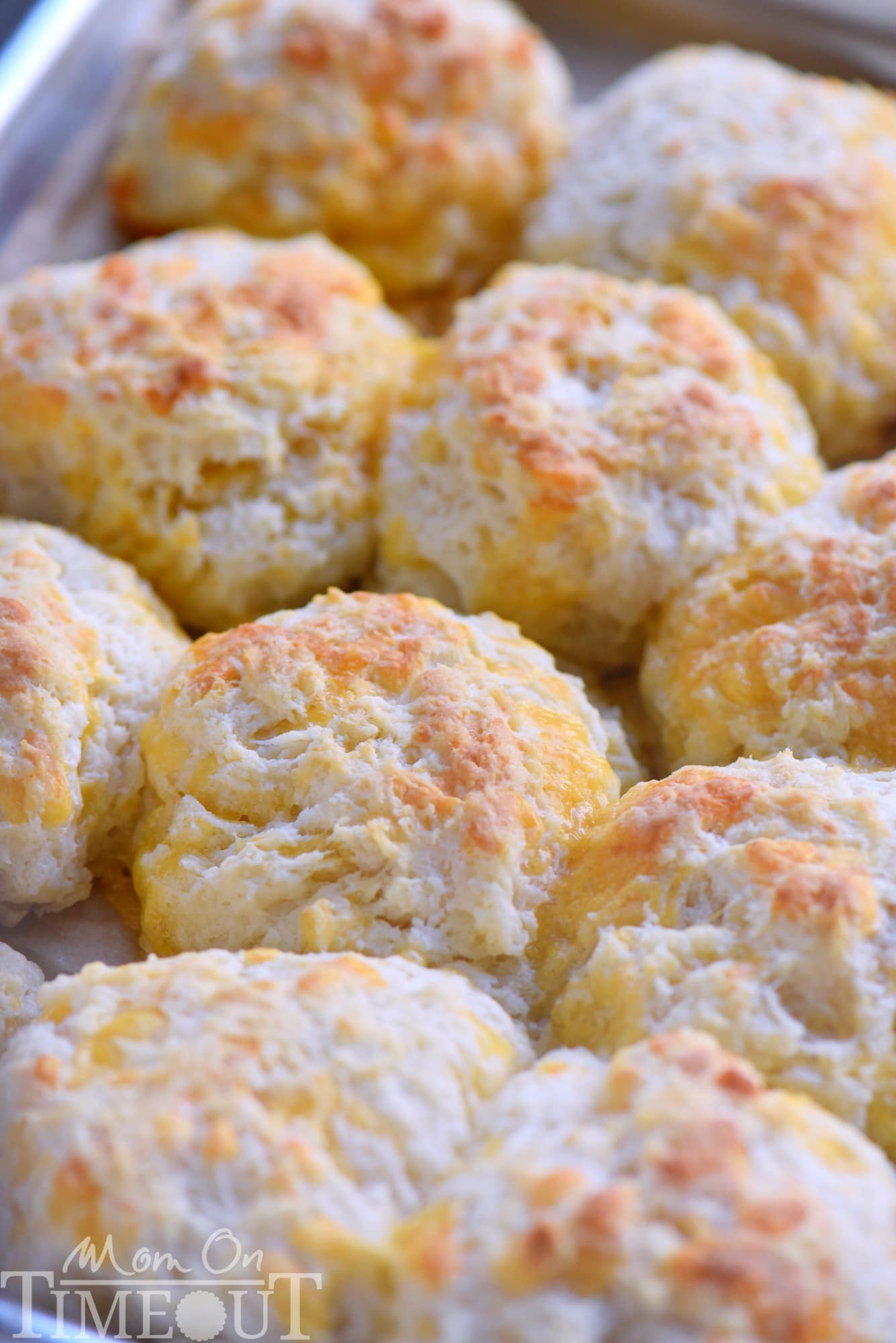 Fresh from the oven, I liberally brushed on melted butter that had been combined with garlic powder and fresh parsley. The aroma you guys! I'm glad my family loved them as much as I did or otherwise this batch of biscuits might have been devoured by just me.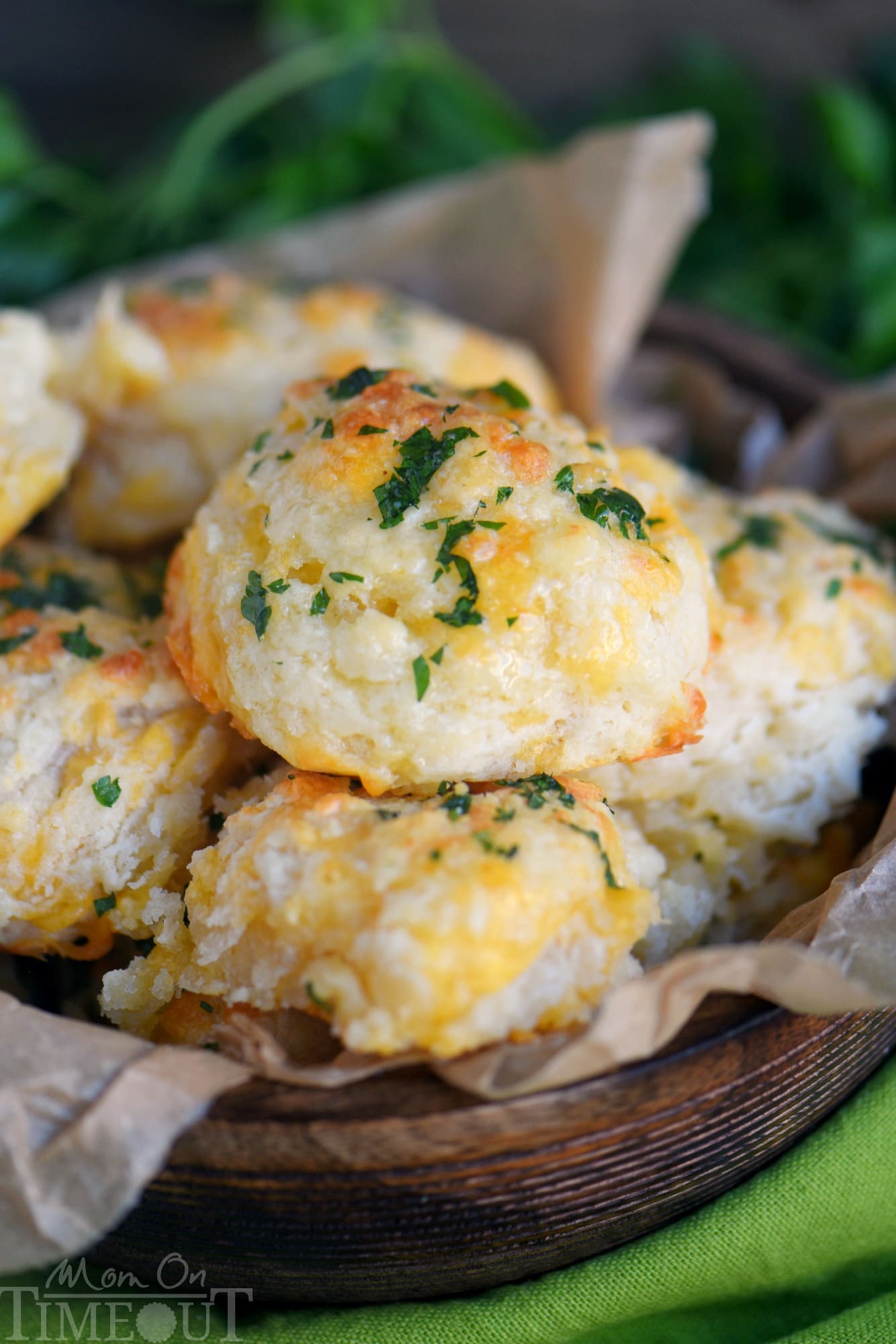 Now that I've got the Cheddar Bay Biscuits down pat, I'm thinking Cheesecake Factory for the next girls night… you see where I'm going with this, right?
Speaking of date night, I'm sure I'm not the only one who has a hard time carving out time to spend with friends. With so many family activities, it can be super challenging. But, as I like to remind myself, now that I'm officially in that adulting stage of life, I have responsibilities. Like proactively setting up date nights with friends, making sure my husband is going to feed the boys somewhat nutritional food while I'm out, and ensuring that splitting the dinner bill and movie tickets with friends is a relatively painless process.
Enter my new favorite app: Square Cash. I'm sure you've been in a similar situation before – out with friends, the bill comes, the restaurant is all like um, yeah, we don't split checks, and everyone is searching for cash in their wallet while ultimately realizing that carrying cash really isn't done anymore…. #awkward. (I for one never carry cash. My kids think we have no money because I never have cash lol)
You guys, gone are those awkward moments with Square Cash. It's the newest and easiest way to pay back money to friends and family. This app is available on Google Play Store and the Apple App Store and is FREE. Also, it works with Apply Pay – BONUS! Download the app now at Cash.me. (Enter code: HXJLHRN for a free $10 bonus just for trying it!)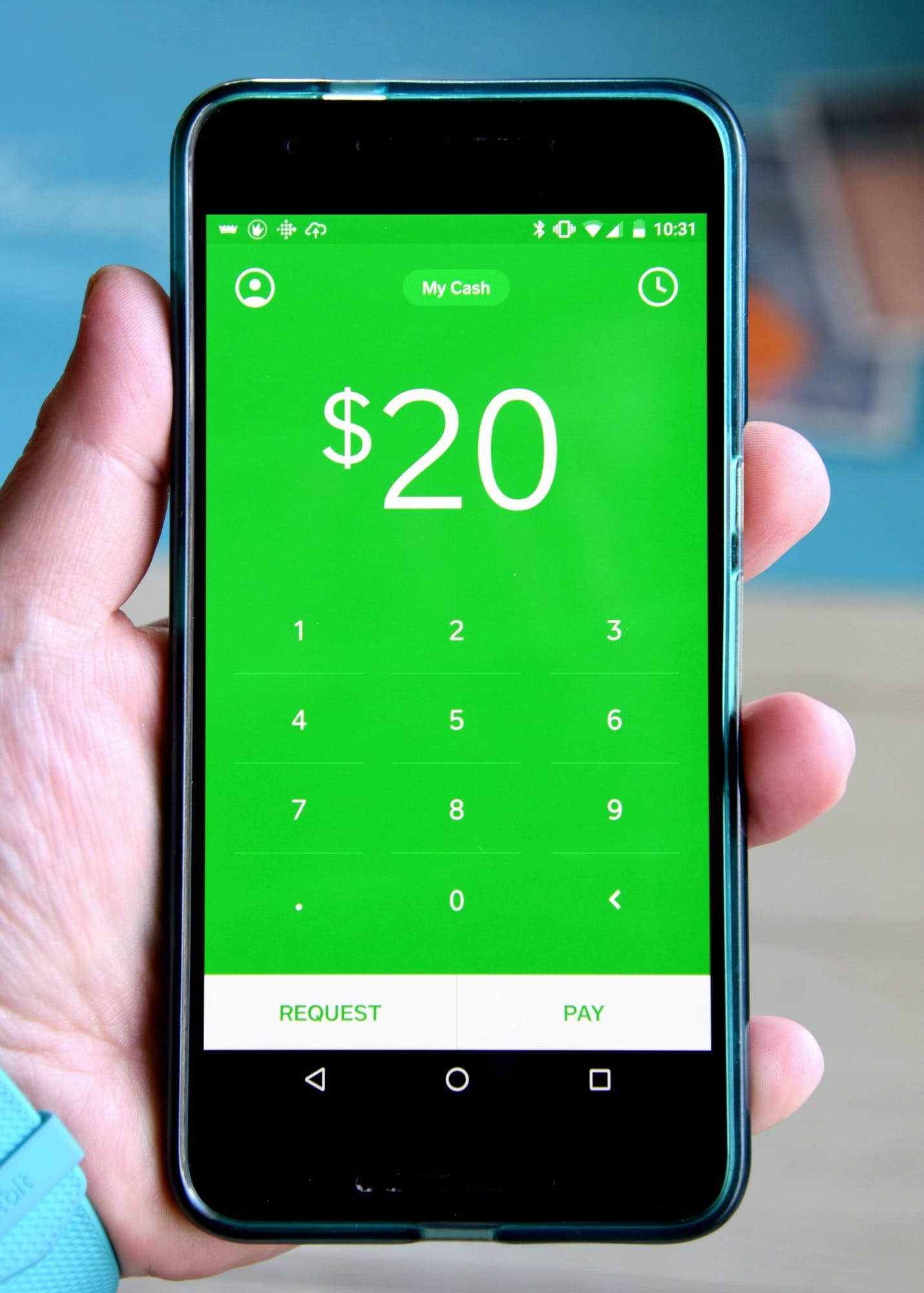 Sharing the bill with friends is easy with Square Cash, sharing your food isn't 🙂
What I'm loving about this app:
Super easy to use. Seriously. The interface is streamlined and simple and so easy to use your Grandma could easily send you money. THAT easy.
Your friends and family do NOT need to have an account set up in order for you to send money to them.
FREE. My four favorite letters. Send money to friends and family with your debit card at no cost. Download here. (Use code: HXJLHRN for a free $10 bonus just for trying it!)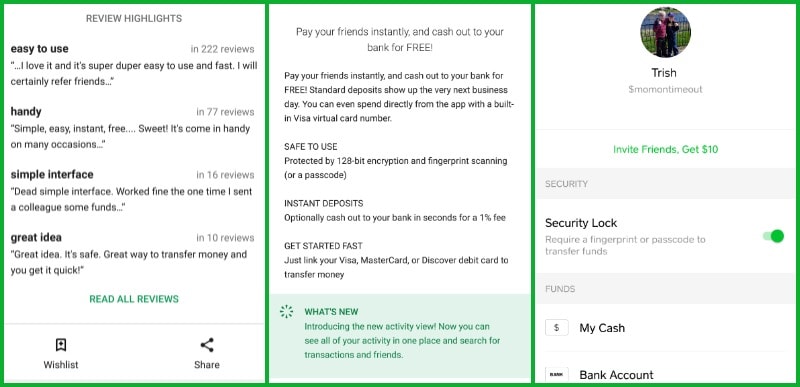 Square Cash has completely simplified the process of transferring money to friends and family. Whether you're going in together on a gift for someone, or simply splitting the dinner bill, Square Cash has got you covered.
Connect with Square Cash on Facebook, Instagram, and Twitter!
And let's not forget about these Cheddar Bay Biscuits for those nights when walking to you room to get your pj's on is about as far as you want to go 🙂
Enjoy!

Cheddar Bay Biscuits (Red Lobster Copycat)
These Cheddar Bay Biscuits (Red Lobster Copycat) are entirely irresistible and can be on your table in less than 20 minutes! I dare you to eat just one! Packed with cheesy goodness, these easy biscuits are the perfect addition to every meal!
Author:
Trish - Mom On Timeout
Ingredients
2¾ cups all-purpose flour
1 tsp garlic powder
½ tsp onion powder
1 tbsp sugar
½ tsp salt
4 tsp baking powder
¾ cup unsalted butter, cut into small pieces, cold
1 cup buttermilk
6 oz grated sharp cheddar cheese
¼ cup unsalted butter, melted
½ tsp garlic powder
2 tbsp chopped fresh parsley
Instructions
Preheat oven to 450 degrees.
Line a quarter sheet baking sheet with parchment paper and set aside.
Cut the butter into small pieces and stick back in the fridge or freezer until ready to use.
Combine the flour, garlic powder, onion powder, sugar, salt, and baking powder.
Use a pastry cutter to cut the VERY COLD butter in. You want to see small, pea-sized pieces of butter throughout the dough.
Stir in the buttermilk and mix just until the ingredients are combined. The dough will be sticky.
Stir in the shredded cheese and use your hands to fully incorporate into the dough.
Use an ice cream scoop to scoop the dough out onto the parchment lined baking sheet. Pat down gently to flatten slightly.
Bake for 12 to 15 minutes or until tops are golden brown and biscuits are cooked through.
In a small bowl, stir together the garlic powder and melted butter.
Add the chopped parsley and stir to combine.
Use a pastry brush to brush the melted butter mixture on top of each biscuit.
Serve immediately.

More cheesy favorites!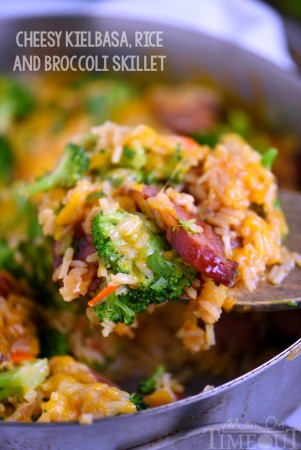 Cheesy Kielbasa Rice and Broccoli Skillet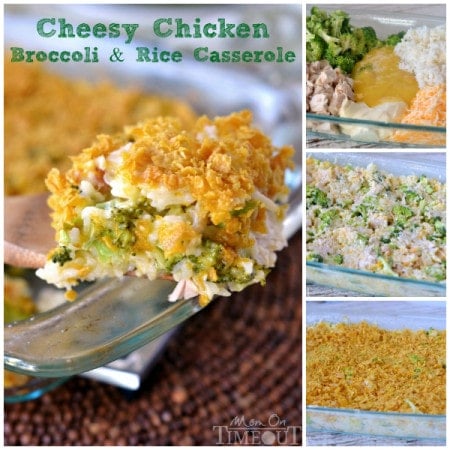 Cheesy Chicken Broccoli and Rice Casserole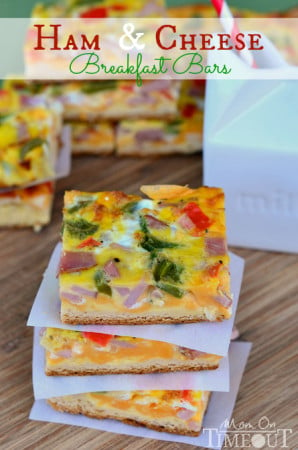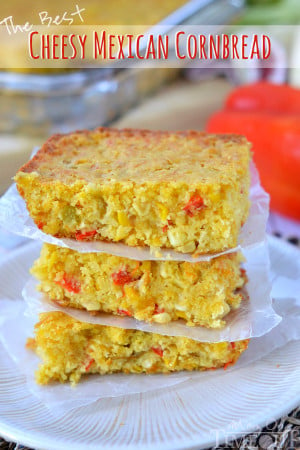 The BEST Cheesy Mexican Cornbread

For all appetizer recipes, go HERE.
For all dessert recipes, go HERE.
Sign up to get emails when I post new recipes!
For even more great ideas follow me on Facebook – Pinterest – Instagram – Twitter – Bloglovin'.
Have a great day!
This is a sponsored conversation written by me on behalf of Square, Inc. The opinions and text are all mine.