Your new favorite – Beef Brisket with Dr Pepper Barbecue Sauce! Feeding a crowd? Look no further for the perfect recipe to serve up from your grill! The Dr Pepper Barbecue Sauce is going to blow your mind! The perfect dinner recipe for your next BBQ or party!
Let's be friends! Sign up to get my new recipes in your inbox! Follow me on Facebook and Instagram too!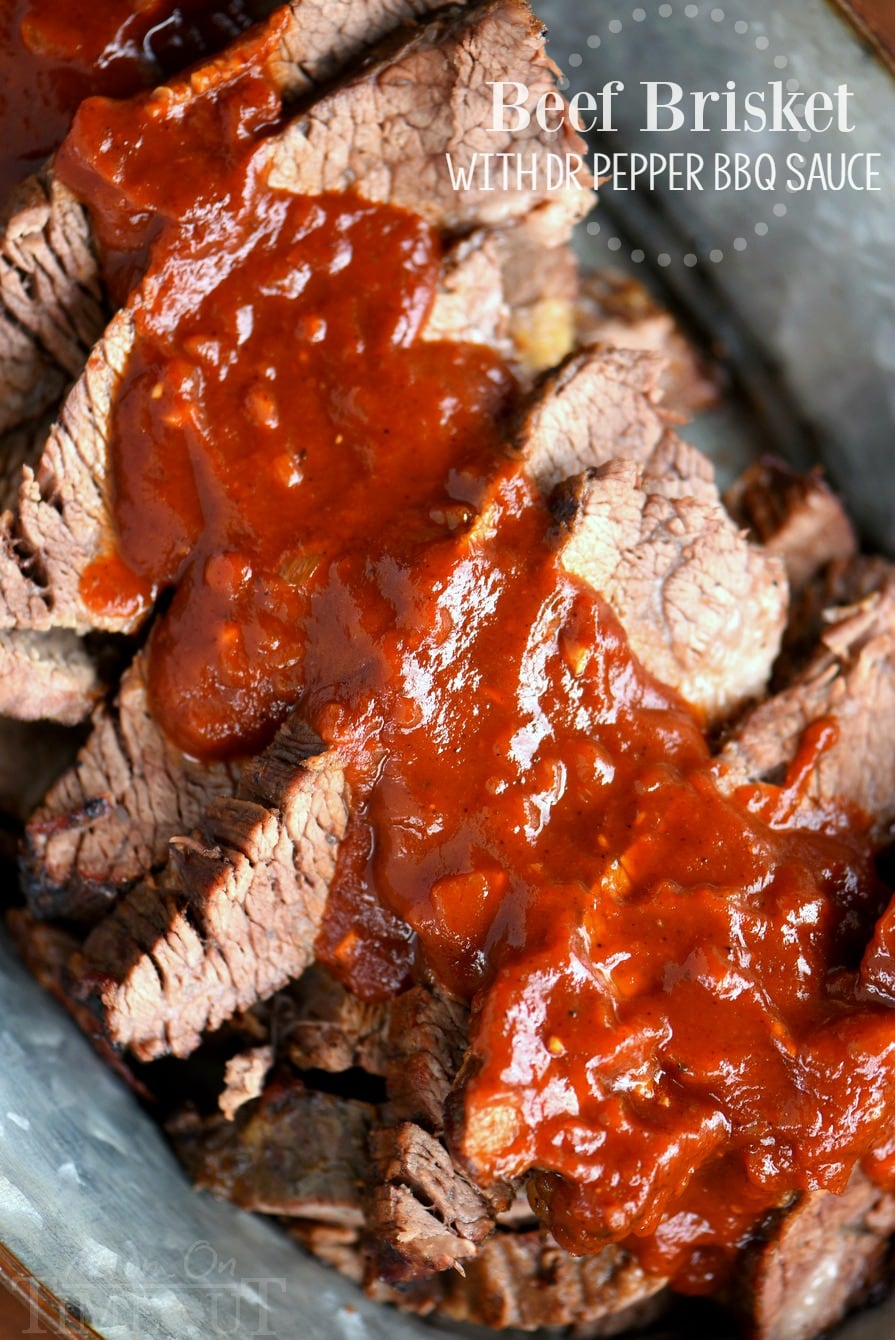 I am so darn excited that BBQ season has finally ARRIVED! Time for all sorts of glorious dishes you can only get from your grill – starting with this Beef Brisket with Dr Pepper Barbecue Sauce (cue angels singing!)
Guys – it's May already! It totally snuck up on me this year. The boys were talking about how there were only 20 days of school left and I was like, wait, what??  That means we've got about 16 weeks of prime BBQ season ahead (maybe a little less or more depending on where you live). As for me and my family, we plan on taking full advantage of every last day.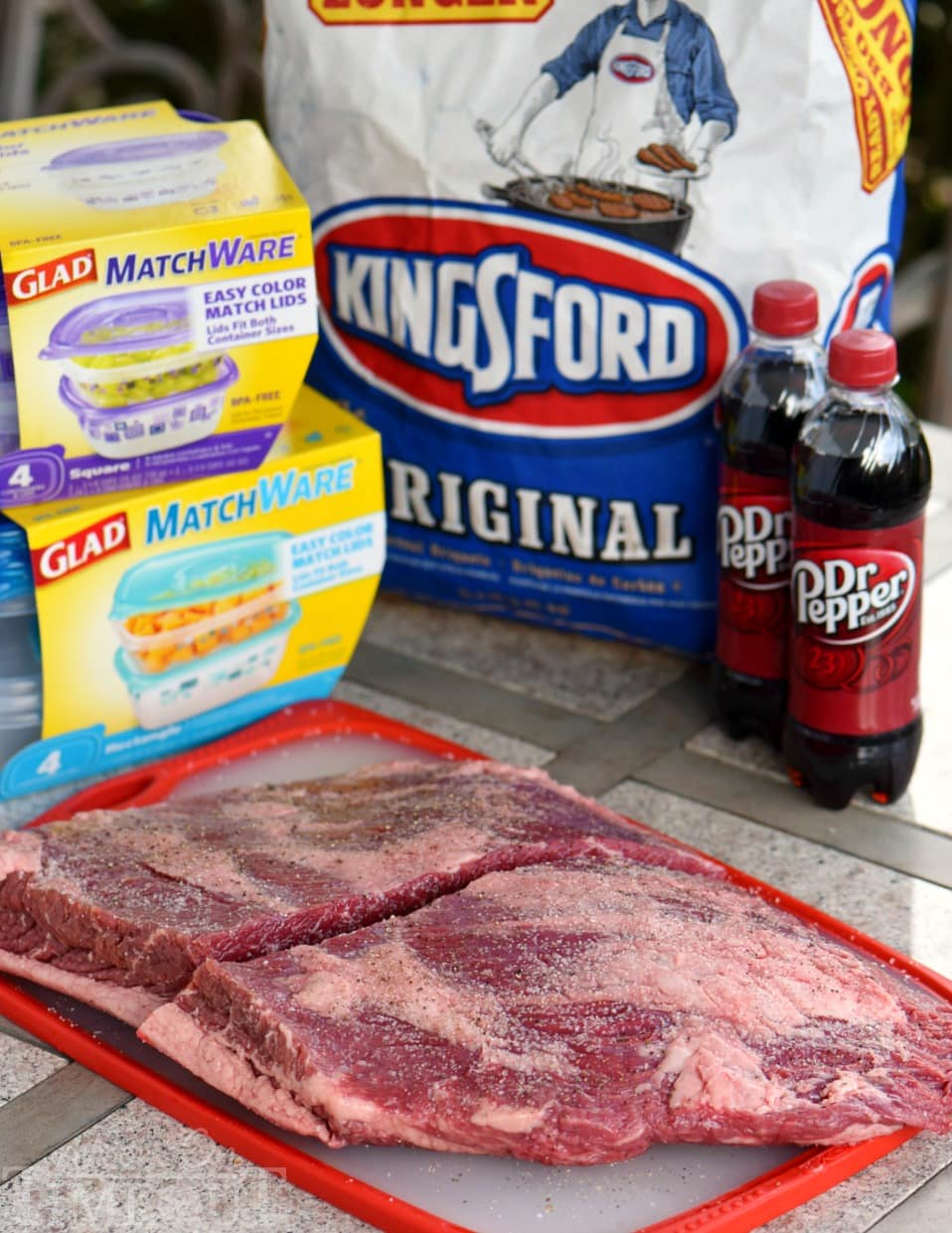 Let's talk  brisket. It's a behemoth cut of meat and can be a bit intimidating at first glance. Don't let it do that to you.  You don't need super fancy equipment to make a melt-in-your-mouth brisket.  You need a foil pan, a grill, some Kingsford Charcoal, salt and pepper, and Dr. Pepper. For reals.
I've been using  Kingsford Charcoal for ages for one simple reason – it works better than another product out there. The long burn time is perfect for the low and slow cooking required of a brisket. Here's a tip: don't leave anything to chance when you're throwing a BBQ. The worst thing that can happen is that you can't get your charcoal going or it burns out too fast or it doesn't put off enough heat. Lame. I've been using the Original Kingsford Charcoal but can't wait to get my hands on the Match Light® – no lighter fluid needed with that one!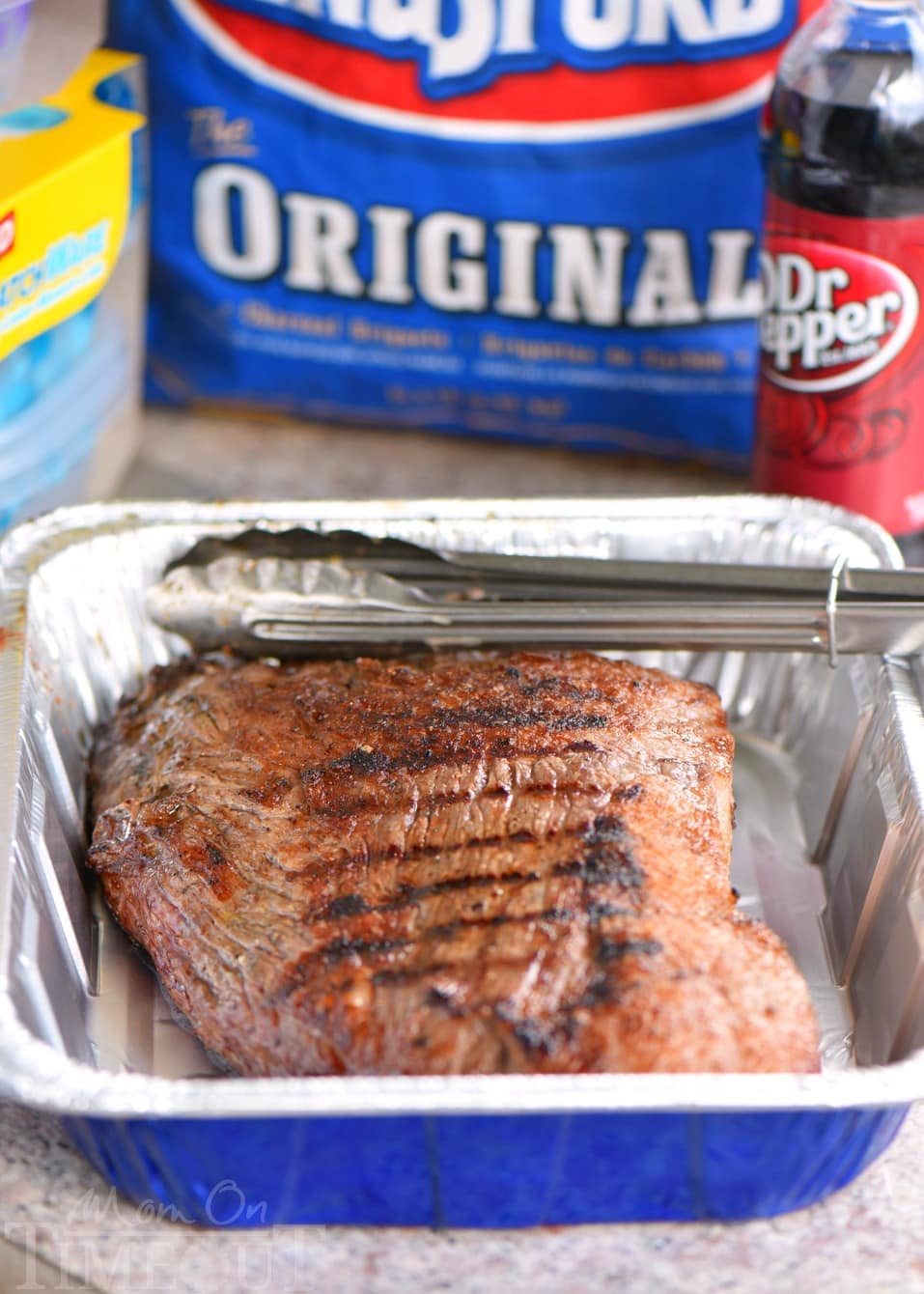 The brisket itself is super simple. You're going to salt and pepper it and then sear it over high heat on your grill. Charcoal marks are a must! The brisket gets transferred to a foil pan and that's where the first occurrence of Dr Pepper comes in. Dr Pepper is poured over the brisket and then the entire pan is covered with foil. The brisket goes back on the grill…for three hours.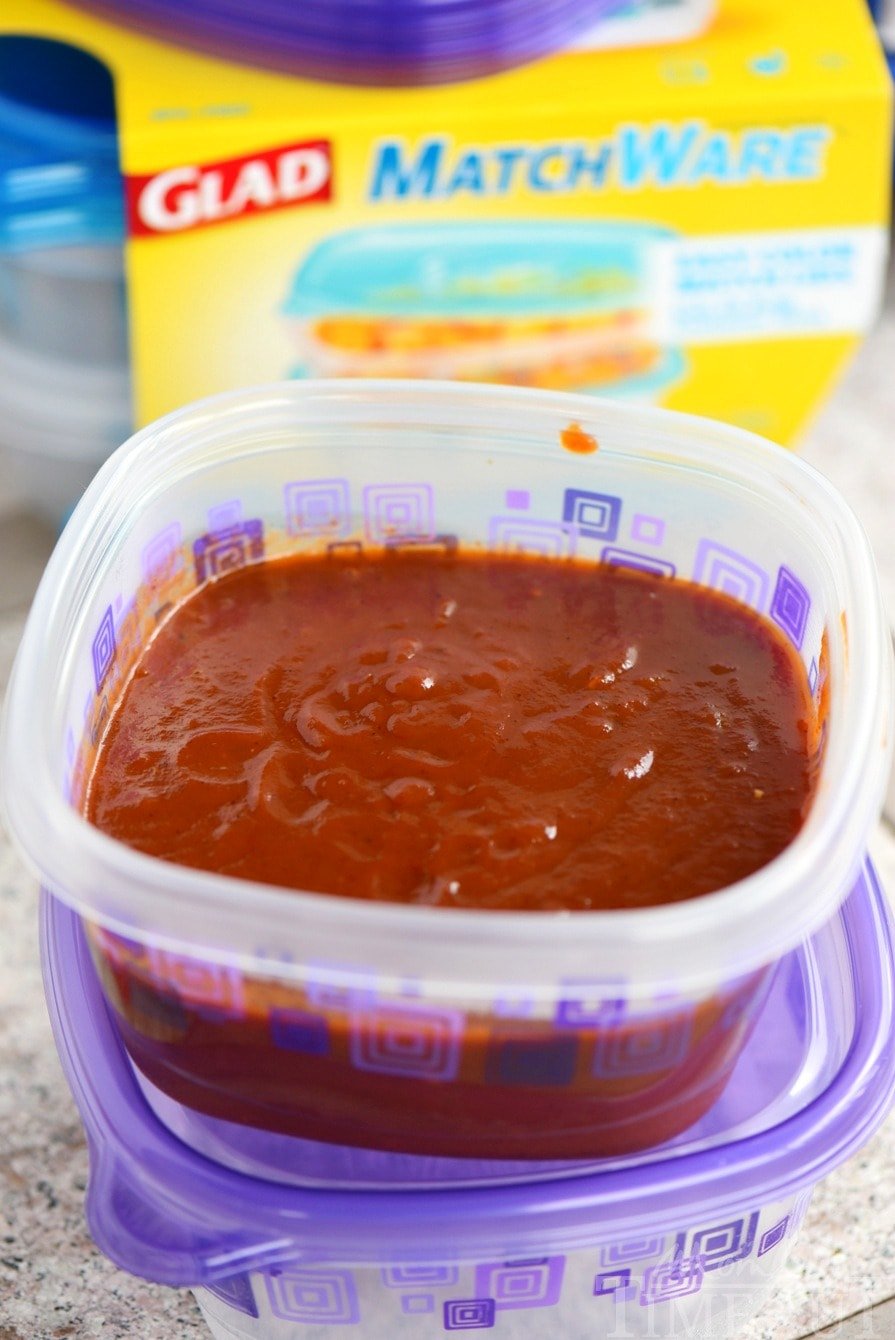 What are you going to do for three whole hours you ask? First off, you're going to make the most ridiculously delicious barbecue sauce of your life. It's a pretty simple sauce that's based off my mom's super secret barbecue sauce recipe. An entire bottle (16.9 oz)  of Dr Pepper gets added to a whole bunch of goodness and simmered for a good half hour. The sauce needs to be refrigerated while the brisket is cooking and that's where Glad Matchware comes in.
Have you seen the new Glad Matchware? I picked mine up at Walmart while I was getting the charcoal and brisket and I am just loving how easy this system is – not to mention it's freakin' adorable 🙂 Lids and containers have the same colors so you can easily match up pieces. Genius!
Also I am a firm believer in having to-go containers at every party so my guests can take home leftovers. This is a great tip and makes those last few minutes of every BBQ that much easier. Just pull out a stack of these guys and divvy up the goods.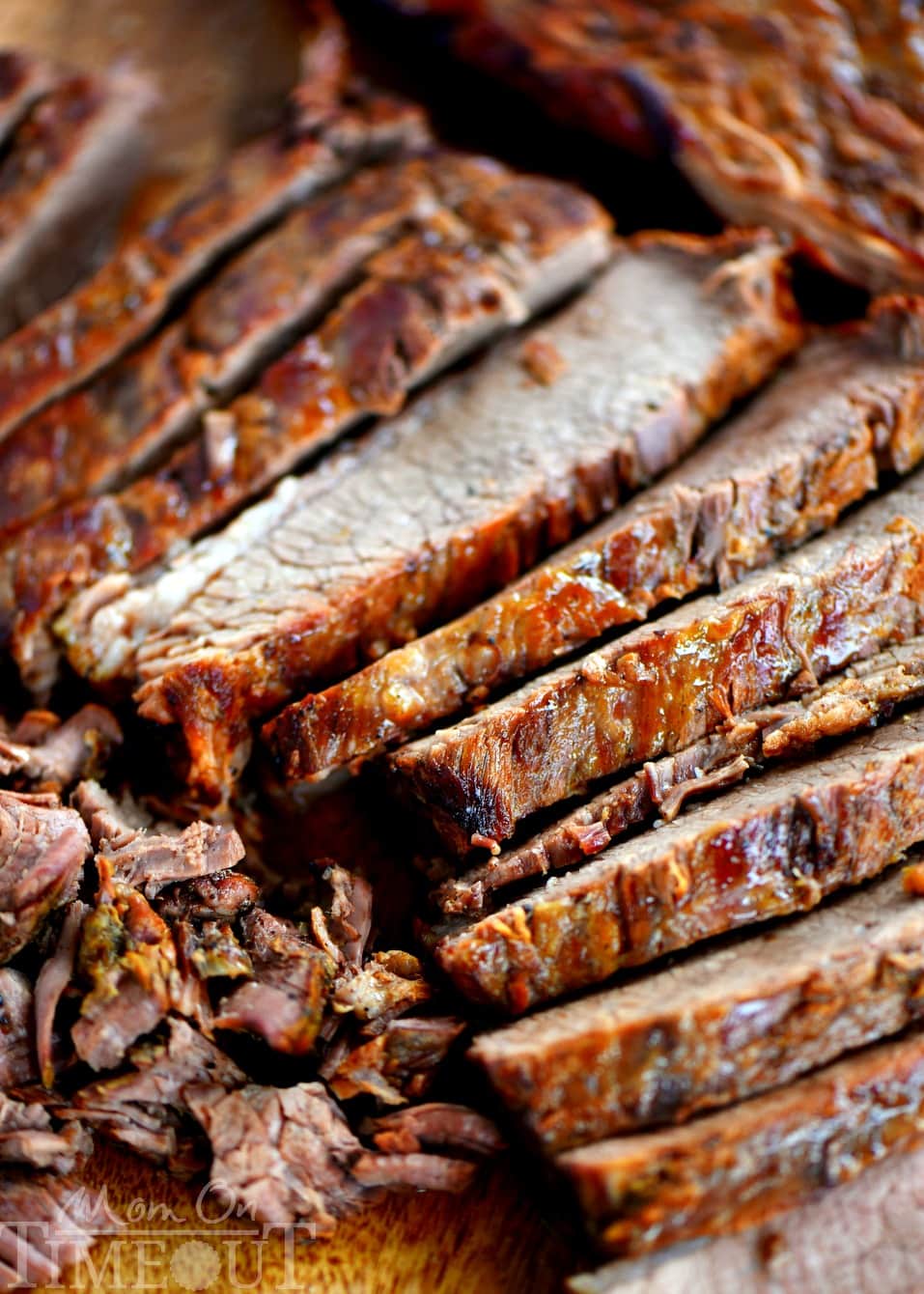 I like to do as much as possible in preparation for a BBQ. I chop fruits and veggies, make up side dishes, whip up the mint lemonade, so all that is done and out of the way before guests arrive. This sauce can absolutely be make ahead of time – up to 3 days – and pulled out when the brisket is done. It just gets better and better with time.
For the brisket, you can serve it two ways. Either slice it up or chop it up – it's amazing either way.
So let's recap:
Don't leave things to chance for your Summer BBQ! Use products  you know and love – like Kingsford Charcoal – and you'll win every time!
Have containers on hand, like Glad Matchware, for easy distribution and packing up of leftovers. Also great for storing prep items!
Do as much in advance of the party as possible. Make up any drinks, chop up any vegetables, prepare any and all side dishes and store in Glad Matchware in the fridge. They stack great!
Get all your shopping done at one place. Walmart has all you need for the best summer BBQ ever!
I hope you go wild this summer and BBQ more than ever! It's the BEST kind of food and is meant to be enjoyed with friends and family.
Beef Brisket with Dr Pepper Barbecue Sauce
Your new favorite - Beef Brisket with Dr Pepper Barbecue Sauce! Feeding a crowd? Look no further for the perfect recipe to serve up from your grill! The Dr Pepper Barbecue Sauce is going to blow your mind! The perfect dinner recipe for your next BBQ or party!
Author:
Trish - Mom On Timeout
Ingredients
1 beef brisket (7 to 9 lbs)
1 16.9 oz bottle of Dr Pepper
2 tsp salt (used smoked sea salt for a wonderful smoky flavor)
2 tsp pepper
Dr Pepper Barbecue Sauce
1 tbsp olive oil
1 tbsp butter
1 medium onion, diced
2 garlic cloves, diced
1 16.9 oz bottle of Dr Pepper
1 cup ketchup
1 6 oz can tomato paste
1 tbsp apple cider vinegar
1 tbsp mustard
2 tbsp Worcestershire sauce
1 tbsp chili powder
1 tsp fresh ground black pepper
1 tsp salt (smoked sea salt is great if you have it)
Instructions
Trim most of the fat off the brisket, leaving about ¼" to keep the brisket juicy. Sseason with salt and pepper on both sides OR use your favorite rub. (KC Masterpiece has some new ones out that are FABULOUS!)
Cut the brisket in half for easier handling.
Grill the brisket over high heat for 4 to 5 minutes on each side until nicely charred.
Remove brisket from heat.
Place each half of the brisket in a foil pan. The foil pan should be nice and deep to allow for airflow.
Pour half of the bottle of Dr.Pepper into each pan. Cover with foil.
Grill over low heat (about 225F) for 2.5 to 3.5 hours (depending on the size of the brisket) or until the brisket is very tender. Don't worry so much about direct and indirect heat - the pan helps with that. Tip: a small fork should twist easily in the brisket when done.
Dr Pepper Barbecue Sauce
Saute onion in olive oil and butter in a medium, heavy bottomed sauce pan until soft and translucent.
Add garlic and saute for an additional minute.
Add remaining ingredients and stir until combined.
Bring to a simmer over medium-low heat and continue simmering for 30 to 45 minutes or until desired consistency is reached.
Store in refrigerate until ready to use.
The sauce can be made up to 2 days in advance.
Serve sauce on top of or alongside of brisket.
Notes
If you're planning ahead, season the brisket the night before. Either just salt and pepper or your favorite rub. Wrap in plastic and refrigerate until ready to grill.
Get connected!
Glad: Facebook | Twitter | Instagram | Pinterest
Kingsford: Facebook | Twitter | Instagram | Pinterest
Walmart: Facebook | Twitter | Instagram | Pinterest
Walmart has everything you need to throw the perfect summer BBQ! Amazing ingredients, Kingsford Charcoal and Glad Matchware!

More great grilling recipes!
The BEST Chicken Marinade Recipe
10 Minute Pizza Crust for Grilling
Rosemary Buttermilk Ranch Chicken Skewers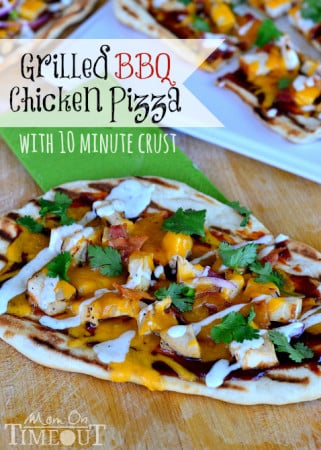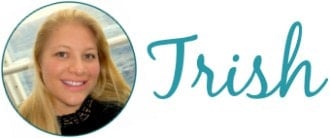 For all dinner recipes, go HERE.
Sign up to get emails when I post new recipes!
For even more great ideas follow me on Facebook – Pinterest – Instagram – Twitter – Bloglovin'.
Have a great day!
This is a sponsored conversation written by me on behalf of Kingsford Charcoal and Glad . The opinions and text are all mine.