Grilled BBQ Chicken Pizza made with a 10 minute crust – perfect for hot summer nights and busy schedules!
I participated in a campaign on behalf of Mom Central Consulting for ACH Food Companies Inc. I received a promotional item as a thank-you for participating.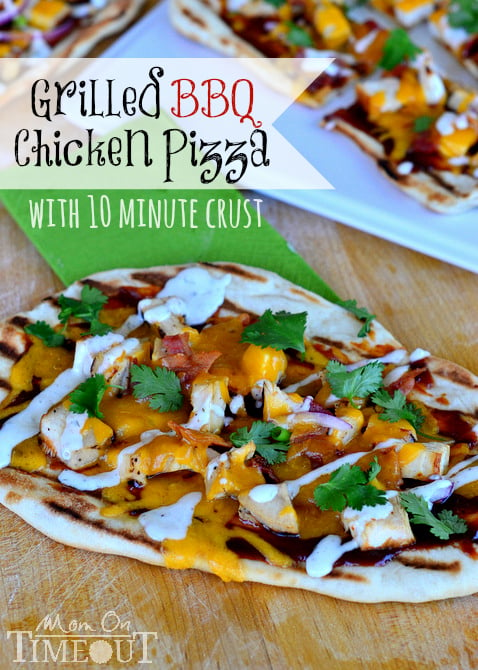 I don't know about you but when the summer hits we fire up the grill and keep that baby going several nights a week.  Nothing tastes better than food straight from the grill during the hot summer months in my opinion.  And, of course, my air conditioner appreciates the break as does my electricity bill 🙂  One dinner that we love to make is grilled pizza.  Honestly, grilled pizza is about the quickest meal you can make on the grill – even faster than hot dogs – and it's so versatile!  I like to prep a number of ingredients so everyone gets to customize their pizza just the way they like it.
Of course, sometimes this mama likes to keep it simple and just make up a pizza that I know everyone will love and this Grilled BBQ Chicken Pizza is just that.  I make this incredibly easy on myself using Tyson grilled chicken strips (you could easily substitute a Rotisserie chicken) and I bake up the bacon in advance.  The pizza crust comes together in under ten minutes.  Did you catch that?  10 MINUTES people.  And it's awesome.  Like really, really awesome.  You're going love it – promise!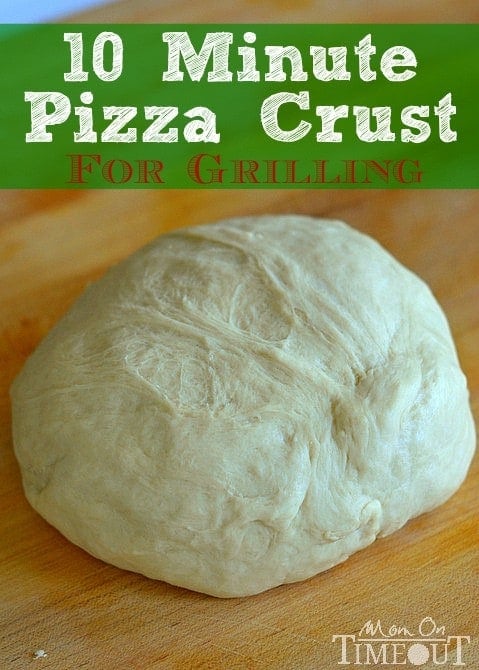 So I'm going to tell you the trick to successfully grilling pizzas.  Be prepared.  Have all of your ingredients ready to go in little bowls or plates.  If you are making them for a party, prep all the ingredients, and have people fill their own bowl full of the ingredients they want on their pizza. It literally takes 3-4 minutes for the pizza to be perfectly cooked on one side.  You don't want to be running back into the kitchen because you forgot the pizza sauce 🙂  Make sure to remove the crusts carefully and then add the toppings.  Throw the pizzas back in for another 3 minutes and bam!  Dinner is served!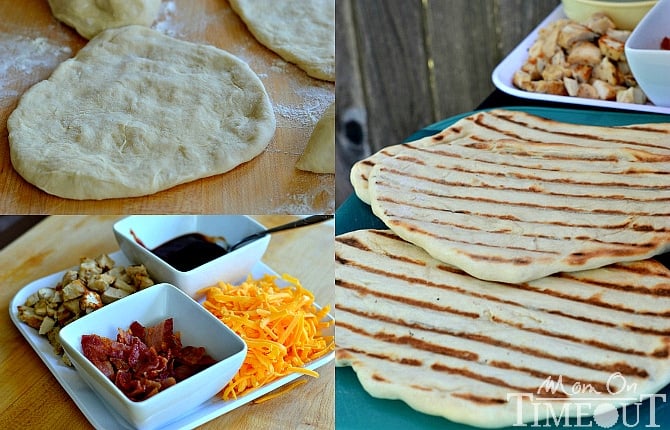 I used Fleischmann's Pizza Crust Yeast for my pizza dough.  It is the first and only yeast designed specifically for quick and easy pizza crusts.  With no rise time needed I can have my pizzas on the grill before Reece and Bryce start with the "What's for dinner?" routine.  You're going to love how easy the dough is to shape and with the dough relaxers in Fleischmann's Pizza Crust Yeast you won't need to be re-stretching your dough at the grill.
Grilled BBQ Chicken Pizza with 10 Minute Pizza Crust
Ingredients
Crust
3-1/2 to 4 cups all-purpose flour
1 envelope Fleischmann's® Pizza Crust Yeast
1 tablespoon sugar
1-1/2 teaspoons salt
1-1/3 cups very warm water (120 to 130°F)
⅓ cup olive oil
Additional flour for rolling
Additional oil for grilling
Toppings
½ cup barbecue sauce
¼ cup chopped red onion
2 cups cooked, cubed chicken
8 strips of bacon, cooked and crumbled
1 to 2 cups shredded cheddar cheese
¼ cup ranch dressing
2 tablespoons chopped fresh cilantro or chopped green onion
Instructions
Start charcoal fire or preheat gas grill to medium-high heat.
Combine 2 cups flour, yeast, sugar and salt in a large bowl.
Add very warm water and oil; mix until well blended. Approximately 1 minute.
Gradually add enough remaining flour to make a soft dough. Dough should form a ball and will be slightly sticky.
Knead on a lightly floured surface, adding additional flour if necessary, until smooth and elastic. Approximately 5 minutes. (I use the dough hook on my mixer and it works beautifully. Just continue adding flour as necessary.)
Divide dough into 6-8 portions.
Pat or roll dough on a well-floured surface until they reach the size and thickness you desire. You want these pizzas to look rustic. I.e. not perfect.
Brush both sides of pizza crusts with olive oil.
Lift each crust carefully with hands and place on grill.
Cook for 3 to 4 minutes until bottom is lightly browned and top looks done.
Remove crust from grill and place on a cutting board or baking sheet grilled side up.
Spread barbecue sauce over crust. Top with onions, chicken, and bacon.
Evenly sprinkle cheddar cheese over toppings.
Repeat with remaining pizzas.
Carefully slide each pizza onto the grill.
Cook an additional 3 to 4 minutes until bottom of crust is browned and cheese is melted.
Remove from oven and sprinkle with cilantro or green onions.
Drizzle ranch over the top of the pizzas if desired and serve immediately.
For the Oven
Preheat oven to 425 degrees.
Prepare pizza as directed and bake for 15-20 minutes or until golden brown.
Grilled pizzas are the bomb because they are supposed to look rustic.  Don't even try for that perfect circle – just have fun with it and get the kids involved too!  This is supposed to be a fun, stress-free dinner so enjoy yourself!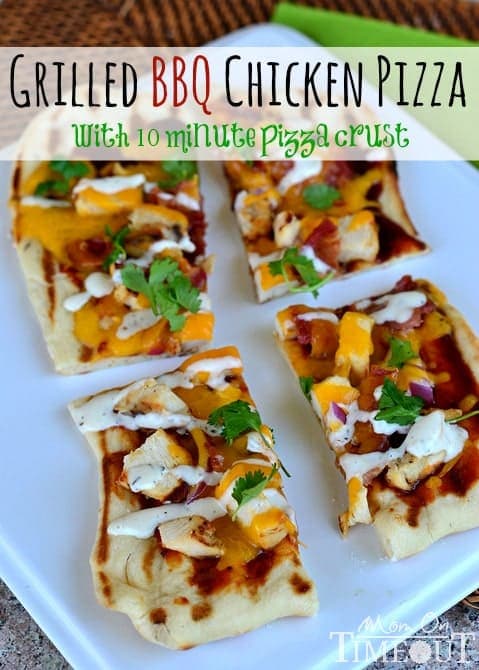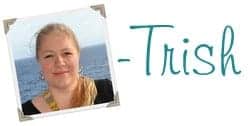 Connect with me!








 Linking up at some of these parties.
Disclosure: I participated in a campaign on behalf of Mom Central Consulting for ACH Food Companies Inc. I received a promotional item as a thank-you for participating.