Easy Baked Salmon is healthy, delicious, and FAST! Fresh salmon is topped with a simple honey dijon glaze and baked to perfection. Prepped and cooked in under 30 minutes! More favorite fast dinners: easy Chicken Stir Fry, 20 Minute Skillet Monterey Chicken and my famous One Pot Zuppa Toscana!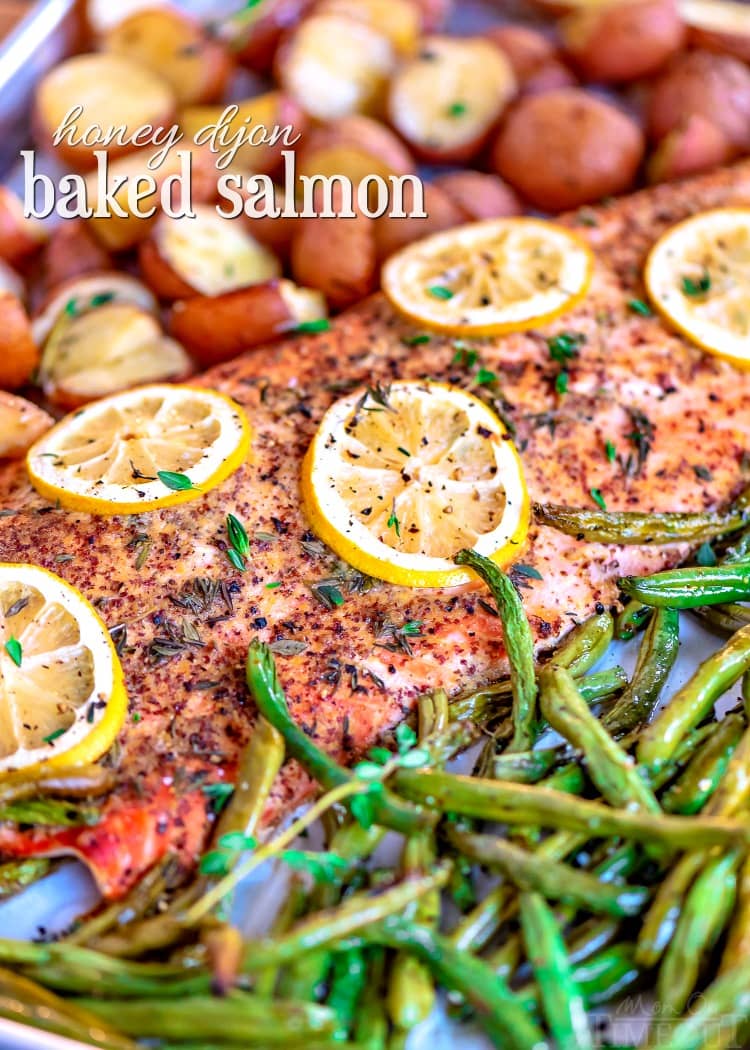 Baked Salmon Recipe
Well, hello January! I've finally emerged from my holiday recovery period and I'm back with one of my favorite baked salmon recipes!
I am super fortunate that my kiddos love salmon as in L-O-V-E LOVE it. They ask for it all the time and I'm only too happy to oblige because I know how good it is for them and for myself as well.
I don't get too crazy fancy with my oven baked salmon because, let's face it, I don't have time for that. And neither do you.
Easy Oven Baked Salmon
This baked salmon has a super easy, delicious glaze, that takes this salmon recipe over the top. As an added bonus, I turn it into a sheet pan meal by throwing on some veggies as well.
Easy salmon recipes have become a weekly occurrence in our home and everyone loves them. It's a meal we can all look forward to.
Dinner is prepped in less than 5 minutes, usually before my oven has even preheated, and we're eating less than 30 minutes later. I'm calling that a win.
What Ingredients Are Needed?
This is a sheet pan meal so I've including the veggies in the ingredients list. If you prefer to cook the salmon on it's own, just omit the green beans, potatoes, and olive oil as well as some of the salt and pepper. The cooking time will also be closer to 15 minutes depending on the size of your salmon fillet.
skin on salmon fillet (pin bones removed) – I look for as close to 3 pounds as I can find. Anywhere from 2 to 3 will work, adjusting the cook time as needed
whole grain Dijon mustard or country Dijon mustard
honey – a lovely counterbalance to the Dijon, could also use maple syrup or agave
white wine vinegar or champagne vinegar
fresh thyme leaves
kosher salt
freshly ground black pepper
lemon – cut into thin slices
fresh green beans, trimmed
baby potatoes halved (red, yellow, white, purple – any will work)
olive oil
Can I Use Smaller Salmon Fillets?
Yes and YES. I frequently purchase the individually frozen salmon fillets for quick and easy lunches. These fillets are typically between four and six ounces each. I have used them before with this exact recipe and they work perfectly. (Just make sure to allow time for them to defrost in the fridge – overnight is best!)
In fact, because it's not just one big slab of salmon, the cooking time is reduced meaning you get to eat this deliciousness even quicker.
It'll depend on the size of your fillets, but you can expect to shave off anywhere from 5 to 10 minutes from the total cooking time.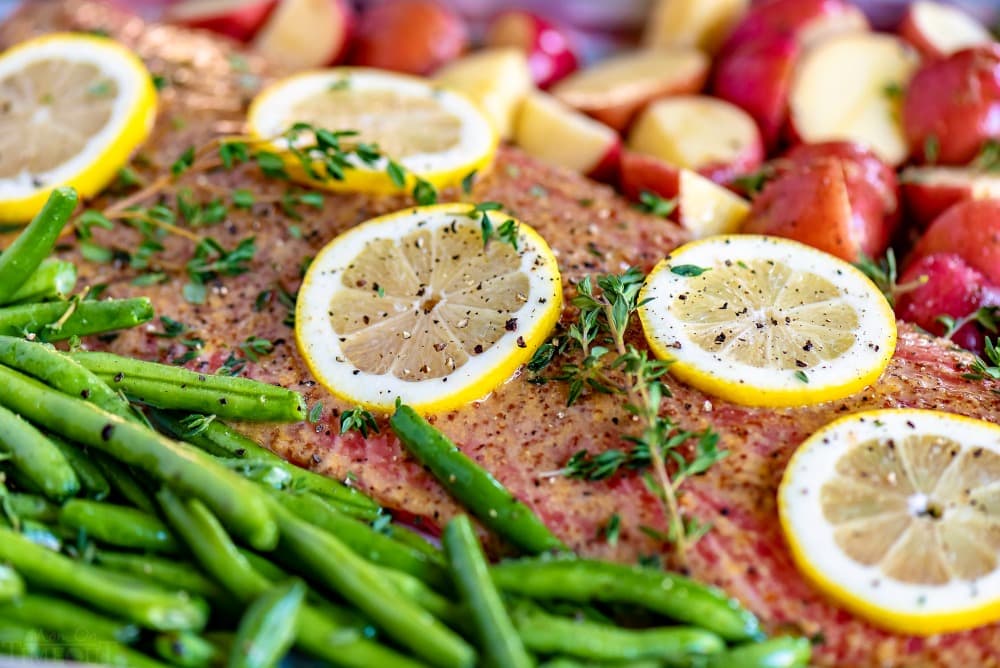 Salmon Variations
So the thing with salmon is that it can vary wildly in cut, thickness, fat content, etc. Because of these variations, it is up to you, the cook, to keep an eye on the salmon to make sure it doesn't overcook and dry out.
Once you find a cut that you like, keep buying roughly the same type, size and shape and you'll dial in that cooking time really quickly.
How To Cook Salmon In Oven
Baked salmon is my favorite way to eat salmon. Quick. Easy. Delicious.
First off, you're going to want to line your baking sheet. Salmon, whether it's the skin on or skinless variety, will stick to even a well greased baking sheet.
Salmon is sticky. I prefer to line my baking sheet with parchment paper for easy, painless removal of the salmon.
Secondly, make sure to check for pinbones. Lots of times, these bones have already been removed but do a quick check to make sure:

Feel along the flesh of the salmon for any bones sticking out.
Use tweezers or tongs to pull them out.

Thirdly, I like to cook my salmon at a higher temperature, 450F, so it cooks fast and the salmon doesn't dry out. You want the salmon to flake gently and be visibly moist.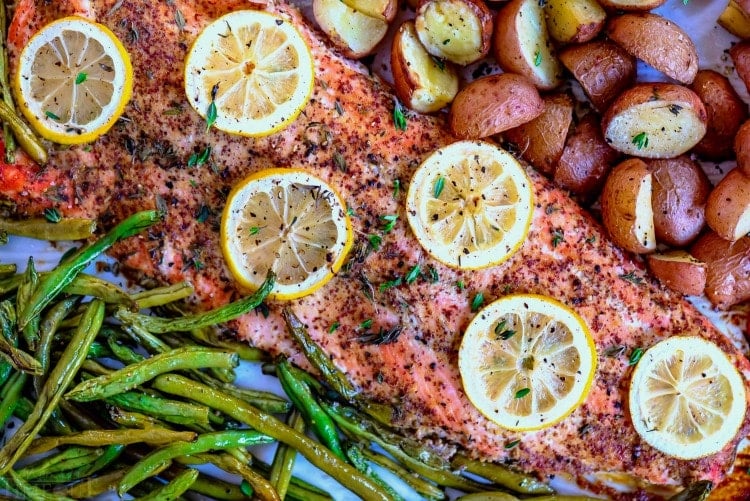 How Long to Bake Salmon
The time varies so much depending on the size of the salmon fillet and the type of the salmon.
Wild salmon has less fat and can overcook faster and dry out. If using wild salmon, keep a close eye on it and aim for around 130F.
Look for salmon that has an even thickness throughout the fillet. That is hard to find but the closer to even thickness you can find, the more evenly the salmon will cook.
Always check the middle of the salmon for temperature using a meat thermometer.
Cooked salmon should be above 110F and less than 140F. Below 110F and the salmon will be undercooked and raw. More than 140F and the salmon will be dry and overcooked.
For a 3 pound salmon filet (with veggies on the sheet pan like in this recipe), you're looking at about 20 to 26 minutes in a 450F oven.
For smaller salmon filets, between 4 and 6 ounces, it will be about 12 to 15 minutes in a 450F oven.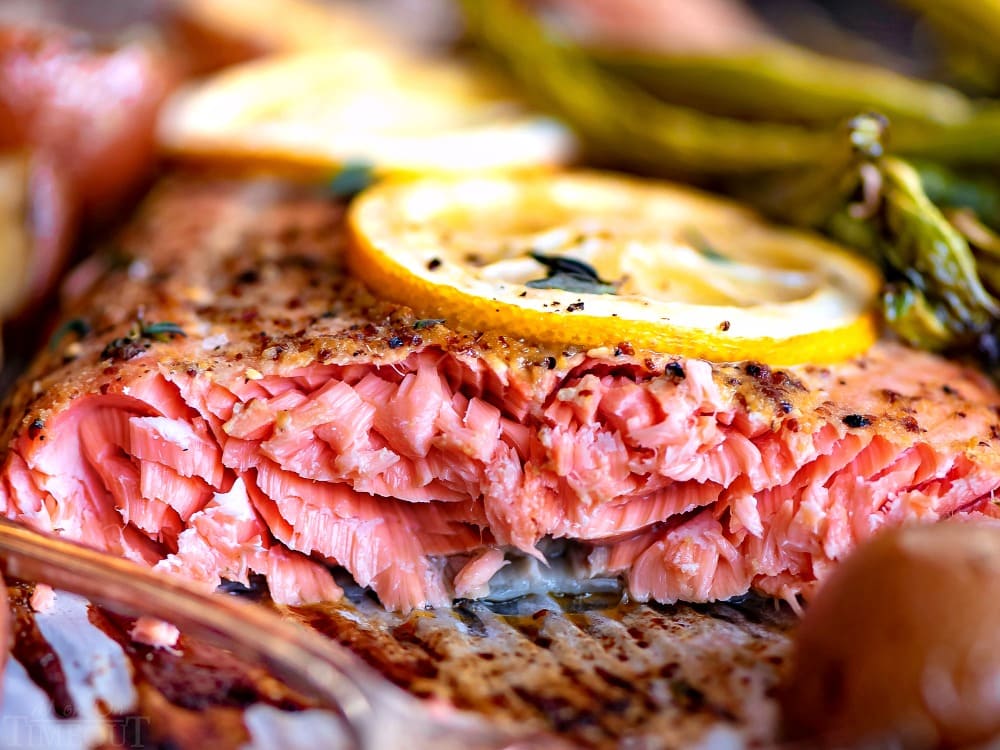 What Other Vegetables Could I Try?
This baked salmon is so good with any veggies but here are some of our favorite variations:
asparagus
bell pepper strips
broccoli florets
cauliflower florets
brussels sprouts
zucchini or other squash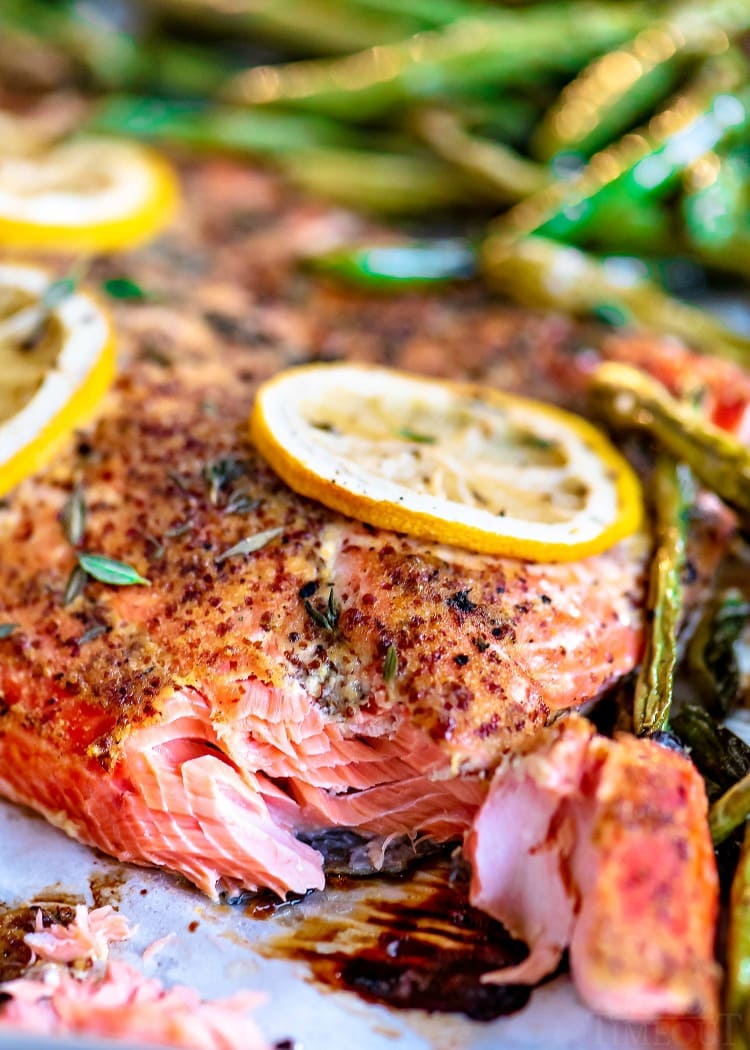 More Great Dinner Ideas
How To Make This Baked Salmon Recipe
Baked Salmon with Honey Dijon Glaze
Easy Baked Salmon is healthy, delicious, and FAST! Fresh salmon is topped with a simple honey dijon glaze and baked to perfection. Prepped and cooked in under 30 minutes!
Ingredients
2 to 3

pounds

skin on salmon fillet

pin bones removed

½

cup

whole grain Dijon mustard

or country Dijon mustard

2

tablespoons

honey

1

teaspoon

white wine vinegar

or champagne vinegar

1

pound

baby potatoes

halved (red, yellow, white, purple – any will work)

2

tablespoons

olive oil

divided

1 ½

teaspoons

kosher salt

divided

1

teaspoon

freshly ground black pepper

divided

12

ounces

fresh green beans

trimmed

1

tablespoon

thyme leaves

removed from stems

1

lemon

cut into thin slices
Instructions
Preheat oven to 450F. Line a baking sheet with parchment paper.

Place the salmon, skin side down on the parchment line baking sheet.

In a small bowl, whisk the mustard, honey and vinegar together.

Using a pastry brush, evenly brush the mixture over the top of the salmon.

In a medium bowl, toss the potatoes with half of the olive oil, salt and pepper. Repeat with the green beans.

Place the green beans on one side of the salmon and the potatoes on the other.

Place lemon slices on top of the salmon. Sprinkle with thyme and additional salt and pepper if desired.

Bake for 20 to 26 minutes or until the internal temperature reaches your desired doneness. (125F = medium, 140F = fully cooked). Don't have a thermometer? The salmon is done within a few minutes of the top no longer being shiny and it appearing opaque.

Let rest 5 minutes before serving.
Nutrition
Calories:
477
kcal
|
Carbohydrates:
25
g
|
Protein:
49
g
|
Fat:
20
g
|
Saturated Fat:
3
g
|
Cholesterol:
125
mg
|
Sodium:
925
mg
|
Potassium:
1585
mg
|
Fiber:
4
g
|
Sugar:
8
g
|
Vitamin A:
552
IU
|
Vitamin C:
25
mg
|
Calcium:
74
mg
|
Iron:
4
mg