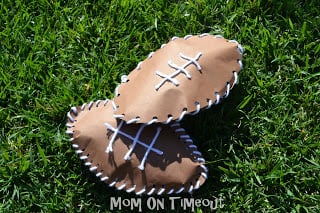 Are you ready for some football? Football crafts that is! This football craft project requires very little in the way of materials and can be completed by almost any age group. This would be the perfect project for a group of kids that are attending a football party. Keeps little hands busy and the result is a fun-tastic football! Make the footballs in your team colors for some added fun.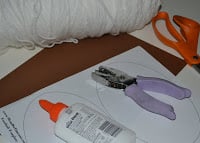 Materials Needed: 
Brown Paper
Newspaper, shredded
White yarn
Scissors
Glue
Hole Punch
Football Template (printable)
Directions: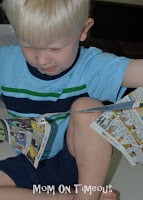 First shred up several pieces of newspaper. Don't be afraid of child labor – just make sure to clean those hands off afterwards! You'll need quite a bit of stuffing for each football you are making.
1. Fold brown paper in half. Use the template provided or draw your own large oval to use as a template.
2. Cut both ovals out at the same time because you are going to be lacing the two pieces together and you want them to match up.
3. Punch holes around the perimeter of the football. You can space them however you would like but make sure not to punch too close to the edge.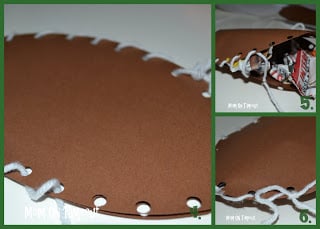 4. Tie the yarn around one of the holes to start. Next, thread white yarn through the holes, making sure to stop before it is completely threaded.
5. Stuff the football with shredded newspaper until the football is full.
6. Finish threading the yarn through the remaining holes and tie off.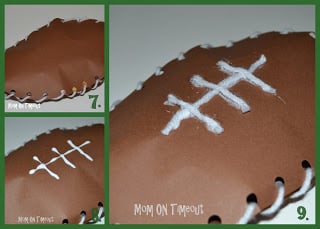 7. Tie off the yarn and tuck inside.
8. Run a three inch line of glue down the center of the football. Make three more lines of glue to make the lacing on the football.
9. Cut four pieces of yarn:
1 – 3″, 3 – 1.5″.
Place them on the glue and let dry.
Now you're ready for some football!