Say goodbye to boring squares and hello to these fun S'mores Rice Krispies Treats Pinwheels!
Let's be friends! Sign up to get my new recipes in your inbox! Follow me on Facebook and Instagram too!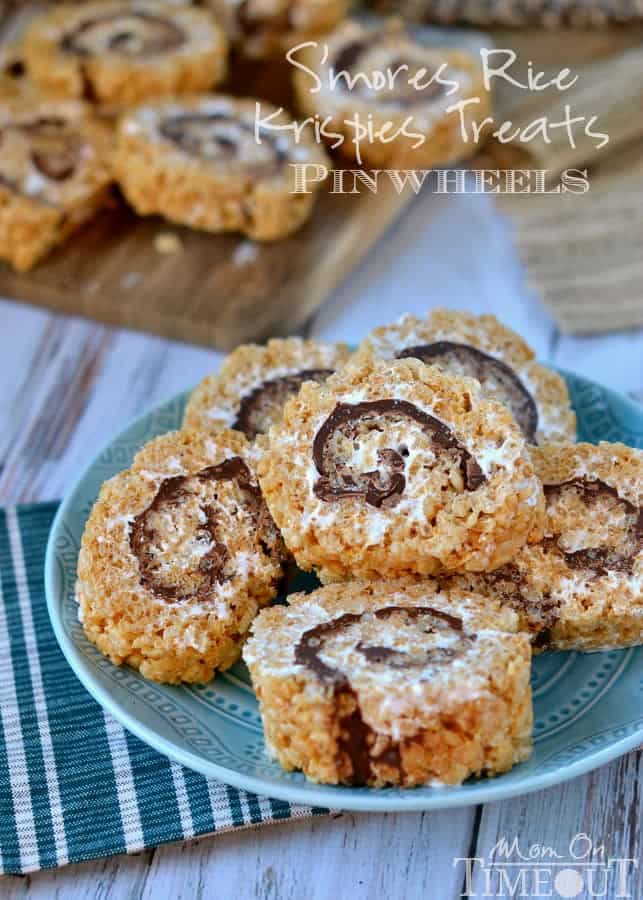 I hope you guys aren't tired of s'mores yet because I've got one more recipe that's going to blow you away – S'mores Rice Krispies Treats Pinwheels!  Not only are these treats easy on the eyes (totally impressive!), they are crazy easy to make!
Say good-bye to square rice krispies treats and hello to these fun pinwheels! I couldn't resist making a rice krispies treat for s'mores week.  BUT, I wanted to do something fun, something unexpected, and these pinwheels are just that.
Pinwheels are always appreciated and they are just as easy to make as traditional treats.  There's a couple extra steps but really, SO worth it!
I started by buttering a waxed-paper lined jelly roll pan. You really want to butter it well so that the waxed paper is easy to peel away when you're rolling up the treats.
Next butter and marshmallows are microwaved until melted and then the cereal and graham cracker crumbs are stirred in.
Now here comes the fun part. I know we've already got the marshmallow component of these s'mores treats covered, but I really wanted that marshmallow flavor to pop. Soooo, I shmeared on a jar of marshmallow creme. See, that's just how I roll.
Next comes a layer of Hershey's bars that are gently melted and then spread over the top of the marshmallow creme layer.
Whoops. You've got a little bit of drool dripping onto your keyboard…I don't judge.
So finally, we roll it all up (cinnamon roll style) and throw it in the fridge to set.
Slice and serve!
How fabulous are these? Trust me, if you want to make friends fast with a kid (or adult!), just show up with a plate of these pinwheels and you are IN – promise!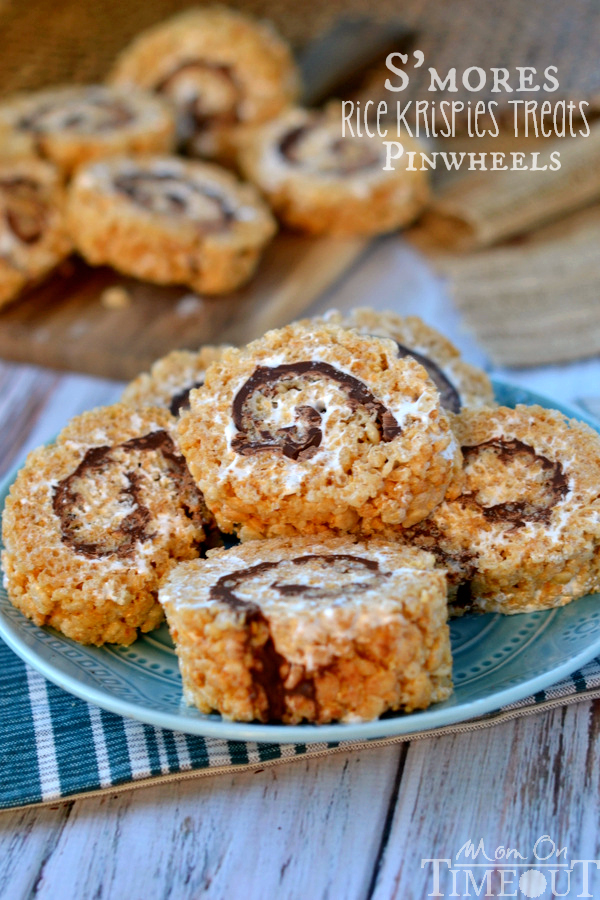 S'mores Rice Krispies Treats Pinwheels
Say goodbye to boring squares and hello to these fun S'mores Rice Krispies Treats Pinwheels! An easy and impressive dessert recipe for any occasion!
Author:
Trish - Mom On Timeout
Ingredients
10 oz miniature marshmallows
¼ cup Challenge butter (plus more for greasing)
5 cup Rice Krispies cereal
¾ cup graham cracker crumbs
7 oz jar marshmallow creme
6 Hershey's chocolate bars
Instructions
Preheat oven to 200 degrees.
Line a 10x15 jelly roll pan with wax or parchment paper. Butter the paper and set aside.
Combine marshmallows and one quarter cup of butter in a microwave-safe bowl. Cover and heat on high for 30 seconds, stir. Repeat until completely blended.
Stir in cereal and graham cracker crumbs.
Press mixture into prepared pan.
Spread marshmallow creme on top using an offset spatula.
Place Hershey's bars on top of the marshmallow creme.
Place in oven for two minutes. Use an offset spatula to spread the softened chocolate.
Let cool for 10 minutes.
Roll up jelly roll style (like a cinnamon roll), starting on the long side. Peel away the paper as you roll. Pinch the seams together.
Place seam side down and refrigerate for 30-45 minutes or until chocolate has set.
Slice and serve!

Check out my latest pinwheel creation – Chocolate Covered Strawberry Rice Krispies Treat Pinwheels!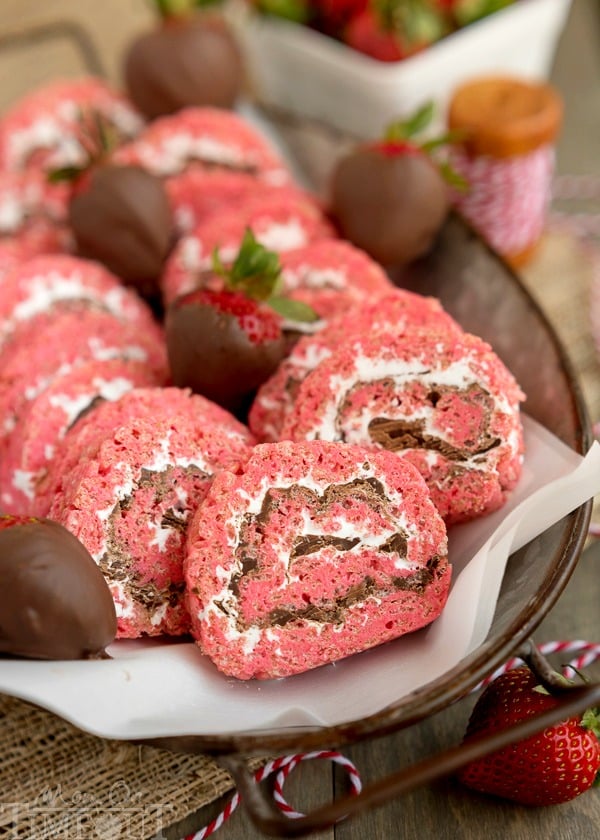 I'm not the only whipping out s'mores recipes left and right – check out all these recipes too!

 More s'mores madness:
S'mores Cinnamon Rolls with Marshmallow Cream Cheese Frosting
Reese's Peanut Butter S'mores Oatmeal Cookie Bars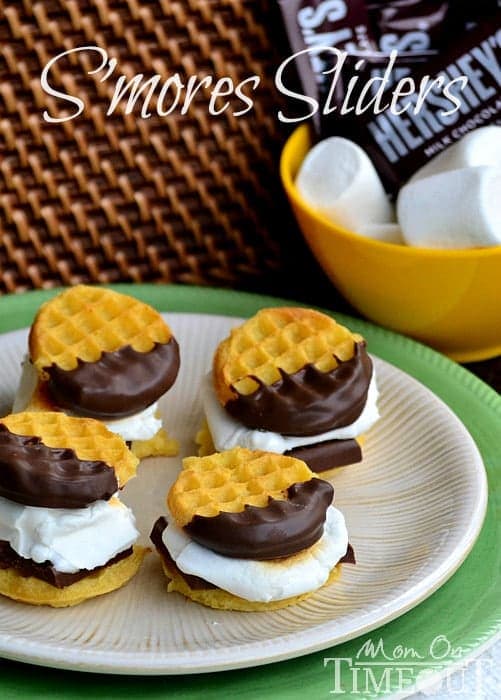 For all s'mores recipes, go HERE.
For all dessert recipes, go HERE.
Sign up to get emails when I post new recipes!
For even more great ideas follow me on Facebook – Pinterest – Instagram – Twitter – Bloglovin'.
Have a great day!
Disclaimer: I was provided product for this post by Challenge Butter, but all opinions are, as always 100% my own.  I LOVE Challenge Butter!