Satisfy your chocolate and peanut butter cravings with these Chocolate Covered Peanut Butter Crunch Balls!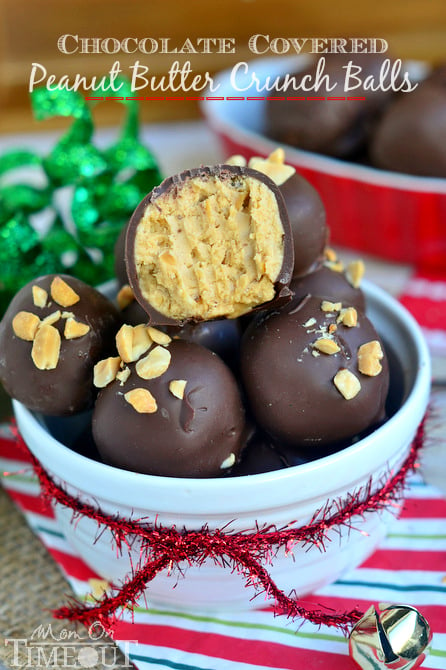 My Nana was my hero.  She was such an incredible woman with more energy and spunk than I've ever had.  She moved away from a home and community that she had been a part of for 40 years so she could be near our family.  She wanted to be able to take care of me and my 4 siblings before and after school and it was one of the biggest blessings in my life.
Besides being a master sausage gravy maker (she believed in hearty breakfasts…every morning) she was also an adept candy maker.  My Nana had a sweet tooth that would blow you away.  Up until the day she passed away she had candy every day of her life.  Hard candies were her favorite but she was also quite fond of peanut butter and chocolate.  Yes, that's where I get my passion from :)
These Chocolate Covered Peanut Butter Crunch Balls were a Christmas time favorite with her.  But we didn't just make them at Christmas – they are too good for that!  We made them several times a year, whenever my Nana got a craving.  Most days after school, I would walk to her house and after my after-school snack she would say,"What should we make today Trish?"
It was almost always up to me and these crunch balls were frequently requested.  They were so fun to make and even though we did them by hand back then, they hardly took any time at all.  My Nana loved that they didn't require any baking which made them perfect for summer and the batch yields A LOT of candies so they were perfect for handing out at Christmas time.
Now I've got a mixer so there's NO excuse not to make these candies.  I've made the process even quicker by using chocolate candy coating instead of doing what my Nana used to do which was melt paraffin (oh yes) and chocolate together to coat the candies.
You are going to go crazy for the outrageous peanut butter flavor and the crunch of the crispy rice cereal will have you reaching for "just one more" time and time again.
Chocolate Covered Peanut Butter Crunch Balls
Ingredients
2 cups crunch peanut butter
½ cup (1 stick) butter, softened
3½ - 4 cups powdered sugar
1 tsp vanilla extract
2 cups crispy rice cereal
16 oz chocolate candy coating (CandiQuik)
1 tsp shortening
¼ cup roughly chopped salted peanuts (optional)
Instructions
Combine peanut butter and butter together in a large mixing bowl and mix until well combined.
Stir in vanilla extract.
Gradually add in the powdered sugar, half a cup at a time until mixture is nice and smooth and you can easily form balls.
Stir in crispy rice cereal.
Shape into 1 inch balls and refrigerate for 30 minutes on a waxed paper lined baking sheet.
Melt candy coating and and 1 teaspoon of shortening together in a microwave safe bowl following melting directions on package.
Dip the peanut butter balls into the chocolate using a toothpick.
Transfer to wax paper and sprinkle chopped peanuts on top immediately.
Let candy stand until the chocolate is firm.
Store in an airtight container.
I'll be making lots of peanut butter treats in the coming weeks so I was thrilled to be able to print out a coupon for Planters® Peanut Butter redeemable at Target.  Super convenient since I'm there a couple times a day already :)  You can find lots of great coupons for Kraft products at Target stores here. Get A Little Help for the Holidays from Kraft and save up to $20 with #KraftHolidaySavings on these Kraft products:
Kraft® Shredded Cheese
Kraft® Natural Cheese Slices
Maxwell House® Coffee
Gevalia® Coffee
Capri Sun® Juice Drink
MiO® Liquid Water Enhancer
Kraft® Mayo
Miracle Whip® Dressing
Kraft® Salad Dressing
Planters® Peanut Butter
Kraft Recipe Makers® Meal Starter
It just doesn't get better than saving money on products I used all the time!  Fabulous Kraft savings that result in delicious recipes – I'm in!
From shopping for gifts to planning family dinners, it's hard to keep up with all your holiday to-do's. This year, Kraft is helping out with great weeknight meals and entertaining ideas to make the season a little bit easier. Plus, Kraft is offering up to $20 in coupons, redeemable exclusively at Target, to make food shopping easier and to help you have a happy holiday season.
This is a sponsored conversation written by me on behalf of Kraft. The opinions and text are all mine.
Connect with me!
 Linking up at some of these parties.