This winter I have had a fascination with pinecones that I can't quite explain. I just think they are so beautiful. Anyways, I had collected quite a few during December with the intentions of doing some crafts with the kids with them. It didn't happen. Sooo, I had these beautiful pinecones lying around and decided to do something with them. My house could certainly use a little sprucing up right now 🙂   I decided to make a pinecone vase and here's what I did…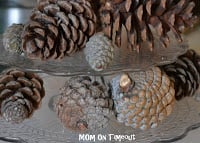 The first step was cutting the pinecones in half so that they would lay flat against the vase. I used my garden shears for most of the cutting. The idea is to cut the pinecones down the center. This was really easy on some of them and a total pain on others. On all but two pinecones, I lost one half in the process. I thought I wouldn't be able to use those pieces but ended up gluing them on anyways 🙂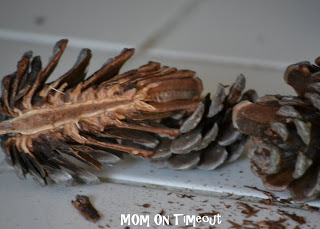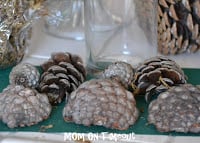 I found a vase that was collecting dust I could use. (I originally purchased this vase from the Dollar Tree.)  I didn't want to have to worry about the glass cracking or scuffing it up or anything so I measured the vase and cut a piece of cardstock that fit around the vase. I laid out my pinecones to make sure I had enough and to see how they would look.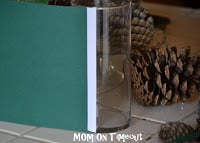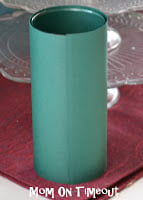 I used double-sided tape to secure the paper to the vase. Then I wrapped the paper around and secured it to the other side of the tape. I also used one more strip of tape halfway through to make sure the paper was nice and snug.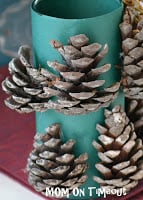 Next, I started gluing on the pinecones. I used hot glue and ran the glue down the center of the pinecone concentrating on the high spots to make sure the pinecone would adhere well to the cardstock.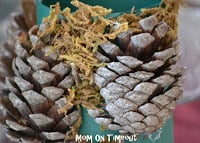 After gluing on 4-5 pinecones, I started to add in the moss. I used floral moss (leftover from a previous project and also purchased at Dollar Tree)I kept working my way around the vase, gluing on pinecones and moss until the entire vase was covered.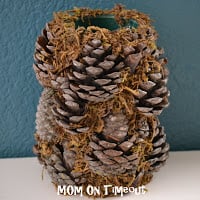 This is the end result. I am so happy with how it turned out. You know how you envision something in your mind and then it turns out even better? This was one of those times. The pictures really do not do it justice. Reece was really impressed with the outcome and told me, "You did a good job Mommy!" That's all the praise I need 🙂  My kids love pinecones too 😉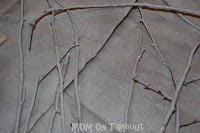 Leaving it like this would have been fine but I wanted to add a few wintry touches to the vase and I needed to put something inside. I spay painted a few twigs white. I sprinkled on some glitter while the paint was still wet to add just a little sparkle.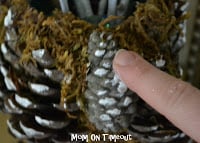 I also added some "snow" to my pinecones by dipping my finger in white acyrclic paint and applying it with my fingertips. Just a little dab here and there did the trick.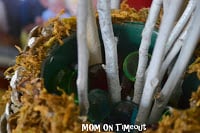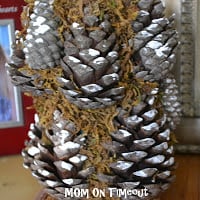 I filled the vase with some glass rocks and arranged the white twigs.
I really love how it all turned out!
I tried it on our entry table first…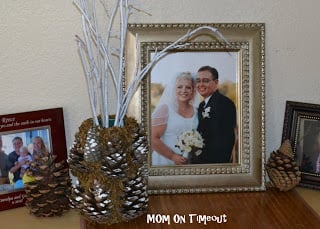 But then moved it to our "fireplace". This is where it will stay for the rest of winter 🙂