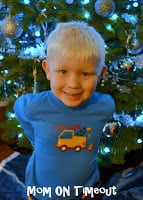 Yesterday was a big day in our house. Reece lost his first tooth!  Okay here is the story. Saturday we went on the Polar Express train ride. While we were in line, Reece made friends with this other 5 year old standing next to us. One of the topics was teeth. This other little boy had already lost several teeth and his mom was saying that he had swallowed his first one.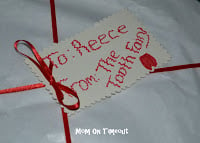 A couple minutes later Reece turns to me with his finger in his mouth telling me he has a loose tooth. I kind of ignore him but Reece keeps on insisting so I take a look-see and by golly it's super loose! So that night, and the next, he's super nervous about swallowing his tooth in his sleep and I'm all stressed out because my baby is losing his first tooth and I feel totally unprepared.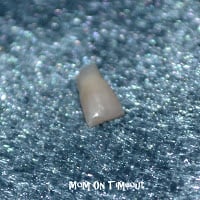 Well Sunday and Monday go by and nothing. Tuesday morning he eats his breakfast (cereal) and then goes and gets dressed. He starts telling me about something and as he's talking I'm thinking something looks different. "Reece", I say, "open your mouth for Mommy". His tooth is GONE.
We search high and low for it and finally accept the fact that he swallowed it with breakfast. He goes to his room to write a note to The Tooth Fairy and I clean up after breakfast. On an impulse, I decide to look in his bowl of leftover milk and lo and behold I find his little tiny tooth! Seriously unbelievable!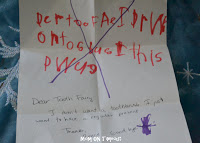 This is his letter. I had him read it to me and I wrote a translation below. It says:
Dear Tooth Fairy,
I don't want a toothbrush. I just want a regular present. 
Thanks,
Reece  
Good-bye

I think it's funny that he traded in a toothbrush for a "regular present". I wrapped up a Transformer that he was going to get for Christmas and it just made his morning.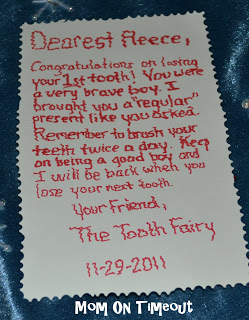 My Mom (cause she was the bestest) used to make a big deal out of everything. I always felt so special growing up and I wanted to do for Reece what my Mom did for me. Every time we lost a tooth, she would write a note from The Tooth Fairy to us. She made each letter all squiggly and it was just so darn cool. I did the same for Reece. Red is his favorite color 🙂
What do you do for your kids? Do you have Tooth Fairy traditions? We got money as kids and that's what I was planning on giving Reece until he wrote up his little letter. Hey, I'm flexible. I'm still adjusting to the fact that I am old enough to be the mother of a child who just lost his tooth. I know, I'll get over it 🙂

Linking up here and Home Stories A2Z Tutorials and Tips