Get a jump start on spring cleaning this year with this printable Spring Cleaning Checklist! Plus I've got included my favorite tips and tricks that will have your home sparkling in no time!
Let's be friends! Sign up to get my new recipes in your inbox! Follow me on Facebook and Instagram too!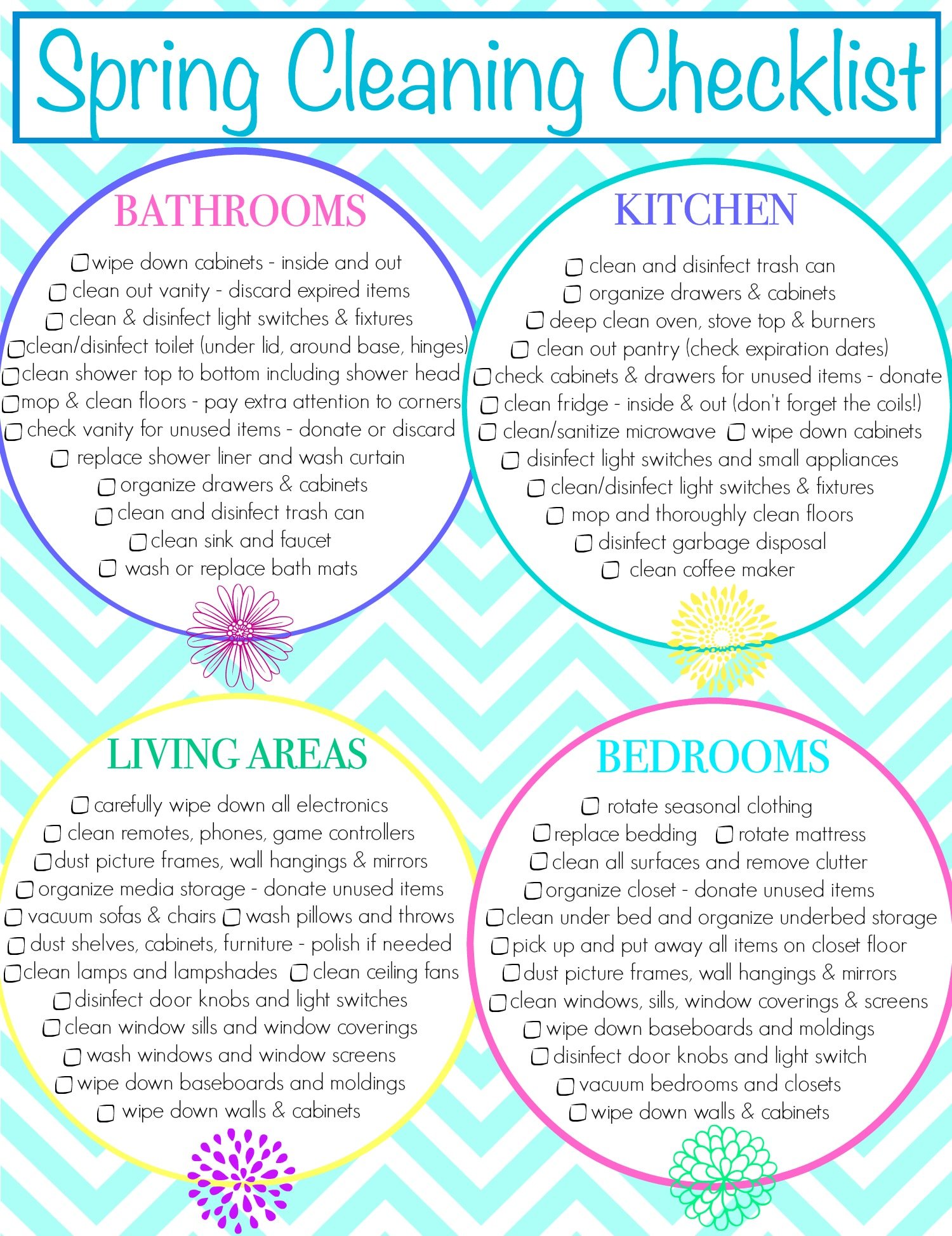 Well, hello April! So nice to see you again! Anyone else excited for spring? There is absolutely something magical about this time of year that gently shouts – RENEW – RELAX – REJUVENATE!
I've had my windows and doors open the last few weeks just letting all that sweet, fresh air inside. The trees are in full bloom and the sweet fragrance of spring is a welcome addition to our home.
I have always been big on spring cleaning. I think it's equivalent to that "nesting" phase I went through when pregnant. I'm all too happy to let go of the stuff that's weighing me down and excited to freshen up my home from top to bottom.
I've created a printable checklist here for you that is a great kick-start to your spring cleaning this year. It isn't entirely comprehensive but will absolutely give your home that spring clean feel that we all know and love.
Here are a few cleaning tips and tricks to get you motivated to start:
Shop Smart Before tackling your spring cleaning, make sure to stock up on all the necessary cleaning supplies. I rely on Walmart for all my favorite brands at great prices. (I can also pick up my groceries too – winning!) Right now you can save a bundle on cleaning supplies at Walmart.com so check it out!
Caddy Up  As you are going through cleaning all the rooms in your house – keep a caddy or bucket filled with your most used cleaning supplies on hand. A couple of things you'll find in my caddy – lint roller, paper towels, Clorox Wipes, microfiber towels, scrubbing brushes and Pine-Sol Lemon. Not only do I love the fresh clean scent but it effortlessly and powerfully cleans and deodorizes, cutting through tough grease, grime and dirt. I use it on floors, counters, bathtubs, showers, tile, sinks, and more!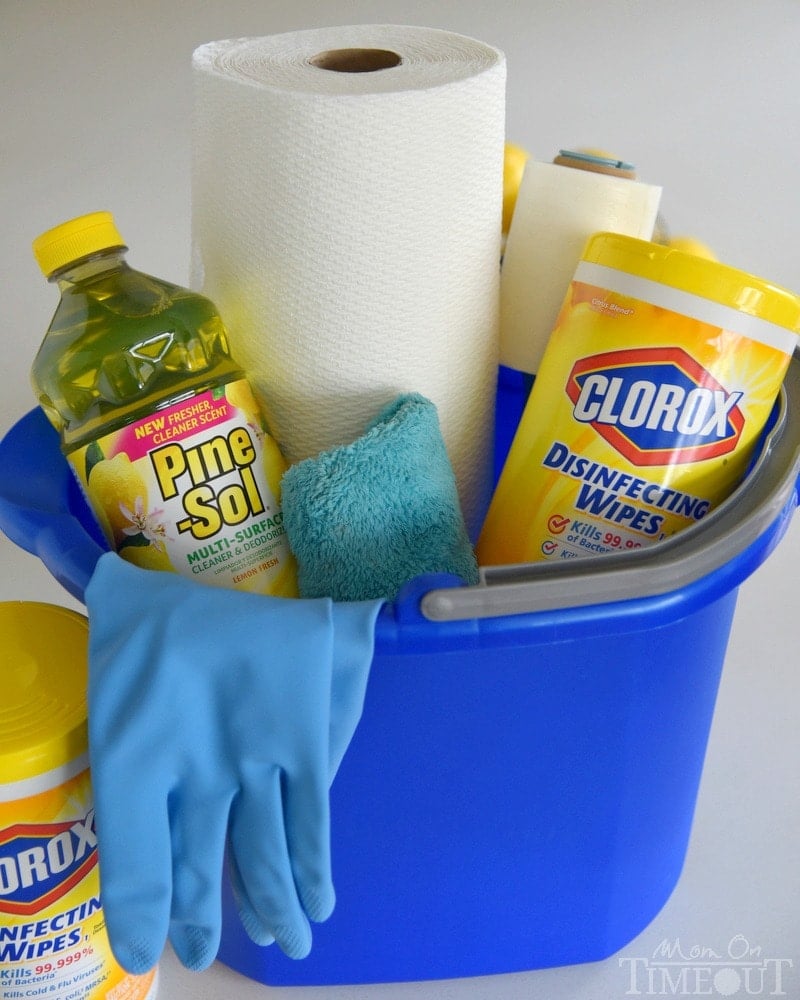 Two Ingredient Fix Combine equal parts baking soda and hydrogen peroxide to create a powerful cleaning paste. I use this combination on grout, grimy and stained pans and it is AMAZING! I use a toothbrush or grout brush (my sister bought me one as a stocking stuffer) to clean the grout lines. It takes a little elbow grease but the results are fantastic. For baking sheets and pans, just rub the paste on and let sit for awhile before washing off. It will really renew your old pans!
Top to Bottom  You've probably heard this one before but it's really true – clean top to bottom. Start with fan blades and crown molding and work down from there. Picture frames, mirrors, anything hanging on walls gets cleaned next. Next it's furniture and everything else that is sitting on the floor. This is also when you want to remove throws, pillows, etc. and get them in the wash. Finally, comes the floor: vacuum, mop, whatever you need to do for that room. When the room is entirely clean, then add the laundered items back into the room.
Donate or Discard  When spring cleaning, take the time to actually empty cabinets and drawers. You'll be amazed at what is hiding in the back of your shelves. This is a great time to donate unused items and discard expired or unusable items.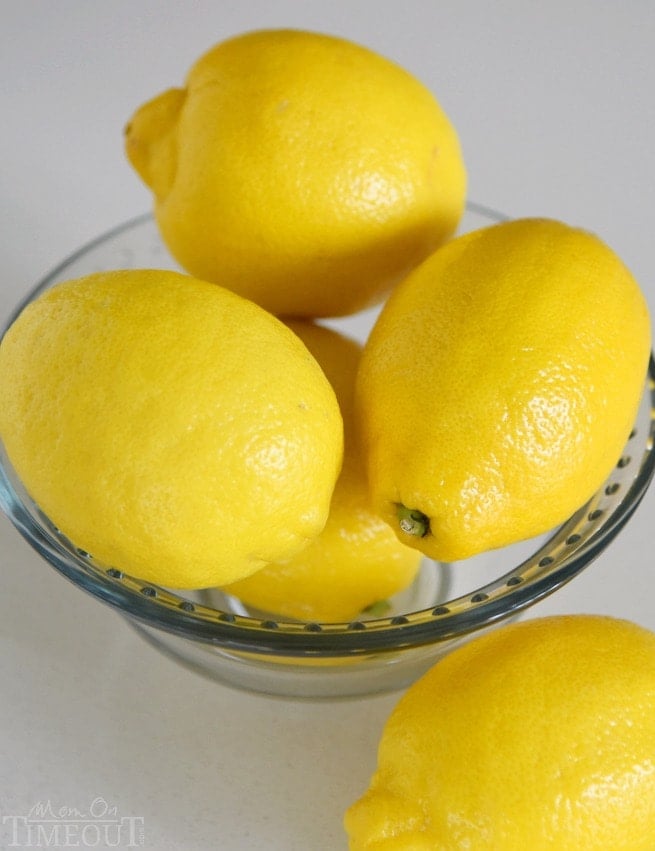 Lucky Lemons  Lemons are great for lots of things. Combine lemon juice, vinegar, and water to remove scum off  your bathtub and shower. Drop a quarter of a lemon, vinegar and several ice cubes into your garbage disposal to sharpen the blades and disinfect. Cut a lemon in half and squeeze the juice into a small bowl filled with water. Drop the lemon halves into the bowl and run your microwave on high for 3 minutes. Let stand for 5 minutes and then wipe clean. For hard water stains, cut a lemon in half and rub the area with the lemon. Let sit for a few minutes and then rinse with warm water. Amazing results!
Lint Rollers  Use lint rollers for pet hair, dust on lamp shades and cleaning drapes and curtains. Lint rollers are also great for picking up cobwebs off of walls and ceilings. I have two different sizes on hand for various tasks.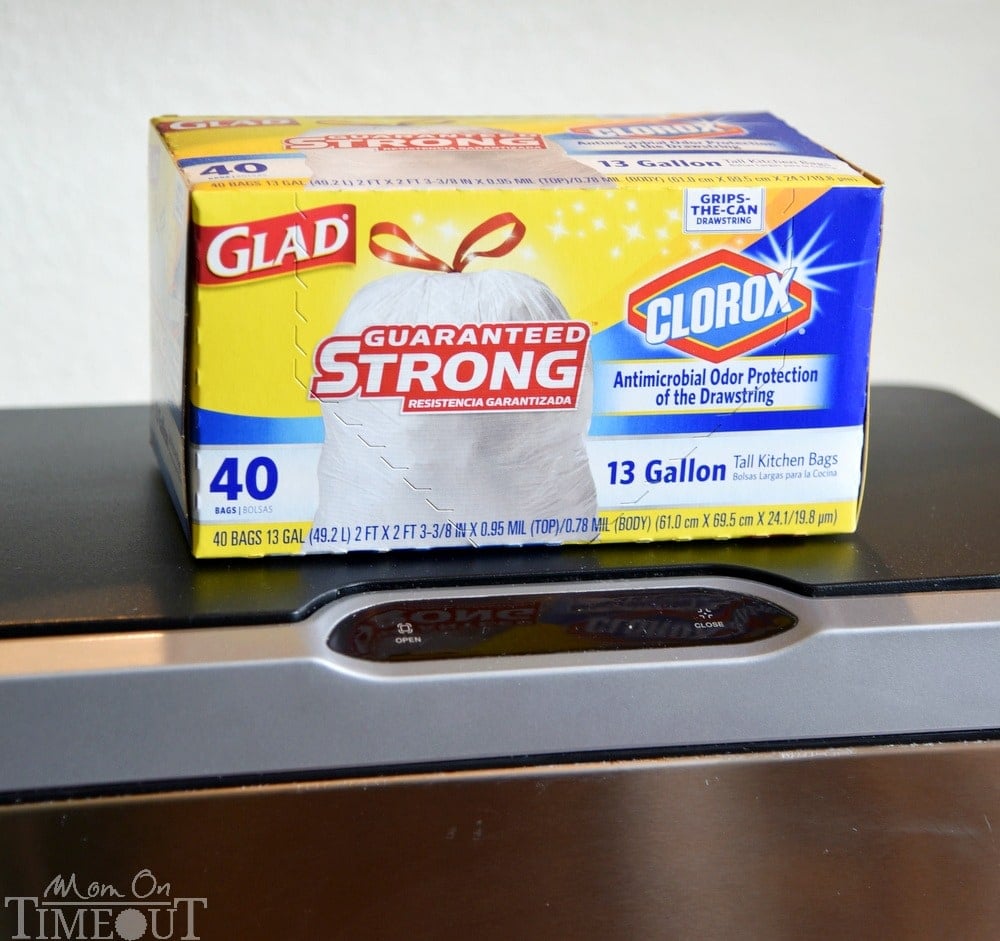 Garbage Cans After all that cleaning, the one thing you might have forgotten is the garbage can in your kitchen and around your home. Cleaning trash cans is a must. I like to take mine outside and really spray them down good. Once clean, try Glad Trash Bags with Clorox Antimicrobial Odor Protection to keep your trash can smelling fresh. These garbage bags have a guaranteed strong hold with antimicrobial protection from odors around your home and feature 3-layer drawstrings for easy disposal. Broken garbage bag drawstrings can literally ruin my day 🙂 These awesome bags also feature "grips the can" technology to keep the bag in its place.
Find Helpers  My boys really enjoy helping me clean the house. I know this sounds crazy but it's true. I like to give them small tasks like wiping down doors, door frames, and door knobs. These seem to be the dirtiest places in our home. I give them each a container of Clorox Disinfecting Wipes and let them get to work. These wipes clean 99.999% of bacteria, kills cold and flu viruses and is a master at cutting through grease, soap scum and grime. They also work on stainless steel, finished hardwood, mirrors and glass. I keep a container in my caddy at all times and also in each bathroom, laundry room and kitchen for easy access.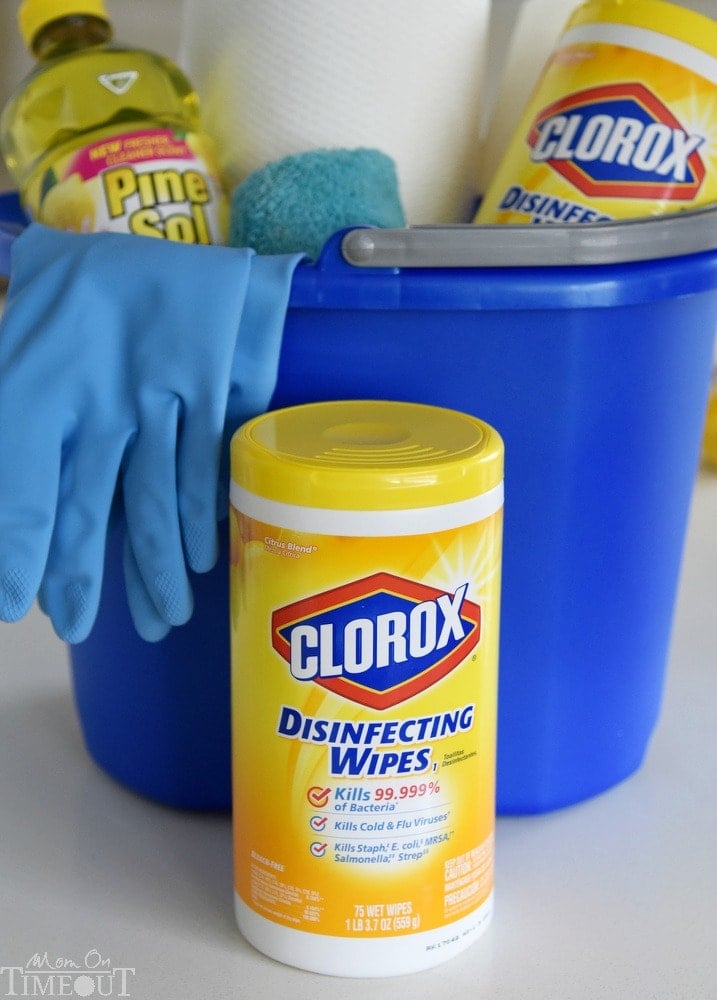 Don't forget to print your checklist here! Once the cleaning is done, fill your home with fresh flowers and leave those windows open so that fresh air can blow in. Happy spring!
Connect with Clorox Facebook | Twitter | Instagram | Pinterest
Connect with Walmart Facebook | Twitter | Instagram | Pinterest

For all cookie recipes, go HERE.
For all dessert recipes, go HERE.
Sign up to get emails when I post new recipes!
For even more great ideas follow me on Facebook – Pinterest – Instagram – Twitter – Bloglovin'.
Have a great day!
This is a sponsored conversation written by me on behalf of Clorox. The opinions and text are all mine.