Transform your side yard into a Side Yard Vegetable Garden and turn wasted space into a lush, green produce producing area!
This post brought to you by Miracle-Gro. All opinions are 100% mine.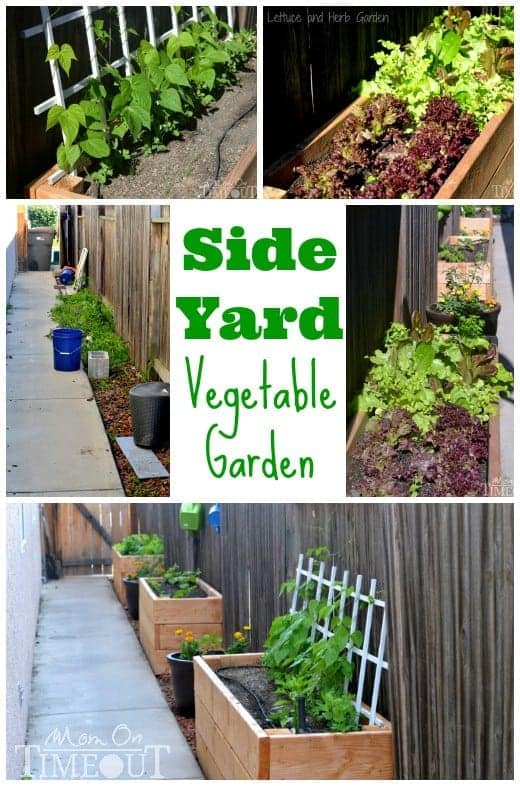 Happy Earth Day!
Today I want to talk gardening. I love my garden. I get it from my mom and dad, both of whom were expert gardeners. I am nowhere near as accomplished as they are but I do love to experiment with the small space that I have.
I get an absolute thrill harvesting fruits and vegetables from our garden and I love sharing that experience with the boys. Reece and Bryce are growing up learning to garden and enjoy watching seedlings sprout from the ground. They anxiously await picking strawberries, cherries, plums and so much more each year.
I am a firm believer that no space is too small for a garden. My little sister lives in an apartment in Virginia and was able to successfully grow cantaloupe from a pot. You can do it too 🙂
I grew up on acres. I now live on a very small lot where it's super important to utilize every square inch of space. A few months ago my husband and I were outside doing some cleanup when we came upon this…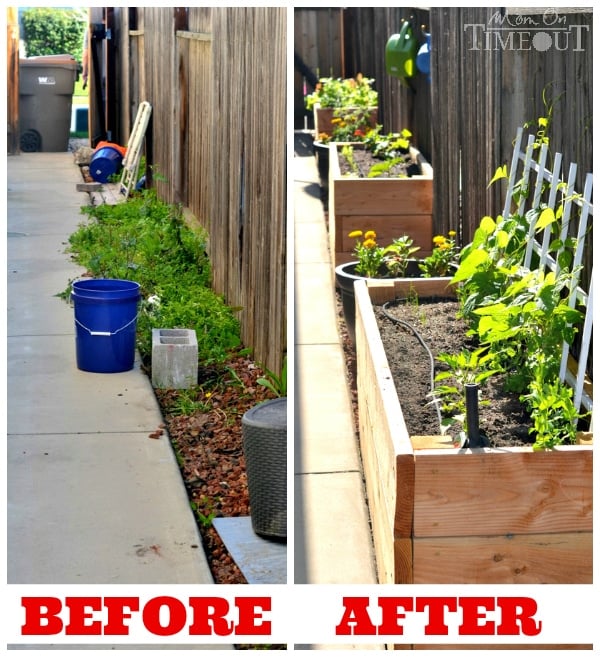 Our ugly side yard. It had turned into a weed-producing wasteland where all sorts of junk was dumped. Not pretty. We decided to build planters along the side for additional gardening space, much like the one shown below. The dimensions are different, of course, but we used the exact some method and it worked beautifully.

We added three planters along the side yard and fit them in between the recessed area of fencing. I added pots in between the planters because I am all about using every bit of available space. No waste! The pots have tomato plants and flowers so they are both pretty and functional.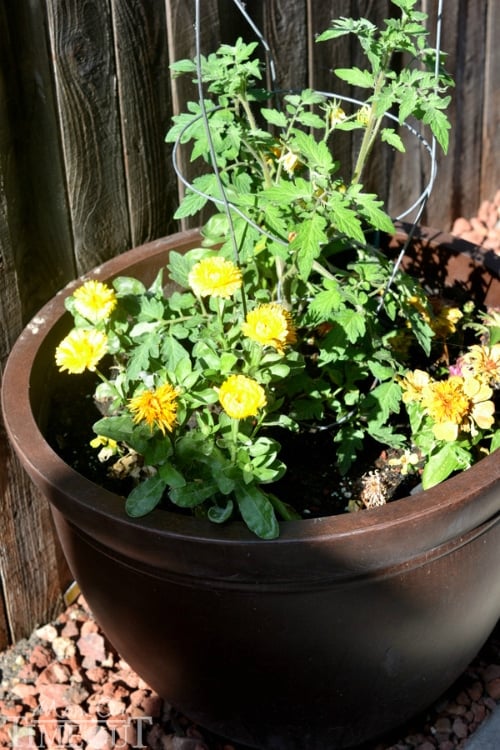 After the planters were built and installed, we filled them with soil and planted away. My favorite planter is my lettuce and herb garden. I only have a few more weeks before lettuce season is over and these will be replaced with potato plants. My boys LOVE digging for potatoes 🙂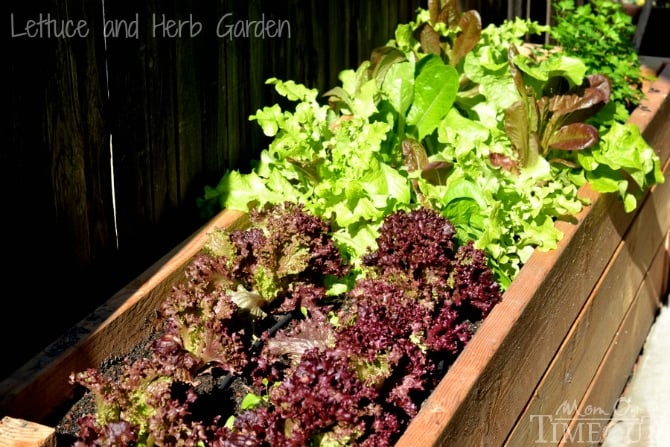 Every day for lunch I come out here and grab a bunch…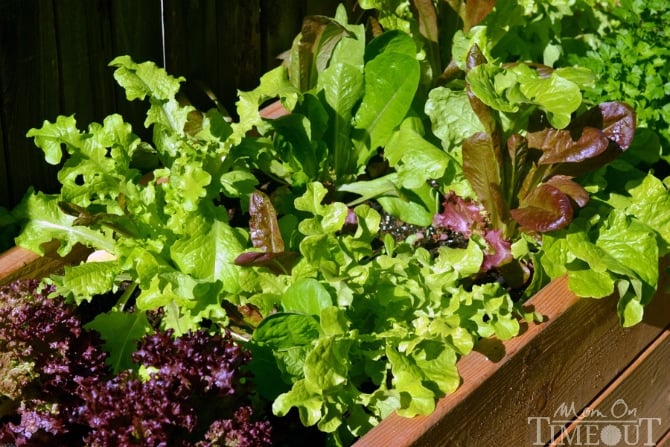 No salad tastes as good as the one you grow in your own garden. Bryce, my salad-loving child, goes into the garden each day after school and grabs a handful of lettuce for a snack.
I am totally not kidding.
The green beans are happily climbing the trellis and the chives are just starting to pop up.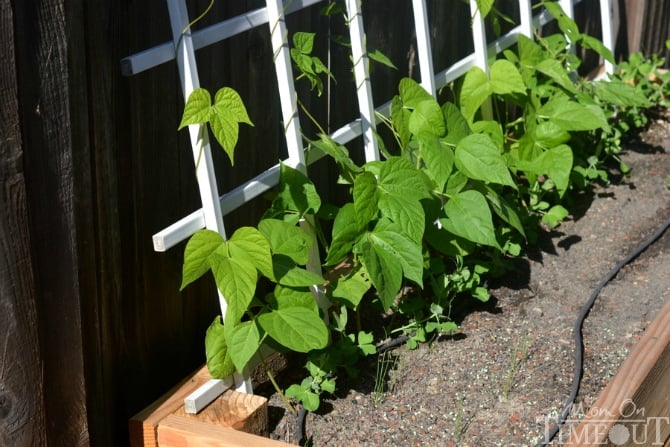 I love our side garden now. I especially love that we turned it from a waste of space into this! I love the additional gardening space and it is an absolute pleasure walking through each day and checking on the progress of our plants!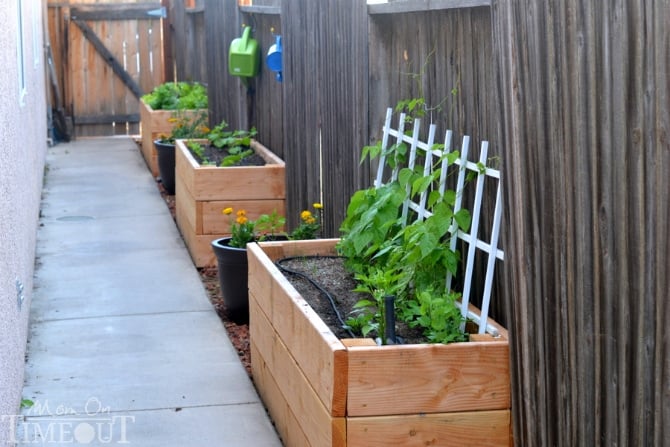 As someone who is passionate about gardening, I am so excited to be working with Miracle-Gro this Saturday, April 26th, sharing gardening tips at my local Ace Hardware. For those of you in the Sacramento area, I will be at 3555 El Camino Ave., Sacramento. I'd LOVE to see you there!
I will be tweeting and instagramming the day of the event so make sure to follow along and see what great gardening tips are being shared!
I'd love to know what small-space gardening solutions or tips you might have to share! Remember – no space is too small!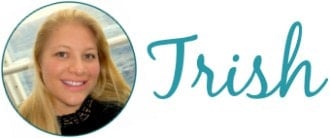 Connect with me!
 Linking up at some of these parties.