Poppy Seed Pretzel Dogs – perfect for dinner or game day!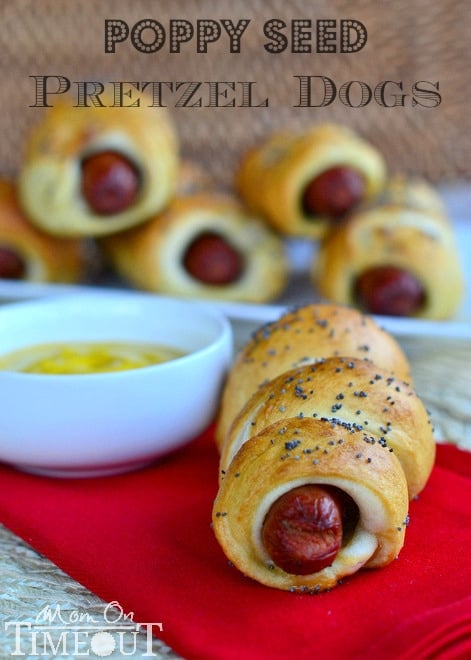 I can't believe how quickly Memorial Day weekend came and went. We had a crazy weekend filled with lots of fabulous food and fun memories with our family. Chris took Friday off and my Dad and brother came over and installed a ceiling fan in our patio. Perfect for hot summer days when we're out grilling up some burgers and Hebrew National hot dogs.
Saturday we just chilled and got some stuff done around the house and then Sunday I thought it would be nice to visit my Dad and pay him back for all his hard work. He lives in the mountains and chopping wood is pretty much a year-round endeavor. We drove up to this pile of wood on the driveway and I knew immediately that Chris and I could get it all stacked for him. My brother even helped my city-boy husband take his first crack at chopping wood. I even split a few myself 🙂  I brought up some hot dogs to grill, along with some of my Dad's favorite sides and I don't know why, but those hot dogs tasted even better in the fresh mountain air after a little bit of physical labor. Check out my instagram: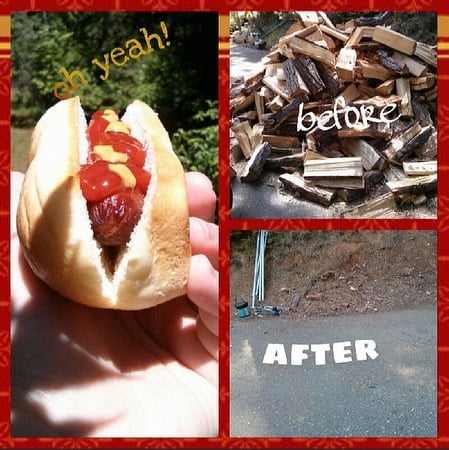 Bryce had the best time at my Dad's house running around the forest. He was absolutely mesmerized by these three week old kittens – so soft!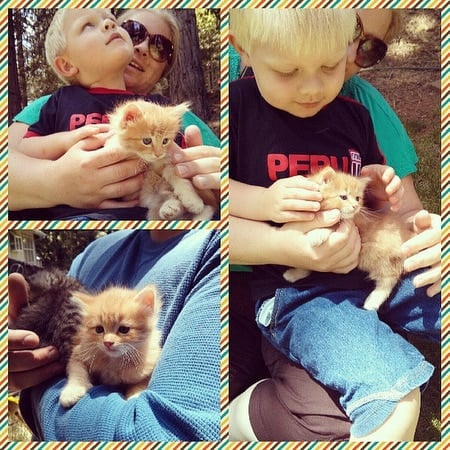 Reece spent part of the weekend and Grandma and Grandpa's in the Bay Area. They brought him home Monday and we had some more yummy food and then took the boys to see Epic. What an awesome movie! We had a great time and the boys were super excited to see the trailers for Turbo and Despicable Me 2. Those are going to be fun!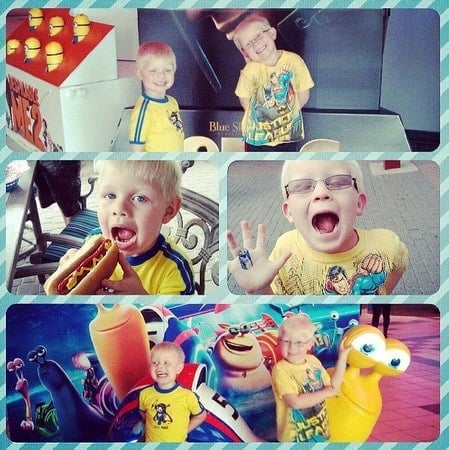 I feel like this weekend was the perfect start to our #99SummerDays and I was so excited to be able to share my very favorite hot dogs – #HebrewNational hot dogs – with my family all weekend long. Whether we're firing them up on the grill or serving them up Chicago style – hot dogs are always a hit with my family. Today I'm sharing my recipe for Poppy Seed Pretzel Dogs. These yummy dogs are best served with mustard and are perfect year-round.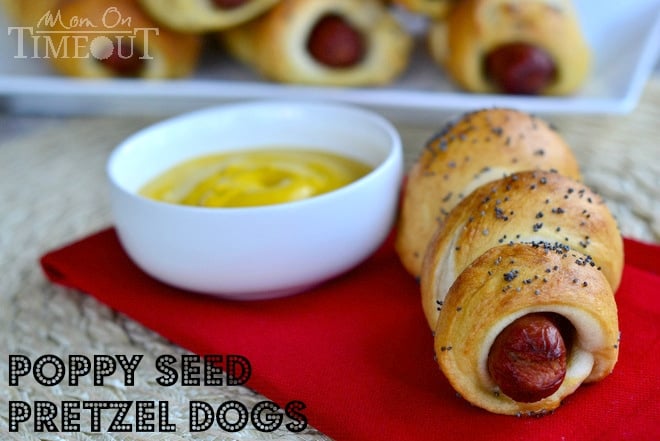 The boys get so excited when they see me making the pretzel dogs and it's really so easy! A minute in some hot water and about 15 minutes in the oven and they're ready to go. I like to let the pretzel dogs cool slightly and then insert some sticks so they are super easy for the boys to handle.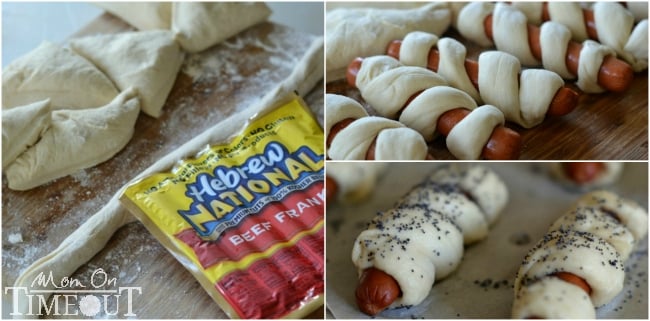 Honestly. Aren't these the prettiest dogs you've ever seen? Pretty tasty too 🙂  I always serve Hebrew National all-beef hot dogs to my guests because I know they are the best of the best and that's what my friends and family deserve.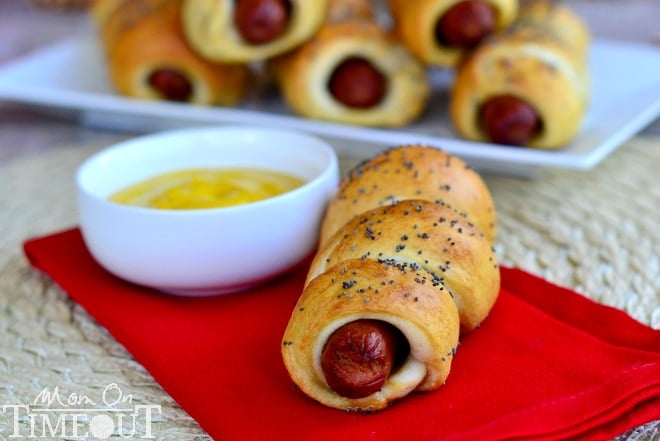 Poppy Seed Pretzel Dogs
Poppy Seed Pretzel Dogs – perfect for dinner or game day!
Ingredients
2 1/4

tsp

active dry yeast

1

tbsp

sugar

3/4

tsp

kosher salt

1 1/2

cups

water

120°F–130°F

4 1/4 - 4 3/4

cups

all-purpose flour

divided

2

tbsp

canola oil

divided

2

tbsp

baking soda

2

tsp

poppy seeds

Hebrew National hot dogs
Instructions
Combine yeast, sugar, salt, and 2 cups of flour in a large mixing bowl.

Add water and one tablespoon of oil to flour mixture and beat until smooth, approximately 2 minutes.

Gradually add 2 cups of flour, half a cup at a time, with mixer on low speed until dough starts to pull away from the sides of the bowl.

Turn dough out on to a lightly floured surface and knead for five minutes adding more flour as necessary to keep dough from sticking.

Coat mixing bowl with one tablespoon of oil and place dough in the bowl, flipping over so it is completely covered in oil.

Cover the bowl with a towel and let rest until it doubles in size - approximately 45 minutes.

Heat oven to 400°F and line a baking sheet with parchment paper.

Punch the dough down and cut into 16 pieces.

Roll each piece into a rope (just like with play-doh) lightly flouring your hands as necessary.

Wrap the ropes around the hot dogs making sure to pinch the dough together at both ends (dot the dough with water to help the ends stick).

Fill a large pot halfway with water and add baking soda. Bring the water and baking soda to a simmer.

Drop pretzel dogs into the water and simmer on each side for 30 seconds. Remove to parchment-lined baking sheet. Use a slotted spatula for the transfer.

Sprinkle with poppy seeds and repeat for remaining pretzel dogs.

Bake for 15 to 20 minutes or until golden brown.

Let cool for a few minutes before inserting sticks. Serve and enjoy!

Makes 16 pretzel dogs.
Nutrition
Calories:
389
kcal
|
Carbohydrates:
63
g
|
Protein:
12
g
|
Fat:
9
g
|
Saturated Fat:
3
g
|
Cholesterol:
20
mg
|
Sodium:
830
mg
|
Potassium:
149
mg
|
Fiber:
2
g
|
Sugar:
1
g
|
Calcium:
27
mg
|
Iron:
4
mg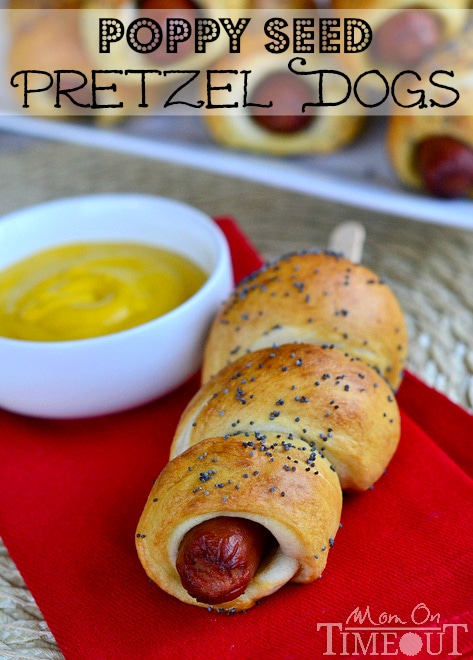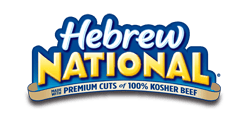 Hebrew National tastes great because, for more than 100 years, we've adhered to the highest quality standards. Hebrew National Franks are made with premium cuts of 100% pure kosher beef, and contain no artificial flavors, no artificial colors, no by-products, and no fillers. Premium taste and high quality every time, for any occasion. That's our guarantee. Learn about even more reasons to love Hebrew National, and tell us why you love them, too! www.facebook.com/HebrewNational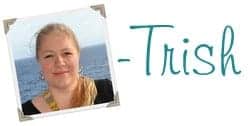 Connect with me!








Disclosure:
Compensation was provided by Hebrew National via Glam Media. The opinions expressed herein are those of the author and are not indicative of the opinions or positions of Hebrew National.